Ben Shapiro's Wiki: Wife Mor, Net Worth, Sister, Height, Religion, Wedding
• Ben Shapiro was born in Los Angeles, California, and is a lawyer, journalist, radio host, political commentator, and columnist.
• He achieved popularity through founding "The Daily Wire" and hosting his own radio program "The Ben Shapiro Show".
• He has published multiple books and is known for his conservative political views.
• His net worth is estimated to be over $3 million.
• He is active on multiple social media platforms, with over 1 million followers on Instagram, 1.75 million fans on Twitter, and 4.5 million followers on Facebook.
Who is Ben Shapiro?
Benjamin Aaron Shapiro was born on the 15th January 1984, in Los Angeles, California USA, and is recognized for being not only a journalist, radio host, political commentator and columnist, but also a lawyer. He achieved popularity through founding "The Daily Wire" and hosting his own radio program "The Ben Shapiro Show". Beside that, Ben is also known as an author, who has published various books.
Early Life and Family
Ben Shapiro spent his childhood in Los Angeles, California, where he was raised alongside his sister in a Jewish family by his father, who was a composer, and his mother, who worked as an executive of a TV company. He is the brother of Abigail Shapiro, who is known as an opera singer.
As a boy, he became interested in music and learnt to play both piano and violin, and by the age of 12 distinguished himself as a part of the Israeli Bonds Banquet.
Education
Regarding his education, Ben attended Walter Reed Middle School, where he skipped third and ninth grades, so he matriculated from Yeshiva University High School of Los Angeles at the age of 16, in 2000. He then enrolled into the University of California, Los Angeles, from which he graduated summa cum laude with a Bachelor of Arts degree in Political Science in 2004, when he was 20 years old. Afterwards, Ben continued his education at Harvard Law School, graduating cum laude in 2007.
Career as a Lawyer
Following his outstanding academic performance, Ben Shapiro practiced law at Goodwin Procter until 2012, when he made the decision to found his own independent legal consultancy company – Benjamin Shapiro Legal Consulting – based in Los Angeles, which ultimately significantly increased his net worth.
Career as a Columnist
While he was a student at UCLA, Ben had become interested in politics, and at the age of 17 was hired by Creators Syndicate to work as a columnist, officially 'the youngest nationally syndicated columnist in the US' according to Time magazine. His columns appeared in various major newspapers as well as websites such as ABCNews.com, Chicago Sun-Times, the Conservative Chronicle, Townhall.com and Human Events, among many others.
Career as an Author
In 2004, he published one of the national bestsellers – "Brainwashed: How Universities Indoctrinate America's Youth" – followed by another book entitled "Porn Generation: How Social Liberalism Is Corrupting Our Future" (2005). His third book, "Project President: Bad Hair And Botox On The Road To The White House", was published in 2008, and three years later out came the book "Primetime Propaganda The True Hollywood Story Of How The Left Took Over Your TV", in which he stated that Hollywood promotes bad behavior through prime-time programming. He has also written other titles, including "Bullies: How the Left's Culture Of Fear And Intimidation Silences Americans" (2013), "The People Vs. Barack Obama: The Criminal Case Against The Obama Administration" (2015) and "True Allegiance" (2017), all of which have added a considerable amount to his net worth.
The meme is evolving… pic.twitter.com/XJ2G58V0Nz

— The Daily Wire (@realDailyWire) January 11, 2019
Career as a Journalist
Ben's academic qualifications have helped him to rapidly climb the ladder of success; in 2012 he began working in the position of an editor-at-large at Breitbard News, a conservative website, parallel with working as an associate at the David Horowitz Freedom Center, a conservative foundation, and in the following year he established an activism website called Truth Revolt, in partnership with the David Horowitz Freedom Center. He worked at Breitbard News until early 2016, when he resigned from the position, stating that the website did not support Michelle Fields, a reporter who was assaulted by Donald Trump's former campaign manager Corey Lewandowski. During that period, Ben also worked as the host of the conservative radio program "The Morning Answer" on the KRLA radio network, which further added to his wealth.
The Daily Wire and "The Ben Shapiro Show"
Continuing his career in the field of journalism, Ben also founded conservative website The Daily Wire in September of 2015, and has been serving as its editor-in-chief ever since. He is also known for hosting "The Ben Shapiro Show" on radio, broadcast online with more than 10 million downloads monthly. In 2018, Westwood One radio network started broadcasting the show, and it was named as "massively popular" by Politico. His net worth is certainly rising.
Most recently, he was the host of "The Ben Shapiro Election Special" on the Fox News network in September of 2018, which was dedicated to the 2018 US mid-term elections.
Political Views
Ben has become known for being "extremely conservative", as he was described by The New York Times due to his political views. He is against contemporary liberals, accusing them of creating identity politics, the Alt-Right movement, the interventionism during the Syrian Civil War and the immigration of Syrian refugees. Beside that, he also criticized President Barack Obama's administration, describing him as a "philosophical fascist".
Ben Shapiro pokes fun at CNN anchor Jim Acosta for his tone-deaf border commentary.Listen to this episode of The Ben Shapiro Show on iTunes: https://apple.co/2rfIg9K

Posted by Ben Shapiro on Friday, January 11, 2019
Ben is also recognized for being highly critical of transgender people, stating that being transgender is a mental disorder, and is equal to gender dysphoria. While discussing Caitlyn Jenner's Arthur Ashe Courage Award during an interview on "Dr. Drew On Call", Ben had an incident when he repeatedly used male terminology for reporter and transgender rights activist Zoey Tur, who grabbed his neck and threatened him that she will send him home in an ambulance. He later filed a police report, alleging he was verbally and physically attacked.
CSULA Incident
Between 2016 and 2017, Ben presented his conservative views on more than 35 campuses, speaking on various controversial subjects. In February of 2016, he gave a speech entitled "When Diversity Becomes A Problem", at the California State University, Los Angeles, hosted by the Young Americans for Freedom, a conservative group. However, the speech was rescheduled and on the day, hundreds of students blocked the doors to the event, and when he began the speech, the fire alarm was pulled. When it was ended, Ben was escorted out of the event by campus police. Three months later, he filed a lawsuit against the university, alongside the Young America's Foundation.
Ben Shapiro Net Worth and Assets
His career started when he was only 17 years old and he has been an active member in the field of journalism ever since. He is also recognized for being a successful lawyer and author. So, if you ever wondered how rich Ben Shapiro is, it has been estimated by authoritative sources that the total size of his net worth if over $3 million, accumulated through his successful career.
Personal Life: Wife Mor, Children, Religion, Height
Regarding his personal life, Ben Shapiro married doctor Mor Toledano in a wedding ceremony held in Acre, Israel in 2008, after dating for several years; she is an Israeli citizen of Moroccan descent. They practice Orthodox Judaism. The couple welcomed their first child, a daughter, in 2014 and two years later, Mor gave birth to their second child, a son. Their current residence is in San Diego, California.
Speaking about his appearance, Ben stands at a height of 5ft 4ins (1.63m), while information about his weight has not been revealed to the public.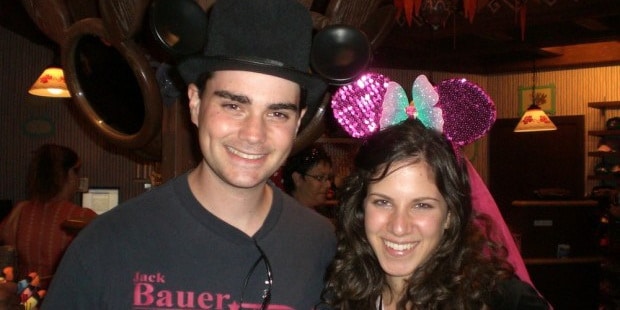 Social Media Presence
In addition to his career, Ben Shapiro is very active across many of the most popular social media sites, which he uses not only to promote his job, but also to share various other contents. He runs his official Instagram account, on which he has more than a million followers, as well as his official Twitter account, having more than 1.75 million fans. He also has more than 4.5 million followers on his official Facebook page.