Corin Nemec (aka Jonas Quinn on Stargate SG-1) Wiki Bio, wife, net worth
• Corin Nemec is an actor, producer and screenwriter born in 1971 in Little Rock, Arkansas.
• His net worth is estimated to be over $1.5 million.
• He started his career in 1983, and rose to fame in the late 1980s with roles in "Tucker: The Man and His Dream" and "I Know My First Name is Steven".
• He starred as Jonas Quinn in the Sci Fi Channel military sci-fi adventure series "Stargate SG-1" (2002-2004).
• In January 2013, Corin was involved in a severe boating accident while filming in Belize.
Who is Corin Nemec?
Joseph Charles 'Corin' Nemec IV was born on 5 November 1971, in Little Rock, Arkansas USA, so is currently aged 47. He is an actor, producer and screenwriter, probably best recognized for starring in the title role of the FOX teen sitcom "Parker Lewis Can't Lose" (1990-1993), playing Harold Lauder in the ABC horror mini-series "The Stand" (1994), and featuring as Jonas Quinn in the Sci Fi Channel military sci-fi adventure series "Stargate SG-1" (2002-2004).
Would you like to know more about Corin's professional career and personal life? How rich is he, as of now? If you are interested, stay tuned and find out.
Corin Nemec Net Worth
His career started in 1983 and he has been an active member of the entertainment industry ever since, primarily known as a professional actor. So, if you ever wondered how rich Corin Nemec is, it has been estimated by authoritative sources that the total size of his net worth is over $1.5 million, accumulated through his successful career as an actor, producer and screenwriter. If he continues to develop his career further, his net worth will certainly increase in the coming years.
Early Life and Education
Concerning his early life, Corin Nemec spent his childhood in Little Rock, raised alongside an older sister by his father, Joseph Charles Nemec III, a well-known set and production designer, and his (unnamed) mother, a poet, graphic artist, and painter. His older sister is Anastacia C. Nemec, who is also involved in the film industry as an assistant director. There is no information regarding his education.
Career Beginnings
Corin developed his love for acting after watching the 1985 cult film for children, entitled "The Goonies", on which his father worked as an art director. So he joined the Centre Stage LA theater company, where he could practice his acting skills. After being signed by an agent, he made several appearances in Suzuki commercials, and then made his debut TV appearance as Kyle in an episode of the Disney Channel series "Sidekicks" in 1987, which was followed by his portrayal of Nicky Papadapolis in the ABC sitcom "Webster" (1987-1988).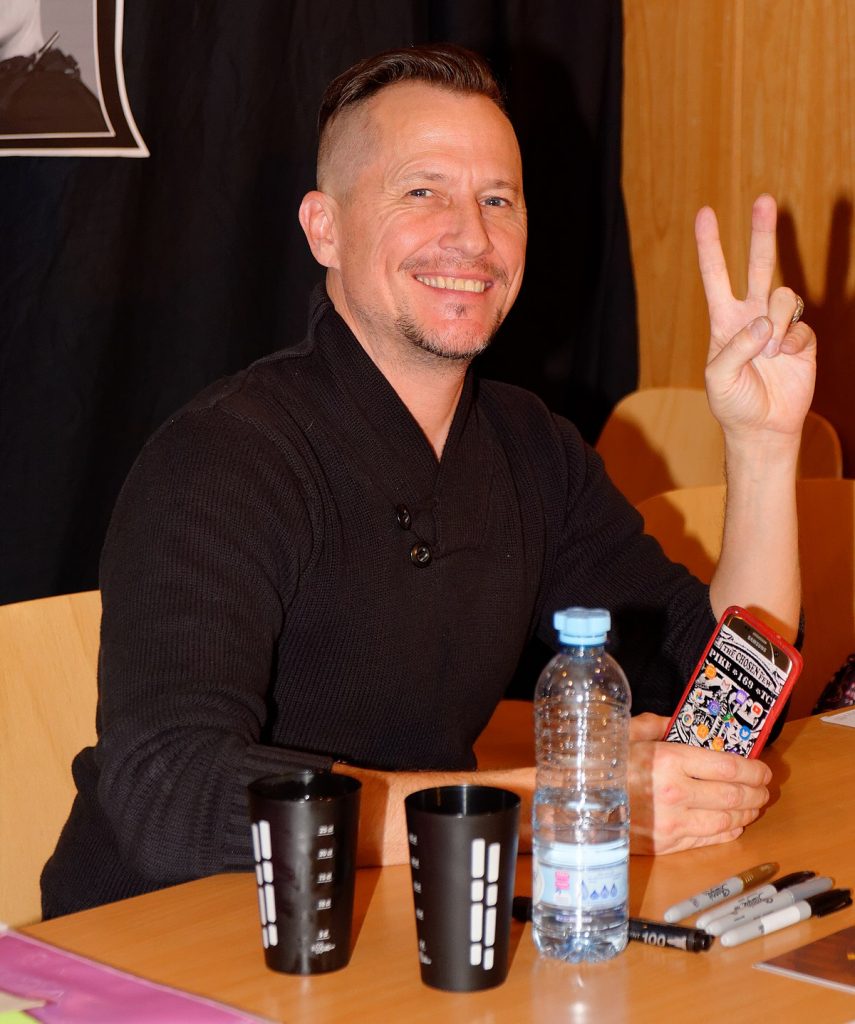 The late 1980s: Rise to Fame
Corin's first major role came when he was chosen to play Noble Tucker in the 1988 biographical comedy-drama film "Tucker: The Man And His Dream", directed by Francis Ford Coppola. Thereafter, he starred in the title role of Alan Hoffstetter in the pilot episode of the CBS comedy series "What's Alan Watching?" (1989); however, it was cancelled, but he then played Steven Stayner in the NBC film "I Know My First Name Is Steven" in the same year, which earned him a Primetime Emmy Award nomination, potentially adding a considerable amount to his net worth, and increasing enormously his popularity. During the next year, he was cast as Mike Kelso in the sci-fi thriller "Solar Crisis", starring alongside Peter Boyle and Charlton Heston.
The early and the mid-1990s
Between 1990 and 1993, Corin Nemec starred in the title role in the FOX teen sitcom "Parker Lewis Can't Lose", increasing his net worth by a large margin. Meantime he landed such roles as Michael in the TV film "For The Very First Time", and Anthony Cortino in another TV film, entitled "My Son Johnny", both in 1991. When the filming of the TV series was ended, Corin continued to line up successes by starring in the role of Harold Lauder in the ABC horror mini-series "The Stand", based on Stephen King's novel of the same name, and then playing Selkirk in the action film "Drop Zone", and featuring as Teen Dan Donahue in the family drama "In The Living Years", all in 1994.
Corin's next major appearance came with the role of Sp5 Lawrence Farley in the 1995 war comedy film "Operation Dumbo Drop", after which he featured as Ben Harris in the family adventure film "White Wolves II: Legend Of The Wild" and portrayed Donald in Emilio Estevez's drama "The War At Home", both in 1996.
I watching you… fyi pic.twitter.com/1hzeSse5ug

— Corin Nemec (@imcorinnemec) April 24, 2019
The late 1990s
In 1997, Corin was quite busy as he starred in the notable role of John Stryzack in the action-drama film "Goodbye America", portrayed Derrick Driscoll in three episodes of the Fox teen drama series "Beverly Hills, 90210", and played Danny Ames in the romantic comedy "The First To Go". By the end of the decade, he had also appeared as Hitler in the action "The Process" (1998), Trevor in the drama "Foreign Correspondents" (1999), and Vincent in Isaac H. Eaton's drama thriller "Shadow Hours" (2000).
The early and the mid-2000s: "Stargate SG-1"
At the beginning of the next decade, Corin landed the role of Waylon Smythe in the 2001 comedy film "Killer Bud", which was followed by his portrayal of Ellis Pond in John Badham 's drama thriller "Brother's Keeper" in 2002. During the same year, he was chosen to appear in the leading role of Jonas Quinn in the Sci Fi Channel military sci-fi adventure series "Stargate SG-1", which lasted until 2004, increasing his popularity all over the world. Afterwards, Corin was cast as Allan in the Indian drama film entitled "Parzania" (2005), played Tom Murphy in the 2006 comedy crime "High Hopes", directed by Joe Eckardt, and featured as Michael Stover in Carey Scott's drama "Hidden Secrets", also in 2006. During the same time, he also had parts in such TV series as "Smallville", "CSI: NY", and "NCIS", among others, all of which increased further his net worth.
The late 2000s
In 2008, Corin appeared in the lead role of Stewart Savage in the sci-fi comedy-drama film "My Apocalypse", played Clint in the adventure comedy "Cop Dop", and featured as Doc Jennings in the romantic drama "The American Standards". In the following year he appeared as himself in the Crackle comedy series "Star-ving", after which he landed the role of Dr. Callaby in the 2009 comedy "Robodoc". By the end of the decade, he had also portrayed Christian Campbell in the Primetime Emmy Award-nominated dark fantasy series "Supernatural", created by Eric Kripke, and starred as Quentin French in the TV film "House Of Bones", both in 2010.
The early and the mid-2010s
Corin's first major appearances in the new millennium came with the roles of Jimmy Green in Mark Atkins' horror "Sand Sharks" and Danny in the drama thriller "Besties", both in 2012. In the next year, he filmed as Colonel Carter in the action fantasy "Jurassic Attack" and as Simon Lowell the action adventure "Dracano", directed by Kevin O'Neill. Thereafter, he appeared as Simmons in the 2014 thriller "Extinction: Patient Zero", next to Rebecca Blumhagen and Nick Stevenson, played Elias in the 2016 sci-fi action "Drone Wars", and featured as Gus in the thriller "Marriage Of Lies", the same year.
Recent Years
To speak further of his professional acting career, Corin Nemec also appeared in such roles as Cole in the TV film "Pandora's Box", Detective Baker in the TV film "Girlfriend Killer", and Powers in the family film "Puppy Swap Love Unleashed", etc. Besides that, he guest-starred as Captain Alvarez in both TV series "Star Trek: Renegades" and "Renegades". Most recently, he portrayed Peter Cotten – aka Rottentail – in Brian Skiba's comedy horror "Rottentail" (2018), landed the role of Kevin Peterson in the 2018 thriller drama "A Woman's Nightmare", and as David McCarthy in the thriller "Paradise Prey", also directed by Brian Skiba, in 2019.
Moreover, it is announced that he is currently working on such titles as "Sleeping In Plastic", "Haunted: 333", and "Quantum Investigations: The Quantum Heist", among many others, so his net worth will certainly increase in the coming years.
Personal Life
To talk about his personal life, Corin Nemec married Jami Beth Schahn at their wedding ceremony held in 2002. They welcomed their first child while they were dating in 1993, a daughter named Sadie Joy Manu, and in 2005 Jami gave birth to their second child, a son named Lucas Manu. However, the couple divorced in 2009 and went their separate ways.  It is believed that Corin is currently single; his residence is in Los Angeles, California.
In his spare time, he enjoys listening to instrumental East Indian music, reading and writing poetry. Besides that, Corin became known for being a Master Mason of the Freemasonic Order, joining them in 2000.
Boating Accident
In January of 2013, Corin almost died as he was involved in a severe boating accident while he was filming the SyFy film "Poseidon Rex" in Belize. While being taxied to the set, the Belizean Coast Guard hit a semi-submerged flatboat, and his leg was shattered, losing a lot of blood and needing multiple blood transfusions to stay alive, eventually winning his battle for life.
Sometimes I go places… #notredame #paris #france #LifeStyle #goodtimes #travellife #artistlife #TravelEast #travelingman #actorslife #grandarchitect

Posted by Corin Nemec on Tuesday, January 29, 2019
Appearance and Vital Statistics
Speaking about his appearance, Corin is apparently a very handsome man with white skin, short light brown hair and blue colored eyes. He has a muscular body shape and according to some sources, he stands at a perfect height of 6ft 0ins (1.83m), while information about his weight has not been revealed to the public.
Social Media Presence
In addition to his involvement in the entertainment industry, Corin Nemec is active across many of the most popular social media sites, which he uses not only to promote his career but also to share various other contents with his fans. So, he runs his official Twitter account, on which he has almost 29,000 followers, as well as his official Instagram account, having more than 1,700 fans.