Dr. Pol vet Dr. Emily Thomas' Wiki, New Baby, Husband, Net Worth, Age
• Dr. Emily Thomas is an American veterinarian and reality TV star,
• She is best known for appearing on the National Geographic's Wild channel's reality TV show "The Incredible Dr. Pol"
• She was born in 1984 and raised in Warner Robins, Georgia USA
• She is married with three children and resides in Weidman, Michigan USA
• Her net worth is estimated to be around $500,000
Who is Dr. Emily Thomas?
Dr. Emily Thomas is an American veterinarian and a television star, who is probably best known for appearing on the National Geographic's Wild channel's reality TV show "The Incredible Dr. Pol".
Dr. Emily Thomas' Early Life and Education
The exact date of birth of Dr. Emily Thomas hasn't been publicly disclosed so far, but it has been acknowledged that she was born in 1984, and was raised in Warner Robins, Georgia USA, so is of American nationality while her ethnicity is white. Further details about her parents, any siblings as well as her family's background have never been revealed to the present day. Upon completing her primary and secondary education, Emily enrolled at the University of Georgia's College of Veterinary Science, from which she graduated in 2010, earning her Doctor of Veterinary Medicine degree, majoring in large animal field services as well as equine reproduction.
Dr. Emily Thomas' Early Career
Upon graduation, Dr. Emily Thomas began her professional career as a vet in a private practice based in Newberry, South Carolina. After several years of honing her professional skills, Dr. Thomas, decided to add another dimension to her career and continue her professional work on-cameras.
I drew the cute puppy card today!! #drpol #allfridaysshouldbepuppyfridays pic.twitter.com/EyWVAeebxb

— Dr. Emily (@DrEmilyThomas) January 19, 2018
Dr. Emily Thomas on "The Incredible Dr. Pol"
In 2015, Dr. Emily Thomas relocated to Weidman, Michigan, where she joined the cast of the reality TV show "The Incredible Dr. Pol". The series follows the Dutch-American veterinarian Dr. Jan-Harm Pol and his own private practice – Pol Veterinary Service, specialized in large farm animals. The show began airing in 2011 on National Geographic's Wild channel, and has since witnessed over 22,000 animals treated during the course of 15 seasons. With an old-school approach and no-nonsense practice, it quickly gained popularity among a wide range of audiences. As a staff veterinarian, Dr. Emily Thomas joined the crew, already consisting of the abovementioned Dr. Pol, his wife Diane and their son Charles, as well as the senior staff veterinarian Dr. Brenda Grettenberger, in the show's sixth season, and so far has appeared in almost 80 episodes of the series.
Dr. Emily Thomas' Personal Life
Interested in Dr. Emily's personal life and marital status, aren't you? Well, she is a married woman – since 2007 Dr. Emily has been married to her high school sweetheart, a guy named Tony with whom she has welcomed three children so far, a daughter named India born in 2013, a son Oscar born in 2015 and another son named Clavin born in 2018.
Despite regularly appearing on-camera in the reality TV series "The Incredible Dr. Pol", Dr. Emily Thomas has somehow managed to keep her personal life quite private and far from the prying eyes of the mass media, as there aren't many relevant details about her family or her daily life. In addition to her veterinarian career, in her spare time Dr. Emily enjoys spending time with her family as well as practicing painting. Alongside her husband, their three children and several pets, Dr. Emily Thomas currently resides in Weidman, Michigan USA.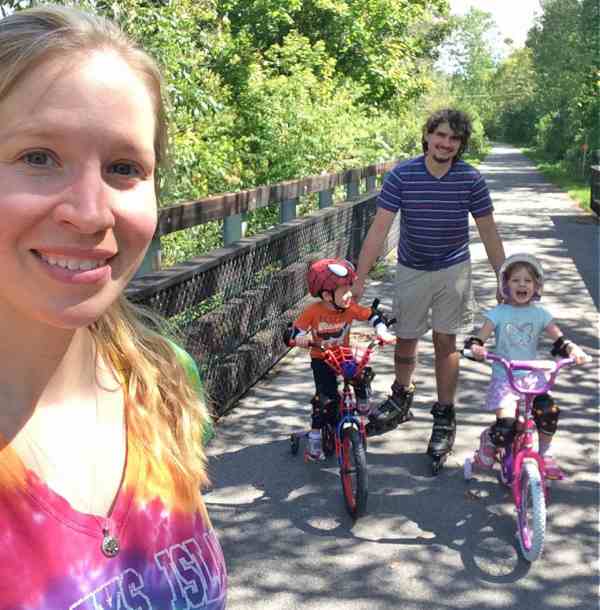 Dr. Emily Thomas sports a slim and toned figure, which in addition to her blonde hair and dark-colored eyes, makes her appearance quite alluring.
If you are interested to find out more about one of the most popular members of the "The Incredible Dr. Pol" reality show, you can follow Dr. Emily Thomas' official Twitter profile – @DrEmilyThomas which has amassed more than 21,200 followers so far.
Dr. Emily Thomas' Net Worth $500,000
Have you ever wondered how much wealth this 35-year old American veterinarian and television personality has accumulated so far? How rich Dr. Emily Thomas is? According to sources, it is estimated that the total of Dr. Emily Thomas' net worth, speaking as of early 2019, revolves around an impressive sum of $500,000 that has been acquired through her professional veterinarian career that has been active since 2010, however, a major part of Dr. Emily's wealth also comes from her numerous appearances on the popular reality TV show "The Incredible Dr. Pol", as she earns nearly $18,000 per episode.