Who has William Franklyn dated? Girlfriends List, Dating History
• William Franklyn-Miller is a successful model and actor born in 2004 under the zodiac sign of Aries.
• He has collaborated with brands like Country Road and Ratbag, and been featured in publications like "Italian Vogue" and "Vogue Russia".
• He has amassed over 1.7 million followers on Instagram, and earned the title of 'the most beautiful boy in the world' in 2017.
• He has been linked to models Meika Woollard and Jade Weber in the past, and is currently rumored to be in a relationship with actress and model Lily Chee.
• Despite his young age, William has had some interesting dating experiences.
The handsome model and actor, William Franklyn-Miller, was born in Devon, England, on 25 March 2004 under the zodiac sign of Aries. He is a successful model, who has collaborated with such brands as Country Road, Ratbag, Marks and Spencer, and featured in such publications as "Italian Vogue", "Vogue Russia", and "LA Petite Magazine". Moreover, William was named 'the most beautiful boy in the world' back in 2017.
William started pursuing his acting career in 2016. Over time, he's gained fame for starring in the role of Young Joseph Wilson in "Arrow", playing Ezra in "Chicken Girls", and portraying Giovanni de' Medici in "Medici: The Magnificent". He is also recognized as an Instagram star, since he's amassed over 1.7 million followers. All of this led him to stand out from other teenage celebrities of his age.
Being a young and very successful guy in the world is quite impressive! It is clear why he caught the immense attention of the audience, especially the young female gender. Even though he manages to keep his private life to himself and far away from the eyes of the public, some details couldn't go unnoticed! So, we dig deeper into his personal life and compiled you a complete list of his past relationships, rumored or not. Just keep listening 'til the end and you may discover something interesting!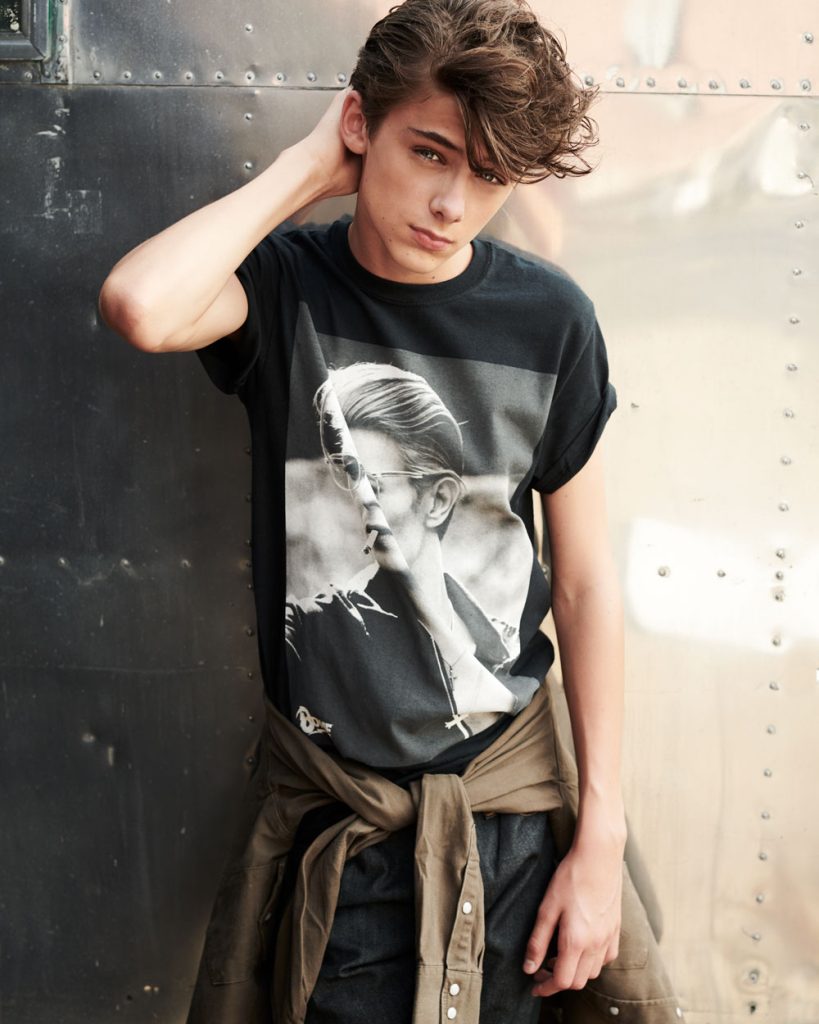 William Franklyn and Meika Woollard have known each other for a while. She came to prominence for being a top Australian model, so they probably met through work. Over the years they became pretty close, and have even done several photoshoots together. In October 2016, they graced the cover of the magazine Fashion Kids, and two months later she posted their photo on her official Twitter account, and captioned i, "Soul mates", then uploaded another photo of them onto her Instagram account, and declared her love for William in the caption.
Meika also shared their photo on Valentine's Day in 2017, and wrote in the caption, "Happy Valentine's Day" with three heart emojis. This sparked rumors that they had become romantically involved in a relationship, regardless that William was still just 13 years old, but he would seemingly later confirm the rumors in his Q&A video uploaded in June 2018. He explained that they were dating while he was living in Australia, but they had to end their relationship because he had moved to Ireland. He also described her as "a really nice girl", and added that they "are now just best friends."
Following his rumored relationship with one model, William Frankly soon reportedly fell in love with another, named Jade Weber. She is also a dancer, known for making an appearance in the music video for The Weeknd's song "Can't Feel My Face". William set off the rumors of entering a relationship with her sometime in 2017, however, neither of them ever commented on the matter. Little is known about them in the media, except that they collaborated in completing a photoshoot together.
He once shared their photo on his official Facebook fan page, and wrote in the caption, "I love this girl." Whatever really happened between the two remains a mystery. No matter what, we hope that they remain on good terms.
It is unknown how and when William Franklyn met Lily Chee. She is a model and actress, known for starring as Young Jessica Rho in "Sunset Park", and for portraying Sarah 'Britney in "Zoe Valentine".
The rumors that they fell in love and became romantically involved in a relationship started flying around in 2018, and although they have never commented publicly on the subject, it is obvious that they enjoy each other's company, since they were spotted together multiple times on various occasions. Moreover, if you scroll through the photos William posted on his official Instagram account over the last two years, you will find that he only uploaded photos of where he is alone or with her.
Recently, he celebrated her birthday by posting their photo and writing in the caption, "Happy birthday Lily love n miss u," to which she replied, "love you long time," with heart emojis. Is it a sign that something has been going on between them for some time? Many believe that the two are a couple, but they just want to keep it low-profile. What they really are, it remains to be seen!
As William is still just 16, one suspects that he has a long way to go in the dating stakes, but then, young love can be very fickle, can't it, and do curious thing to teenagers – remember!?