Is Miranda Cosgrove on Icarly dating Lil Pump? Her bio, age, net worth, siblings, parents, albums, school of rock
• Miranda Taylor Cosgrove is an American singer, songwriter, and actress.
• She was discovered at the age of three when she was singing and dancing in a restaurant.
• She started her career at the age of seven when she was cast in a "Burger King" commercial.
• She starred in the Nickelodeon TV show "iCarly", which helped to enhance her career.
• She has a net worth of over $8 million and is active on social media sites Twitter and Instagram.
Miranda Taylor Cosgrove is an American singer, songwriter and actress who is well known for her role in the show "iCarly". She started her career at the age of seven when she was cast for a "Burger King" commercial. She has also done some voice overs for animated movie characters, and is working on her music.
https://www.instagram.com/p/BsyuItEn54a/
Early life and family
Miranda was born on 14 May 1993 in Los Angeles, California USA, the only child to her parents, mother Christina, and father Tom Cosgrove who owns a dry-cleaning business. Miranda was discovered at the very young age of three when she was singing and dancing around in a restaurant called "Taste of LA". She was home schooled which was a convenient option, considering her budding career as an actor. Throughout her childhood she appeared in various TV commercials, and shows while also working on her potential career as a singer. After her popular show came to an end, she decided to enrol herself into college. In 2011, she was accepted aby the University of Southern California and New York University, finally attending the former by the fall 2012, initially majoring in film and acting, but later switched her major to psychology.
Career
As mentioned, Miranda started her career at the age of three, and was cast in the commercials for such as "Burger King", "McDonald's" and "Mello Yello". She states that when she and her mother were approached with the offer, they had no thoughts for such a career, and that it was pure chance. After trying out modelling for some time, she decided to pursue this option, no doubt with her mother's approval, and so at the age of seven began auditioning for various television shows.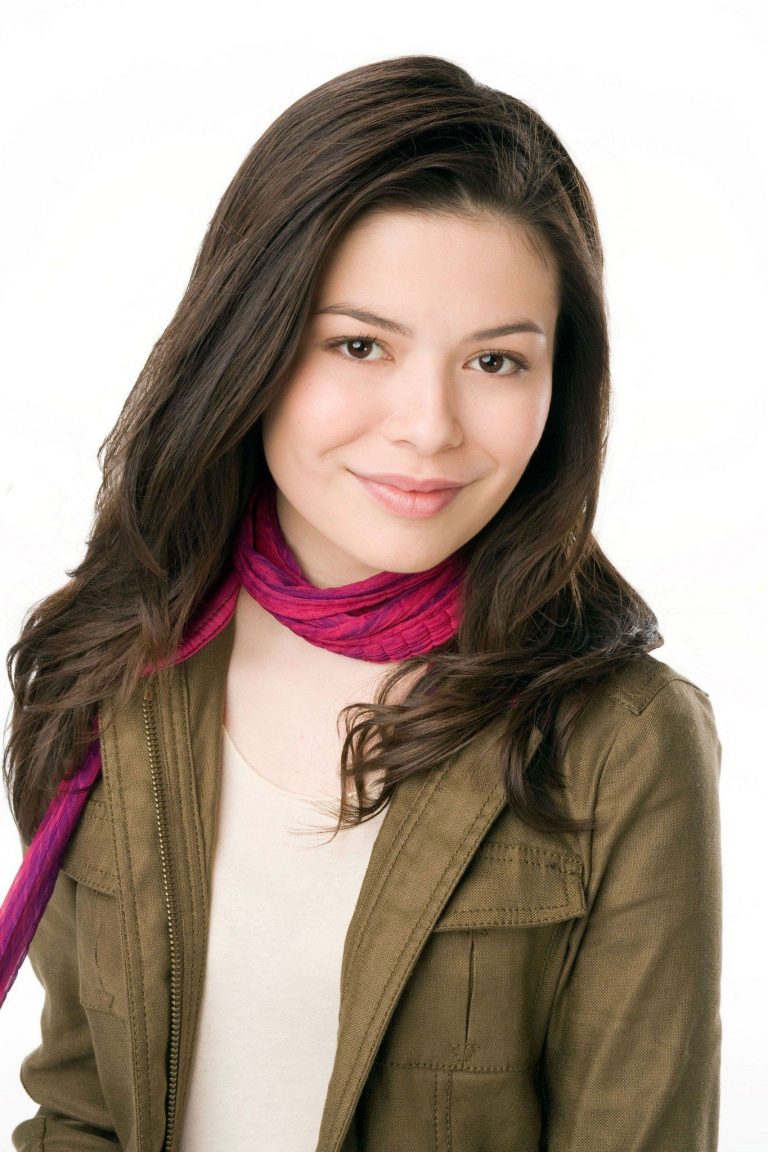 Miranda's first 'appearance' was as the voice of young Lana Lang in the pilot of the show "Smallville" She bagged a role in her first film in 2003, cast as the band manager Summer Hathaway in the movie "School of Rock" directed by Richard Linklater, which became a box office hit, grossing over $131 million worldwide, with her performance praised a lot by the critics. Following this, in 2004 Miranda had a major role in Nickelodeon TV's series "Drake and Josh" alongside Drake Bell and Josh Peck, portraying the younger sister of the lead characters. Since then, Miranda has been appearing as a guest in various movies and TV shows, such as "What's New, Scooby- Doo?", "Grounded for Life", "Here Comes Peter Cottontail: The Movie", and one of the popular shows on the Disney channel, "Lilo & Stitch: The Series".
Miranda made another major breakthrough in 2007, when she starred as Carly Shay in the Nickelodeon show "iCarly". This popular series helped to enhance her career, recognised as one of the influential youth icons in industry, and also made her the top earning actress in 2012. Along with her acting career, Miranda got a boost in her singing career too from the show, for which she recorded her debut track "Leave it all to me". Following this, Miranda released a very successful studio album, six new singles, two EPs and various soundtracks.
In 2011, the singer-actress went on a tour to promote her album, which she extended and renamed "Dancing Crazy Summer Tour" to promote her second EP – "High Maintenance",  going on to complete the final leg called "Summer Tour". In 2015, Miranda was cast in the NBC comedy "Crowded", but which was called off after one season. She also did the voiceover of Margo in the movie "Despicable Me 2", before starring in the horror movie "The Intruders" with Austin Butler as male lead. Miranda also has many projects lined up for the upcoming year.
Apart from acting, Miranda also loves to write and she is a National Spokesperson for "Light of the Nightwalk" an organisation working for raising awareness about blood cancer.
Relationships and linkups
Throughout her career, Miranda has been linked to many co-stars and has dated a few of them; she was rumoured to be dating her "iCarly" guest star James Maslow a few years after he had been on the show, and was also linked to Nathan Cress, the onscreen boyfriend of Miranda in the same show. Miranda is also known to have dated "Paper Towns" star Nat Wolff.
Recently, rapper Lil Pump expressed his desire to date Miranda, and revealed that he has a crush on her. Although the actress and the rapper have a lot in common and the rapper has even posted a picture on his social media with a cake depicting the "iCarly" star's picture, which sparked rumours between the two, it turns out that Miranda has never responded to Lil Pump's approach.
https://www.facebook.com/435612429850593/photos/a.620309164714251/1542085145869977/?type=3&theater
Net Worth
Miranda Cosgrove's net worth is estimated by authoritative sources at over $8 million, including earning $18,000 per episode of "iCarly", making her one of the highest paid child actresses on TV. She has also been the ambassador for various brands including "Neutrogena". As part of a pay-back, she makes notable donations to charities working for leukaemia and blood cancer each year.
Social Media Platform
Miranda is very active on social media sites Twitter with 7.3 million followers, and Instagram with 8.3 million fans.