Is Top Chef Koren Grieveson Married Anne Burrell? Her Bio, Net worth, Engaged, Wedding, Restaurant
• Koren Grieveson is a renowned chef and winner of the James Beard Award for Best Chef: Great Lakes.
• She was born in Luanda, Angola and moved with her family to Connecticut when she was 10.
• She joined the military at 17 and worked in catering for New York Lollapalooza festivals after.
• She is in a relationship with fellow chef and TV personality Anne Burrell.
• Her estimated net worth is close to $5 million.
Who is Koren Grieveson?
Koren Grieveson is a renowned chef who has won the "James Beard Award for Best Chef: Great Lakes". Currently, she works in a gastro bar and casual restaurant in New York as the meat chef. She is famous for appearing on various prominent TV shows including "Top Chef" and "Iron Chef America – The Series".
Scaling in the vineyards pic.twitter.com/4eZup8NzH1

— Koren Grieveson (@KorenGrieveson) December 24, 2016
Koren Grieveson Background and Early Life
Koren was born under the Scorpio Zodiac sign, on 4 November 1971, in Luanda, Angola, but is actually South African, but is now American by nationality and belongs to the white ethnicity. Her family did a lot of traveling around Europe and America, as her father was a businessman who dealt with poultry, and as his business expanded, he moved from Angola to Zimbabwe, England, Iran, Brazil, and eventually settled in Connecticut in the US when Koren was 10 years old.
Koren Grieveson Professional Career
Before Koren became a renowned chef, she made the bold decision to join the military at the tender age of 17, despite her mother's objections. She remained in the service for eight years, and when asked in an interview why she joined the force Koren had a funny explanation.
According to her, she was lured into the force by the thought of driving military jeeps, however, when she joined the military, the jeeps had been switched for Humvees that same year. She confessed that she was young and when the recruiter showed up on her doorstep, her mother explained to her that she was sacrificing her eight years. Although that came as news to her, her stubborn nature made her accept the sacrifice and sign up. She has never regretted making that decision and is happy that she got to serve her country when there was no war, unlike what troops are facing today.
When Koren left the military, she proceeded to do catering duties for the New York Lollapalooza festivals where she provided food. She also served some big bands such as the Eagles and the Rolling Stones. Her skills in the kitchen during those days made her pursue a career of a chef. To succeed, she joined the Culinary Institute of America, with mentorship from Paul Kahan who is an award-winning chef. She graduated from the Culinary Institute of America in 1997.
Koren worked with Kahan for half a decade as a sous chef at the Blackbird restaurant owned by the latter. She also worked under chef Michael Mina at the San Francisco's Aqua. In 2003 Koren helped Paul Kahan to open Avec, a wine bar, and in 2008 Koren had the honor of being named Best New Chef by the Food & Wine magazine, for creating delicious Mediterranean dishes at the restaurant. Two years later, Koren won the "James Beard Award", after which she managed the Claudette kitchen before moving on to Rusto in 2015 where she worked for six months.
Apart from her many accolades for working in some of the high-end profile restaurants such as Avec, Blackbird, and Rusto, Koren also had the role of a guest judge on well-known cooking shows including "Iron Chef" and "Top Chef".
Is Top Chef Koren Grieveson Married to Anne Burrell?
When it comes to Koren Grieveson's personal life, she is a lesbian who is involved romantically with Anne Burrel, also an American television personality and a chef, known for her role as a former Institute of Culinary Education instructor, where Koren studied. The two began dating in 2010 and revealed their affair in The New York Post before announcing their engagement on 31 December 2012.
Anne was born on 21 September 1976 in Cazenovia, New York, and has been involved in a number of reality television projects, such as "Worst Cooks in America" and "Secrets of a Restaurant Chef", which is a Food Network show. She was also featured in the series "Iron Chef America", "The Best Thing I Ever Ate", and was a contestant on the show "The Next Iron Chef" in the Food Network show's fourth season.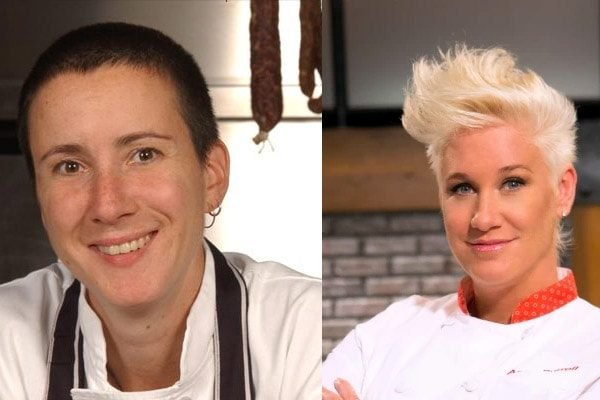 She also runs her own show known as "Chef Wanted with Anne Burrell" for 2012-2013 seasons. Anne has always been open about her sexuality, and is considered a role model to many gays and lesbians. Despite the couple being engaged for over half a decade, there is no news of them planning a wedding, although they have a special place, Vieques, Puerto Rico.
Koren Grieveson Net Worth
Like any accomplished chef, Koren Grieveson has accumulated a small fortune, supplemented by her time in the army. As of early 2019, Koren's net worth is estimated by authoritative sources at close to $5 million, which would seem likely to increase assuming that her career continues successfully.