Jaden Newman: How She Follows Her Brother Julian Newman
Jaden Newman's journey in the world of American basketball is a story of undeniable talent and determination. It all began at the age of five, when she first picked up a basketball, marking the inception of her love for the game. It was a viral video that catapulted her into the public eye, where her remarkable skills and dedication caught the attention of sports enthusiasts.
Jaden is undoubtedly one of the promising young talents in basketball. Her impressive performances and continuous improvement on the court have garnered admiration from fans and sports enthusiasts alike.
Her journey, though, raises the question: Who is Jaden, and how is she following in the footsteps of her brother, Julian?
Let's find out!
Early Personal Life
Born on 13 June 2004, in the sunny state of Florida, Jaden Newman came into a family with a rich sporting heritage. Her parents, Vivian Gonzalez and Jamie Newman, both had their time as point guards on the basketball court.
In addition to her father's experience as a professional basketball player, this brother-sister duo, Jaden and Julian, enjoyed an enviable advantage—excellent mentorship in basketball from the time they could walk.
While both siblings were influenced by their parents' basketball prowess, it was Jaden who found herself most drawn to the sport, primarily under the guidance of her dad, who also served as a coach at her private school.
It was this personal connection to the game that sparked her fascination with basketball, setting her on a path to follow her own unique journey in the world of sports.
Apart from this, not much is really known about Jaden's childhood. She's never opened up about what her childhood was like.
Education
Jaden attended Downey Christian School in Florida. That's all we know about her basic education journey.
Career
Jaden's ascent to the basketball world's limelight began at the tender age of five, when a video of her showcasing her basketball prowess went viral, grabbing the attention of enthusiasts far and wide.
While some experts lauded her finesse and court command, going as far as predicting her as the potential "Greatest of All Time" in basketball, Jaden's own response was to double down on her efforts, spurred on by the enthusiastic reactions of her supporters.
By the time she reached eight, Jaden was making her mark in the varsity division of her private school's basketball team. Later, she continued to showcase her skills as a vital member of Downey Christian School's varsity girls' team.
When she first joined the team as a fifth-grader, she began with an average of 15 points per game, and her scoring skills improved significantly over the next two years. Her point total per game doubled between the sixth and seventh grades. By eighth grade, she was averaging nearly 46 points per game.
Notably, Jaden set a national record by scoring an impressive 70 points in a single game, showcasing her exceptional talent. She also achieved the distinction of becoming the youngest player to reach 1,000 points in any sport, making her mark as the youngest varsity prep player.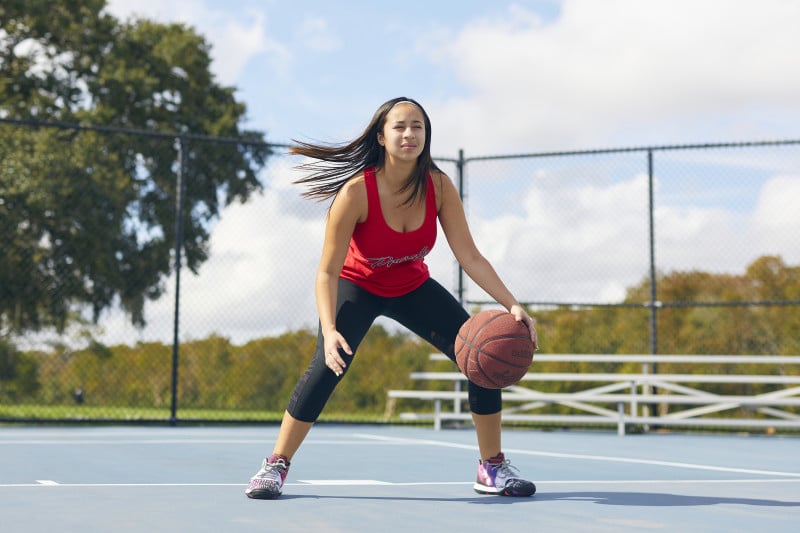 However, it was in 2015 that she truly left her mark on the basketball world. In an incredible display of her prowess, she emerged victorious in a three-point shooting contest against none other than Stephen Curry, an eight-time NBA All-Star. The win solidified her reputation as an impressive force on the court, and proved that she was living up to the lofty predictions that had surrounded her.
Jaden's sharpshooting abilities and remarkable teamwork shine on the court. She boasts a high shot-conversion percentage compared to her peers and averages more than seven assists per game, coupled with five steals and four rebounds.
Her skills have not gone unnoticed, as she earned a spot among the top 100 best basketball players in varsity. As she continues to hone her talent, she's undoubtedly a promising prospect in the world of basketball, with her sights set on making a future appearance in the WNBA.
In 2019, she expanded her horizons by releasing her debut single, "I Run It," featuring Chandler Broom. This showed that the sports star is indeed a multi-talented young woman.
In 2023, even after facing an injury that temporarily sidelined her, Jaden demonstrated her unwavering commitment and made a triumphant return to the court, showcasing her enduring love for the game.
Jaden's talents extend beyond the basketball court. She has made appearances on TV shows including "The Queen Latifah Show" and "Hello Newmans." Furthermore, she took center stage in "All About Jaden," a reality TV series that offered viewers a glimpse into her life as she explores new opportunities and seeks independence, while still embracing her family's support.
Her charm doesn't end on the basketball court. In fact, Jaden's influence shines bright on social media as well. With a strong presence on social media platforms such as Instagram, she boasts over one million followers, making her a notable figure among the younger generation.
So how is Jaden following in her brother, Julian's footsteps?
Julian Newman made headlines as a basketball prodigy, boasting remarkable stats from a young age. In fifth grade, his average on the varsity squad at Downey Christian was an impressive 17 points, a sign of his early talent. In the following season, he continued to impress, averaging an astonishing 17.4 points, 3.6 rebounds, and 9.8 assists.
In 2015, during his seventh-grade season, Julian achieved a significant milestone, becoming the youngest player to reach 1,000 career varsity points at just 13 years old. He concluded that season with an average of 19.8 points, 4.3 rebounds, and 10.2 assists.
His eighth-grade season saw even more impressive numbers, with averages of 23.9 points, 3.6 rebounds, and 11.4 assists, all indicating a bright future in basketball.
By his senior season in 2019-20, Julian was averaging an impressive 32.3 points, 5.4 rebounds, and 6.9 assists, and per game. Although the initial hype around him had diminished, his basketball journey remained captivating. However, he didn't receive national rankings from the likes of 247 Sports or ESPN for the Class of 2020.
Julian's high school basketball journey took various turns. He spent most of his career at Downey Christian. After that he moved over to Prodigy Prep for his senior season, culminating in his high school graduation in 2020 after an extensive seven-year varsity basketball career.
With a total of 6,246 points to his name, Julian secured the fourth position on the nation's all-time best scorers list for boys, reflecting his remarkable career from back in 2013 all the way to 2020.
Despite his extraordinary talent, Julian faced challenges in transitioning to professional basketball, with many attributing it to his height. Julian himself clarified his height as "5ft 5ins/5ft 6ins during a Thanalysis podcast in 2023.
Currently residing in Las Vegas after moving from Orlando, Julian is embarking on new ventures, working on launching a YouTube channel as well as a show likely to be named "Beat Julian Newman." The aim of the show would be to let players engage in one-on-one match-ups with him.
Despite all this, Julian is still hoping to one day play professional basketball, because it's his true passion.
Interesting Facts
Jaden's off-court interests are as diverse as they come. Beyond her skills on the basketball court, she's not one to shy away from embracing fashion and sharing her stylish side on Instagram with an array of stunning images.
At the varsity prep level, Jaden stands out as the youngest female to surpass the remarkable milestone of 1,000 career points.
While basketball is undoubtedly a significant part of her life, Jaden has a range of other passions, including painting, traveling, and singing.
She holds a particular fondness for Miami, and is drawn to its beautiful beaches and lovely weather.
Dedicated to her craft, Jaden practices diligently, sinking 500 shots daily to maintain her competitive edge. That's quite the dedication!
It's no surprise that her talent earned her a scholarship offer from the University of Florida when she was just nine years old.
Jaden's favourite actors are Leonardo DiCaprio and Carl Hiaasen, and she loves actresses Bella Thorne, Jennifer Lawrence, and Naomi Scott.
Her favourite movie is "The Babysitter." When it comes to colors, blue tops her list.
Her preferred food is none other than conch fritters.
Later Personal Life
As of now, it's unclear if Jaden is dating anyone. She's apparently keeping this part of her life private and away from the public eye.
Physical Characteristics
Jaden isn't strikingly tall, as she stands at 5ft 6ins (170cm) and weighs about 121 lbs (53kg). She has medium-length brown hair and brown eyes.
Net Worth
Jaden may still be young but she's a sports star, so it should come as no surprise that her net worth is estimated to be $2 million as of late 2023. She also earns money from the reality shows she was part of and her social media content.