The Untold Truth of 'EXO' Member – Suho (Kim Jun-myeon)
• Kim Jun-myeon, known as Suho, is a singer and actor, and a member of the K-pop boy group Exo.
• He has a net worth of over $5 million, earned through his music and acting work.
• Suho was discovered by SM Entertainment while on the streets of Seoul, and was offered a contract to become a trainee.
• He was introduced as the 10th member of Exo in 2012, and the group has gone on to become the biggest boy band in the world.
• Suho is single and does charity work in his free time.
Who is Suho?
Kim Jun-myeon was born on 22 May 1991, in Apgujeong, Seoul, South Korea, and is a singer as well as an actor, best known for being a member of the K-pop boy group Exo. He is the lead vocalist and leader of the group, and also a member of its sub-unit called Exo-K.
The Net Worth of Suho
As of early-2020, Suho has a net worth estimated to be over $5 million, earned through a successful career in the entertainment industry. Aside from his music work, he's an actor whose appeared in several television dramas and films, including "Rich Man", "One Way Trip", and "How Are U Bread".
Early Life, Education, and Career Beginnings
Suho grew up in Seoul with his family, and he was a very active student – while in elementary, he was the student body vice-chairman. He excelled in academics, and later attended Whimoon High School, one of the oldest private high schools in the country. He was discovered by an SM casting manager while on the streets of Seoul, and was offered a contract to become a trainee for SM Entertainment, which is the largest entertainment company in the country.
They are known for being the home of various acts such as Red Velvet, NCT, Girls' Generation, Super Junior, and many more. This kickstarted his career in the entertainment industry.
While training with the company, he appeared in a small role in the film "Attack on the Pin-Up Boys", featuring Super Junior. He also enrolled at the Korea National University of Arts, studying there for two years before moving to Kyung Hee Cyber Universities as a part of the Culture and Arts Department of Business Administration, and took classes alongside future Exo members.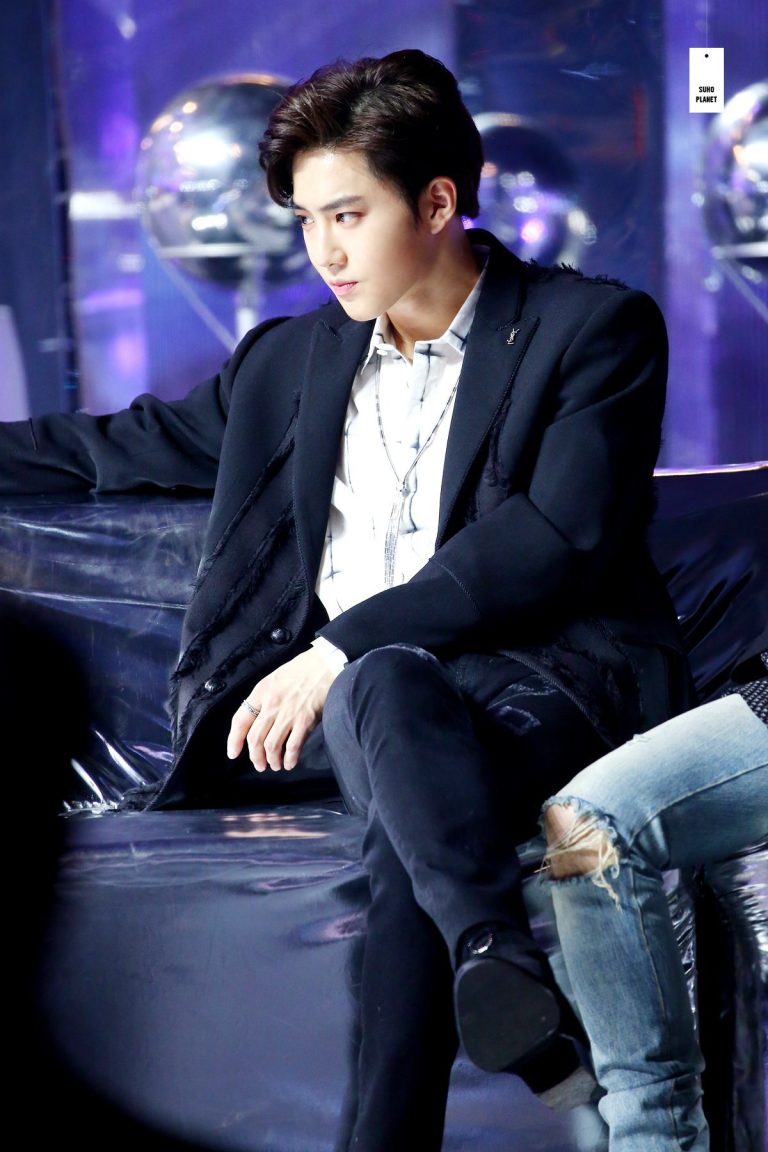 Success with Exo
In 2012, Suho was introduced as the 10th member of the new boy band Exo which made their debut shortly afterwards. The music of the group was an incorporation of pop, R&B, and hip-hop, and they also integrated electronic dance music (EDM) genres into their tracks. The group is known for performing in Mandarin, Japanes, and Korean, with their success leading many publications to declare them as the biggest boy band in the world.
Initially, Exo performed as two sub-groups – Suho was a part of Exo-K which performed in Korean, while the other group Exo-M, performed mainly in Mandarin. Other sub-units that were created include Exo-CBX and Exo-SC. After the release of their third EP, "Overdose", the group has performed primarily as one unit. Three of Exo's members left due to legal problems, leaving Exo to continue with nine members. Their single "Growl" met with a lot of commercial success, and their next album which contained it – called "XOXO" – sold over a million copies, making them the first to achieve that feat for 12 years. They won many awards as a result.
#EXO's #Suho Confirmed To Be Preparing 1st Solo Albumhttps://t.co/pahNkYLFAh pic.twitter.com/sI2ldEq15F

— Soompi (@soompi) February 19, 2020
One of their recent releases is "Don't Mess Up my Tempo", which is their highest charting on the US Billboard 200. They have gone on tours across the world, performing over 100 concerts. They also now have deals with corporations such as Samsung and Nature Republic.
Solo Projects
While still working with Exo, Suho was also making a name for himself outside the group as an actor. One of his first roles was in the animated film "Saving Santa", in which he dubbed for the main character Bernard.
He starred in the musical "School OZ" and was a regular cast member of "Fluttering India" where he was shown traveling the country. For some time he was also a regular host of the weekly music show "Inkigayo" alongside Baekhyun.
In 2017, he became the lead character of the drama "The Universe's Star", and recorded a single for its soundtrack.
He was also the male lead in the film "Female Middle Schooler A", and the following year worked on the independent film "Rich Man, Poor Woman", then starred in the musical "The Man Who Laughs" as the character Gwynplaine, gaining many positive reviews for his performance. One of his latest projects is a film called "The Present", in which he plays an entrepreneur. It is a virtual reality (VR) film, also starring Shin Ha-kyun and Kim Seul-gi.
Personal Life
Suho is single, and he's very busy with his work as an actor and with Exo, so has little time for romance. He also doesn't talk about this aspect of his life, which is common for many artists in the country, who are often tightly controlled by management to retain their image.
He speaks Mandarin, even traveling to China to get a better grasp of the language. He has been described as considerate and polite. During his free time, he does a bit of charity work and always buys Exo members' food when given the chance.