The Untold Truth of K-pop Rising Star – Kim Samuel
• Kim Samuel is a singer from Los Angeles, California, USA.
• As of early-2020, his net worth is estimated to be over $1 million.
• He first appeared in the tv show "Seventeen TV" at 11 years old and was part of the hip hop duo 1Punch.
• In 2017, he participated in the 2nd season of "Produce 101" and released his first solo album in 2018.
• He is knowledgeable in Spanish and English, plays several instruments, has expressed interest in acting and photography, and knows how to play golf.
Who is Kim Samuel?
Samuel Kim Arredondo was born on 17 January 2002, in Los Angeles, California, USA, and is a singer, best known from performing under the name Samuel or Punch, initially as half of the hip hop duo 1Punch during 2015, though later pursuing a solo career. He also earned a bit of fame through his appearance in the second season of "Produce 101".
The Wealth of Kim Samuel
As of early-2020, Kim Samuel's net worth is estimated to already be over $1 million, earned through a successful career in the music industry.
He's released numerous singles and extended plays (EPs), and also worked on a solo album.
Early Life and Career Beginnings
While Samuel later found fame in South Korea, he grew up in Los Angeles – his mother is of South Korean descent while his father is Mexican-American. At a young age, he aspired to a breakthrough in the entertainment industry, and was making public performances at 11 years of age. One of his first appearances was in the television show "Seventeen TV", which showcased the boy band Seventeen, and was a means to promote them before their debut in the industry.
He trained under Pledis Entertainment, but decided against continuing with the project, leaving the agency in 2013, in the meantime developing his singing and rapping skills. After two years, he then became half of the hip hop duo called 1Punch alongside rapper One, created as a collaboration between D-Business Entertainment and Brave Entertainment. Their first single was called "Turn Me Back", and they promoted singles leading up to their album "The Anthem" – they showed a lot of potential but it was short-lived.
일년이 넘게 활동도 못하고 있는데 저를 믿고 기다려 주시며 변함없이 예뻐해 주시는 가넷분들께 정말 감사합니다. 특히 이번 생일은 정말 많은 의미가 있는 생일이라서 제 각오가 단단합니다. 2020년에는 가넷 여러분들과 함께 즐거운 추억을 만들며 좋은 음악으로 보답해드리겠습니다.❤️❤️? pic.twitter.com/2P6ol0LeCW

— KimSamuel 김사무엘 (@ksamuelofficial) January 17, 2020
Produce 101
The reason why 1Punch quickly disbanded was due to One being scouted by YG Entertainment, and began training under them, leading to the disbandment of the duo. Samuel continued with the group under the name PUNCH, and released the single "Spotlight" in 2016, which was a collaboration with rapper Silento, which proved successful, and they won a Seoul Music Award as a result. The two continued working together, and they toured the US together.
In 2017 he began his first steps towards a solo career, making an appearance in the survival show "Produce 101" during its second season, as a representative for Brave Entertainment. In the show, the public chooses among 101 trainees representing 54 different companies across South Korea. Viewers can vote online or through live voting, to choose which among the contestants remain. Ultimately, 11 members would be chosen, debuting as the group Wanna One.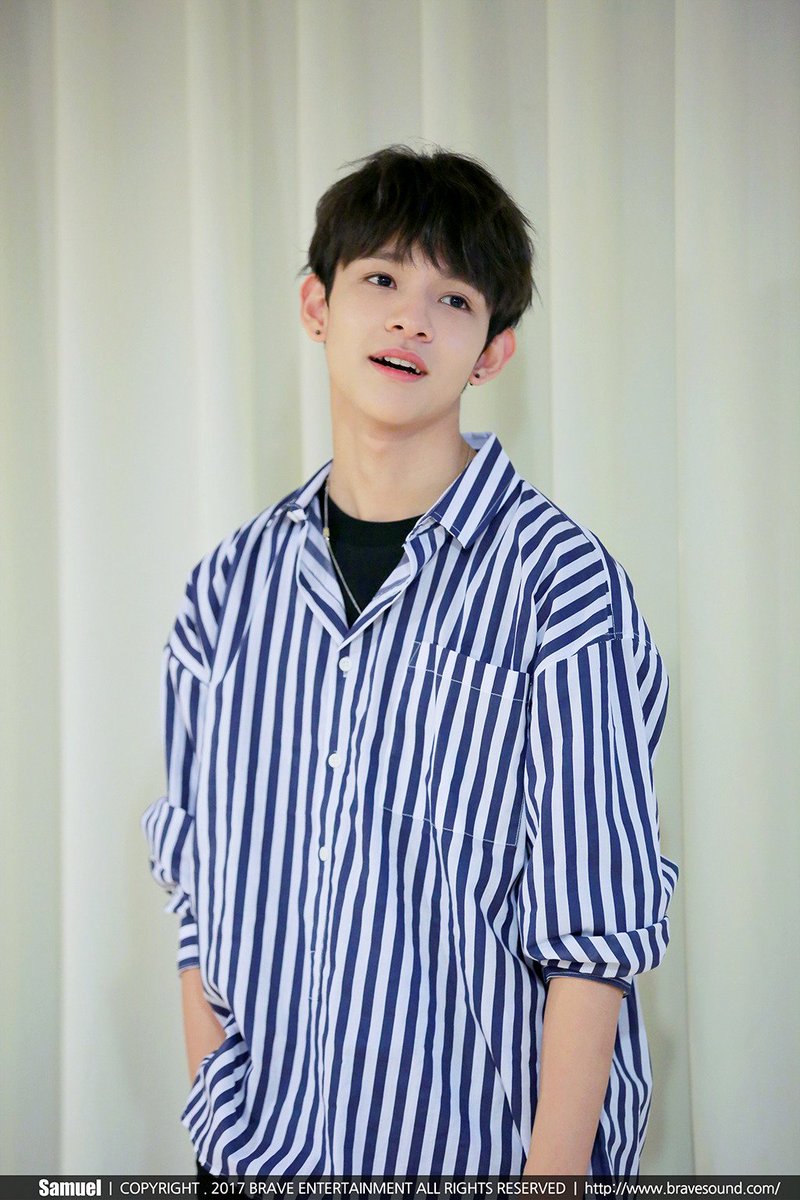 The show was very popular, seeing around 30% of the South Korean community vote during the finale. Kim was one of the early favorites in the competition, but was ultimately unsuccessful, finishing 18th overall., which surprised a lot of his fans who were sure he was going to make it into Wanna One.
Solo Career
Being unsuccessful during the second season of "Produce 1" didn't stop Samuel's momentum, as a few months after the competition, he debuted as a solo artist.
He first released the mini-album "Sixteen", which had a leading track of the same name, featuring the rapper Changmo. Later in the year Kim released his first full album called "Eye Candy", which consisted of 10 tracks, with the lead single of the album titled "Candy".
He was gaining a lot of attention, and began making waves with the Japanese community, leading him to sign with the promotion company Pony Canyon. In 2018, he released his first Japanese single, which was a Japanese version of his song "Sixteen".
He then worked on his second mini-album called "One", which featured Jung Il-Hoon of BtoB popularity, and in the next few months worked on his second Japanese single, a Japanese version of "Candy". One of his latest releases is the album "Teenager", which featured collaborations with Lee Ro Han who had gained fame from his performances during the second season of "School Rapper".
Personal Life
It is known that Kim Samuel is single and like many South Korean artists, he has not yet given a lot of attention towards his romantic life, however, he is close to a younger sister.
He is knowledgeable in Spanish and English as well as Korean. He can also play several instruments, though he is particularly skilled with the drums. Aside from music, he has also expressed interest in acting and photography He also knows how to play golf as his father owns a golf course in California. He frequents the US often due to his family, but his work in the South Korean entertainment industry has meant that he is often situated there.