The Untold Truth of 'KARD' Member – J.Seph
Who is J.seph?
Kim Tae-hyeong was born on 21 June 1992, in Chungju Chungcheongbuk-do, South Korea, and is a rapper, best known for being a member of the K-pop co-ed group KARD, managed by DSP Media. He's been a member of the group since 2017, and has released several projects with them including albums.
The Riches of J.Seph
As of early-2020, J.Seph has a net worth estimated to be over $400,000, earned through a successful career in the music industry. With KARD he's won several awards, and toured around the world.
Many of their singles have charted highly in Korea and internationally.
Early Life and Career Beginnings
At a young age, J.Seph developed a strong interest in the hip-hop genre, developing his ability to rap over the years. When he became aware of the entertainment industry, he saw the possibility of finding success as a rapper like many other K-pop artists have in the past.
He began auditioning, and eventually signed a contract with DSP Media; the entertainment company has been active since 1991, and is home to numerous artists including APRIL and Oh Jong-hyuk. They have also been the home of many pioneer K-pop groups including KARA and SS501.
For the next five years he trained with the company, and befriended future bandmate BM. Their other band member Somin was previously a member of the girl group Puretty before debuting with the girl group April, though she left just a few months later.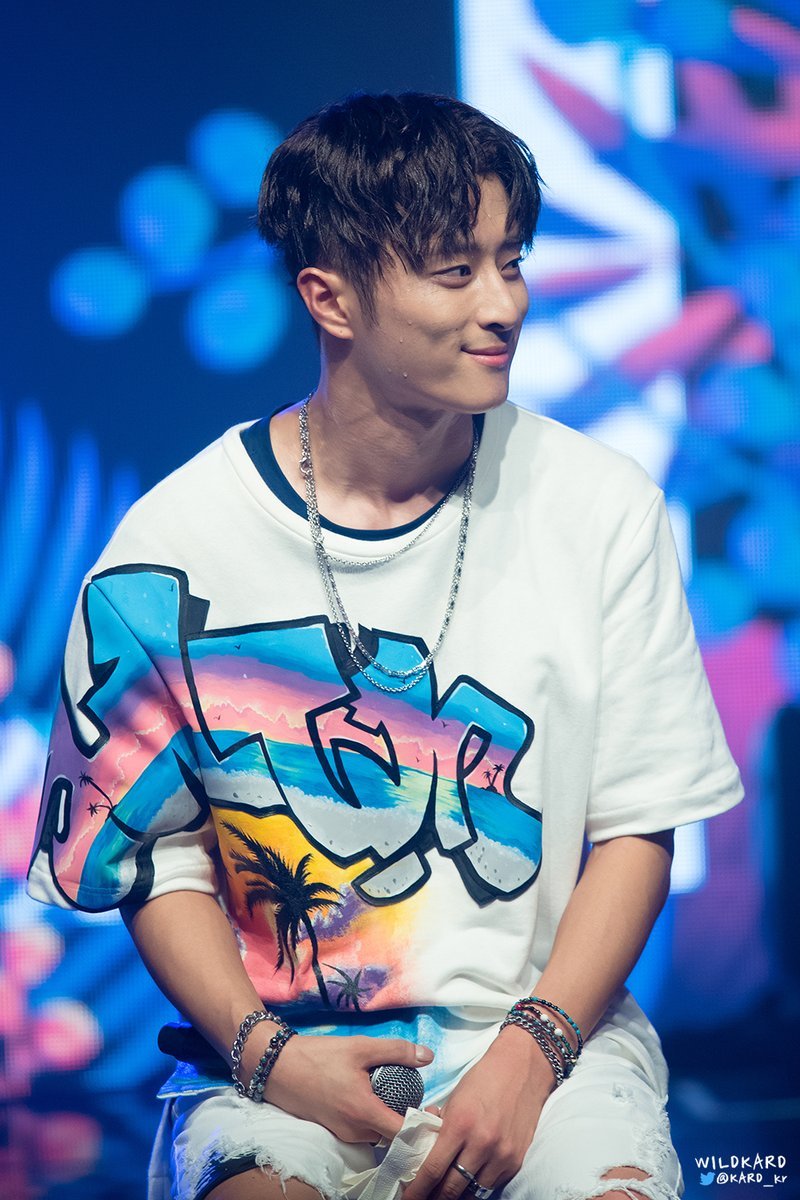 BM and J.Seph were set to debut as a hip-hop duo, but plans changed. Their fourth member Jiwoo was a trainee for FNC Entertainment before moving to DSP. She adjusted quickly, and in a matter of months was considered for a new co-ed group called KARD.
Rise to Fame
In late-2016, KARD started promoting the group through teasers leading to the release of several singles. Their first release was the song "Oh NaNa" which featured singer Heo Young-ji. They planned to release two more singles before their official debut.
By the start of the next year, the group was gaining recognition by the US Billboard charts as a notable K-pop artist and they capitalized on it by releasing an English version of their next single "Don't Recall". A few months later, they were named as the ambassadors for the LG G6 smartphone.
They then worked on their third single called "Rumor" which was the first of their collaborations with LG to promote the phone. The single charted highly in various countries across Europe, Southeast Asia, and the US.
They then held their first US Tour a few months later called The 1st Tour "Wild K.A.R.D". After their tour, their debut extended play (EP) "Hola Hola" was released, comprising their previous singles along with six-new tracks, with the lead single being "Hola Hola". They made their first television performance in the show "M Countdown", and then went on a tour across Europe and the US.
Recent Projects
Later in 2017, KARD released their second EP called "You & Me" with the slightly confusing title track "You In Me".
Their female members Jiwoo and Somin were also featured in the Super Junior lead single "Lo Siento", which was a part of their repackaged album "replay". The two went on to perform with Super Junior for various music programs, after which KARD went on a tour across Southeast Asia, visiting the Philippines, Taiwan, Singapore, and Hong Kong. They were also selected to become a part of the US SXSW music festival, the only K-pop group to be selected to participate.
In 2018, they held a tour of Indonesia and Australia, meeting fans while as well as performing.
flower boy ??? #JSEPH pic.twitter.com/Os1h1XcdV9

— j.seph pics (@PICSEPH) January 16, 2018
After a few months, they announced their return to making new music, releasing another EP "Ride on the Wind", leading them to appear on "M Countdown" once more; afterwards they held their first solo concert in Korea. In 2019, they released a new single called "Bomb Bomb", and followed it up with "Dumb Litty", which helped them become one of the top 50 artists in digital sales for the year, according to Billboard. One of their latest appearances was in "Young Hollywood" while on a tour in the US.
Personal Life
It is known that J.Seph is single – he isn't one to reveal any information about his romantic relationships, which is common for many Korean artists. He admits to admiring Cha Ye Ryun and Park Si Yeon, comparing them to his idea of an ideal girl.
He is comedic and loves making his band laugh – he's described as one who eats and jokes the most. He is also close with K-pop idol Sowon from GFriend. He plans to undertake acting projects in the future.
He is a big fan of soccer, particularly the player Cristiano Ronaldo.