The Untold Truth of Monsta X Member – Shownu
• Son Hyunwoo, also known as Shownu, is a singer and dancer best known as the lead vocalist of the K-pop boy band Monsta X.
• As of 2020, Shownu's net worth is estimated to be over $300,000.
• He trained with Got7 and worked as a backup dancer before joining Starship Entertainment and appearing in the "No Mercy" reality program.
• With Monsta X, he released multiple EPs, albums, and has toured the world.
• In 2019, a controversy arose when a married woman claimed to have a relationship with Shownu, though the singer and his management clarified that he was unaware she was married.
Who is Shownu?
Son Hyunwoo was born on 18 June 1992, in Seoul, South Korea, and is a singer as well as a dancer, best known for being the lead vocalist of the K-pop boy band Monsta X. He is considered to be the main dancer and leader of the group, which consists of six members.
The Wealth of Shownu
As of early-2020, Shownu's net worth is estimated to be over $300,000, earned through a successful career in the music industry. His work with Monsta X has helped him earn significant income, along with endorsements, partnerships and solo projects.
Early Life and Career Beginnings
Shownu grew up in Seoul as an only child. At a young age, he aspired to find a career in the South Korean entertainment industry, wanting to become an idol. He began developing his singing skills, and auditioned for JYP Entertainment. He was successful, and joined one of the largest entertainment companies in the country, responsible for groups such as Stray Kids, Twice, Day6, and Itzy. He trained with many future members of the boy band Got7, including BamBam, Youngjae, Jinyoung, and JB – he became close friends with the group but didn't make the final cut.
He then mainly worked as a backup dancer, and this experience would help him develop his skills in choreography. He later changed direction, ending his contract with JYP to join a new entertainment company called Starship Entertainment. The company has been in operation since 2008, and is the home of Cosmic Girls, Mind U, Duetto, Jooyoung, K. Will, and many others. He joined the reality program called "No Mercy", which led to the formation of Monsta X.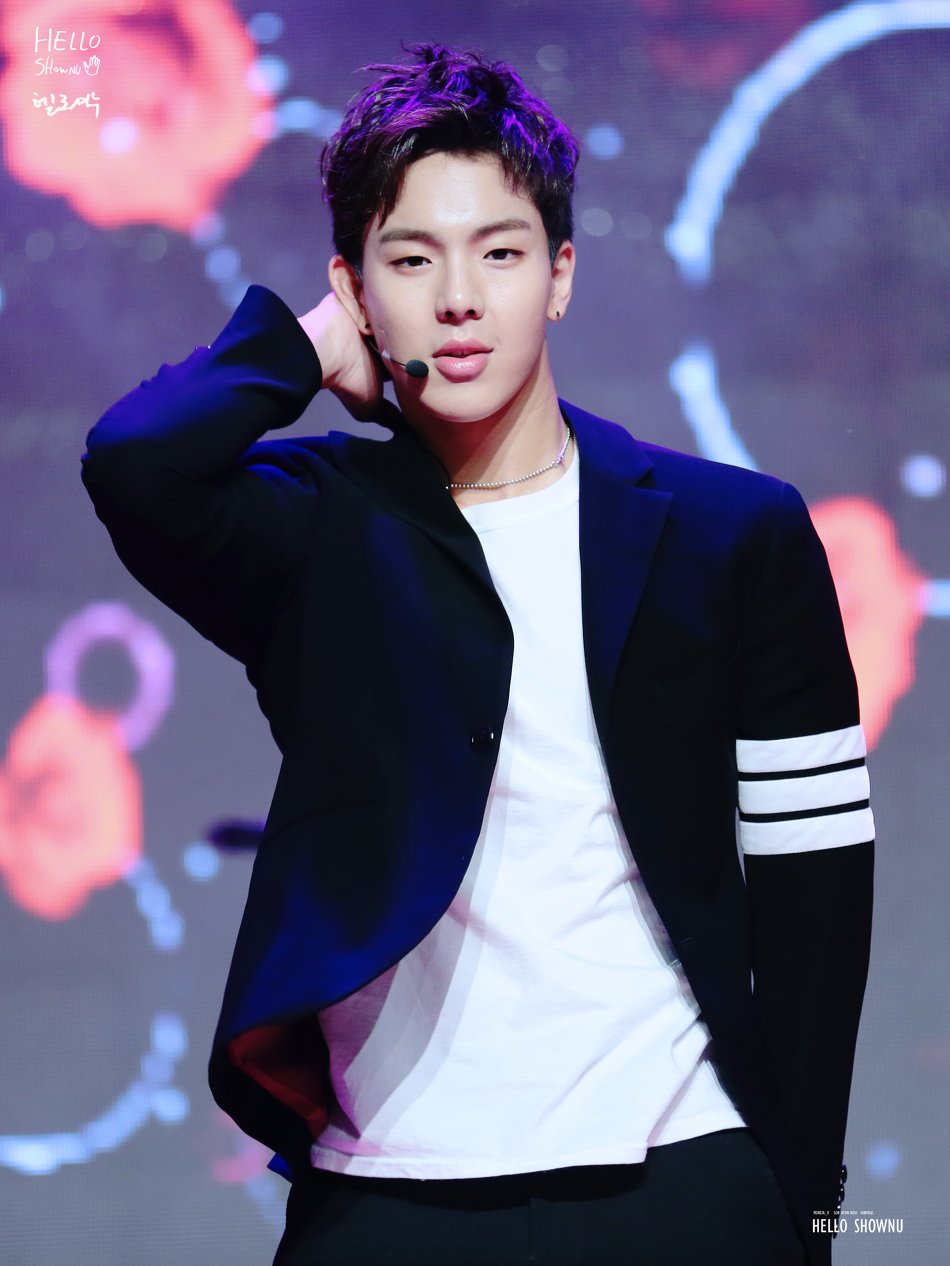 Success with Monsta X
Seven members were chosen from 12 trainees who joined "No Mercy", and Shownu was one of the successful, becoming a part of the web show "Deokspatch", which showed a lighter side to all of the trainees. The show was later continued after the formation of Monsta X, focusing on their variety show activities. Monsta X stands for Monsters conquering the K-pop scene as the group described. In 2016, the group made their debut with their first extended play (EP) called "Trespass", defining itself by having more focus on the hip-hop genre.
Later in the year they released a second EP called "Rush", which contained six tracks, and following its release they performed in the US in Los Angeles, before gaining awards during the Mnet Asian Music Awards and the Melon Music Awards. In 2016, they appeared in a new variety program called "Monsta X Right Now", and then focused their attention on their Chinese fan base, participating in shows such as "Good Evening, Teacher" and "Heroes of Remix".
In 2016 they released their third extended play "The Clan Pt. 1 Lost", and held their first solo concert which sold out quickly.
Continued Work with Monsta X
In 2017, Monsta X participated in another variety show called "Monsta X-Ray", leading to their first studio album called "The Clan Pt. 2.5: The Final Chapter", which had the chart-topping title track called "Beautiful". They also made their debut in Japan the same year, signing with Mercury Records Tokyo before releasing a Japanese version of their track "Stuck" renamed as "Hero", which reached second spot of the Billboard Japan Weekly Chart.
They continued releasing re-packaged music for Japan, before releasing their second Japanese single "Beautiful", which reached the top of the Oricon chart.
In 2018, the group embarked on their second world tour and afterward, released their first Japanese album called "Piece" which led to a live tour in the country. Later in the year, they worked on their second full album "Take. 1 Are You There?" The following year, they worked on their third studio album called "Take.2 We Are Here" and signed a new contract as commercial models for Litmus.
200211 99.7 NOW in SF ?#셔누 #ショヌ #SHOWNU pic.twitter.com/FyVW1fM9KA

— ੈ sʜᴡ (@offshw) February 12, 2020
They were also featured in the animated series "We Bare Bears", and signed with Epic Records for their English language recordings. A few of their recent releases include their seventh EP called "Follow: Find You". Later in the year, Wonho was announced to be departing for Monsta X, following claims about him that are under investigation. Fans have expressed their disapproval to how Starship handled the situation, petitioning for his return to the group.
Personal Life
It is known that Shownu is single, and that he prefers to keep any of his romantic relationships away from the public as common with K-pop artists. Management prefers that they keep romances private, as it may affect their public image.
In 2019, it was reported that Shownu had become romantically involved with a married woman after the husband came forward to authorities with his claims that his wife was cheating on him with Shownu. The singer and management later clarified that Shownu came to know the person before she was married, and didn't know that she was already married when they last met. As soon as he was informed, he cut all communication and did not want to get involved in a married couple's life.