What happened to Erik Salitan Wiki: "Life Below Zero", Wife Martha Mae, Net Worth, Wedding, High School
• Erik Salitan is a hunter, trapper, entrepreneur and reality TV star.
• He was born in New York State in 1984 and was the main cast member of the TV series "Life Below Zero" from 2013 to 2016.
• He moved to Alaska to experience the wilderness and founded a business providing tourists with guidance and outfits.
• He left the show in 2016 due to dissatisfaction with the producers and cameras.
• He is married to Martha Mae with whom he has a son, Lucas.
Who is Erik Salitan?
Have you seen "Life Below Zero" on National Geographic? It is one of those apparently unscripted shows that depicts life in Alaska, with a couple of interactions with producers and cast members, and it has shown all the good and the bad of Alaska. If you did, then you are already familiar with Erik Salitan, and if you didn't, we are here to bring you closer to this hunter, trapper, entrepreneur, and now reality TV star.
Erik Salitan was born on the 9th February 1984, in New York State, USA, and came to prominence after being selected as the main cast member of the reality TV series "Life Below Zero", in which he featured from 2013 to 2016, when he left the show.
What Happened to Erik Salitan?
Do you know why Erik left the show? Well, he wasn't happy with the producers, wanting to appear on his own, without helicopters, too many cameras and other conveniences. He moved to Alaska in order to experience the wilderness at its fullest, however, the producers made it softer, and he was dissatisfied with their approach. Since Erik left the show in 2016, he has continued his life in the Alaskan wilderness, and has been much more focused on his business, of which we will speak later. So, do you want to find out more about Erik, from his childhood to the most recent events from his life? If yes, then stay with us for a while as we are about to cover all there is to know about this popular reality TV star.
Eric Salitan Wiki: Early Life, Parents, High School
From an early age, Erik displayed an adventurous spirit, exploring the surrounding area where he lived. Following high school matriculation, he enrolled at Finger Lakes Community College and on the day of graduation, he realized that his love for an adventurous life was bigger than leading a simple life in the New York City area, sohHe packed his bags and moved to Alaska.
Erik Salitan lives on his own terms. Could you handle his lifestyle? pic.twitter.com/MDQ8lPt0zy

— Life Below Zero (@LifeBelowZeroTV) April 7, 2014
Life in Alaska
He enrolled at the University of Fairbanks, and graduated with a degree in Applied Science, following which he settled in Wiseman, which is just 67 miles away from the Arctic Circle, living in a tent while building a real house. His skills of survival improved rapidly, and he was now hunting and fishing on a daily basis, among many other activities.
Business Ventures
Once he became accustomed to life in Alaska, and familiar with the area in which he lived, Erik founded a company that focused on providing tourists with guidance and outfits. The company, Bushwhack Alaska Guiding, and Outfitting, soon welcomed their first clients, and in no time his business started blooming. Tourists came one after another to his camp, as Eric became more popular, and he was able to expand his business to two more lodges, one in Peninsula and the other in the remote Brooks Range. His success attracted the producers of the BBC Worldwide media company, and officials from the National Geographic visited his camps. After becoming more familiar with Erik's lifestyle and his entire business, they decided to portray Erik in the main cast of their new show "Life Below Zero".
"Life Below Zero"
The series premiered on the 19th May 2013, and Eric remained the centerpiece until December 2016, when he decided to leave the show. Before his official departure, Erik was away on several occasions, but would always return to the show, as fans wanted to see him on TV. However, Erik got tired of producers prying into his business ventures, and the relative comfort given to him.
Erik Salitan Net Worth
So, have you ever wondered how rich Erik Salitan is, as of late 2018? According to authoritative sources, it has been estimated that Salitan's net worth is as high as $400,000. Pretty impressive don't you think? Undoubtedly, his net worth will certainly increase in the upcoming years, assuming that he successfully continues his career.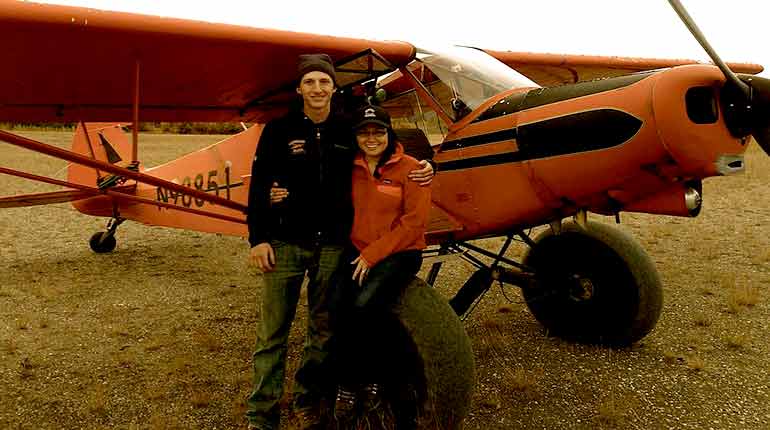 Erik Salitan Personal Life, Wife Martha Mae, Children, Wedding
What do you know about Erik's life behind the cameras? Probably not much, as he doesn't like to share details from his personal life. Despite that, we have discovered some interesting facts – Erik is married to Martha Mae, an Alaskan native who grew up in Iliamna, Alaska, and is a co-owner of Blanchard Family Funeral Home and Birch Hill Cemetery. The couple has a son together, Lucas, who is now eight years old and attends Wood River Elementary, but when the school is over, he often follows his father on his hunting trips.