Where is Kathy Kinney now? Bio, married, net worth, weight loss, spouse
• Kathy Kinney is an American comedian and actress with a net worth of over $5 million
• She is best known for portraying Mimi Bobeck on the sitcom "The Drew Carey Show"
• She also had small roles in many popular television shows and films
• She created the entertainment website MrsP.com and co-authored a book entitled "Queen of Your Own Life"
• She is married to a man named Rob, but has chosen to keep her personal life private
Who is Kathy Kinney?
Kathy Kinney was born on 3 November 1954, in Stevens Point, Wisconsin, USA, and is a comedian as well as an actress, probably best known for playing the role of Mimi Bobeck in the sitcom entitled "The Drew Carey Show". Her character was the nemesis of Drew Carey, and she earned a lot of popularity in the 1990s as a result.
The Net Worth of Kathy Kinney
How rich is Kathy Kinney? As of early-2019, sources estimate a net worth that is over $5 million, earned through a successful career in acting. She's also appeared in other popular television shows, and has done film work too throughout her career. As she continues her endeavors, it is expected that her wealth will also continue to increase.
Early Life, Education, and Career Beginnings
Kathy is of Irish-American descent – her father was an automobile dealer who passed away when she was 15 years old. She grew up in Stevens Point, and after matriculating from high school, started working for the California Conservation Corps in 1972, staing there for the next two years, and completing a six month Back Country season in Kings Canyon. She gained thousands of dollars' worth in scholarships after her run with the group, which helped her gain entry into the University of Wisconsin-Stevens Point.
After completing her college education, she moved to New York City and began working with WCBS-TV as a secretary; her time there became an inspiration for her later role of Mimi Bobeck. During nights she worked at comedy clubs, and started developing her skill in improvisational comedy. She took up improv classes where she met director Bill Sherwood, who would later cast her in the film entitled "Parting Glances".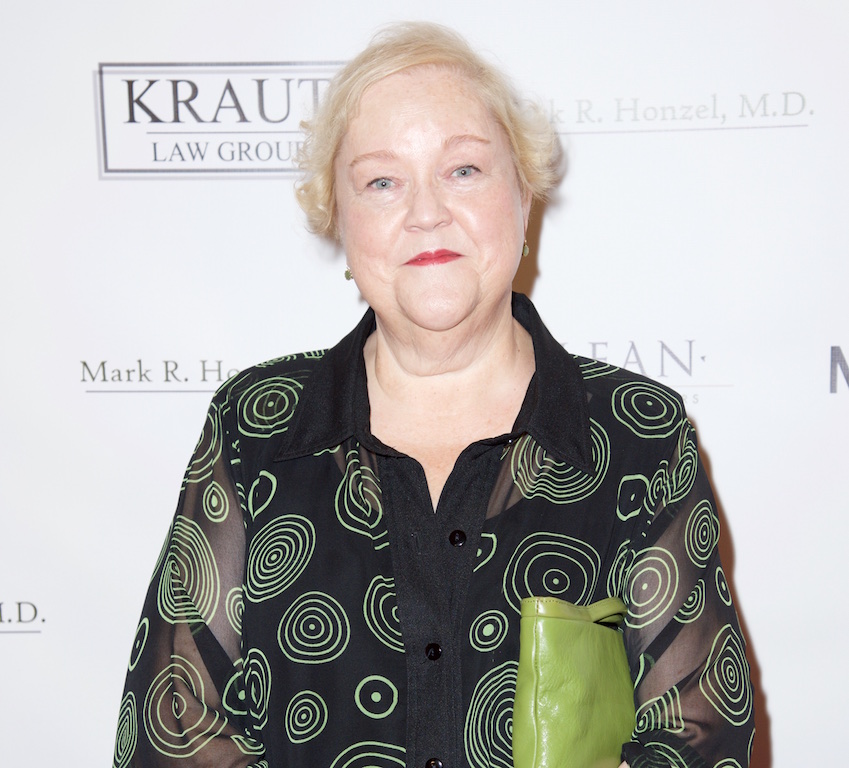 Acting Work
"Parting Glances" was successful, and after spending some time with friends in Los Angeles, Kinney decided to permanently move to the area to pursue a career in acting, deciding that she would be a character actress, and starting out with small roles in television shows such as "Seinfeld", "Superman", "Boy Meets World", "Full House", and "My Name is Earl". She gained a bit of attention thanks to her work on the show "Newhart", in which she played Miss Goddard.
Her "Drew Carey Show" character started out only as a character in the pilot. however, she gained a lot of positive feedback for her performance, which led her to be hired and featured as a regular in the show. She stayed with the series for the next nine years, and also appeared with Drew Carey in "Whose Line Is It Anyway?" She also started foraying into films, working on "This Boy's Life", "Arachnophobia", "Scrooged", and "Lenny the Wonder Dog". In 2006, she once again worked with Carey in a series of performances for American Troops in Iraq, and appeared in the documentary "Patriot Act: A Jeffrey Ross Home Movie" while working in Iraq.
sending special #HappyValentinesDay love to all the fabulous teacher and librarians I know! You make my heart full with all you do! pic.twitter.com/VMoizPI6Ve

— Mrs. P (@MrsPstorytime) February 14, 2019
Recent Projects
In 2008, Kathy created the entertainment website MrsP.com, which was made with children as the intended audience. She plays the character Mrs P, a redhead who loves books, reading children's stories from her magic library. The project underwent development for two years before launching its beta. The following year, she appeared in character as Mimi in "The Late Late Show with Craig Ferguson", and a week after her appearance she then reprised her role during the April Fools episode of "The Price Is Right", hosted by Drew Carey, appearingd as a guest model on the show, and repeated her feat the following year, this time hijacking the show as executive producer.
Kathy then lent her voice to the animated series "The Penguins of Madagascar" as the walrus Rhonda, and reprised her role in 2011. She also worked on her own book entitled "Queen of Your Own Life: The Grown-Up Woman's Guide to Claiming Happiness and Getting the Life You Deserve", which she co-authored with Cindy Ratzlaff. She also did guest spots for "The Secret Life of the American Teenager", and makes regular appearances on the program "Drew Carey's Improv-A-Ganza" which is a successor to "Whose Line Is It Anyway?", and has gained a lot of positive reviews since its inception.
Personal Life
For her personal life, it is known that Kinney is married to a man named Rob, but very little information is available about him, their relationship, and their marriage as she does not share a lot of information, preferring to keep her personal life private. She mentioned that throughout her career, she has purposefully avoided auditions that would make her a stereotype-heavy girl. Some have criticized her for that statement, saying that her role in "The Drew Carey Show" was essentially a walking fat joke.
She mentioned that she didn't like making fat jokes, but she understood that they were funny. She also dislikes being typecast due to her weight, and has had people mocking her for losing weight saying it was the equivalent of losing her career. She rebutted those arguments by stating that her weight may have decreased, but her talent has not. Maintaining her stance on privacy, she does not have any active online accounts, not even on major social media website Instagram, Twitter, or Facebook which is an unlikely thing with today's internet focused world.