Where is the celebrity florist Jeff Leatham now? His Bio: Colton Haynes' husband, Age, Net Worth, Wedding
• Jeff Leatham is a 47-year-old artistic director of the Four Seasons Hotel George V in Paris.
• He has close to a million Instagram followers and works with a range of celebrities.
• He is also the author of two books on floral design and has been featured in various TV shows.
• His creations have been displayed in various institutions and events, including the Chateau de Versailles and the Museum of Modern Art in New York.
• His estimated net worth is over $2 million.
Who is Jeff Leatham?
Jeff Leatham, or as his Instagram bio says, the flower whisperer, was born on the 7th September 1971, in Ogden, Utah USA, and is an artistic director of the Four Seasons Hotel George V in Paris, with a passion for arranging flowers. He's definitely not an ordinary floral designer. This creative director knows how to work his magic and make breathtaking pieces of art. He sets the trends and pushes the envelope with his ingenious floral designs that have embellished many celebrities' wedding ceremonies, and their home environments.
Where Is Jeff Leatham Today?
Today, Jeff Leatham is a 47-year-old who enjoys life. As far as his professional career is concerned, his popularity and fan base seem to be growing, since he has close to a million Instagram followers. According to Forbes magazine, in 2018 after being in the business and the fashion industry for 24 years, he calls his relationship with the Four Seasons hotel 'the best marriage of his life.' Apart from being an event planner for many celebrities, including Oprah Winfrey, Chelsea Clinton and Tina Turner, he is the go-to designer for numerous events in the Kardashian family. He is responsible for making their baby showers and professions of love stand out by infusing life into the events with his spectacular flower arrangements. A few years ago, he teamed up with Waterford Crystal, and in December 2018 they launched a new collection of glamorously designed crystal glasses and vases which are sold worldwide. One of the events that was recently organized by the Four Seasons Hotel was the Pop down event in Philadelphia, where his one-of-a-kind floral designs were apparently a real head-turner.
Early Life, Parents, Siblings, and Education
His parents are Jannet and Larry Leatham, and his sister's name is Jennifer Roush. Not many details are known about his family, but an authoritative source claims that he found a source of inspiration in his father, who, by the way, is a great gardener. Prior to finishing Weber State University in Ohio, Jeff completed his education at Ogden High School. At the age of 19 he moved to Los Angeles, where he worked as a shop assistant, and where a modeling scout noticed him, and he was soon sent to Europe on modeling assignments. After living in Milan and Paris, he went back to L.A. and got a job at a Four Seasons flower shop, where he perfected his craft. As a complete novice, he started and got his feet wet in the Four Seasons hotel in Beverly Hills, but his talent and drive got him catapulted into the limelight – even though he came from a small town, his ambitions and dreams were always big. The Four Seasons Hotel George V in Paris was the next stop for this aspiring artist.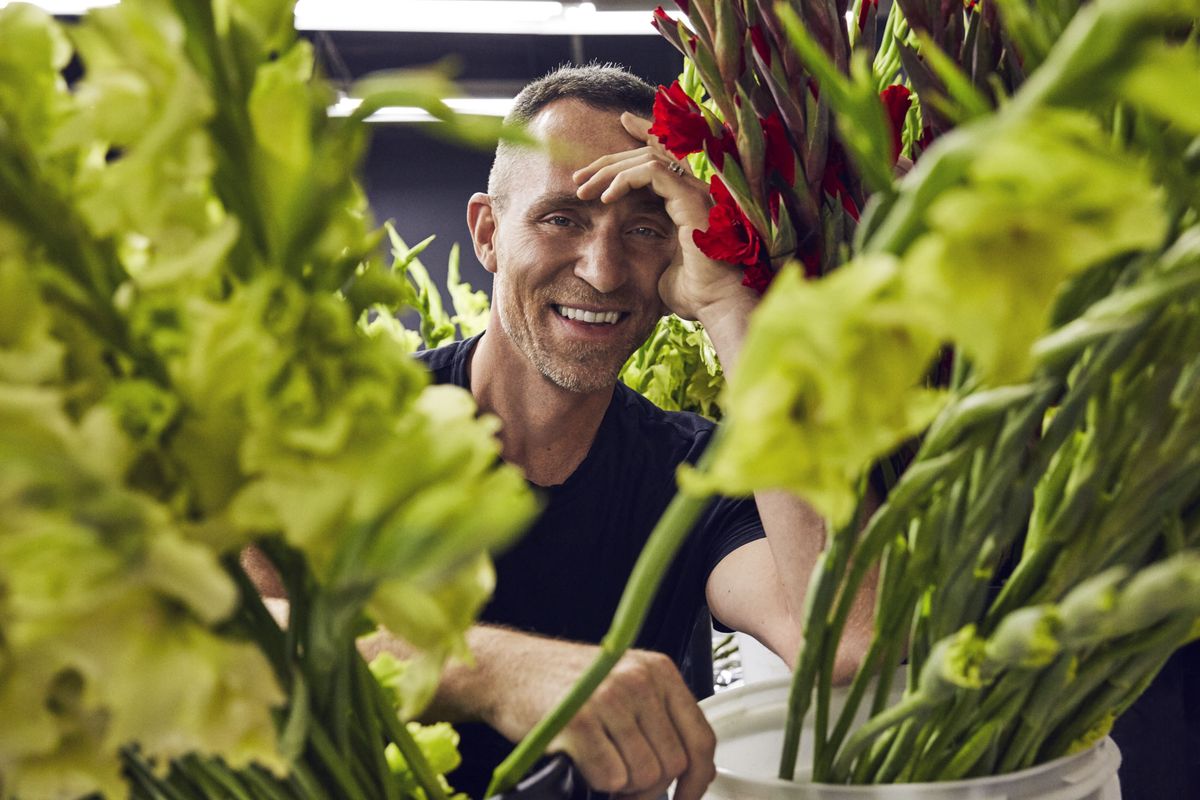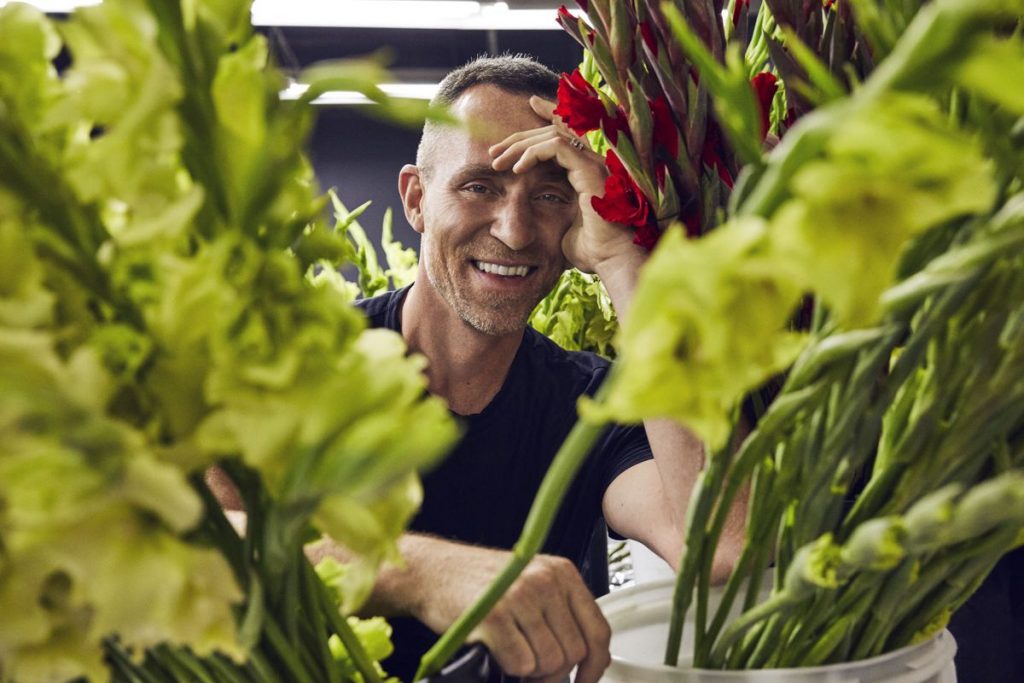 Artwork and his art philosophy
When we talk about his artistry, the focus is mostly on the beautiful, contemporary flower arrangements and bouquets he creates. The magic touch of Jeff Leatham and his team is the reason why the entrance hall and guest rooms of the Four Seasons hotel in Paris are now a fairy tale. Whether it is the flower walls, flowers hanging from the ceiling or giant teddy bears made of rose pedals, this visionary makes thoughts become things. His style is fashionable yet simple – the golden rule of his art philosophy is that he doesn't mix more than three monochromatic colors, and doesn't use more than three types of flowers. By carefully choosing where to place the vases, and which vase shape is the most suitable for the setting, he puts his own stamp on the floral creations. In 2014, he received a prestigious Chevalier Legion of Honour award, which is regarded to be the highest form of gratitude for contribution to France.
Love life, engagement and wedding
Even though he is a successful businessman and contemporary artist, his love choices weren't that fortuitous. Just as in the movies, he met Colton Haynes, a promising 29-year old actor who starred in "Teen Wolf" and "Arrow", by accident at an airport, and of course after a few months of dating, a perfect proposal happened on Valentine's Day on the beach in Los Cabos, Mexico. Singer Cher, Jeff's longtime friend, gave the couple her blessing by singing a part of her song "I got you babe" in a video message they played during the proposal. The duo married six months later, in October, in a lavish wedding ceremony officiated by Kris Jenner, who led them through the vows, and celebrities such as Joe Manganiello and Sofia Vergara attended celebrate the love of the newlyweds. However, as People Magazine states, after just six months the couple decided to call it quits, Haynes filed for divorce citing irreconcilable differences.
Books and TV Show
Jeff published two books on floral design in 2003 – "Flowers by Design", and "Flowers by Jeff Leatham". His latest book "Jeff Leatham: Visionary floral art and design" was published in 2014. In 2009 he participated in a TV documentary show broadcast on TLC called "Flowers Uncut", and some other shows he's appeared in as a guest were "The Oprah Winfrey Show", "The Queen Latifah Show" and "The Martha Stewart Show."
The greatest accomplishments
He has collaborated with many luxury fashion brands; an impressive occasion happened with Hermès on the exclusive Rolls Royce Phantom for the Four Seasons George V. Dallas Museum of Art bought a collection of Jeff's hand-made vases designed for Daum crystal, and his floral designs were the focal point of the opening night at the Museum of Modern Art in New York. Another event he organized, and for which he is admired across the globe, was held in the Hall of Mirrors at the Chateau de Versailles.
Net worth
According to sources, due to his expertise and longevity in the flower business, the amount of income he received throughout the years is definitely not insignificant. Authoritative sources estimate that his net worth is over $2 million. This doesn't come as a surprise, since he caters for rather select Hollywood clientele.
Physical appearance and traits
Even though he is in his late forties, it could be said that Jeff Leatham is still young at heart; such a gregarious person with vivacious personality and artistic flair can't grow old. When it comes to his physical characteristics, he is 5ft 9ins (1.75 m) tall, weighs around 143lbs (65kgs), and his vital statistics are 38-30-35.