Who is Big Boogie? Net Worth, Shooting in Concert, Girlfriend, Wiki
• Big Boogie is a rapper born in Louisiana, USA in 1996
• He released his debut mixtape "Pain on Paper" in 2018, and has since released several other mixtapes and EPs
• Big Boogie is active on social media networks and has amassed over 500,000 followers on Instagram
• He was arrested in April 2021 while travelling to Biloxi, Mississippi for a performance
• His net worth is estimated at over $200,000
Big Boogie Wiki Bio
John Lotts was born in Louisiana USA on 4 November 1996 – his zodiac sign is Scorpio, and he holds American nationality. He's a rapper known under his stage name Big Boogie, who gained recognition in 2020, when he released his extended play (EP) "Final Nightmare" comprising eight songs, several of which have become hits, especially "Mental Healing" which has been listened to more than a million times on SoundCloud.
Early life and education
Big Boogie spent the first ten years of his life in Louisiana, where he was raised by his parents about whom little is known because he respects their privacy; it's said that his father was a construction worker who occasionally had problems with the authorities, and that his mother was a housewife. The family then moved to Memphis, Tennessee which was a big change for Big Boogie, and which inspired him to start writing his rap songs.
Because he hasn't spoken of having any siblings, most of his fans believe that he's an only child.
Big Boogie's family was poor while he was growing up, and he was often bullied by his peers because he had no money to buy new clothes and shoes. He matriculated from a local high school in 2014, and not long after that got into an altercation which led to him spending a month behind bars.
Big Boogie hasn't attended college, but has instead focused on his career as a rapper.
Career as a rapper
Big Boogie released his debut mixtape "Pain on Paper" in 2018, comprising 20 songs, some of the most popular amongst these being "Fucking with Me", "Life Story" and "Same Nigga".
The same year saw him release three other mixtapes: "Pain on Paper 2" with 15 songs, "Pain on Paper 3" with 20 songs, and "Definition of Pain" numbering 17 songs.
His fourth mixtape "Final Chapter" came out in 2019, comprising 17 songs, and has since been listened to close to a million times, certainly helping Big Boogie gain some recognition and build himself a fanbase.
The year 2020 saw the release of his mixtape "Best of Big Boogie Vol. 1 (DJ Cotton Here)", numbering 26 songs, but it was less popular than his previous works.
In 2021, Big Boogie's the 16-song EP "Underrated" came out, which has since been listened to over 800,000 times, and has spawned hit singles "Lower Level Talk" and "Pussy Power".
His YouTube channel
Big Boogie launched his YouTube channel "Big Boogie Music" on 24 March 2020, and it's today subscribed to by more than 200,000 people, while he has amassed over 100 million views of all his vides combined. Nearly all of these are his original music videos, and we're going to mention three of the most popular amongst them, which have helped him attract many subscribers.
His #1 video "Big Boogie | Home Girl (Remix) #BoxedIn" has been watched more than 10 million times since 10 August 2021.
His second most popular video "Big Boogie | Pop Out | (Music Video) Shot by @Camera Gawd Prod. Yung Dee" has been viewed over seven million times since 31 August 2021.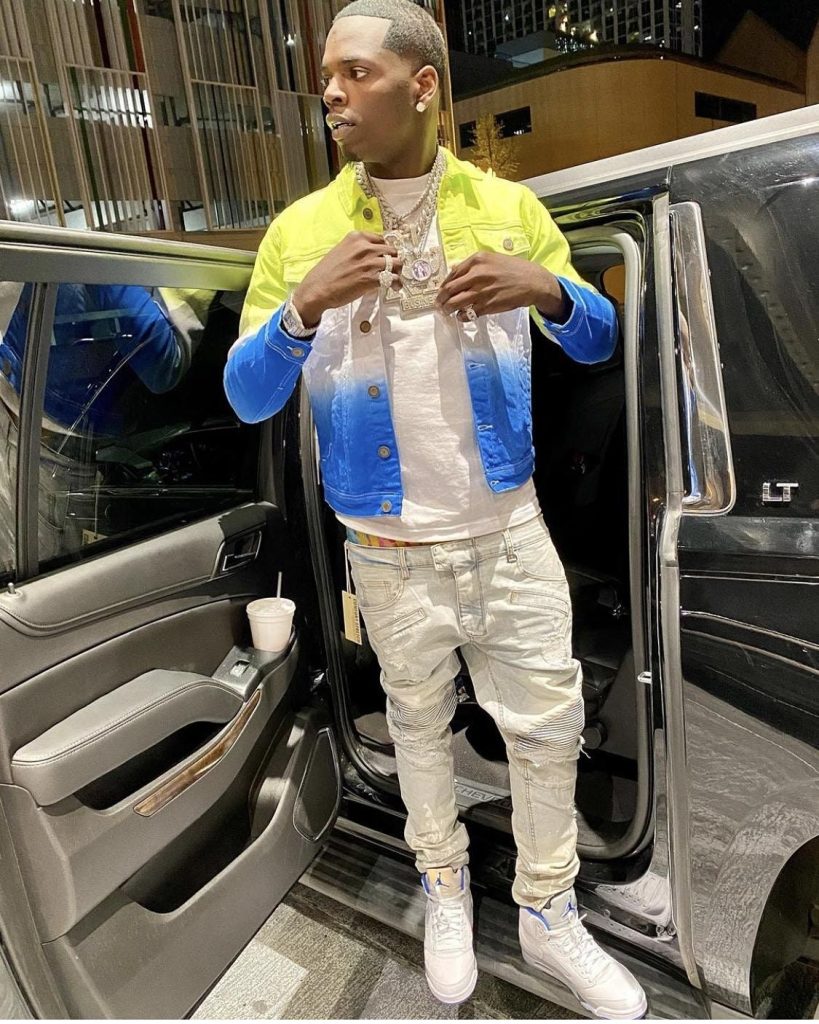 Third on Big Boogie's most watched video list is "Big Boogie – Thuggin ft Moneybagg Yo", viewed more than seven million times since 25 October 2020.
Big Boogie is an Instagram star too, having amassed more than 500,000 followers on the network, while he's uploaded close to 500 pictures, the majority of which have been taken during his everyday life.
He launched his Twitter account in January 2020, and has since attracted close to 5,000 followers, while he's tweeted nearly 100 times, mostly to announce his upcoming tours and gigs.
He's quite active on TikTok, and is today followed by close to 600,000 people, amassing over three million likes of all his videos combined; most of these feature him singing and dancing.
Big Boogie has a Facebook page followed by more than 20,000 people, with his most recent update being on 26 January 2022.
Shooting at his concert
On 12 July 2020, Big Boogie staged a concert during which a shooting occurred, killing two people – Jasmine Bradshaw and L. V. Wilbourne – while four others were also shot. Sheldon Gibbs was arrested around 10 days later and charged with killing two people, while four others were also arrested alongside him.
In April 2021, Big Boogie and more than 20 other people were arrested while in their caravan and on their way to Biloxi, Mississippi, where Big Boogie was about to perform. A person who was shot on the interstate called the police, claiming that the people from the caravan were responsible, which led to their arrest; the police found a gun, drugs and cash on them, but that was all.
Love life and girlfriend
Big Boogie hasn't shared the names of any girls whom he has perhaps been with, but because of the lyrics of many of his songs, his fans believe that he has slept with many.
It's widely believed that he's not looking for a relationship, and rather enjoys meeting new girls during his live performances. There are rumors circulating the internet claiming that Big Boogie has a daughter whom he's helping raise, but that he isn't nor was in a relationship with the girl's mother, however, no evidence has been provided to support these claims, nor has Big Boogie commented on the rumors.
As of March 2022, he seems to be single, hasn't married, but might have a daughter.
Hobbies and other interests
Big Boogie loves to travel, and has been to several US states thanks to his rapping career, but it appears that he's yet to travel overseas; his dream travel destination is still Las Vegas, Nevada.
He likes to go shopping for clothes, and is a bit of a shopaholic as he does it at least once a week. Big Boogie also enjoys buying jewelry, and often shows off his rings, watches and earrings in his Instagram pictures and videos.
He smokes weed and drinks alcohol on a daily basis.
Big Boogie enjoys watching Hollywood movies in his spare time – his favorite actor and actress are Vin Diesel and Angelina Jolie, while a couple of his favorite films include the franchise "Fast and Furious", "Lara Croft: Tomb Raider – The Cradle of Life" and "Wanted".
Age, height and net worth
Big Boogie's age is 25. He has short black hair and brown eyes, his height is 5ft 7ins (1.7m) and he weighs around 145lbs (65kgs).
As of March 2022, Big Boogie's net worth has been estimated at more than $200,000.