Inside Adam Lambert's Relationships
American singer-songwriter and actor Adam Lambert, captured the US audience when he finished as runner-up in the eighth season of the television singing competition series "American Idol" in 2009. Since then, he's sold more than five million singles and three million albums, not just in the US but around the world. He was widely recognized as the first openly gay man who has launched a singing career with a major music label, which was a huge deal at that time. He proved to everyone that talent knows no boundaries by topping the US charts. His three-octave vocal range with piercing falsetto that could be stretched up to the fifth octave was one of the reasons he was chosen as their frontman by the legendary rock band Queen in 2011.
Adam's Early Life, Family, and Career
On 29 January 1982, Adam Mitchel Lambert was born in Indianapolis, Indiana, to parents Eber and Leila Lambert, a program manager in Novatel Wireless and dental hygienist, respectively.
Soon after his birth, the family moved to San Diego, California, where he and his younger brother Neil were raised practicing the Jewish religion, which they got from their mother. Adam showed an interest in theatre while growing up, and when he was nine years old, started performing with the Metropolitan Educational Theatre network. Adam also became involved in his school jazz band and choir, which led him to enter talent competitions. To enhance his talent, his parents enrolled him in vocal and acting lessons, while he continually participated in local theatre stage plays, including "Camelot," "Grease," "Peter Pan," and "Hello Dolly." It made him comfortable performing in bigger venues such as The Lyceum and The Starlight, which later on he realized was what prepared him to take on a much bigger stage, on TV.
Adam initially pursued a college education by enrolling at California State University in Orange County, but left after attending classes for just five weeks. The lure of Hollywood was too much, saying that he needed to take some risks to achieve his dreams in the entertainment industry.
On his way to becoming a superstar, at the age of 19 he worked as a performer on a cruise ship for ten months under Anita Mann Productions. Two years after that, he signed with an agency, and went on tour in Europe with the cast of the rock musical, "Hair." He became part of many big-budgeted stage plays including the "Ten Commandments: The Musical," playing the role of Joshua with Val Kilmer as Moses, which was his first time to become star-struck, and "Wicked" taking on the understudy role for Flyero, which he nailed that led him to play the character in several stage productions from 2005 to 2008.
Aside from huge theatre stages, Adam was also the frontman of an underground rock band called The Citizen Vein, while also working as a demo singer for other artists. It was during this time in 2009 when he auditioned for "American Idol", with the songs "Bohemian Rhapsody" and "Rock With You." While the judges praised his talents, Simon Cowell was initially concerned about his tendency to perform theatrically, but Randy Jackson said that it had a "current" vibe to it.
He easily advanced to the finals as his voice was so extraordinary that even Simon gave him a standing ovation, but another contestant, Kris Allen, won the competition. Adam's loss wasn't the end of his career, but just the start of his journey to international stardom.
Adam's Dating History
His sexual orientation was revealed to the public while Adam was in the middle of competing in "American Idol," but since he never consciously hid it from the public, the photos of him kissing another man didn't have an impact on his career. He won the 2009 Teen Choice Award for Male Reality/Variety Star, and the Young Hollywood Award for Artist of the Year. The huge interest in him being a proud member of the LGBTQ community and his dating history, had somehow helped him achieve success, instead of him being cast aside as a pariah.
Adam's first kiss was with a girl on a beach, but at that time he was a young 14-year-old teen, curious about the birds and the bees. When he was 18 years old, his mother pulled him out of the closet while driving the car home, after watching a debate about keeping homosexuality a secret,  fearful that Adam would spiral down just like the gay person in the debate.
It was why in one of his earlier interviews just a few weeks after the "American Idol" finals, he could declare that he was gay and bi-curious with full confidence. He also corrected the general assumption that the TV show producers prevented him from coming out as gay. He said that he was never in the closet to begin with, because he's never denied his sexuality. It was just his choice not to talk about it, and the TV producers respected his feelings on the matter. Adam simply didn't want the viewers to focus on it, instead of his vocal skills.
Brad Bell – First Love (2006 – 2008)
He felt that no one would be surprised to know that he's gay, because he was already proud and out with Brad Bell, whom he started dating back in 2006, a few years before he joined the talent competition. While there were no specific details on their relationship, it was reported that it lasted until 2008. People only had a general idea that they were a couple because several photos of Adam and Brad attending parties together, or just having fun cross-dressing, could still be accessed from the Internet.
He also posted something about Brad on his Friendster account, when it was still the most popular social media app back then. He wrote, 'Typically I am "the friend." I love fun, nutbag friends and am always ready for more. I have found BRADLY.im VERY happy (Finally, jeez!).' on the category of "Who I Want to Meet." He fondly called him "Cheeks."
Drake LaBry – Best Pals to Lovers (2009)
Fans immediately wondered about the identity of the man who was kissing Adam in the photos leaked to the media back in 2009. It was only after Adam's confirmation of his sexual orientation via the exclusive "Rolling Stone" interview that the name Drake LaBry surfaced. Contrary to the general perception at that time, Adam wasn't hiding him, and to prove it, he proudly went out and held his hand in public places such as the Guys and Dolls nightclub. Drake, an interior designer and painter from Louisiana, accompanied and supported Adam through his "American Idol" journey, seen sitting with Adam's parents in the audience during the competition, so other people assumed that he was just his best friend.
They weren't wrong, because they were the best of buddies for many years before the relationship developed into lovers. Generally, fans found the relationship fascinating, as it was rare for people to see openly gay mainstream entertainers.
However, it didn't take long for the couple to feel the pressure of being in the spotlight every time they went out, and they called it quits in October 2009. It was a mutual decision as Adam's career was just starting, and he was about to release his debut album called "For Your Entertainment." Showbiz insiders surmised that Drake was a distraction that Adam couldn't afford this early in his career. They were right, because his debut album released a month after the breakup soared to No.3 on the US Billboard Charts. Unlike other Hollywood break-ups, there was little drama about it, except for the way it was revealed to the public. It was disheartening to learn that the one who divulged the news was a close friend of Adam, who was supposedly a confidant. Instead of waiting for an official announcement, the friend jumped the gun and wrote about it on his blog.
When he received flak for what he did, he gave the lame excuse of not wanting Adam to be accused of being a cheater, but never gave additional details. However, people close to them said that the relationship ran its course, and they fell out of love.
Ferras –  Songwriter Turned Lover (2009 – 2010)
Just a month after Adam broke-up from his ex-boyfriend, rumors came out that he was dating American singer-songwriter Ferras. He was the one who wrote the song "Aftermath" on Adam's debut album, and the first artist signed-up to Katy Perry's agency. It was reported that the two were spotted together on several occasions, and some fans even concluded that he was probably one of the reasons that the flamboyant singer broke up with Drake. At that point, fans recalled why Adam's friend/blogger revealed that Adam was already single back in October 2009, because some people might accuse of him cheating, supposedly that he was already in another relationship that fast.
If rumors were to be believed, Adam fell hard for Ferras while working with him on his debut album. It wasn't the first time they'd met, as they'd known each other since 2007.
The fans went back to Adam's previous photos, and it was revealed that Ferras would somehow always be with him or be included in a group photo. They were photographed during a Halloween celebration in which Adam was in an all-black get-up, complete with vampire make-up, while Ferras donned an Arabian Prince costume. They were also spotted together having fun at the Star Magazine Anniversary party. It was said that the constant togetherness and common interests turned the attraction to something more serious, and it blindsided Drake. While the relationship was never confirmed, Adam said during an interview with US Weekly that while he was enjoying his single status, he was also looking for someone creative and compassionate; Ferras fitted the description to a T.
Kesha – Just a Kiss (2010)
People were shocked when in February of 2010, news about Adam making out with "TikTok" singer Kesha came out. It was reported that Adam was grinding with her at the dance floor of the famous gay nightclub Providence in New York City. Witnesses said that they did it many times, and didn't care if everybody was looking at them.
When they were asked about the kiss, Adam said that it was because of the energy that night, and she's quite beautiful. He also said that she was a good kisser, and that 'She tasted like Goldschläger and maple syrup' – Kesha compared his kisses to blueberries and champagne.
While it never went beyond making out, it still made headlines. Their special friendship continues up to this day, and Adam would oftentimes call or visit her when he's not busy, and especially during the time she was under so much stress due to bulimia nervosa, an eating disorder, and her on-going legal battle with American record producer and songwriter Lukasz Sebastian Gottwald better known as Dr. Luke, the founder of Kemosabe Records. She accused him of emotional abuse, sexual assault and harassment, along with violation of California business practices, which she suffered while working with him for 10 years. Adam said that he and Kesha go way back, since both of them first signed-up with a label just about the same time.
Johnny Weir – Mutual Admiration Society (2010)
When a guy as charming and flamboyant as Adam announced that he's single and looking, it wasn't a surprise that he would be involved in dating rumors. When in 2010 people learned that Adam admired and respected two-time Olympian figure skater Johnny Weir – and vice versa – it was immediately assumed that the two were dating. While Johnny wasn't officially out in the open at that time, it was obvious from the way he behaved on and off the ice rink that he was batting for the same gender.
Fans believed that Adam and Johnny kept their relationship a secret to protect Johnny, who was under heavy media scrutiny during that time. While he'd been an advocate of the rights of the LGBTQ community for many years, he never said the words 'I am gay,' until he published his memoirs in 2011. He tweeted in 2018, 'I never "came out" in sport because I didn't imagine it as a great secret,and it had nothing to do with my skating or my dreams.' He further said that he had always worn his sexuality similar to how he wore his suit or his skin color and that it was simply something he was born into.
Competing at the highest level was already stressful and if people could be really nasty about homosexuality in this day and age, one could easily imagine how bad it was back in 2010. Johnny even contemplated skating using Adam's music from his debut album on some of his competitions. However, both Adam and Johnny never addressed the dating rumors, but were open in showing their mutual admiration for their respective careers. The "Whataya Want from Me" singer called Johnny a trailblazer, and the World Championship bronze medalist described Adam's music as amazing.
Sauli Koskinen (2011 – 2013)
While everyone thought that Adam was secretly dating Johnny Weir, he was actually starting to hook-up with a Finnish reality-TV star, Sauli Koskinen, from Hyvinkää, Finland in November 2010; he was the winner of "Big Brother 2007" Finland edition. It was kept hush-hush, as they didn't want the media to poke into the relationship when they were still in the getting-to-know-you stage. Adam became more open and candid about it in the early months of 2011. He hadn't been in a long-term relationship in a while, and was hoping that this one would be different.
Nobody thought that Adam and Sauli would meet when they were residing on different continents at that time. However, Adam had a concert in Finland in November 2010, and Sauli was there. They both probably made an impression on each other, as they were next spotted having fun in other places after the concert. It was supposedly just a hook-up as they never imagined that they would see each other again, but fate intervened. The executives of Ilta-Sanomat, a prominent tabloid in Finland, and producer of Sauli's popular Internet-based series "Tutka," invited him and co-host Katri Ukula to star in its spin-off series, "Tutka Roadshow." The duo agreed, and was immediately shipped-off to Los Angeles to film a season of the web series there.
Sauli reconnected with Adam, and initially they were able to keep it from the spotlight as they were quite private about it. Later on, when they were both more comfortable and secure, they eventually went public. Adam brought him as his date on some official Hollywood red carpet events, including Elton John Aids Foundation annual fundraising night, and for the "American Idol" Grand Final 2011.
The two seemed happy, and generally the media left them alone until it was reported that the couple was arrested in Finland in December 2011.
According to the Hollywood Reporter, the police were called in at four in the morning, as Adam and Sauli were involved in a brawl inside a famous Helsinki gay bar called DTM, or Don't Tell Mama. Adam flew to Finland to be with Sauli during the holidays, and while celebrating in one of the private rooms, an argument erupted between the two which escalated into a full-blown fight. A friend and former Miss Helsinki, Sofia Ruusila, tried to intervene and stop them from fighting, but she was accidentally hit by Adam. As a result, they both spent hours in jail, released later in the afternoon of the same day. They both went onto social media to directly inform their fans of what happened; Sauli blogged about it and wrote, 'Celebrities are people too, and fame is not easy. Love isn't always easy either, but it's forever.' Adam tweeted, 'Jetlag + Vodka = blackout. Us ÷ blackout = irrational confusion. Jail + guilt + press = lesson learned. Sauli + Adam + hangover burgers = laughing about it.'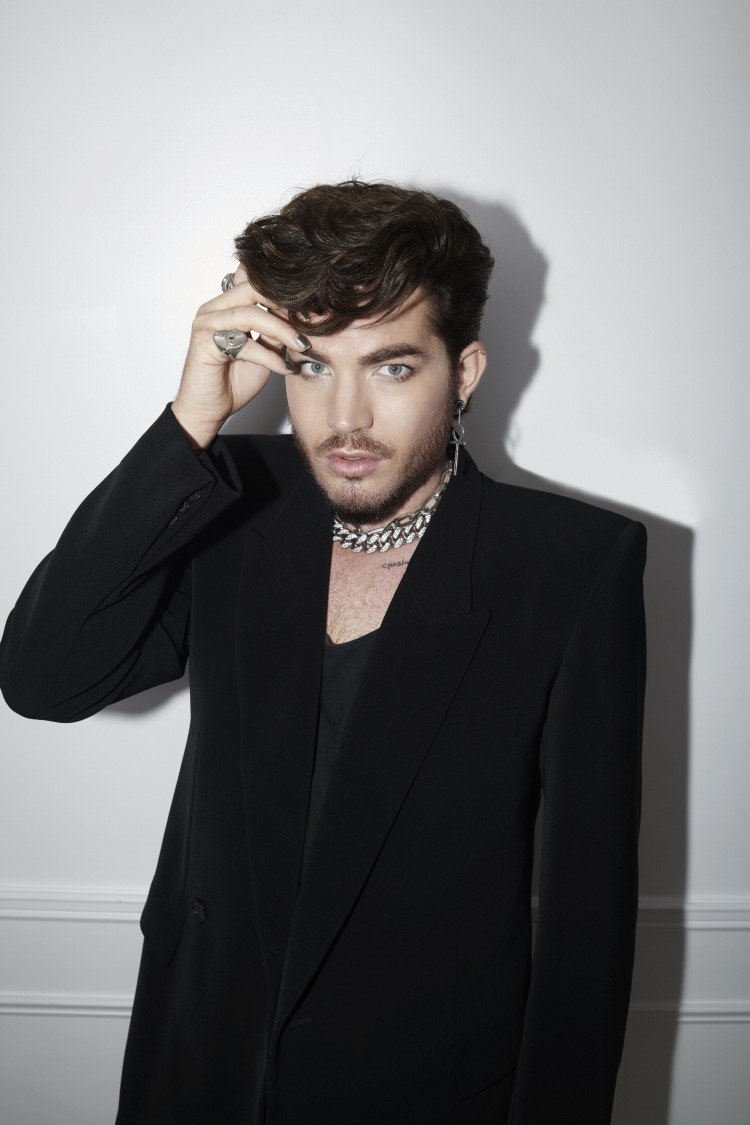 The incident never had a lastingly negative impact on Adam's career. Everything seemed to be going well for him, as his second album "Trespassing" debuted at the top of the US Billboard 200 chart, when released in 2012. However, their hectic schedules took a toll on their relationship, as Sauli was spending more time in Finland because of work, and the long-distance love affair wasn't working for them anymore. By 2013, it was a forgone conclusion that they would end their relationship mutually – Adam claimed that they parted as good friends, and that might sound clichéd for some, but they are still close, although no longer in love with each other.
Javi Costa Polo – "Spanish Model with an expired U.S. Visa" (2019)
Adam's 2019 love affair started because of Instagram, as he was always on the road for his concert tours; he didn't have a chance to meet many people the traditional way. He met Spanish model Javi Costa Polo on Instagram. Adam was asked by RuPaul in an interview if he wasn't scared meeting IG freaks, but Adam said that by that time he was a pretty good judge of character.
He shared his new boyfriend with the public, and the song, "New Eyes" was all about him because he brought romance and joy into his life. However, when Javi's US visa expired, that was the end of their two-year relationship.
Oliver Gliese – Current Beau (2020 – present)
It seemed that Adam had found another European to love, as he was spotted with Oliver Gliese, a Danish student and forum coordinator for a non-profit organization called Global Fashion Agenda in 2020. The "Velvet" singer had already made it Instagram official in May 2021, as he posted that he was on a date night with Oliver, and another photo of the couple with the caption 'My Sunshine.' Some fans pointed out that it was just like his previous relationship, and that Oliver's US visa may expire soon, but other fans said that since it was a student visa, it wouldn't expire anytime soon, unlike a working visa.
So is this 'it' for Adam? The chances wouldn't seem to be that good, but of course fans wish him well regardless, and that no permanent harm comes to him.