Who has Chris Evans dated? Girlfriends List, Dating History
• Christopher Robert Evans rose to fame as Captain America in the Marvel Universe
• He has had a variety of relationships with famous actresses and models, including Jessica Biel, Minka Kelly, and Jenny Slate
• He has also been linked to Gisele Bundchen, Vida Guerra, Kristin Cavallari, Sandra Bullock, Christina Ricci, Emmy Rossum, Elizabeth Olsen, Lucy Pinder, Sacha Kemp, Amy Smart, Dianna Agron, and Ashley Greene
• Chris' longest relationship was with Minka Kelly, which lasted on and off for six years
• Chris is currently rumored to be dating Lily James
Born on 13 June 1981 in Boston, Massachusetts, USA, Christopher Robert Evans rose to his highest prominence as an actor for his portrayal as the people's favourite superhero, Captain America.
Raised by his parents in the Metro West area of Boston, in a town called Sudbury, Evans displayed a love for acting and theatre from a young age. He shared this passion with his mother, Lisa, who worked as an artistic director for the Concord Youth Theatre, but likely has his father, G Robert Evans III, a Boston dentist, to thank for his impressively charming smile.
Though considered as the all-American man, Chris is a direct descendant of mixed Irish, German, Italian and British ancestry. Regardless, it changed nothing about the American charm he added to the character of Steve Rogers. As a child, Chris favoured musical theatre, and portrayed the role of Randolph MacAfee in 'Bye Bye Birdie', plus along with his two sisters, Carly and Shanna, and his brother, Scot, would often entertain the family with living room plays and acts.
At a young age, Chris attended an acting camp, and before his senior year in high school, took summer classes at the Lee Strasberg Film and Theatre Institute in New York City. Following this, Chris graduated early from the Lincoln-Sudbury Regional High School, after which he gained a few less prominent roles, before travelling to Los Angeles in September 2000.
Chris made his debut in 'The Newcomers', and a year later appeared in his first feature film, 'Not Another Teen Movie'. After a few roles that Evans himself describes as terrible, he gained some exposure when he landed the role of Johnny Storm, the Human Torch in 'Fantastic Four' and its sequel 'Rise of The Silver Surfer'. However, due to clashes with another big name in the Marvel Universe, Evans was unable to reprise the role of Human Torch.
His role as Steve Rogers nonetheless established him as one of the highest-paid actors in Hollywood. Being both handsome and affluent, as can be expected, Chris has dated some of the most beautiful ladies in the film industry, and there are also a few rumoured flings with some of the most prominent fashion models to strut the catwalk.
In 2001, while both Chris and Jessica Biel aspired to make their mark in the film business as Jessica prepared to leave the cast of '7th Heaven', the two had a quiet relationship that didn't gain too much attention, and due to this secrecy for the better part remains a bit of a mystery. When Chris appeared in his film debut, Jessica remarked about his fit body, but confirmation of their relationship would only reach the public by December that year.
At the My VH1 Music Awards ceremony, Cosmopolitan Magazine reported that the two seemed very affectionate, and following events afterwards, they were seen together more often, being affectionate or holding hands. While they dated, the two also starred opposite each other in two films, namely 'Cellular' and 'London', in which their characters happened to be love interests.
In an interview with Cosmopolitan, Jessica revealed that they had a strong relationship. Despite rumours about their engagement, Biel stated that they talked about it, but as of yet did not plan on getting married. She told the magazine that they both wanted to marry and have children, but at the time they were more concerned with succeeding in their careers.
Sadly, their relationship never reached the aisle, as in 2006 the two separated without explanation. Among their many happy memories together, the couple spent a lot of time on adventurous getaways, including a skydiving trip for Valentine's Day, and a romantic surprise that Evans planned for Jessica's 21st birthday. The surprise involved rose petals scattered over her bed, and perhaps a few details that should not be shared.
Evans has since revealed that he tends to be argumentative in a relationship, and that he could relate to the character he played in 'London'. In an interview with Esquire, Evans stated that his line of work could also put considerable strain on a relationship, mostly, because of the time spent away from home. He also revealed that keeping his independence in a relationship is important. Perhaps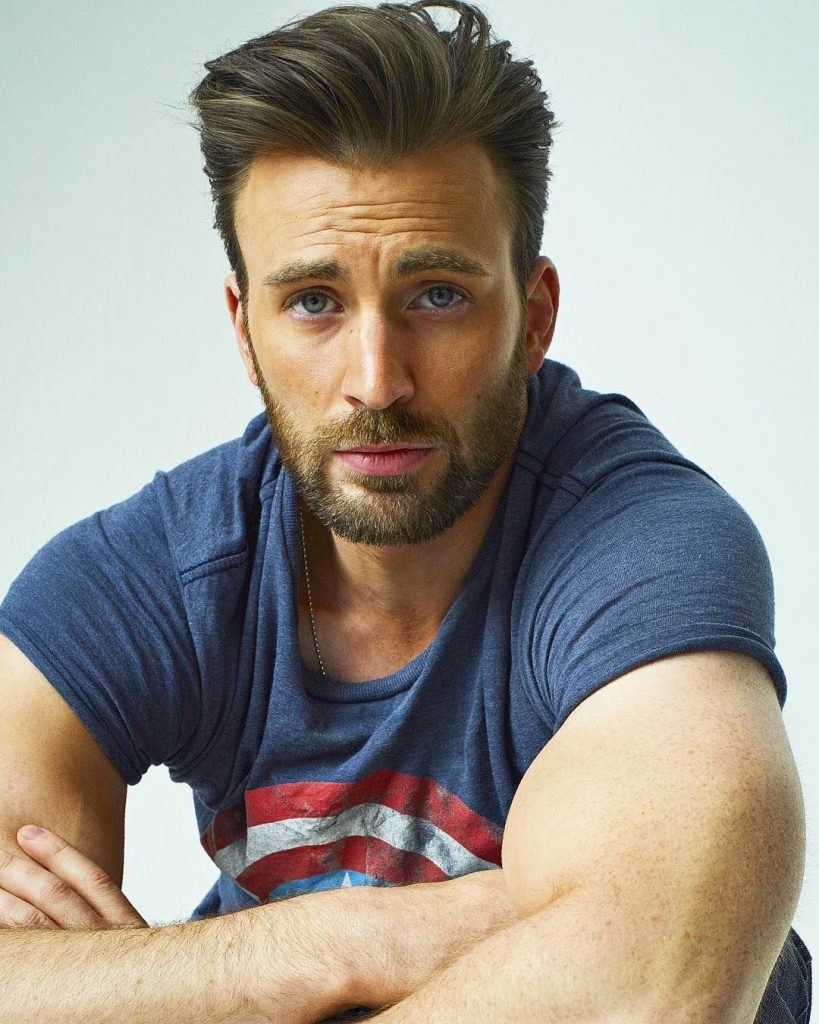 these revelations may have played a part in their separation, but fans would just never know the whole truth.
Biel has since moved on and married Justin Timberlake, with whom she had a child, while Evans continued to spread his love around.
Among the first rumours about possible romances that suggested Chris' involvement, was with Gisele Bundchen. In 2006, Gisele denied the rumours that linked her with Evans, telling Arena Magazine in an interview that if people believed every rumour, she would have been married five times and had ten children. She even said that one suggestion was with Chris Evans, a name she had only heard two hours before. What started the rumour remains a mystery, but clearly it wasn't true.
In 2008, after being spotted out a couple of times, the rumour mill once again fabricated a possible relationship between Cuban model Vida Guerra and Evans, but it also turned out to be a false claim.
More rumours in 2008 suggested that Evans hooked up with 'Laguna Beach' actress, Kristin Cavallari, but in an interview with US Magazine at the opening of Peter Alexander's Los Angeles store, she stated that she knew Chris through mutual friends, but they are only friends. They have known each other for years but never dated, so it became yet another false rumour.
After Chris met his childhood crush, Sandra Bullock, at the 2012 Vanity Fair Oscar party, and confessing that he once had a poster of her on his ceiling, rumour tabloids went into a frenzy. In response to these rumours, which turned out to be just that, Sandra joked, saying that they are planning on getting married and having lots of children; they never dated, but the two have become good friends.
After meeting at a 2015 Oscars afterparty, rumours that concerned Chris and the British actress and model, Lilly Collins, surfaced. Though they did go out a couple of times, nothing serious came of it.
Then while working on 'The Avengers' series, rumours suggested that things between Captain America and Scarlet Witch actress, Elizabeth Olsen, might be heating up. However, during an interview on "The Ellen DeGeneres Show", the two laughed off the rumours, and joked that they have been dating for three years and are engaged. A photograph in which Evans possibly stared at Elizabeth's cleavage may have provided some fuel for the rumours, but it turned out to be yet another false claim.
Another one of Chris' earliest romances shrouded in mystery was with the 'Adam's Family' actress, Christina Ricci. Though at the time, they were considered an odd couple, the two were never shy about their involvement. They attended the 2007 Metropolitan Museum's Costume Institute Gala together, walking down the red carpet affectionately arm-in-arm, but it seems that this was the only public event that they attended together.
Since most of the details about their relationship are a mystery, no one knows when they started seeing each other, or exactly when and why they split. Their appearance at the Gala followed shortly after the publication of a story by E! News, which reported that Evans made out with the 'Shameless' star Emmy Rossum in full view of the Roosevelt Hotel's guests.
At the time, Evans had ended his five-year relationship with Jessica Biel, and seemed to be out enjoying his bachelorhood.
Neither of the two relationships developed into anything serious, but considering the mystery of these events, no one can know for certain what, if anything, took place between Evans and these ladies.
The longest relationship Chris Evans has had to date, which lasted on and off for about six years, was with the 'Charlies Angels' star Minka Kelly. They started dating in 2007 before abruptly ending things, then in 2012 they rekindled their old flame, but despite the hopes of fans, ended their relationship once more a year later. To confuse people even further, in 2015 the couple was spotted back together, taking their canine companions for a walk in West Hollywood. However, considering that the 'Avengers' star has never had a bad break-up and always ends romances on friendly terms, it was hard to say if they ever reunited.
Evans has since admitted that whenever he meets an ex-girlfriend, he would give them big hugs, and passed this advice to anyone who would heed it. He stated that it would clear the air of any awkward or bad vibes, and would make such meetings much easier.
However, after Chris and Minka's public appearance on Labor Day in 2015, they were not seen together very much, and most believe that their relationship ended for good around this time.
A year later Chris started dating Jenny Slate, but between the time his relationship ended with Minka and started with Jenny, a few more rumours surfaced.
Among the couple of possible relationships that were never officially confirmed, Chris was seen out with the voluptuous model, Lucy Pinder, and also quite possibly made a move on actresses Sacha Kemp, Amy Smart, Dianna Agron, and Ashley Greene.
I've enjoyed working with @ChrisEvans and the @ASP team to discuss many of our nation's most pressing issues and give the American people the information they need to make their own informed decisions. #Election2020 https://t.co/HSytkvnI1k

— John Kasich (@JohnKasich) October 27, 2020
After Evans attempted to make a move on the 'How High?' actress, Sacha Kemp, it roused a few rumours, but it ever reached an official status. In 2015, after an adventurous day out at Disney Land with Lucy, rumours surfaced that suggested that the model was deeply infatuated with Evans. Unfortunately, things between them never seemed to reach a serious level, and any romance eventually fizzled. The same seemed to happen with Amy Smart, Dianna Agron, and 'Twilight' actress Ashley Greene. For the most part, these all seemed more like silly rumours than any actual romances in the life of the 39-year-old Chris Evans.
Chris and Jenny Slate met on the set of the film 'Gifted', and dated from 2016 in an on-off complication affair until the ending in 2018. From whence rumours first surfaced, right through to the end, the public and fans of the couple seemed extremely enchanted by their apparently beautiful romance, and they were often called the Internet's most adored couple.
Throughout their relationship, they only had the sweetest things to say about each other – Evans called her his favourite human, and she said that his heart is probably golden-coloured. Sadly, and to the devastation of their fans, their relationship ended completely in 2018.
Neither one has given an official reason for their split, but in an interview with W Magazine, Chris mentioned that he was not the man she thought he would be. Since their separation, rumour has it that Jenny is dating art curator Ben Shattuck, while Evans remained single.
Despite not seeing anybody at the time, Chris stated in the interview with W that he still hopes to become a dad and family man. Saying that he loves the sentimental things in life, like having a wife and raising children, as well as carving pumpkins and decorating Christmas trees, he looks forward to the day he can settle down.
In the meantime, his pup, Dodger, will be at the receiving end of all his attention and love.
Aside from Captain America's leaked "asset" picture making headlines in Hollywood, which some believe Chris may have deliberately leaked himself, his most recent love interest also enjoys a little public attention. While they are both yet to confirm it, rumours have surfaced that Chris could be dating 'Rebecca' star Lily James. While in an interview with Harper's Bazaar, Lily remained tight-lipped about her relationship with Chris, neither denying nor confirming the possibility.
Chris, however, said that he is spending more time with Dodger. Though no one would believe it, the actor stated in the interview that he considers himself as something of an introvert.
Regardless, after seen sharing ice cream in London, England, fans are adamant that romance between Chris and Lily is brewing. However, much fans may want something serious to develop, they and all of us will just have to wait and see.