Who has Emily Bett Rickards dated? Boyfriends List, Dating History
• Emily Bett Rickards is a Canadian actress who rose to stardom for her role as Felicity Smoak in The CW Arrowverse franchise.
• She began her acting career in 2009 with a role in the music video of "Never Gonna Be Alone" by Nickelback, and went on to star in several movies and TV series.
• She was rumored to have dated several people, including co-star Colton Haynes, English model-actress Lucy Pinder, and Canadian actor Jean-Luc Bilodeau.
• She is currently in a relationship with American actress and director Aisha Tyler, although neither of them have confirmed it.
• Aisha Tyler is an advocate for LGBT rights and has said that she is open to everybody in terms of sexuality.
Emily Bett Rickards is a Canadian actress, who rose to stardom with her breakthrough role as the socially awkward genius, Felicity Smoak, in The CW Arrowverse franchise. Her fictional character should have been only good for a single episode in the American superhero television series "Arrow," but she ended up being written fully into the show, first as a recurring character, and then as a series regular. Her performance impressed the producers, as co-creator Marc Guggenheim said that they were actually only looking for someone to play the role of an IT technician, but she 'just lit up the screen' in that "Lone Gunmen" episode aired on 24 October 2012.
Emily Bett Rickards was born on 24 July 1991, in Vancouver, British Columbia, Canada. There's not much information about her family, except that her mother, Diane Greig, was a dream psychotherapist.
Emily was drawn to acting when she was very young, and although she wasn't a prodigy on her first foray into musical theatre, as she joined the stage productions of "Peter Pan" and "Oliver," her passion for the craft didn't lessen. After matriculating from high school, she completed an acting program at the Vancouver Film School, as well as honed her singing skills at the Alida Vocal Studio, which helped in her acting, as she developed a tone that was uniquely hers.
She soon secured an agent after attending an open call audition, and first appeared in the music video of "Never Gonna Be Alone" by the Canadian rock band Nickelback, in 2009. She was cast in minor roles in a few movies released in 2012, but it was her role in "Arrow" (2012-2020), which solidified her place in Hollywood.
Her Felicity character also made an appearance in the hit series' spin-offs based on the DC Comics superhero characters, including "The Flash" (2014-2017), "Legends of Tomorrow" (2016-2017), and "Supergirl" (2017) as well as the web series "Arrow: Blood Rush" (2013) and "Vixen" (2017). Most notable among her other projects was "Brooklyn," which earned an Oscar nomination for Best Picture and Best Adapted Screenplay in 2016, and "We Need to Talk," which won her the Best Actress award in 2020 from the FirstGlance Film Festival Philadelphia.
Her personal life was widely speculated upon as there hadn't been any news about her being in a relationship, married, or just plain dating. It was not unheard of for celebrities to want to keep some things private, but this made fans more curious about what was happening in their lives.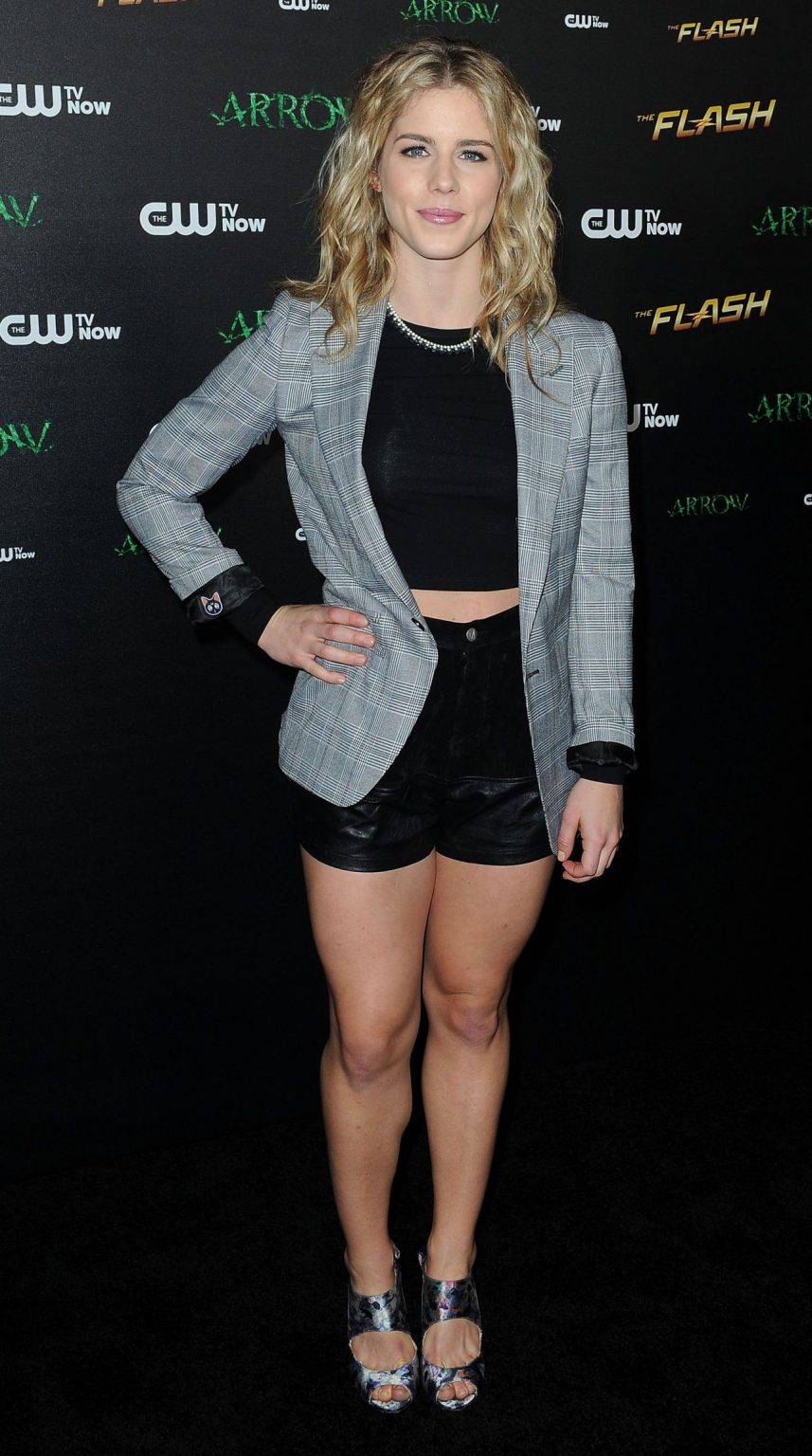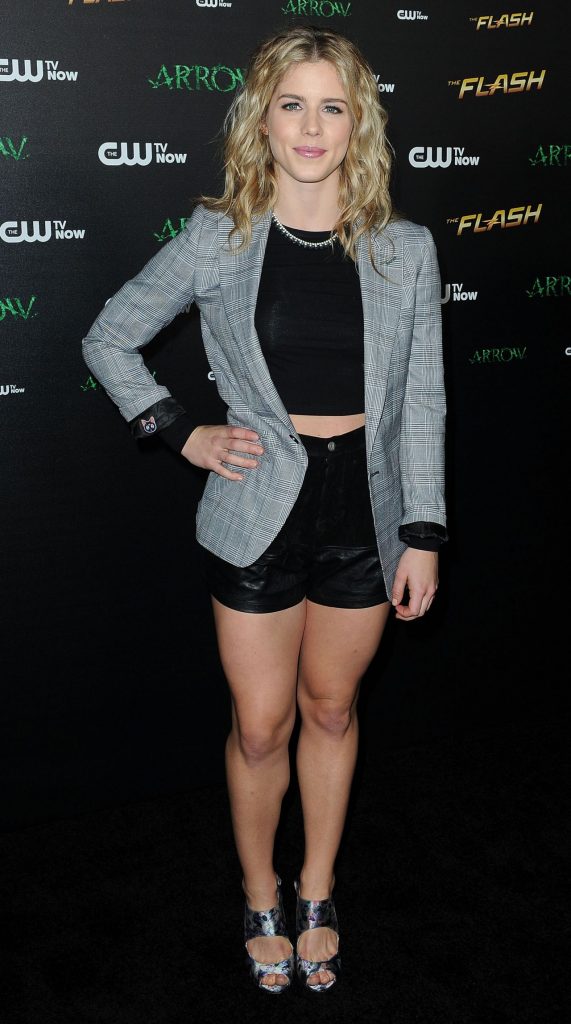 Emily Bett Rickards dating rumors
Stephen Amell
Her palpable chemistry on-screen with "Arrow's" main lead, Stephen Amell, who played the character of the billionaire playboy Oliver Queen turned hooded crime-fighter Green Arrow, had earned them the Ship of the Year award for two consecutive years (2015-2016), from MTV Fandom Awards. As much as the fans wanted the two to end up together in real life, it was highly unlikely to happen, as Stephen married his girlfriend, American model-actress Cassandra Jean, in December 2012, while they were on vacation in the Caribbean. Emily and Stephen remained friends even after they stopped working together in "Arrow."
Colton Haynes
Emily was once rumored to be dating the American model-actor Colton Haynes, who was her co-star in "Arrow" in the role of Roy Harper/Arsenal, the Green Arrow's sidekick.
Although she was not his love interest in the series, their closeness off-screen based on their Instagram posts had tongues wagging that something's going on between the two, other than friendship. They reportedly kept their relationship in 2013 a secret, but remained friends when they broke-up after a year.
Colton started his modeling career at 15, and worked on campaigns for Ralph Lauren, J.C. Penny, and Abercrombie & Finch. He began his acting career in 2007, but his breakthrough role was in 2011, as Jackson Whittemore in MTV's supernatural series "Teen Wolf," and his star continued to rise with his inclusion in The CW series.
Neither of them confirmed that they were a couple, and Colton's revelations later on disabused any notion that they were more than friends. It turned out that Colton was gay, and he only came out in May 2016 in an interview he did with Entertainment Weekly.
Colton Haynes & Emily Bett Rickards 😉#Arrow #DCTV #TheCW #Arrowverse #ColtonHaynes #EmilyBettRickards #FelcitySmoak #RoyHarper

Posted by Arrow Crossover on Sunday, May 2, 2021
Although he did appear in the March 2006 issue of XY Magazine kissing another guy, not many people were aware of this, so the news that he's gay was still a shock to most fans. It was said that those close to him knew his true sexual orientation, but he kept it from the public on the advice of industry insiders that it was better for him career-wise.
Shortly after he came out, he met the celebrity florist Jeff Leatham, through mutual friend Serena Williams, and they were married in October 2017, with the wedding officiated by Kris Jenner. However, he filed for a divorce six months later, and reached a settlement in 2019.
Colton and Emily to this day remain the best of friends, as they continued to hang out and have fun together, and weren't shy about sharing this with the public.
Perhaps this was the reason why some people refused to accept that Colton and Emily didn't date at all, believing him to be bisexual, or that they were in an open relationship.
Lucy Pinder
According to some gossip sites, Emily dated the English model-actress Lucy Pinder, sometime after her supposed relationship with Colton Haynes, but it didn't last long. Lucy was cast in movies, TV series, and reality shows, but her claim to fame was being a glamour girl with her appearance in men's magazines including FHM; she landed on its list of "100 Sexiest Women in The World" a few times, and in 2007, the Australian magazine, Ralph, proclaimed that she had the "Best Breasts in the World."
Some fans were baffled by the rumors, as there didn't seem to be one bit of evidence to prove it, and there was no connection whatsoever between the two. It was later revealed to be nothing but a hoax, but no one knew why and by whom. Meanwhile, Lucy was photographed on a date with Chris Evans in Disneyland in 2015, which sparked dating rumors, but that wasn't confirmed either.
Jean-Luc Bilodeau
Emily was then romantically linked to the Canadian actor Jean-Luc Bilodeau for a while, as they were seen together a few times. The two worked together in "Axis" (2017), the feature film directed by Aisha Tyler, and had become closer after that as they traveled with friends and attended Coachella in 2019. She referred to him as one of her besties, but Jean-Luc was reportedly seeing someone else anyway.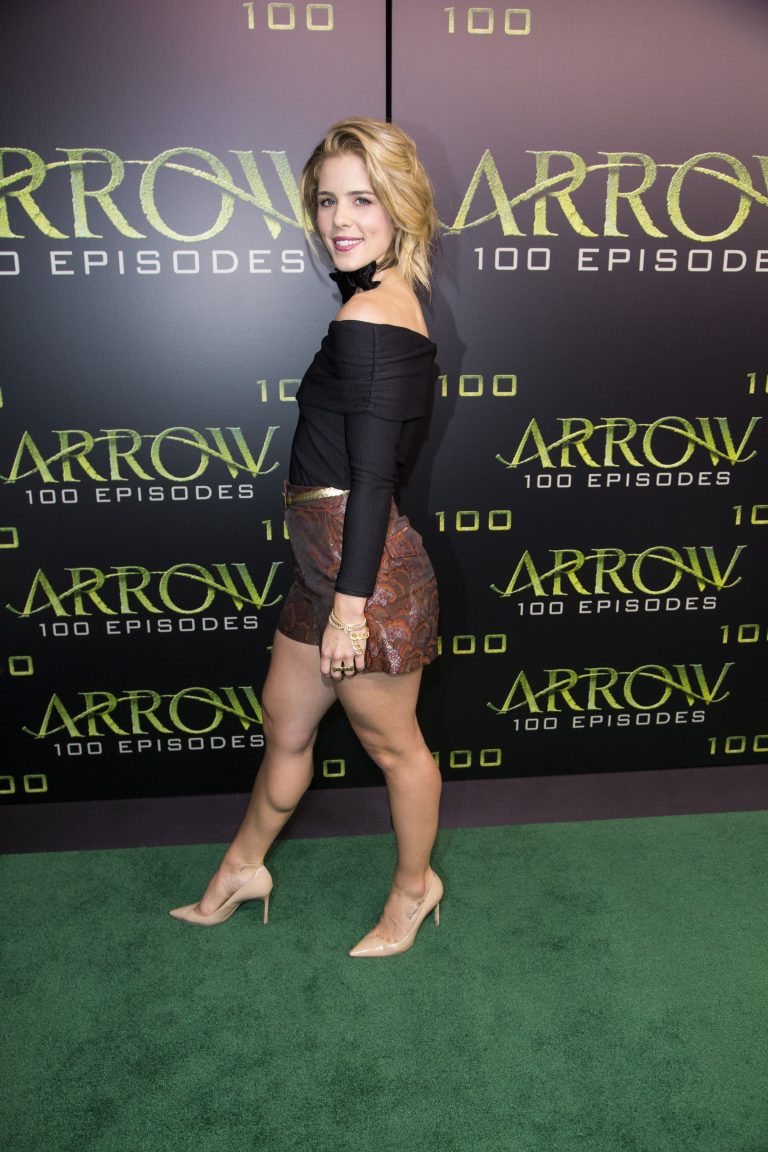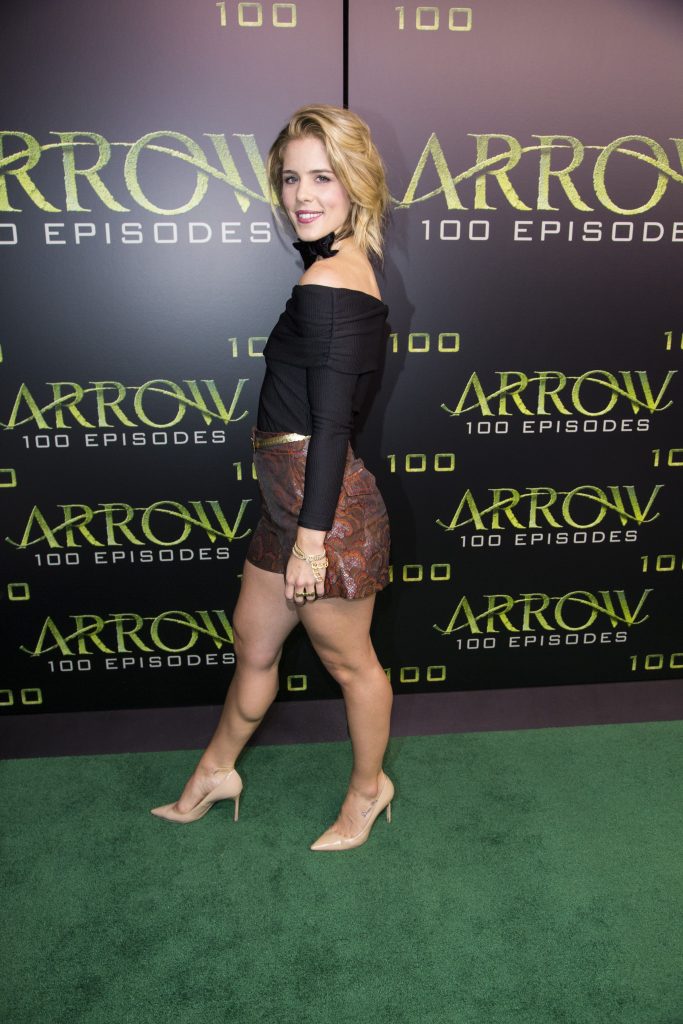 Aisha Tyler
If photos on the official Instagram accounts of Emily and the American actress and director, Aisha Tyler, were to be believed, then the two have been dating for quite some time now. They seemed to be enjoying each other's company, and looked cozy together. The kisses they shared and the captions on their photos suggested that they were more than friends. Aisha is 21 years older than Emily, but it wasn't a big deal to them as they apparently get along fine.
Aisha Tyler was previously married to lawyer Jeff Tietjens for over 20 years; her husband filed for divorce in 2016, and it was finalized in 2017 with Aisha having to pay $2 million in spousal support over the course of four years, with their assets split between them. However, she had nothing but good things to say about her ex-husband, 'He's a wonderful person. He's been my best friend for almost my entire life. I'll always, always love him.' As for the reason they went their separate ways, she said, 'Sometimes you realize it's time for you to move on with your lives.'
Reportedly, Emily met Aisha in 2015 but it was not clear when they started dating, and it wasn't disclosed if the two were living together. Back in April 2016, the two along with Jean-Luc and Emmett Hughes were at the Newport Beach Film Festival for the premier of Aisha's short film, "Ar Scáth le Chéile," roughly translated as "Shadow Together." Aisha held a live Q&A on Facebook, and it was said that it seemed like Emily casually admitted that they were dating, as she was answering some questions from those who tuned in, but didn't elaborate. Some were wondering if it was a slip of the tongue, or if she misspoke, or if they misheard.
Aisha greeted her bestie, Emily, on her birthday in 2017 on Instagram, and posted photos of the fun times they had as she hoped that they would have more epic adventures together. In 2018, a photo of them kissing had the caption, 'True Love.'
On her part, Emily posted a photo of them together in April 2018, with the caption, 'Bae Day,' and then another photo of them kissing in May 2020.
On her sexuality, Aisha said, 'Every once in a while I will see a very beautiful girl and think she looks like she would be nice to kiss.' She had not exactly admitted that she's bisexual, having been married to a guy, then later said that she's pretty much open to everybody as she disclosed that her sexual spectrum had become much broader. She had long been an LGBT rights advocate, and had said, 'I personally think that everybody is a tiny bit gay' and elaborated that 'Some people are very gay with a little bit of straight, some people are very straight with a little bit of gay.'
They never officially confirmed that she and Emily were a couple, so people would just continue to speculate. Whatever the true nature of their relationship may be, the important thing is that they are happy together, according to their fans and supporters.