Let's Count Nick Cannon's Children: Wait! How Many?
Nicholas Scott Cannon, known mononymously as Nick, is an American television personality, actor, comedian, and rapper, best known for hosting his self-titled 'The Nick Cannon Show', as well as appearing on the popular improv game show 'Wild 'n Out'.
Nick also appears as a host in the reality competition show 'The Masked Singer', and featured as a host on 'America's Got Talent' between 2009 to 2016.
Born 8 October 1980, Cannon's early childhood began under controversial circumstances, which included overcoming the lure of a life of crime in the San Diego streets where Nick grew up, and rising above impoverished living conditions.
As a youngster raised in the gang-ridden suburbs of Southeast San Diego, under the supervision of his paternal grandfather, Nick formed part of a local street gang known as the Lincoln Park Bloods.
Cannon would eventually leave the gang to pursue a career in music. Speaking about his experiences, Nick later admitted that his motivation to abandon a life of crime surfaced from the traumatic experience of losing a close friend to gangster-related violence.
In 1998, Cannon graduated from Monte Vista High School, and earned his first comedy gig on the Nickelodeon comedy sketch show 'All That', remaining a recurring feature in the show until 2000, eventually earning roles in numerous other productions and films.
In 1999, Cannon became a member of the three-part rap group 'Da G4 Dope Bomb Squad', who performed as an opening act for artists who included the likes of Will Smith and Montell Jordan.
With a promising start to his career, Nick released his self-titled debut album in 2003, and continued to star in television shows and appear in films, which included 'Men In Black II', 'Drumline', 'Love Don't Cost A Thing', and many more.
However, while Nick earned his place in Hollywood, the television personality is perhaps most famous for his promiscuous lifestyle, having fathered a dozen children with six women.
Of course, as an attractive, rich, and famous artist, it should be expected that Nick would enjoy abundant attention from the ladies, though fathering that many children seem a little exhausting. For those interested, we have taken the liberty of counting Nick's children, sharing the chronicles of Cannon's love life.
Dem Babies
Cannon's love life is certainly one that includes an expansive list of encounters, hook-ups, flings and relationships, dating back as far as the beginning of his career in entertainment.
From dating Nicole Scherzinger between 1999 to 2000, having encounters with the likes of Countess Vaughn and Adrienne Houghton, to dating Christina Milian for two years, the man definitely kept himself busy. Later relationships also included hook-ups with Eva Marcille, Brandy Norwood, Meagan Good, and a year-long romance with the reality television star Kim Kardashian.
Hardly wasting time, Nick then moved on with short-term flings tied to Selita Ebanks, and Rachel Smith, but in 2008 it seemed as if the popular entertainer might have decided to settle down, as following their initial meeting on stage in 2005, Nick announced that he'd entered into a relationship with Mariah Carey, which surprised many people, especially considering Carey's history of only dating men several years her senior.
Although this seemed like a refreshing twist in both artists' romantic lives, , at first their adoring public didn't shy away from expressing reasonable scepticism. However, the more the couple appeared in public, at one point showing off matching tattoos of each other's names, the more doubts faded away.
Later that year, the couple tied the knot in a private ceremony, and would go on to celebrate six years of marriage, until separating in 2014. By 2016, the couple had finalised their divorce, the relationship ended for good, with gossip publications only speculating about a possible reason behind the divorce.
Nick's marriage to the 'Queen of Christmas' marked the beginning of Cannon's intentions to father a football team, starting with the birth of his first two children. Two years following their iconic wedding, Nick and Mariah announced that they were expecting their first child to be born from their union, and would later inform their fans that they were in fact expecting twins.
On 30 April 2011, shortly following the couple's third anniversary, Carey welcomed their children, a boy and a girl, into the world, named Moroccan Scott and Monroe respectively. Mariah and Nick would regularly share events and pictures of their children on social media, with Carey dubbing the twins as 'Dem Babies'. Despite the divorce, both Carey and Cannon remained on good terms to co-parent their children, and the twins celebrated their eleventh birthday early in 2022.
As it seems, young Monroe inherited her mother's talent for singing, and we might soon see her embark on her own career.
Rise of The Cannons
Following his separation from Mariah, Nick got the Tinseltown tongues wagging when rumours surfaced of a possible encounter between himself and the model, Amber Rose. The rumours never gained confirmation, but it quickly became apparent that Nick's marriage ended on the rocks.
Dating rumours concerning Nick surfaced once again in 2014, this time with another model, Brittany Bell, who would later become the mother of three more of Cannon's children.  However, despite the rumours, Nick has not gotten married again since his separation from Mariah Carey, though his relationship with Bell would last for the next two years.
Nick Cannon welcomes new baby boy Golden "Sagon" Cannon. https://t.co/3gYoOFzKrG

— The Associated Press (@AP) February 23, 2017
In 2017 on 21 February, Bell gave birth to Nick's third child and second son, Golden Sagon, who recently celebrated his fifth birthday. Nick ecstatically shared his joy on social media, but sadly, his relationship with Brittany ended shortly before the birth of their son.
However, it would seem that this was not the last time the couple would come together, as in 2020, Bell announced that she is expecting a second child with Nick, and on 23 December, Bell gave birth to Nick's fourth child overall, and second daughter, Powerful Queen. The couple shared the news on their social media accounts, appearing in festive outfits, saying that this could possibly be the best gift they ever received on Christmas.
In 2022, Nick announced the birth of his tenth child, the third that he would conceive with Brittany, welcoming his son, Rise Messiah later that year on 23 September. Once again, the ecstatic father celebrated the birth of his child on social media, calling Rise his fellow little Libra.
Of all of Nick's children, Rise seems to be the only one who shares a birth sign with his father.
A Second Set of Twins
From 2015 onward, Nick would continuously spark rampant rumours about his promiscuous love life, causing gossip columnists to suggest that he had a relationship with a number of ladies, including the likes of Heidi Klum, Eddie Murphy's ex-wife Nicole Mitchelle Murphy, Jessica White, Sherise Cromwell, Jenna Frumes, and Rozonda Thomas. According to most sources, these encounters all took place in the span of two years, from 2015 to 2017.
Unsurprisingly, Nick once again informed the world about the pregnancy of one of his girlfriends, Abby De La Rosa, whom he met in 2020. The radio host and DJ shared the news of her expectancy on her Instagram account, and of course, Nick would join in the celebrations, posting his own goodwill message on his personal accounts.
However, with De La Rosa expecting Cannon's fifth child, the rapper's adoring fans couldn't help but express their concern, wondering when Nick was going to call it quits on fathering more children.
Well, as it would turn out, one blessing became two, when De La Rosa gave birth to twin boys on 14 June 2021, named Zion Mixolydian and Zillion Heir, his fourth and fifth-born sons.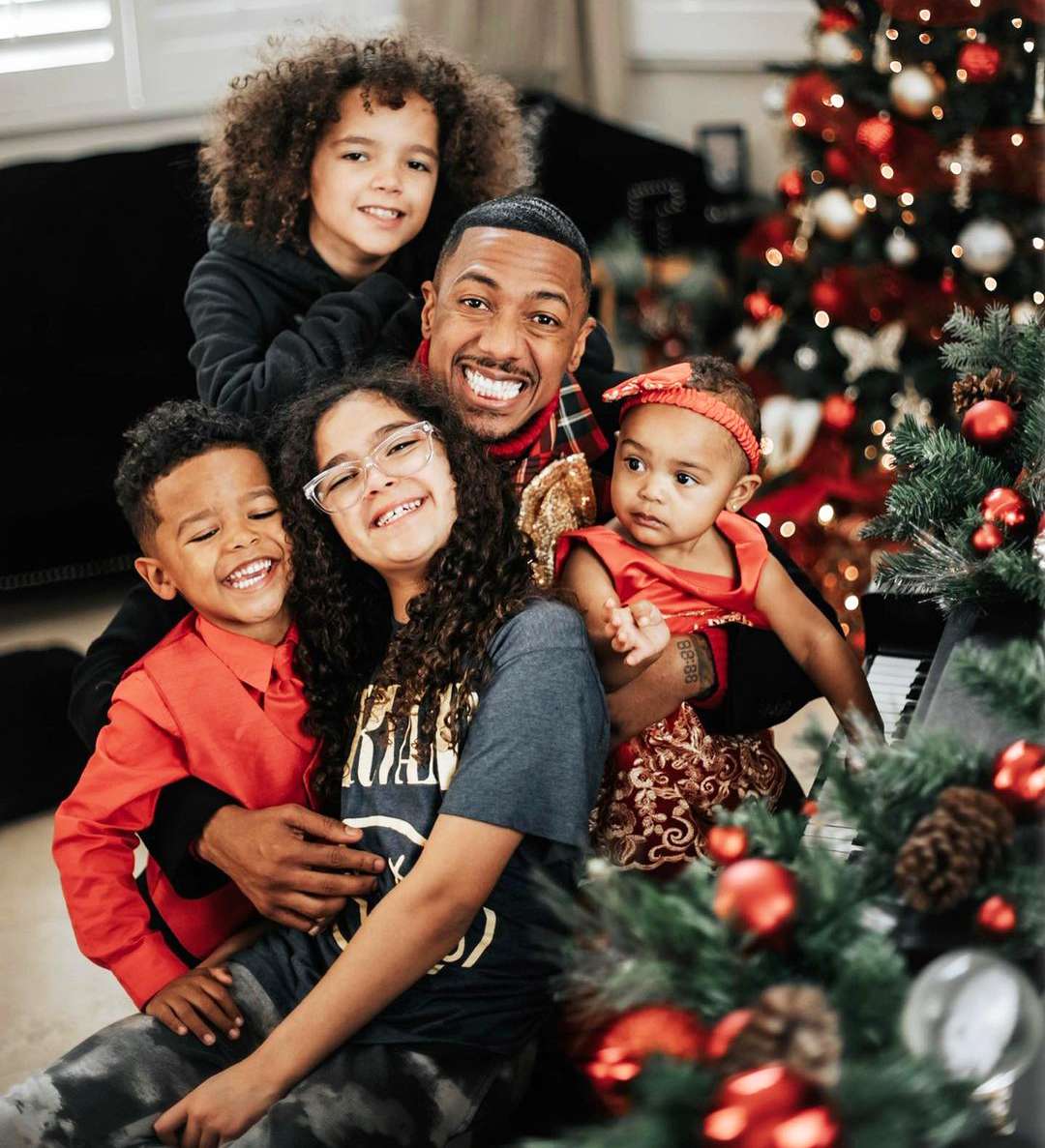 The couple eagerly welcomed the boys to an already expansive family, with Abby sharing the twins' nicknames, Zion and Zilly, with the world in a beautiful, overjoyed message on Instagram. Naturally, the new mother couldn't help sharing pictures of her adorable twins on social media.
Following this, Nick admitted publicly during an interview that he felt disappointed about the fact that he can't always spend time with all of his children, and this led the actor to announce that he was entering a period of celibacy. However, this was short-lived, as Cannon welcomed more children into the world the following year.
On 11 November2022, Abby birthed yet another child with Cannon, this time a daughter who would become Nick's eleventh child and fourth daughter. The couple named the little one Beautiful Zeppelin and didn't hesitate to share pictures of their adorable little girl on social media.
Considering the recent trauma that Cannon experienced the year before, the 41-year-old television personality was only glad that his latest addition to the family entered the world healthy, as he shared the news of his happiness with the world on social media.
A Tragic Misfortune
In 2020 it was reported that Nick met actress Alyssa Scott, with whom he would form a relationship, and although things didn't seem very serious between them, the couple would go on to conceive a child together.
With their relationship still questioned by the media, the couple announced that they expected a child during the early months of 2021, and shortly after the birth of his twins Zion and Zilly with De La Rosa, on 23 June Nick welcomed his seventh child, Zen, into the world.
Sadly, only five months after being born, little Zen passed away. As Nick and Alyssa would later share with the world, Zen underwent diagnosis and it was determined that Nick's son suffered from hydrocephalus, a rare form of a brain tumour that could easily turn malignant.
The couple would go on to explain that Zen showed early signs of the disease, which included sinus problems and an enlarged head, but Nick stated that they didn't make anything of it at the time.
According to Cannon, Zen developed a persistent cough that simply wouldn't go away, which raised concerns with both him and Alyssa. Following their trip to a local clinic, the couple would learn about the unfortunate news of Zen's dangerous condition. The little one underwent surgery and had a shunt inserted to help drain fluid build-up, and although the surgery went smoothly, things eventually took a turn for the worst.
By early November, Scott and Cannon noticed that Zen's behaviour had changed and subsequently returned to the doctor. There, the couple would be informed that the tumour's growth exceeded initial expectations. Alternative procedures included chemotherapy, however, the couple chose to forego this option, later sharing their reasoning with Dr. David Agus in an episode of 'The Checkup', sharing that Nick's experience with chemotherapy scared them too much to even try it on their child, but also saying that the treatment would not necessarily prolong Zen's life.
Ultimately, the doctors told them that Zen had very little time left, leading the couple to spend as much quality time with their son as possible.
Shortly before the inevitable, Nick and Alyssa took Zen to the beach for a family day in the sand and sun, as Nick prepared to return to work on his show. Sadly, before Nick could board his flight to New York, he received the call that would inform him of Zen's passing, on 5 December 2021 – Nick would dedicate an entire episode on his show to honour his late son.
In the wake of the tragedy, Nick shared that life, though slowly, goes on, and the family is in the process of recovering from their loss.
Nick admitted that he sees a therapist on a regular basis to assist him in his recovery, and on 23 June 2022, on the day of what would have been Zen's first birthday, Nick shared a heartfelt message on his Instagram, wishing his son a happy heavenly birthday.
As things progressed in the wake of their loss, Alyssa and Nick recently shared the wonderful news with the world, announcing that she's is expecting again, with delivery due any time in December.
At first, speculation about who the father might be ran rampant among gossip publications, but to sweep aside all the doubt, the couple happily posed on Instagram in a series of maternity photographs.
In the suggestive pictures, Nick can be seen kissing Alyssa's baby belly, making it obvious that Cannon will soon be welcoming his twelfth child into the world. The couple has remained secretive about the gender of the baby, but whatever may be the case, we hope they welcome a healthy child into the world this time around.
Baking a Dozen
News of Nick's twelfth child comes only months after the birth of his youngest, a boy and girl, who he conceived with two different ladies. On 28 June earlier this year, Bre Tiesi, Cannon's most recent love interest with whom it's supposed that he has an open relationship, gave birth to Nick's eighth child and seventh son, Legendary Love.
Only a couple of months later, another of Nick's love interests, LaNisha Cole, gave birth to his fourth daughter and ninth child, Onyx Ice, on 14 September, but it seems like drama might be brewing.
Nick recently spent some time with both De La Rosa, Tiesi, and his children, to which Cole responded on her Instagram by throwing shade in Nick's direction, writing that Onyx is surrounded by real love on a daily basis, adding a clause that suggested Nick's recent photoshoot with his baby mamas might have been faked for Instagram.
The posts have since been deleted, but it seems as if LaNisha might be suggesting that Nick isn't being quite the father figure he pretends to be.
Whatever might be brewing, we wish the extensive family that is Cannons' all the best, and with the twelfth child on the way, we certainly hope that Nick might consider eventually calling it quits on fathering a football team, for real this time.