Maddie Ziegler's Boyfriends List – Who has Maddie Ziegler dated?
Maddie Nicole Ziegler has been in the limelight since she was an eight-year-old and a dancer in Lifetime's reality television show, "Dance Moms" – she stood out from the rest of Abby Miller's young protégés throughout her six seasons on the show. She was personally handpicked by the singer-songwriter Sia to appear in her music video (or MV) of "Chandelier" in 2014; Maddie was the one in a nude leotard doing the interpretive dance in a drab apartment as she played mini-Sia, complete with tattoos and sporting a medium-length platinum blonde wig, which was similar to the one that Sia used while promoting her album. Her dance performance was critically acclaimed, and she gained international recognition, as the song became an instant hit, and the MV amassed over two billion views and won Best Choreography at the 2014 MTV Music Video Awards.
Born on 20 September 2002, this 18-year-old girl who hails from Pennsylvania, has been living with her mother Melissa, along with her younger sister Mackenzie, since her parents divorced in 2011.
don't forget to use my code MADDIE to save 10% off on https://t.co/gdM7PnfUOj and in @MorpheBrushes stores!

get my collection here → https://t.co/lVu715r8Ak pic.twitter.com/8vg3Ef6WLi

— Maddie Ziegler (@maddieziegler) February 1, 2021
Her mom remarried in 2013 to Greg Gisoni, whom Maddie said was awesome and considered him as her best friend. He's also very supportive of her career and the fame that ensued, as opposed to her biological father, Kurt Ziegler, whom her mom said didn't want his kids to be on the reality show at all, hence the divorce.
Maddie first caught the interest of the public with her incredible dance performances, which were honed through years of training since she was two, and she's still much talked about to this day, not only for how her body grooves to the music, but also for the boys in her life. Growing up in the spotlight made her love life a favorite topic among her fans, as they became fascinated with whom she dated, and who's her current beau. When it comes to dating, she revealed that she and Kenzie were a bit different in that aspect, as she preferred to be in a relationship as opposed to just dating around and having many boyfriends like her sister.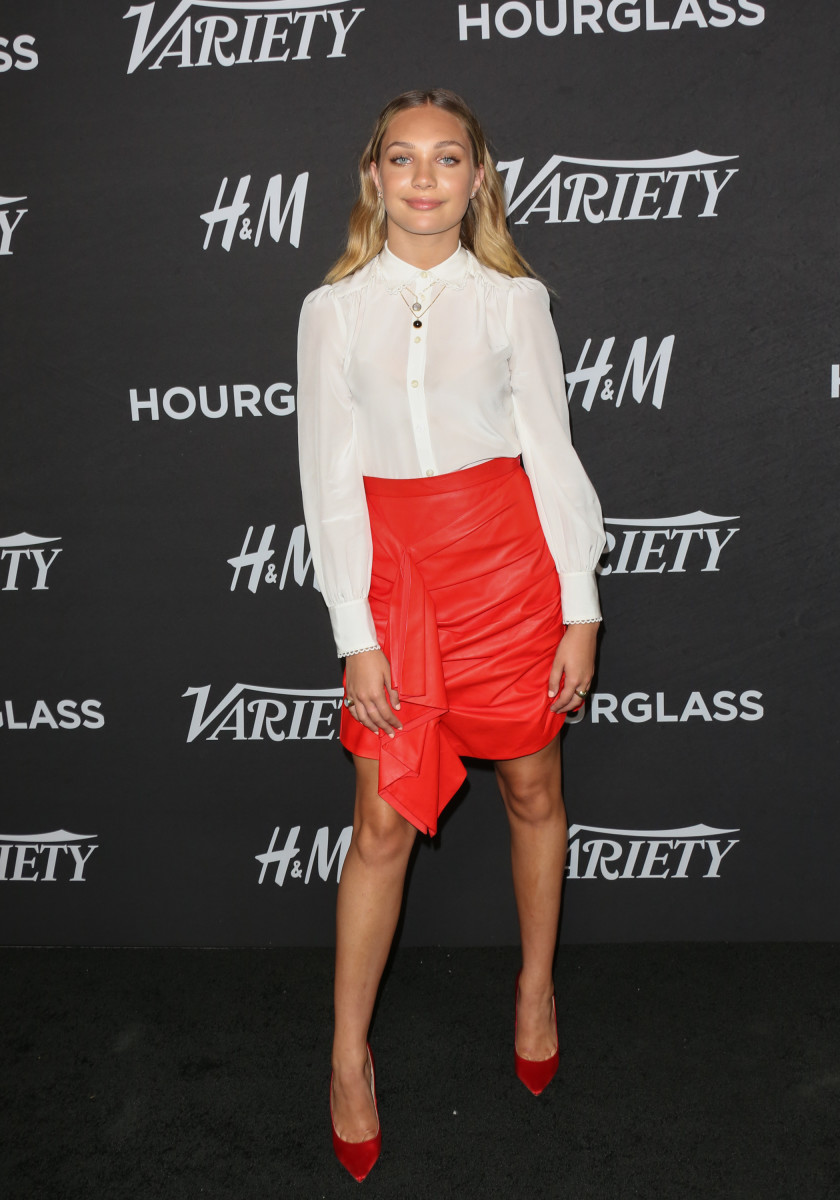 She knew that whatever she posted on her Instagram would be fodder for gossip, especially if it involved a guy, but she only had this to say – 'people have assumed certain people that I am dating, but I'm just like, give it a rest.' Although she's been linked to several guys, she's only admitted to two of them – Eddie Benjamin and Jack Kelly.
Eddie Benjamin (2019-present)
On 16 March 2020, Maddie posted a photo of her and Eddie Benjamin cuddled in bed together, with the caption, 'We're sending everyone calm and positive vibes,' and a red heart emoji after that. While the photo had over two million likes, it also garnered negative feedback. Some people had a problem with them lying in bed together with Eddie shirtless and Maddie presumed to be topless as well, although it wasn't evident in the photo. One online user didn't hesitate to say that it was a bit inappropriate. It was Melissa, Maddie's mom, who came to their defense as she said, 'He has his shirt off for God's sake! He's a boy!' She also left another comment in the post, 'Such a beautiful picture!', along with two hearts emojis.
According to some netizens, people were shocked at the nature of the photo, as they felt that the couple was still too young – Eddie was 18 at that time while Maddie was 17. Some people couldn't believe that Maddie had grown up, and probably still see her as the young dancer in "Dance Moms."
Not much was known about Eddie then, except that he's part of the band called Haze Trio and plays the bass guitar. He had a bit of a following, as over 200,000 people were keeping tabs on him through his Instagram account, which was no small feat, but the number of his followers more than doubled when their relationship became public, as fans were curious about who had apparently captured Maddie's heart.
Nobody knew when they started dating exactly, but the two were first spotted together on 2 December 2019 while strolling around and shopping in Beverly Hills. They did volunteer work the following day in support of an organization that wants an end to homeless youths called My Friend's Place; Eddie shared how their day went in his Instagram stories.
As fans looked into Maddie's Instagram posts, they discovered that she first hinted at Eddie being the new boy in her life when she posted her photo with him in the background on the 7th of December, although people didn't think much of it then. The next one she posted on 16 January 2020 had her snuggled up with him, as she greeted him on his birthday, and it made people realize that the two were a couple. Although their faces were a bit in the shadow, she tagged Eddie, revealing his identity.
It surprised her fans as nobody knew she was dating anyone at that time. She intentionally kept her relationship with the aspiring Australian singer-songwriter away from the public eye at first, as she knew how difficult it was to have one out in the open. She once vowed to never make any of her relationships public, as much as she did in the past. However, it would seem that she just couldn't contain her happiness, and decided to share it with everyone, despite her misgivings.
After her split from influencer Jack Kelly, Dance Moms alum Maddie Ziegler moved on with musician, Eddie Benjamin. Get a look inside their romantic relationship! –> https://bit.ly/2UaXxG6

Posted by J-14 Magazine on Wednesday, September 30, 2020
After they were public, she posted photos of them from time to time, while Eddie would post a few as he doesn't really do much on his account. They adopted a puppy together in April from the Labelle Foundation, a non-profit organization that saves abandoned dogs.
While Eddie was being interviewed online, he revealed that he was in Maddie's room at that time in Sherman Oaks in Los Angeles. They were living together during the quarantine.
Maddie was very supportive of her boyfriend's career, as she was featured in the MV of "Speechless," which was included in his debut extended play "Emotional," released in April 2020. Although most people knew him as Maddie's love interest, he's extremely talented and has been slowly making a name for himself as an artist in the music industry. In her most recent post about Eddie, she expressed her admiration for the singer, and takes pride in him for being the most hardworking person she's ever met.
The compliment was a big deal coming from her, who knows what hard work really means, as she's been working since she was very young. She didn't get to where she is now just by being pretty, and everyone who has been following her all this time knows that.
Eddie was also supportive of her career, as he was among the first ones to watch "Music," which marked Sia's directing debut. He doesn't really get emotional when watching movies, but cried watching it, and praised Maddie for being so good in it.
Jack Kelly (January 2017-August 2018)
Before Eddie came into the picture, Maddie was in a much-publicized relationship with Jack Kelly, who's an Instagram influencer. He's the son of Pat Kelly, the former Major League Baseball infielder for the New York Yankees. The two met for the first time at a party in 2013, when they were 10 or 11. They reconnected years later, became friends, and started dating on 1 January 2017. She said the relationship evolved naturally, as he just asked her one day, she said 'yeah,' and that was it.
Maddie and Jack weren't shy in showing their love and affection for one another through photos and messages they posted on social media.
Maddie uploaded a couple of videos in October 2017 onto her YouTube account featuring Jack, as they did the Couples' Yoga challenge with Kenzie taking the video and helping them out in some of the poses and the Boyfriend Tag challenge, which was a popular vlog for couples at that time; she tried to discover how well Jack knew her, and he passed with flying colors.
For their anniversary, Maddie wrote that Jack was the most amazing boy she'd ever met, and that they've grown so much together; she said she'd never been so happy. He took her to a picnic in the morning to celebrate their special day. She ended her note with, 'I love you so much. Here's to one year and many more to go.'
The couple stopped posting PDA-filled photos on their Instagram accounts in mid-July, which was quite unusual, so their fans suspected that something was up.
Day perfect with her! ❤ @maddieziegler pic.twitter.com/bf2svn1FIu

— Jack Kelly (@jjack_kelly) April 21, 2017
According to a source, nobody was making any formal announcement of a breakup, as there was still hope for reconciliation, that the two were just 'taking a break from each other.' It was said that it had been more difficult to maintain a long-distance relationship, as Jack was living in Australia while Maddie was in L.A., especially considering that both were keeping a busy schedule. They had been consistently vocal about missing each other, whenever one couldn't visit the other. They would do facetime for hours every day, and text each other non-stop to try and make the relationship work.
However, things changed, and Maddie unfollowed Jack then she was later seen singing and dancing along to "Shout Out to My Ex" in a video uploaded in August, which confirmed that the two went their separate ways. Fans could only speculate as to what caused their breakup. However, they said that Maddie was throwing shade at Jack when she sang the Little Mix song. Jack, on the other hand, updated his Instagram bio with 'Good Riddance', and a black heart emoji after it.
Boys in Maddie's life
Gino Cosculluela
In season three of "Dance Moms" (2013), Gino Cosculluela, who belonged to Candy Apple's Dance Center, reportedly gave Maddie a kiss on the cheek on Valentine's Day, and was sending her messages online. In season four (2014), he was invited by the Abby Lee Dance Company to perform a duet with Maddie, and the dance routine involved kissing, which made both of them uncomfortable when they were told. In an interview, Maddie revealed that Gino was interested in her, but she didn't reciprocate his feelings. After the kiss, she ran out of the studio from embarrassment.
After it was aired, Gino did the unthinkable and called the kiss the worst experience of his life. He also said he wanted to throw up after it happened, as it was 'f****** disgusting.' Everything that was said was on video, and was uploaded online. He later apologized to Maddie for what he said. When he was interviewed in season six, Gino talked about moving on from 'the kiss', as he hoped to become friends with Maddie again.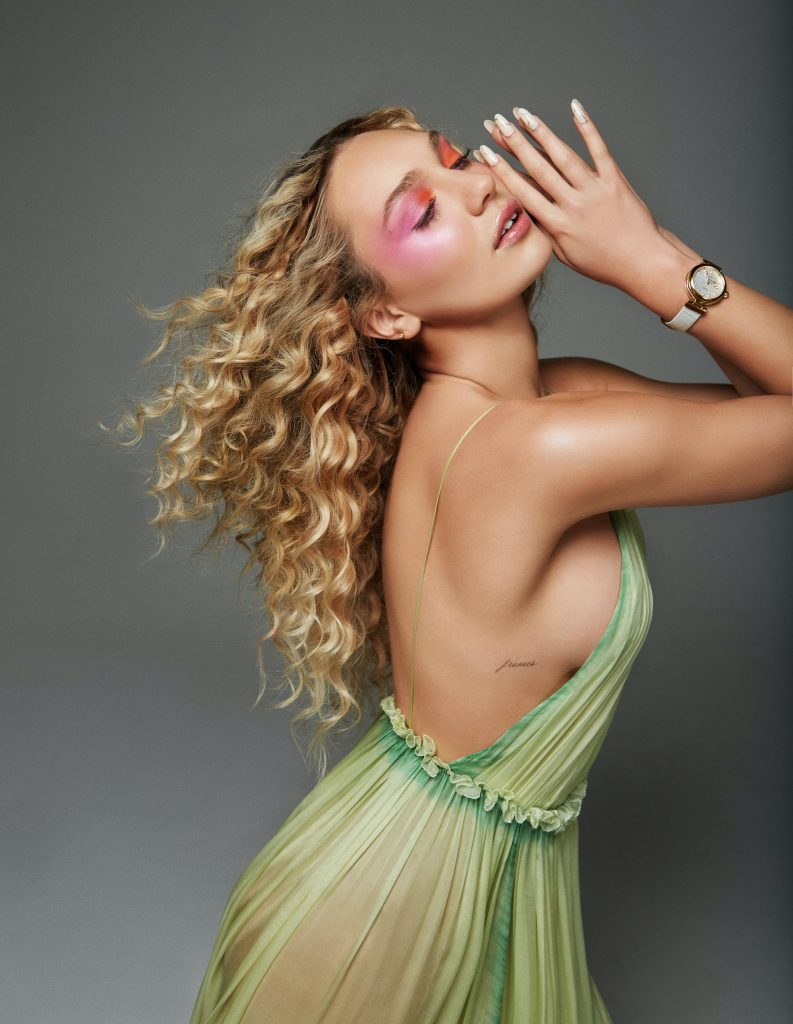 Kenneth San Jose (2016)
On being bombarded with dating rumors, Maddie had this to say, 'Not every boy I'm with has to be a boyfriend.' However, there was one guy who was linked with her due to her captioned post on her Instagram account, and whom some of her fans considered to be her first boyfriend.
Maddie was once rumored to be dating the Filipino-American dancer Kenneth San Jose, whom she first met in 2016 on the set of "Dance Moms", and became friends with him.
The two were hanging out on a Sunday sometime in early 2016, and shared it on their social media accounts. She posted a photo of them together, with his arm around her shoulder and stated, "Sunday well spent," and Ken tagged Maddie as he posted the same thing with a similar caption. Some of their followers believed this to be an indication of a budding romance.
While posting a photo with Ken in August that year, with the caption 'missed him,' might have been something one would say to a friend, Kenzie leaving a comment that says, 'OTP,' which was the internet slang for "one true pairing," would certainly indicate they were more than close colleagues.
However, no matter how cute they looked together, it doesn't make the dating rumor true. Unfortunately for those who started to ship them together, especially those who followed these dancing stars on the reality show, neither Maddie nor Ken confirmed or denied the relationship, and the rumor eventually died down. Of note, Maddie was not the only one Ken was close to as he also often posted photos with Soni Nicole. One of the photos he had with the "Fuller House" star had the caption of how proud he was of her, and ended with 'I love you bestie.' Another one had him giving her a piggyback ride.
Kailand Morris
She was also linked to Kailand Morris, who is Stevie Wonder's son. They first met in 2018 on the set of "Dancing with the Stars: Juniors", as her sister Kenzie, and Kailand's brother Mandla, were participants in the show.
Based on their Instagram posts, they got closer during the show, and spent much time together afterwards.
She was with Kailand when she celebrated her 16th birthday, as she posted a photo of them in front of her new car, and they looked cozy together, with her arm around his shoulder and his arm around her waist. They went to Disneyland together with a couple of her friends, and she wrote, 'love these people too much.' She also posted a photo of herself wearing his shirt, which further fueled rumors of them dating. The two did a photo series by Tyler Shields, and they looked like they're about to kiss in one of them.
A source confirmed that they were dating, but when Maddie was interviewed, she only referred to him as a friend. She said that people just assumed everything, but they were all friends including his brother, as they hang out every day and had a great time. The rumors soon fizzled out.
Cameron Field
For a while, she was romantically linked to Cameron Field due to their closeness until fans realized that he was in a relationship with a guy named Jake Villegas. They're still besties, as she greeted him on his birthday on her Instagram in November 2020, and said she couldn't wait to spend forever with him by her side.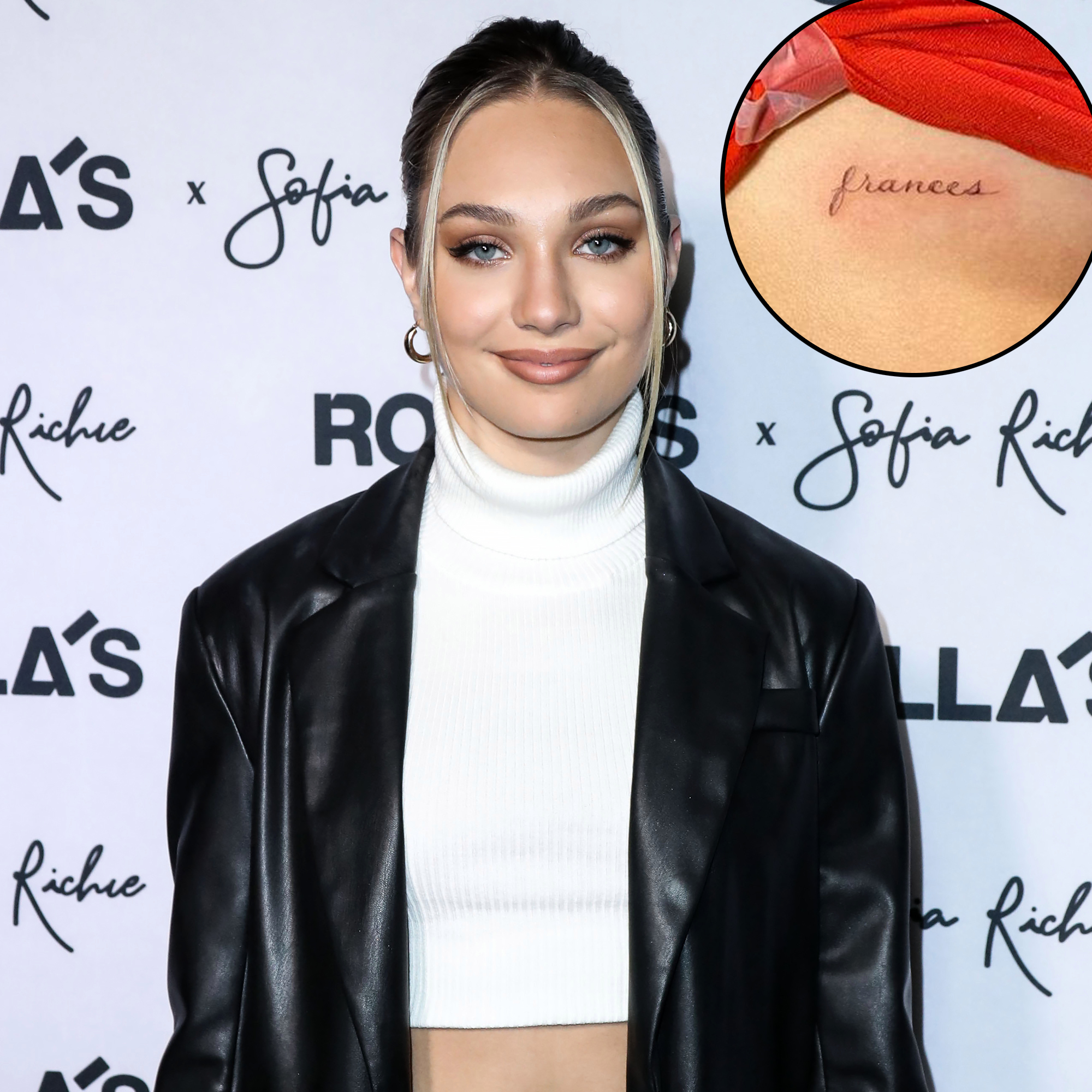 Maddie's relationship with Sia
Being the Aussie singer's muse set tongues wagging, as some people questioned the exact nature of their relationship, and how it had evolved over the years. Sia had been very vocal about her professional interest with the young dancer since she first saw her in the reality show, and was impressed enough with Maddie's dancing skills to reach out to her via Twitter with an offer to appear on her MV. After the success of "Chandelier," Sia said that she no longer wanted to work with any dancer other than Maddie. To date, she's featured as the lead star in seven MVs of Sia, including "Electric Heart" (2015) with Shia LaBeouf, that made waves due to their dance performance that became controversial, "Cheap Thrills" (2016) with two male dancers, and "Together" (2020) with Leslie Odom Jr. and Kate Hudson.
Although no one raised eyebrows at Sia when she gifted Maddie with a white Audi for her 16th birthday, the sleepovers at her house certainly did. People think the relationship had become problematic and bordering on creepy, once they learned that Maddie had been spending the night at the singer's house, as they had a 27-year age gap between them.
the greatest. out now!! i love my @Sia family so much 💘 #weareyourchildren pic.twitter.com/9ALzHPo61j

— Maddie Ziegler (@maddieziegler) September 7, 2016
That was not all. It was revealed that she provided 24-hour security for Maddie, as she said that she felt responsible for Maddie's worldwide fame. She also had some influence on Maddie's career as she would call Melissa about not accepting a project as she believed a particular movie or co-star was not a good one. While Sia called it being protective, others called it controlling.  Maddie called her "second mom" or "godmother", and said that she was not being forced to do something she didn't like.
Whatever their relationship might be, Sia approved of Maddie's current boyfriend, Eddie, and went as far as declaring him to be her "surrogate son." It was not surprising that she felt a kinship with him as they are both Australians. He'd already made quite an impression on her when she first heard him playing upright bass to "Chandelier", in a video that someone sent her. Maddie brought him to Sia's house in L.A., and he played "It's Time on the Elysium" on the piano, and Sia, whom he didn't know was there, came out of her bedroom singing to it.
He said it was a very L.A. moment. She became supportive of Eddie, and mentored him as she thinks he's brilliant in making music; she was the featuring artist in one of his songs entitled "Beautiful Eyes." It was also said that the lovebirds stayed with Sia for a time during the quarantine period.
As much as Maddie wanted to keep her personal life private, it couldn't be helped that people can't get enough of her, as she'd achieved so much for someone so young.
She was a New York Times best-selling author with her memoir "The Maddie Diaries," published in 2017, and she followed it up with a trilogy.
She also launched her clothing line, MaddieXFabletics, for Kate Hudson's activewear label.
Next in line for her was Steven Spielberg's film adaptation of the Broadway musical "Westside Story," as she played the role of Velma, one of the Jets. It was scheduled for release in December 2021 for the 60th anniversary of the original 1961 movie.
As to her love interest, while she's currently blissfully happy with Eddie, she did at one time wish to marry Zac Efron, her biggest crush since she was five, after watching him in "High School Musical," as she said 'Maybe I'll just put it out in the universe…'