Who has Ryan Reynolds dated? Ryan Reynolds' Dating History
The Canadian heartthrob
The talented Canadian actor is considered one of the most handsome men in the acting world, who has stolen many women's hearts. Ever since he made his debut appearance in the role of Billy Simpson in the hit teen soap opera "Hillside" in 1991, Ryan Reynolds has attracted caught immense attention of the female audience due to his good looking appearance. Not even famous female personalities could remain indifferent to his charming looks. It obviously resulted in his rich dating history, before the heartthrob tied the knot with the "Gossip Girl" star Blake Lively. So, let's find out more about nine beautiful women Ryan was romantically linked with over the years before he decided to settle down.
Brief Fling with 90s Star Melissa Joan Hart
Although they could have been one of the most famous couples of the '90s, they weren't meant to be! Ryan Reynolds and Melissa Joan Hart met each other while filming "Sabrina The Teenage Witch" in 1996.
The chemistry worked immediately between them, and the handsome actor tried to make advances to her even though she was in a relationship with another man at the time. According to eonline.com, Melissa opened up about her brief romance with the actor during her interview with Chelsea Handler in 2013. She said "He was 17 and I was, like, 19. I was like, 'You're too young for me.' So I stopped his car…and I wasn't sure; 'am I gonna get mad at him? I just grabbed him and started kissing him." She also revealed that Ryan even bought a luxury Beluga watch to her as a present and added "You get a piece of jewelry like that, you gotta make out with the guy!" Their romance lasted for a month until she decided to end it and stop cheating on her boyfriend. "I had a boyfriend at the time, but we were smitten and cute and he was adorable. He was a really, really nice guy, probably would have been a great boyfriend, and I didn't end up with the other guy, so maybe I should have taken a chance!" she said on the Australian morning show "Studio 10".
According to National Post, Melissa would later reveal more details about their relationship in her memoir, entitled "Melissa Explains It All: Tales From My Abnormally Normal Life". She wrote "Nobody looked as good with wavy blond locks and a thumb ring as Ryan did. Though I was madly in love with James, my boyfriend of six months by then, Ryan and I spent plenty of time together." Before it was published in 2013, Melissa decided to tell Ryan's wife Blake about their romance. The two actresses remained on good terms. In 2014, Melissa told People that Blake "reached out to me via email to help her with a birthday present for Ryan!" We hope that she didn't get advice to buy him a Beluga watch!
Ryan Reynolds and Traylor Howard
After his relationship with one actress, Ryan soon fell in love with another actress at the time when his first major appearance came, since he joined the cast of the ABC sitcom "Two Guys, A Girl And A Pizza Place" in 1998.
While filming, he put a spell on his co-star Traylor Howard, and the duo started dating in September of that year. Even though there was a large gap in age between the two of them, since Traylor was ten years older than Ryan, it didn't stop them enjoying each other's company. Their relationship lasted for the next ten months but they broke up in July 1999. She then went on to date Academy Award-winning actor George Clooney, while Ryan continued to woo his co-stars.
Relationship with Kristen Johnston
Around a year after his break up with Traylor, Ryan became romantically involved with actress Kristen Johnston, known for playing Sally Solomon in "3rd Rock From The Sun" – she was also almost ten years older than Ryan, just a coincidence, or not?! We are not sure, but it is certain that it has always been the case that older women are more experienced and therefore more attractive to men.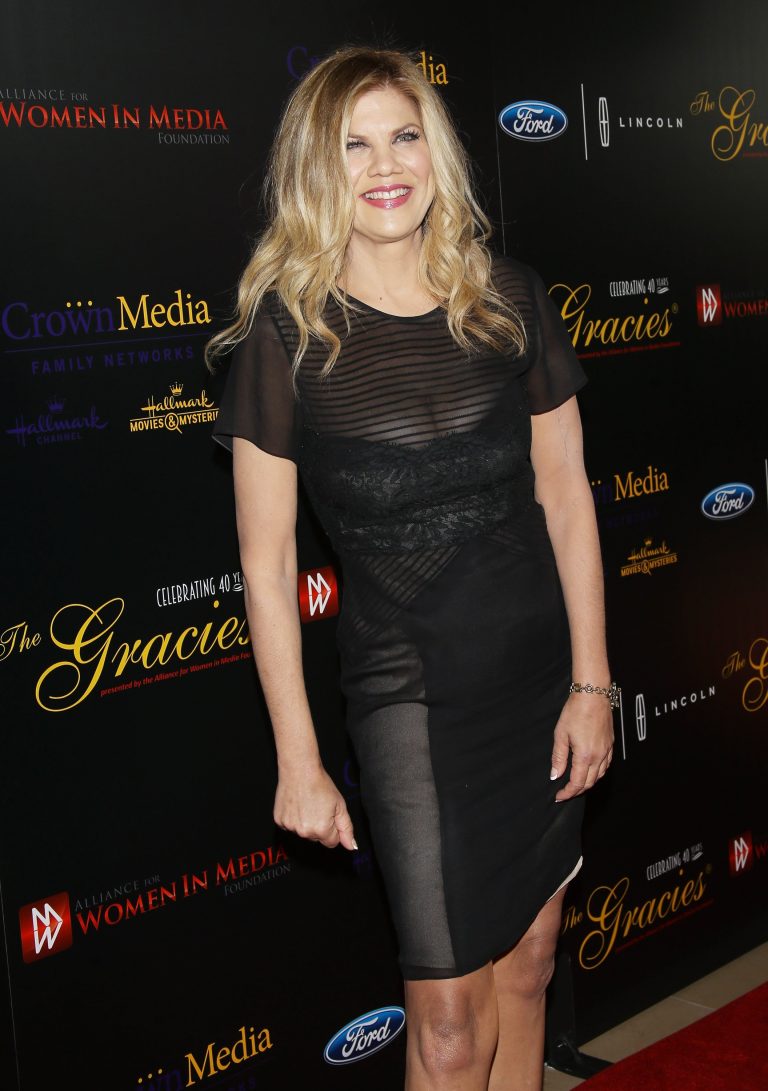 In 1999, the couple was seen together at the premiere of Frank Darabont's "The Green Mile", but their relationship lasted for just five months since they broke up in January 2000. Recently, she was interviewed by Andy Cohen and asked to describe their relationship in three words. According to People, Kristen said "It was so long ago I forgot, but literally, so nice, great guy, a lovely person".
Brief Fling with Rachael Leigh Cook
In the early 2000s, Ryan met actress Rachael Leigh Cook, recognized for her portrayal of Laney Boggs in "She's All That"; they immediately fell in love. Shortly after, she had to fly to England to film "Blow Dry", but that didn't stop them from being together, since Ryan followed her to London. Their romance lasted for a year, before he reached enormous popularity as Van Wilder. Following the end of their relationship, she started dating "The Vampire Diaries" star Daniel Gillies, and married him in 2004.
Engagement to Alanis Morissette
Ryan then moved his focus from film and TV rising stars to music celebrities. In 2002, he met Canadian-American musician Alanis Morissette at the birthday party of Drew Barrymore. Shortly afterwards, they started their romance, which lasted for five years. his first long-term relationship, and after dating for two years, the duo became engaged in June 2004. According to People, Alanis described Ryan as "clearly the most courageous person on the planet, because he's so supportive of my expression remaining intact that he says, 'If it's your truth, go for it.' But my level of consideration has gone up a little bit – not entirely – but, a little bit." Since they never set the date of their wedding, Alanis also said in an interview for the magazine's website, "We're just really enjoying this (engagement) phase. We feel like we're already married." However, they ended their engagement and went their separate ways in February 2007.
She found solace in creating new music as musicians usually do, and revealed that she was overcome with grief which inspired her to release the song "Torch" from her seventh studio album "Flavors Of Entanglement". Three years later, Alanis married famous rapper Mario 'Souleve' Treadway and they became the parents of two sons and a daughter. The former lovers remained on good terms. According to US Magazine, Ryan sang one of her songs, entitled "Ironic", during his appearance in the "Today" show in 2016.
Marriage to Scarlett Johansson
Following the end of his relationship with Alanis in 2007, Ryan Reynolds started dating Scarlett Johansson, one of the highest paid actresses in the world, known for her roles in Marvel movies. In May of the following year, Ryan popped the question and they became engaged, and exchanged their wedding vows in a secret ceremony near Tofino, British Columbia on 27 September 2008.
During their whole relationship, Ryan and Scarlett kept their private life out of the spotlight. They could rarely be seen together at premieres and public events, and even avoided mentioning each other very much in their interviews. In September 2009, Scarlett finally revealed for Glamour why she kept her marriage from the public eye, saying "I don't profess to know anything about marriage that anybody else doesn't know, or how to make it right. I don't want to read about somebody who's giving me relationship advice. So I try to keep some things for myself, to have a private life. Because that's kind of all you have, really, isn't it? When it comes down to what separates you from the next person."
Their marriage didn't last long, since they announced their separation a joint statement on 14 December 2010 – "After long and careful consideration on both our parts, we've decided to end our marriage." Ryan filed for divorce in Los Angeles, California nine days later, which was followed by her response, and the divorce was finalized on 1 July 2011.
#ScarlettJohansson
admit it, YOU have a crush on Scarlett Johansson pic.twitter.com/zcsJpAwkK9

— scar lovebot ♥ (@romanovswhore) September 9, 2020
According to E! News, Ryan didn't want to reveal much regarding the divorce. "I'll say this: the media was not invited to my marriage, and they're definitely not invited into the divorce". He continued, "Anyone who gets divorced goes through a lot of pain, but you come out of it. I'm not out of it yet. At all. But I sense that as I do come through it, there's optimism. How can there not be?"
In an interview with Vanity Fair, Scarlett compared her understanding of marriage at the time she was young, to the present, saying "I didn't really have an understanding of marriage. Maybe I kind of romanticized it, I think, in a way. It's a different part of my life now. I feel like I'm in a place in my life, I feel I'm able to make more active choices. I'm more present, I think, than I've been before." She didn't mention her ex-husband by name. In 2011, the talented actress married French businessman Romain Dauriac, with whom she shares a daughter, named Rose Dorothy Dauriac.
The couple separated in 2016 and divorced in 2017. Recently, Scarlett Johansson became engaged to "Saturday Night Live" star Colin Jost.
Relationship with Sandra Bullock – Just a Rumor?
Ryan Reynolds met famous Hollywood actress Sandra Bullock through a mutual friend several years before they worked together on the romantic comedy "The Proposal" in 2009. Thereafter, Ryan and Sandra became very close friends, but since he was at the time married no one doubted that there was anything more than friendship between the two. However, everything changed the moment his divorce was finalized. Many fans believed that he became romantically linked to Sandra, but she denied it during her interview with Al Roker at the 2011 Golden Globes Awards event. According to The Daily Beast, the actress said, "I think there will be a collective sigh amongst women in the United States when I say, he's not my lovah, he's just an amazing friend I've had for 10 years.
And I hope there's more friendship like that, but I don't get his loving after dark." She also added that her son was the only man in her life she could handle.
Brief Romance with German Model Agnes Fischer
In 2011, Ryan Reynold was spotted with renowned German model Agnes Fischer. According to People, the couple was photographed together having coffee at Old Biscuit Mill in Cape Town, South Africa. There they filmed the action thriller "Safe House", in which Agnes landed a small role. Their romance was at best brief, since it only lasted for about a month.
Summer Fling with Charlize Theron
Before he met the love of his life Blake Lively, Ryan Reynold had a brief summer fling with the Academy Award-winning actress Charlize Theron. In May 2011, they started their relationship after a date set-up by their mutual friends.
Their relationship was kept far away from the eye of the public, since there are no photographs of them in the media. Anyway, his motorcycle was noticed at her home, and was apparently the only 'proof' of their romance, although some of their former neighbors confirmed it. Two months later the couple separated – according to US Weekly, Ryan was the one who decided to end the relationship in late July. Maybe he just wanted to have some fun? On the other hand, Charlize wanted to settle down and start a family. It is obvious that their relationship could not have grown into something more serious as they had different priorities. Over and above, their busy schedules became one more reason for the breakup.
Ryan Reynolds and Blake Lively – Fairy Tales Really Do Exist!
Ryan Reynolds met gorgeous actress Blake Lively in early 2010, while they were filming the superhero film "Green Lantern", in which they co-starred in the leading role. \
They hung out on the set and became close friends, and appeared together at the 2010 Comic-Con to promote the film. At the time he was still married to Scarlett Johansson, while Blake was dating her "Gossip Girl" co-star Penn Badgley. They couldn't even dream that one day they would have a wonderful family!
The first rumors that Ryan and Blake were dating surfaced after they were spotted leaving his apartment early in the morning in October 2011. Shortly afterwards, their relationship was confirmed when they were photographed holding hands in Vancouver, Canada, where they spent Christmas holidays with his parents, according to Pop Sugar. Five years later, Ryan opened up about their first date – according to Glamour, he said in an interview with Entertainment Weekly Radio, "We went on a double date. She was on a date with another guy, and I was on a date with another girl. That was the most awkward date [from their perspective] probably because we were just like fireworks coming across."
Trying to play it chill and just casually flex my legs. pic.twitter.com/HqvG3od50C

— Blake Lively (@blakelively) August 23, 2018
Ryan and Blake Tied the Knot at Private Ceremony
After dating for a year, the couple took a step further, swearing everlasting love to each other at a private wedding ceremony at Boone Hall Plantation & Gardens in Mount Pleasant, South Carolina on 9 September 2012. Florence Welch performed at the ceremony attended by 60 guests. The bride wore a Marchesa ball gown, while the groom wore a suit designed by Burberry. One of the guests told People, "When Ryan first saw her, his face broke into a huge smile that crinkled his eyes. They just stared at each other with absolute love. Their faces were lit up with the candlelight, and it looked like something out of a romance movie." Amazing, isn't it?!
According to Pop Sugar, Blake Lively opened up about their marriage in an interview for the September issue of Lucky magazine around their first anniversary, saying, "I was recently asked how my style has changed since I got married, as if I was living under some sort of dictatorship.
I should hope I dress differently at 25 than I did when I graduated high school. I hope I never stop changing." In the following year, she told Marie Claire "We've never gone a week without seeing each other. There's no major decision that I make without him. The best part is when we turn off our 'phones and just talk and hang out. He's my best, best friend. What do you do with your best friend? You do nothing." She added, "If I could spit out a litter of kids, I would."
Proud Parents of Three Daughters
In October 2014, Blake announced her first pregnancy, gave birth to a baby girl in January of the following year, while Ryan finally revealed that the name of their daughter is James in the "Today Show" three months later. He explained, "I didn't want to be the first guy screaming it out to the media. Because as we know, little girls turn into teenage girls and little teenage girls sometimes scan through the archives and go, 'Why did you do that?'" In 2016, Blake showed off her baby bump at the Cannes Film Festival, and the couple welcomed their second daughter in September of the same year.
Three months later Blake told People, "I had a new baby, Inez, with a 'z' even though everyone says it's with an 's.' I don't know why, please tell Wikipedia."
According to Vogue, the happy family made their first public appearance together at Ryan's Hollywood Walk of Fame Star ceremony in December 2016. During his speech, Ryan said, "I want to thank my wife, Blake, who is sitting right there, who is everything to me. You are the best thing that has ever happened to me. You make everything better. You make everything in my life better. You've given me two of the most incredible children I've ever hoped to have." In an interview with Ellen DeGeneres in 2018, Ryan shared his experience of being the father of two daughters.
According to ET, he said, "I love it. It's really kind of made me a better person, I think. I sort of miss being horrible. It's hard. It's always a challenge, two kids. I think of blinking right now as tiny little breaks all day, but it's the dream. It's the best, they're my buddies. I love it."
This beautiful couple once again managed to delight and shock all their fans when they announced that they were expecting their third child at the premiere of Ryan's film "Pokémon Detective Pikachu" in May 2019. Their third child arrived in September, while the sex of the baby remained unknown until Ryan shared the photo on his official Twitter account of them carrying their third and youngest daughter. Her name is still a secret.
Recently Blake made an appearance in "Good Morning America", and talked about their three daughters. "At one point we had three at four [years-old] and under. It's like going from two to 3,000. We have so many children, we are outnumbered. It's a lot. People say that from two to three it's the same and easy, those people do not have three kids. It is crazy," she said according to Elle. No matter what, the famous Hollywood couple gets along well with their big family, don't you agree?!