What We Know About Jeff and MacKenzie Bezos' Divorce
• Jeff and MacKenzie Bezos finalized their divorce in July 2019, with MacKenzie receiving a quarter of Amazon stock worth an estimated $38 billion.
• The couple met in 1992 when MacKenzie applied for a job at DE Shaw and Jeff was her interviewer.
• They married in 1993 and moved from New York City to Seattle to start Amazon.
• In January 2019, the couple announced their divorce on Twitter and speculation ran rampant about its impact on Amazon.
• After the divorce, MacKenzie signed the Giving Pledge and Jeff assured investors that he would continue to focus on Amazon, which achieved its biggest profit turn-out in 2020.
For many years the Bezos family has been recognised as the world's richest couple, but after 25 years of marriage, Jeff and MacKenzie's union has come to an end. Their divorce became the subject of a lot of speculation and debate during the run-up to its finalisation, partly from concerns for the persons involved, partly because both the general public and many Amazon investors were concerned about the impact their personal decisions would have on the financial well-being of the company.
However, thanks to thoughtful negotiation, they negated the possibility of any negative impact.
Despite their separation, both Jeff and MacKenzie are still on friendly terms, and continue to have a relationship because of the four children that were born from their union, and their joint involvement with Amazon. Looking back and reflecting on their relationship, it becomes easy to see how fate drew them together, but in the end, even the most suitable people can eventually drift apart.
Like all relationships, Jeff and MacKenzie shared good and bad times, but after years of attempting to avoid the inevitable, they decided to amicably part ways. In the advent of their divorce, Jeff remained the richest man in the world, despite the $38 billion settlement that the couple agreed on, which actually made MacKenzie the third richest woman in the world.
Jeff's riches continue to grow as he heads Amazon, Blue Origin and, of course, The Washington Post to further and greater success.
MacKenzie, on the other hand, owning 15% of Amazon shares, signed away her voting rights in the company's directive, and chases a successful career as an author, plus being heavily involved in philanthropic activities. Though they may have parted ways, both Jeff and MacKenzie said that they look forward to this new chapter of their lives, and will remain good friends and partners in their ventures.
In The Beginning
Born Jefferey Preston Jorgensen on 12 January 1968, in Albuquerque, New Mexico USA, to Jacklyn and Ted Jorgensen, Jeff assumed the surname of his stepfather Miguel 'Mike' Bezos in 1968. Following her divorce from Jeff's father, Jacklyn married the Cuban immigrant who adopted Jeff as his son shortly after the wedding. Miguel moved the family to Houston, Texas, where he worked as an engineer for Exxon.
https://www.facebook.com/FirstAmendmentForAll/photos/a.10150172065787577/10151876997207577/
Jeff completed his early education attending River Oaks Elementary School in Houston, and would often visit his maternal grandparents' ranch in Cotulla, Texas, which he later bought and expanded from 25,000 to 300,000 acres. The family then moved to Pinecrest, Florida, where Jeff attended high school at Miami Palmetto High School. He matriculated in 1982 as the valedictorian of his year as well as a National Merit Scholar, earning a Silver Knight Award, which he achieved despite working at a McDonalds as a breakfast short-order line cook. In his valedictorian speech, Jeff spoke about how he intended to progress the future of space colonisation, with the desire to turn Earth into a large nature reserve!
Jeff then enrolled at Princeton University, and graduated with a Bachelor in Science and Engineering in 1986, focused on electrical engineering and computer science.
With remarkable graduation achievements, Jeff gained numerous job offers from companies that include Dell Labs and Intel, but he settled for a position at Fitel, a telecommunications company, being entrusted with the task of building an international trade network.
He soon gained promotion to head of development and customer services, then later worked for Bankers Trust as a product manager from 1988 to 1990, when he accepted an offer from DE Shaw, where he met his now ex-wife, MacKenzie. A few years later in 1993, Jeff decided to retire from employment and start his online publication agency, Amazon, which has since expanded to become the corporation we know so well today.
MacKenzie Scott Tuttle was born on 7 April 1970 in San Francisco, California USA, and eventually attended the same university as her future husband Jeff, but a few years behind him.
She graduated with the highest honours in English in 1992, studying under the celebrated author, Toni Morrison – Morrison said that she was one of the best students she ever had, and especially praised her for her creative writing.
Shortly after her graduation, MacKenzie applied for a job at DE Shaw, where she worked as a recruiter and writer from 1992 to 1994. It also happened to be the place where she met her now ex-husband, Jeff Bezos. He was the first person to interview her when she applied for the position at DE Shaw, and has spoken publicly about how he knew his wife's resume long before they dated.
Jeff has also stated that he knew he wanted to marry a resourceful woman, meaning that he looked for someone who could be capable of breaking him out of a third-world prison, and he found this in MacKenzie.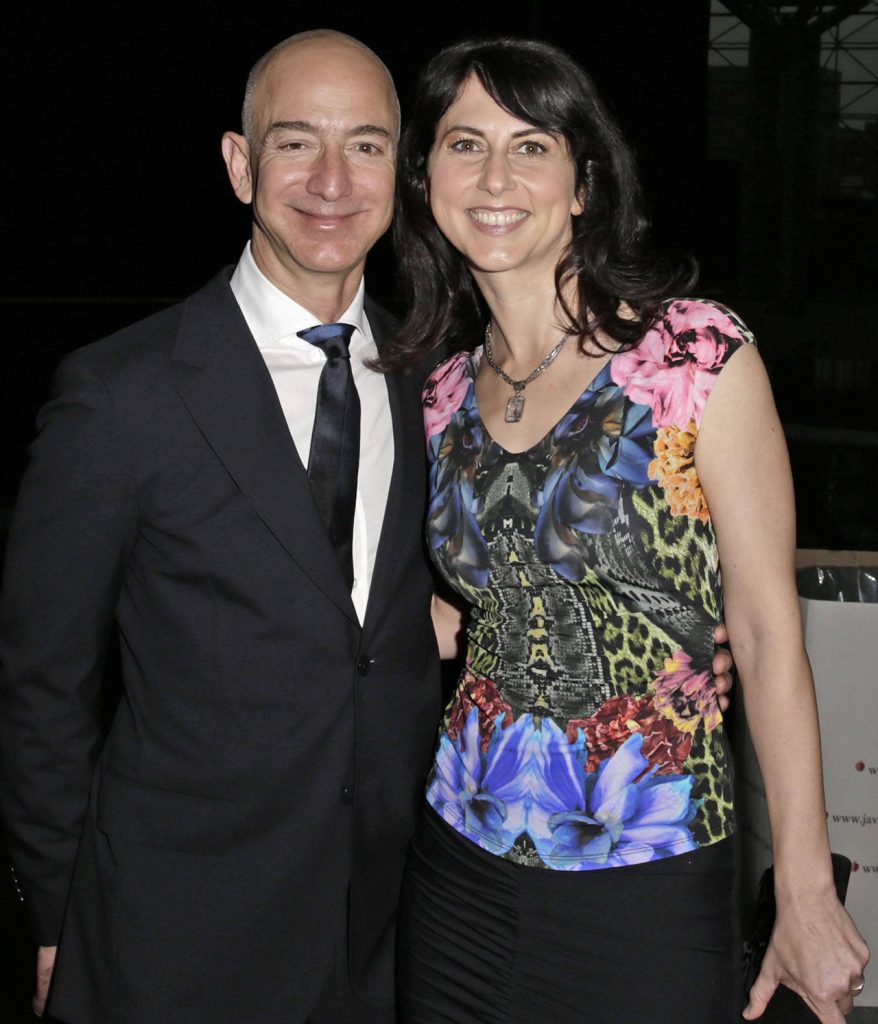 He told Vogue that she was resourceful, brainy, smart, and of course hot.  After landing the job, MacKenzie became Jeff's office neighbour. Sharing close space with him and listening to him laughing daily, MacKenzie fell in love, telling Vogue in an interview that it was difficult not to, and before long they started dating.
However, it was MacKenzie who made the first move, asking Jeff out to a lunch date, and within three months of dating, they became engaged, and six months later they married. Shortly after the ceremony, Jeff shared his vision of creating an online publication with his wife, and they soon moved from New York City to Seattle to begin their venture together.
Although MacKenzie admits that she is not much of a business person, she could hear the passion that Jeff wanted to invest in the project, and she was all too eager to support him.
MacKenzie is going to be amazing and thoughtful and effective at philanthropy, and I'm proud of her. Her letter is so beautiful. Go get 'em MacKenzie. https://t.co/S2gLLBQyRQ

— Jeff Bezos (@JeffBezos) May 28, 2019
While en route to Seattle, Jeff drew up the business plan and sought potential investors, while MacKenzie drove. In 1994, Amazon became a reality, and MacKenzie was of course among its first employees. Appointed as an accountant, she was responsible for negotiating one of Amazon's first freight contracts; within a few years, Amazon had expanded into a multi-million dollar company.
However, Amazon had a few early hic-ups, but through the difficulties, the couple stood by each other. This, sadly, makes their separation all the more heart-breaking, for onlookers anyway. Until 1999, the couple lived in a one-bedroom house, driving a beat-up 1996 Honda which they kept until 2013, only hoping to make it in the world of e-commerce.
Despite the difficulties, they were a closely-knit family, and Jeff seemed like the ultimate family man.
Not only would he help his wife with the dishes, but he also never scheduled meetings early in the mornings, spending this time instead to have a healthy breakfast with his wife and their four children.
During this time, MacKenzie worked on her novels, and Jeff showed his support by being her best reader. However, MacKenzie didn't publish on Amazon, with Jeff once saying that she is the fish that got away!
For a long time their relationship was beautiful, with MacKenzie even saying that their personalities complemented each other perfectly, and Jeff often spoiling his wife with spontaneous gifts.
No one knows exactly why or when their relationship soured, but on 9 January 2019, both Jeff and MacKenzie announced on their Twitter accounts that they were in the process of divorcing.
In their statements, they wrote about an attempted trial separation, and how they had tried for years to reconcile and save their marriage, but sadly decided to go through with the dissolution of their union.
In their statements, they also reassured the public that they would end things on friendly terms, both for the sake of their children and their shared business ventures, and that they look forward to spending the rest of their lives as co-parents writing the latest chapters of their lives.
Following their statements' release, speculation ran rampant, and investors became worried about how this will impact Amazon's existence. However, finalised in July 2019, the divorce was settled amicably, with MacKenzie receiving a quarter of Amazon stock, but signing off voting rights to her husband. The settlement was estimated to be worth about $38 billion, and made MacKenzie one of the richest women of the world.
In a surprising turn of events, MacKenzie signed the Giving Pledge, an agreement that billionaires sign to donate the majority of their riches to non-profit organisations and charities.
Today, MacKenzie goes by her second name, MacKenzie Scott, instead of reverting to her maiden name, and is making a further living as an author.
Was There a Mistress Involved?
Shortly following the statements released on Twitter by both Jeff and MacKenzie, the Enquirer published a story with allegations that Jeff was having an affair with a former news anchor, Lauren Sanchez. By some means, the Enquirer got their hands on text messages and pictures shared by Jeff and his mistress that were of a lewd nature.
Not only were the messages steamy and romantically inclined, but the pair also exchanged private pictures not exactly safe for work.
The publication of this story brought Jeff and MacKenzie's previous statements into question, considering that they knew about the article before it reached publication.
In a blog post, Jeff told the public that members of The Enquirer attempted to blackmail him. The Enquirer has since launched an internal investigation to find out if this could be true, but is yet to acknowledge the allegations.
Investigators hired by Bezos confirmed that the private messages and pictures were leaked by Sanchez's brother, Michael, who is allegedly an associate of Donald Trump's allies Roger Stone and Page Carter.
This made the issue more political, and could involve Donald Trump once again attempting a smear campaign against the billionaire.
However, Michael replied by saying that Jeff's investigator, his chief of security, Gavin De Becker, spreads unhinged lies. In defence of Jeff, an unnamed source close to the family has said that Bezos started dating Lauren only after he separated from his wife, adding that MacKenzie and Jeff tried their best to make their marriage work, and that they wrote their statements together with full honesty.
In the wake of this supposed scandal, Jeff assured investors and all those concerned that he would continue to focus on all things Amazon. As proof of this, despite everything that has happened both domestically and globally, in July 2020 Amazon achieved its biggest profit turn-out in the company's history. Obviously the Bezos legacy continues.