Who has Aaron Rodgers dated? Girlfriends List, Dating History
Aaron Rodgers is an professional American Football player, the main quarterback with the Green Bay Packers of the National Football League (NFL). In 2010, he brought his team to the Super Bowl XLV Championship, played against the Pittsburg Steelers and won the game. Aaron was chosen as the Super Bowl MVP, and since then he's been named 3x Most Valuable Player for 2011, 2014, and 2020. He also made it to the selection of First Team All-Pro for three years, and the Pro-Bowl list for nine years.
All these achievements didn't come easy to the scrawny kid from Chico, California. Aaron did well in football during high school, but never attracted interest from Division heads. He tried for Florida State, but his physical stats back then weren't that imposing, and he was rejected. At that time, he seriously considered quitting football and studied law, since he was an A- student and scored 1310 on SAT.
What an amazing 2 weeks for me living out a dream, guest hosting @Jeopardy. I am deeply grateful to the staff, crew, and contestants on @jeopardy for making my time so memorable. And on top of the incredible experience, they are donating $236,725 to the @NVCF ❤️❤️ 🙏🏻 #solong ❤️ pic.twitter.com/gw064rvGeD

— Aaron Rodgers (@AaronRodgers12) April 16, 2021
However, he was destined to play football, and it took a year of playing in a community college before someone took an interest and je transferred to the University of California, Berkeley, where he ended with an MVP trophy.
He was drafted in 2005, and became a quarterback understudy for three years – even when he started in 2008, the Green Bay Packer fans were initially hostile to him, as they were used to see Brett Favre starting for the past 16 seasons. However, he shut down all naysayers when he won them a championship.
Aaron's Rumored and Confirmed Girlfriends and Flings
The moment Aaron became the Green Bay Packers quarterback all eyes were on him; every single part of his life was being scrutinized by the public. His dating history had been documented by many gossip sites, and even legit sports news sites.
Many beautiful women, including models, singers, athletes and actresses had been linked to Aaron. Aside from his valuable forearm, it didn't hurt that he had top-notch good looks that could easily charm the ladies.
https://www.instagram.com/p/CKzca5UpHts/
Julie Patrice Henderson, "The SI Swimsuit Model" (2009)
The blue-eyed pro baller reportedly dated the blue-eyed model Julie Patrice Henderson for a brief period in 2009. She is a known American model from Houston, Texas, who was notable for having graced the front cover of the Sports Illustrated Swimsuit Issue several times, and was chosen Model of the Year in 2002 by the Modeling Association of America International Convention.
Neither Aaron nor Julie confirmed the romance. There was only one photo of them together that could be found online, which showed them having a conversation in some sort of a bar. It was reported that she sought the protective arms of Aaron after being dropped by hip-hop mogul Russell Wilson for another model Katie Rost. Some people believed that Aaron was her rebound boyfriend, whom she used to hold on to her dignity, as she was accused of being a gold-digger and Russell's white bitch.
Erin Andrews, "The Sportscaster" (2010)
In 2010, fans felt that Aaron had a thing for TV personality and sports reporter Erin Andrews – the two looked great together on TV during post-game interviews.
Erin became a national headline when a victim of a leaked nude video by a stalker in 2008, who did it by secretly filming her in a hotel room through the peephole. The video went viral in 2009, and she filed a case against the hotel and the stalker, which she won.
Fans felt the chemistry and sexual tension between the two each time she did a sideline interview with him. They were spotted having lunch in the Green Bay area, and when Aaron was asked, he never denied it, but said that it wasn't anyone's business. There were speculations that she 'friendzoned' him; people were quick to surmise that Erin probably regretted it, just like many teams who passed Aaron up during the 2005 NFL Draft. The media hyped Aaron before the draft as a top contender to be the No.1 pick, but he ended up being the 25th pick. She probably thought he didn't have what it takes to be a top-notch quarterback then. or simply wasn't charmed.
Lady Antebellum's Hillary Scott (2010)
The 6ft 2ins (1.88m) tall quarterback had been rumored to be dating Hillary Scott in 2010.
Few people recognized her name until they realized she's the co-lead singer of the popular music country group, Lady A, formerly known as Lady Antebellum. At that time, Hillary's group had released their multi-platinum album, "Need You Now," and had also stopped the six-year domination of the Rascal Flatts as Country Music Association Awards Vocal Group of the year.
Many fans were pretty envious of Aaron, as Hillary wasn't only talented but also quite beautiful. However, it was generally believed that Aaron just had a brief fling with her, as she dated the group's substitute drummer, Chris Tyrell, from the country music band, Love and Theft, in the latter part of 2010 and eventually married him.
Jessica Szohr, "The Gossip Girl" (2011) (2014)
In 2011, Aaron just crossed the inevitable threshold of what most quarterbacks did after their Super Bowl MVP-winning performance, which was to date a movie star. It's a rite of passage for most on-the-rise pro-ballers, which he did with Jessica Szohr.
She's an American actress who was first seen in minor roles on TV, but later on attracted global recognition after landing the role of Vanessa Abrams in the popular cult teen series, "Gossip Girl."
There was a time when fans became confused about the news that Joe Jonas and Ashley Greene were seen partying at the Green Bay Packers victory party, after their win over the New York Giants when everyone knew Joe was a huge Giants fan. It was cleared up later on when Aaron and Jessica were spotted watching a Milwaukee Bucks NBA game. Apparently, Jessica was accompanied by Joe and Ashley in Aaron's private box during the Packers-Giants football match. When Jessica was asked if the 3x leading NFL passer was the reason she's supporting the Green Packers she replied indirectly by saying that it was because she's from Menomonee Falls, Wisconsin.
They were spotted together several times, but the relationship didn't last long simply because they were too busy with their careers.
Jessica was filming both her TV series and movie projects at the same time, that she didn't have any spare time for him. Aaron also at that time needed to focus on his career, as his team finished the 2011 season with the record of being the only team in NFL history to score 15-1, but failed to win during the play-offs.
He was rumored to be dating her again for a brief time in 2014, as she was present during his birthday celebration, but nothing came of it.
Olivia Munn (2014 – 2017)
Aaron's next serious relationship was with another actress, Olivia Munn. The two stars met back in 2014, but at that time she didn't have any idea of who he was, which was quite surprising. It was impossible not to recognize his accomplishments, especially that year considering he made history by posting over 500 passing attempts with five or fewer interceptions that led him to be chosen as the league's MVP. However, it was apparent that she wasn't into football.
https://www.facebook.com/filmnewsweb/photos/a.10152877816945763/10155170777330763/
In 2010 Olivia started working as a correspondent for the popular TV "The Daily Show with Jon Stewart," and also began appearing in movies with minor roles. Her breakthrough role was in the 2012 HBO series "The Newsroom," which lasted for three seasons. Later on, she became known globally for her role as Psylocke in the movie, "X-Men: Apocalypse" in 2016, and as Casey Bracket in the movie franchise series, "The Predator."
Both the entertainment and sports media along with the fans generally accepted the union, as they seemed to be good for each other. It didn't hurt that they looked beautiful together whenever they graced several official events in their respective industries. She supported him by watching all his games, taking time to learn about the sport.
Everything seemed to be going great for almost three years, until the "Magic Mike" actress was blamed for the ongoing rift Aaron had with his family; the media and fans pictured her as the villain who instigated the family feud.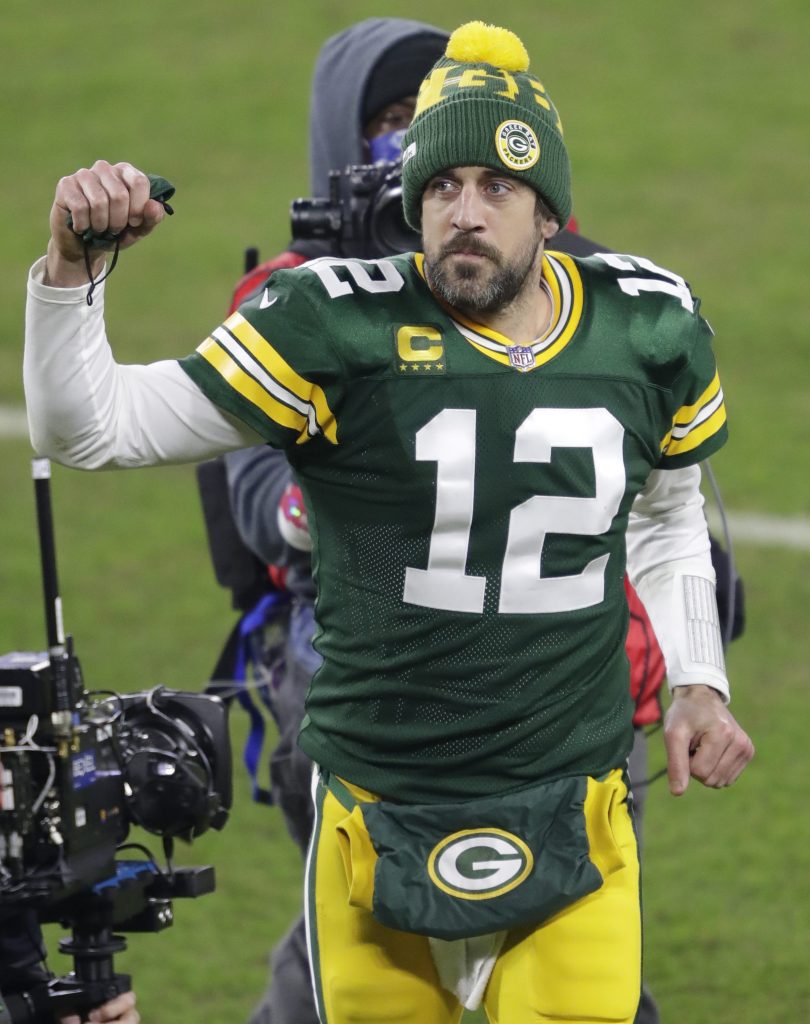 It was rumored that Aaron got mad at his family for telling him that they didn't trust Olivia, believing that she was with him for the wrong reasons. According to news sites, the estrangement began in December 2014; his family didn't have his mobile phone number, and their Christmas presents for him were mailed back to them. He even begged off to be one of the groomsmen at a family friend's wedding just a day before the event, but the highlight of the feud was when he failed to attend his grandfather's funeral. Something was off, as he used to call his grandfather on the phone before a football game.
Aaron's falling out with his family became huge news when one of his brothers spoke about it after he joined 2016's reality TV show "Bachelorette." When his family was featured on the show, they talked about Aaron briefly, with his father revealing that fame could change a person. Aaron never refuted their claims, nor said anything except that these family matters shouldn't be discussed in public.
In 2017, Aaron and Olivia made the mutual decision to call it quits; there was no third party to speak of, and they remained friends. It was only a year after the break-up that she spoke about the allegations thrown at her; Olivia revealed with Andy Cohen over at his radio show "SiriusXM" that Aaron's family problem started about eight months before she came into the picture. She also shared that she had been on friendly terms with Aaron's brother Jordan, and met his parents a couple of times. She even encouraged him to talk out his differences with his parents, and discussed it with bullet points so he could address all his concerns. However, Olivia said that while it was important to always try to patch things up with the family, she also said that, 'I do believe that family and fame and success can be really complicated if their dreams are connected to your success.'
While she believed that both sides made mistakes, she felt that it wasn't right that they depended on him, while at the same time throwing dirt at him.
Kelly Rohrbach "The Baywatch Babe" (2017)
It would seem that the press release of no-third party involved and the amicable ending of the Aaron-Olivia relationship was questionable, since Aaron was spotted with a new girl on his arm just a few weeks after the break-up in 2017. Fans started wondering if there was an overlap, when he began dating the 27-year old model turned actress, Kelly Rohrbach. People were amazed at him moving on so quickly, and according to sources, his ex-girlfriend, Olivia was also livid upon learning about it.
Kelly is an American actress who was first noticed after appearing in the Sports Illustrated Swimsuit 2015 issue, and later on was chosen to play the movie version of C.J. Parker, the iconic role that Pamela Anderson made famous in the TV series, "Baywatch."
ICYMI: Leonardo DiCaprio and girlfriend Kelly Rohrbach have split https://t.co/NDqEaxqXYJ pic.twitter.com/KRJQZGtRqE

— People (@people) January 5, 2016
She dated Leonardo DiCaprio for two years, before she was romantically linked to Aaron.
The two celebrities found a common interest, which was playing golf, and the dating rumors started when they were reported by The New York Post with matching photos walking together at Westchester Golf Course. Some gossip sites claimed that Aaron and Kelly had met several times at various golf events in the past, so it was easier for them to connect after Aaron ended his previous relationship. At that time, fans thought that the main reason for the break-up was that Olivia was too controlling, and that his family didn't approve of her, but due to the questionable timeline, Kelly might be part of the reason why. It was interesting to note that Aaron said during an interview that year that he was cutting some golf time to concentrate more on his workouts and football practices. It seemed having a "Baywatch" babe for a golf buddy was just too tempting to resist.
https://www.facebook.com/XeuDeportes/photos/a.465558883508604/1482458625151953/
However, a month after they were spotted together, some sources close to the Green Bay Packers quarterback said that the two were just friends, and that there wasn't any truth to what the tabloids were reporting about them. While he already knew that it comes with the territory, he still gets tired when each time he talks to a girl, the media reports it as dating.
Danica Patrick "Race Car Driver" (2018 – 2020)
What are the odds that a three-time NFL MVP would be in a relationship with the only woman Indy Car series champion? In 2018, Aaron started dating Danica Sue Patrick and the sporting world right away created a new power couple.
Danica is an American former professional race car driver, and arguably recognized as the most accomplished woman race car driver in the world. She was one of two women who participated in both NASCAR and IndyCar competitions. From winning karting competitions at age 10 to finishing fourth in the 2005 Indy 500 at 23, she helped other women racers in breaking gender barriers in the male-dominated sport.
In 2008, Danica finally made history when she emerged first at the Indy Japan 300, becoming the only woman to do so.
Aaron met her in 2012 during the ESPY Awards – or the Excellence in Sports Performance Yearly Award – and they exchanged email addresses instead of phone numbers. Since then, they have remained in contact while pursuing their own goals. There were some years when they didn't have the chance to connect due to busy schedules and different interests, until they eventually exchanged phone numbers. She would call him 'Green Bay' and he would call her 'Chicago', as Danica was a huge fan of the Chicago Bears, one of the ultimate rivals of the Green Bay Packers. They were first seen together in February 2018 at the Daytona 500, where Aaron kissed her before the race, which turned out to be her last NASCAR race. By October, during an interview in Artful Magazine Aaron proudly admitted that he was in love with Danica. It was the first time that he allowed himself to enjoy a relationship publicly, and share it on social media.
Danica tested the performance of the all new #Pirelli #ScorpionASPlus3: developed to meet the needs of North American drivers, in particular the demand for long lasting tires, and it comes with a 70,000 mile treadwear warranty. With this tire you can go farther. @PirelliUSA pic.twitter.com/lgI1bRWduq

— Danica Patrick (@DanicaPatrick) May 18, 2021
During their time together, the former Indy 300 Champ was quite open about it, and would share photos on her Instagram account. Everything was great between the two, as she was mostly on the same page with the NFL star. For instance, they both loved home-cooked meals, and it worked for her since she loved to cook. A year into the relationship, Danica was still gushing over Aaron, saying that she was one lucky girl to have an impressive man on the field, and a great human being off the field. She even wore a Packers jersey in Chicago, just to show her support for her boyfriend. She would also share how she felt taken care of, as it was the first time that a boyfriend of hers paid things for her – Danica would always buy dinner when she went out on a date in the past. He even surprised her with a birthday celebration in Paris in March 2019.
Everything seemed to be heading for the altar, as in December 2019 they bought a $28 million Mediterranean-style mansion in Malibu, California, which was reportedly paid for in cash.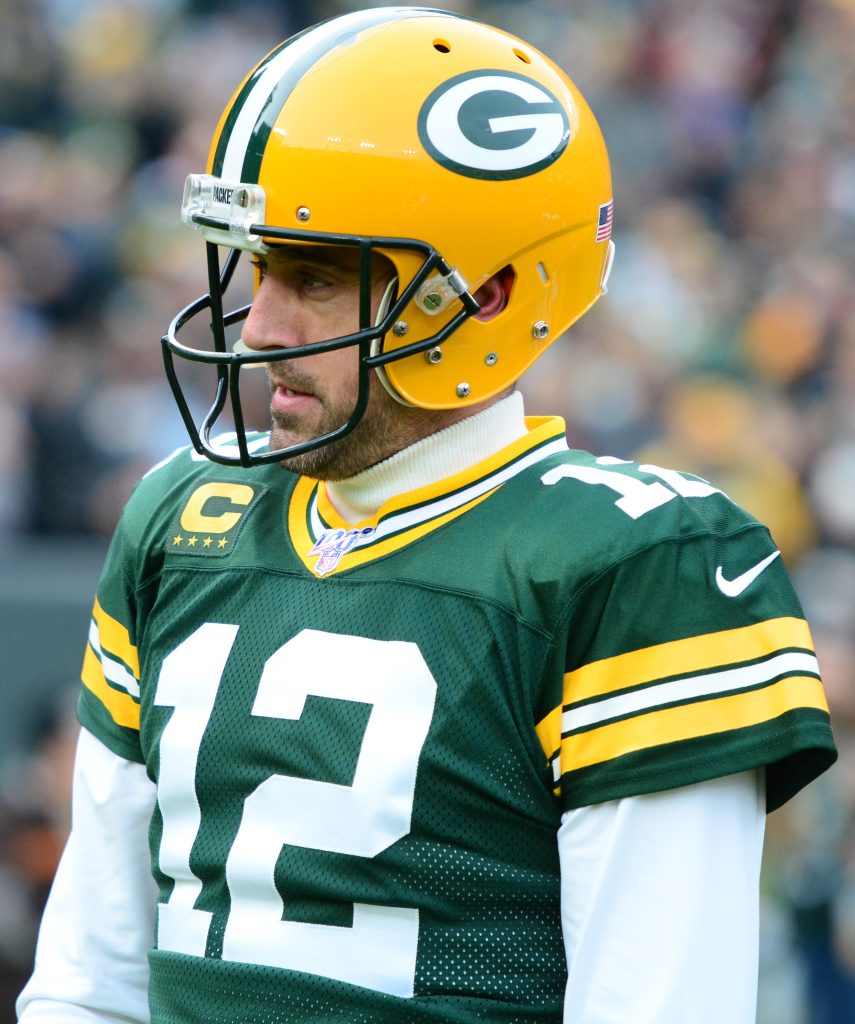 However, six months after moving to the new house, fans were shocked that they announced the end of the relationship in July 2020. The media speculated that it probably ended earlier, as the last photos of Aaron on Danica's Instagram account were in April. Some couldn't believe the break-up, as they were even isolated together during the start of the Covid-19 outbreak. No reason was given, and both of them have mum about it.
Shailene Woodley "The Fiancee" (2020 – present)
Aaron surprised everyone again by announcing during his speech in February 2021 after being awarded the MVP at the NFL Honors Awards, that he was engaged. However, he didn't mention the girl's name, so everyone was confused as it was also only in early February that he reportedly started to date actress-environmentalist, Shailene Woodley.
At age four, Shailene started working as a model, and at the age of eight she was seen appearing on TV series with minor roles, until she was given a lead role in the 2008 ABC series, "The Secret Life of the American Teenager," which lasted for five seasons, and her performance was highly praised.
She became widely known for her role as Beatrice "Tris" Prior in the movie franchise series, "Divergent," and as Hazel Grace Lancaster in "The Fault in Our Stars."
While everyone was confused about Aaron's new engagement status, Shailene shared during an interview that it wasn't new, as they'd been engaged for some time, but just kept their relationship low-key. When sports agent turned sports gossip blogger Terez Owens, first reported this new couple on his site back in July 2020, and said that Shailene was the cause of Aaron and Danica's breakup, no one believed him. The couple was spotted having fun in Tahoe around the time that it was announced that Aaron called it quits with Danica. It was of no wonder that Danica was quite heartbroken when she finally talked about her past relationship, in a guest appearance in the TV series "Running Wild."
They were rumors that it was Danica who introduced Shailene to Aaron, but never in her wildest imagination that Shailene would make a play for him.
So, will we hear the sound of wedding bells in the near future, or….?