Who has Adam Lambert dated? Adam Lambert's Dating History
• Adam Mitchel Lambert was born in Indianapolis, Indiana USA in 1992
• He came to prominence as a runner-up in the 8th season of "American Idol" in 2009
• He publicly came out as a gay shortly thereafter
• He has been in multiple relationships, including one with US Olympic figure skater Johnny Weir
• He is currently single, but previously dated model Javi Costa Polo until November 2019
Adam Mitchel Lambert was born in Indianapolis, Indiana USA, on 29 January 1992 under the zodiac sign of Aquarius. The handsome young guy came to prominence for being named as the one of the most talented singers, and the runner-up of the eighth season of the reality TV singing competition series "American Idol" in 2009. His number-one studio album, "Trespassing" made him the first openly gay artist to top the album charts. Recently, Adam reached worldwide fame for collaborating with rock band Queen.
Regarding his personal life, there was a lot of speculation about his sexuality during the "American Idol" competition. Adam came out as a gayshortly thereafter, in his interview with Rolling Stone magazine, saying, "I don't think it should be a surprise for anyone to hear that I'm gay," but adding, "I'm proud of my sexuality. I embrace it. It's just another part of me."
Ever since, his personal life has been under a microscope. So, we've made you his dating timeline – just keep listening, and you may discover something interesting!
Before he reached enormous popularity through the "American Idol" competition, Adam Lambert was romantically involved in a relationship with producer and performer Bradley C. 'Brad' Bell a.k.a. Cheeks. Their romance started in 2006, and was his first serious relationship, Adam even describing it as his first true love. The duo also had their celebrity couple nickname – 'Bradam'.
After dating for two years, Adam and Brad mutually ended their romance. No matter what, the former lovers remain on good terms, and following their split, were spotted multiple times hanging out, and even appeared together at the GLAAD Media Awards dinner in 2010.
Before Adam came out publicly as a gay, their photos surfaced in the media in 2009 while he was a part of the competition.
He would later open up about that in his interview for OUT magazine, explaining that he wasn't ashamed of that, so decided to set the record straight and declare himself as a gay. "It's really cool, now, looking back, because I think that without saying it, and making that part of my identity, I think I allowed viewers to be more open to me. Had I put it out there that I was gay right off the bat, I think that people would've closed their minds right away," he said. Moreover, he opened up about his first love and said that it changed him. Adam also gave a clue about the reason for their split, saying, "Open relationships are fine because we're all men. And I'm not judging that, but I don't think that's for me. I don't think it's emotionally healthy."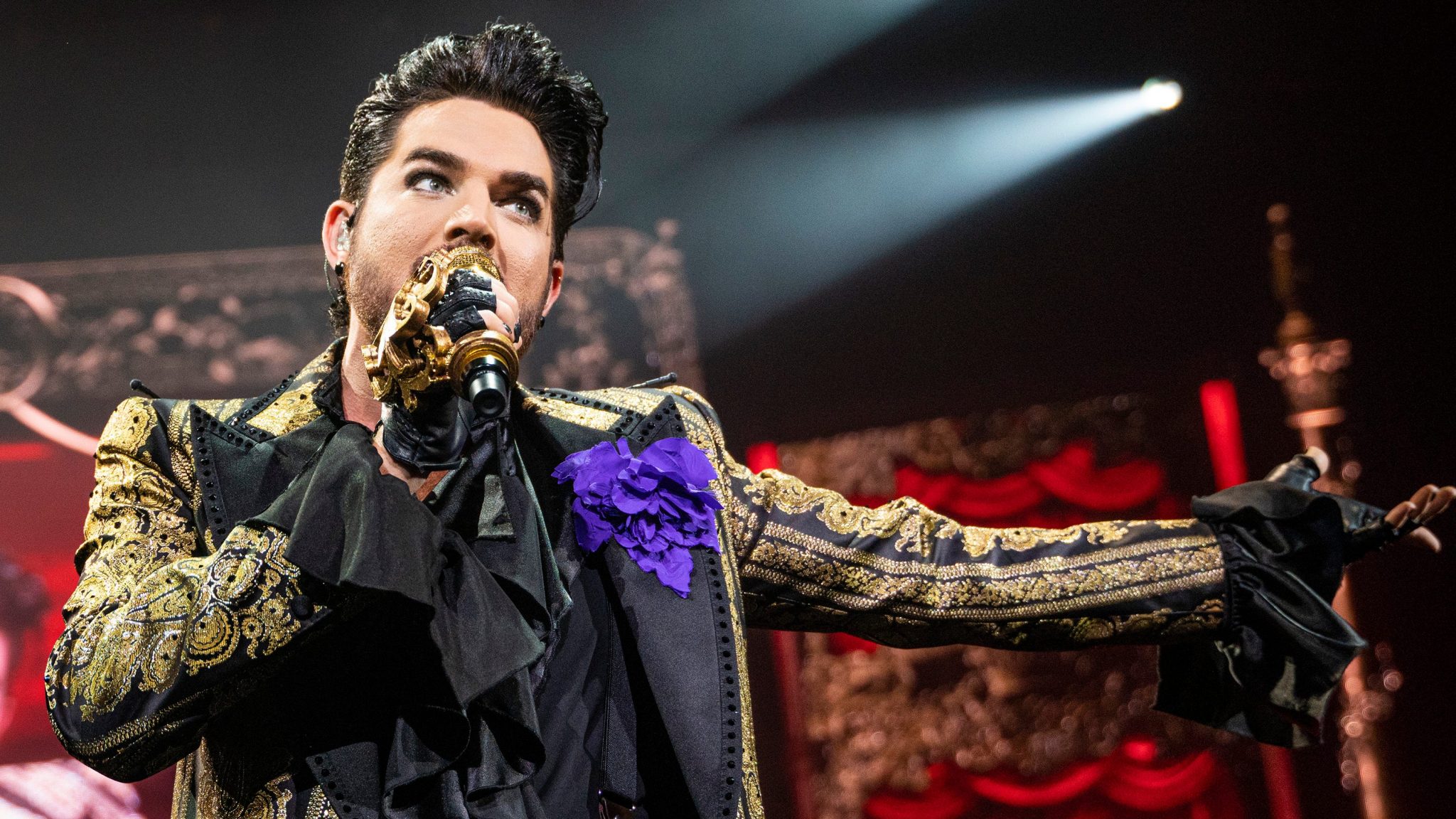 Following the end of "American Idol", Adam Lambert became pretty close with interior designer Drake LaBry, starting their romance in May 2009. A source told People magazine, "He's been Adam's best friend and totally there with him through this whole [Idol] process." They went public in June 2009, after being spotted hand-in-hand at the West Hollywood nightclub, Guys and Dolls. Two months later, Adam opened up about their relationship in his interview with E! News magazine, saying, "It's going really well. It's just fine. We're dealing with being apart just fine." However, their relationship didn't last long, US Weekly magazine reporting that they broke up later that year. A source confirmed it to the magazine, saying, "They're still friends, and it's totally mutual; they will still talk and see each other." The source also continued, "Adam is crazy busy right now getting the album done and squeezing in rehearsals.
They both felt this moment is too important for Adam to focus on anything else but getting this album out and having it be a huge hit." So, the reason for their split was clear – they obviously couldn't handle the pressure of Adam's busy schedule. Reportedly, his single "Voodoo" was inspired by Drake.
Just a week later, Adam Lambert told US Weekly magazine that he was ready to date someone else, saying that he was looking for someone "intelligent". Furthermore, he confirmed his split from Drake – "Sometimes you're on the same page with somebody, and sometimes you have to get off that page and on to another one".
It only took him a few days to spark rumors that he had become romantically involved in a relationship with renowned singer-songwriter Ferras, who reportedly helped Adam with his debut studio album "For Your Entertainment".
According to AceShowbiz magazine's source, "They have a lot in common, so I'm not surprised Adam started falling for him," and added, "Adam really dropped a bomb on Drake; I don't think he suspected a thing." However, they denied it by exchanging Twitter messages. Adam wrote, "The tabloids think we're dating. Haha! where do they get this sh**t?!" while Ferras replied, "I know lol! Waiting for 'Ferras, with a new advance in science is pregnant with Adam Lamberts child' to hit the blogs. Baha."
In 2010, Adam Lambert again hit the headlines, but this time for kissing a girl! He was spotted making out with pop star Kesha on the dancefloor at a gay nightclub in New York City, after a couple of drinks. She told JustJared magazine, "He tasted like blueberries and champagne." On the other hand, he said, "She tasted like Goldschläger and maple syrup."
In his interview with BLI In The Morning, Adam admitted, "It's an energy thing. She's really pretty and we were laughing and we just started kissing", adding "She's a great kisser!"
During the same year, the "American Idol" runner-up and US Olympic figure skater Johnny Weir sparked rumors that he and Adam were an item. However, there is no information about that in the media, and neither of them ever confirmed or denied it. They obviously appreciate each other very much, since Adam called him "a trailblazer", while Johnny called Adam "an amazing performer". It seemed to be nothing more than respect between them.
In November 2010, Adam Lambert performed in Helsinki, Finland and there met his future love Sauli Koskinen, known for being a reality TV personality and a winner of the Finnish version of "Big Brother".
They soon fell in love and started their romance, even appearing together at multiple red carpet events. In December of the following year, the former "American Idol" contestant hit the headlines when he was arrested and jailed after fighting with his boyfriend outside a gay nightclub in Helsinki, according to DailyMail magazine. After being released, Adam tweeted, "Jetlag+Vodka=blackout. Us÷blackout=irrational confusion. jail+guilt+press=lesson learned. Sauli+Adam+hangover burgers= laughing bout it." On the other hand, Sauli blogged about that shortly after the incident, writing "Publicity is not easy, but also celebrities are just humans. Love is not easy either, but it lasts forever!" Maybe the fight was actually the beginning of the end, for after dating for more than two years, Adam and Sauli parted ways in April 2013.
According to US Weekly magazine, the handsome singer confirmed their split in his interview with South Florida Gay News, saying "It's been kind of on its way out in the last couple of months", continuing "Sauli and I remain really good friends, and I know it's a cliché thing to say. But it's totally true. I just gave him a coffee and bagel earlier today. He's a great person and we've had an amazing couple of years together. Things have just run their course. I've been getting really busy and traveling a lot, and he's been getting really busy because he has a show he's filming for Finnish television. So we just decided to part ways."
Following his break-up with the famous Finnish reality star, Adam Lambert focused on his professional career. In his 2018 interview with Gay Star News magazine, he revealed that he had been single for five years, saying, "I haven't been in a relationship for about five years. I've been working and traveling quite a bit, so any dating is temporary and transient."
He also added, "I could meet and really click with a special guy in whatever city I'm in for a few days, but then I have to continue to my next destination." Furthermore, Adam described himself as a "multi-dater", and said, "My inner romantic always hopes that I could meet someone and it would grow into something significant and monogamous." Soon, everything changed and Adam fell in love!
In early 2019, the famous singer became romantically involved in a relationship with model Javi Costa Polo. According to DailyMail magazine, he admitted that the single life was "good life, but it can get a bit empty". The couple went public with their relationship in when Adam shared several cute selfies with him on his Instagram account, and wrote in the caption "LOV U" with a heart emoji. He would later reveal during his appearance on the "RuPaul" show that they met on Instagram – "We met on Instagram. I love meeting freaks on Instagram," and added "We were texting for a while, then we went on a proper date and it was lovely. It was just a good vibe right from jump and it felt instant!"
It's the last day you can enter to win a lunch with me and one of your friends in LA (when it's safe of course!) through @getwishio!! Help support @FSFoundation_ by downloading and donating through the #wishio app now https://t.co/WLTRwN9MdA pic.twitter.com/7NcaSYWMA2

— ADAM LAMBERT (@adamlambert) August 13, 2020
The single "New Eyes" from his recent studio album "Velvet" is dedicated to Javi, Adam confirming that, saying "I have a new boo, and that's why I chose this song as my first single," but adding "This guy makes me feel romantic, and I wanted to sing a pretty song about love."
However… you guessed it; after dating for less than a year, the couple ended their relationship in November 2019, the renowned model announcing their split by posting a video on Instagram, saying "Adam and I, no longer together, which breaks my heart. Because I love Adam the most. He's the most amazing person I've met in my entire life. I will always have him and he will always have me." He also opened up about the reason for their break-up, explaining that he is not an American citizen, so he had to move to Spain when his visa expired. "I'm not a citizen of the United States. So we both decided that that's the best thing for me. In order to keep growing and learning, I need to be in a country that gives me the right to be that," he said.
That handsome singer Adam Lambert has apparently been single ever since. We hope that he will soon find the love of his life and settled down, but don't hold your breath!