Who has Alyssa Milano dated? Boyfriends List, Dating History
Born Alyssa Jayne Milano in Brooklyn, New York City USA on 19 December 1972 under the zodiac sign of Sagittarius, the talented actress came to prominence for being a successful actress and producer. She is probably best recognized for starring in the role of Samantha Micelli in the ABC sitcom "Who's the Boss?", portraying Phoebe Halliwell in WB's supernatural fantasy series "Charmed", and playing Savannah 'Savi' Davis in the ABC soap opera "Mistresses". Alyssa is also known as a political activist, who re-launched the Me Too movement in 2017.
Ever since she made her debut appearance, Alyssa Milano has been under the spotlight due to her attractive appearance and charming personality.
Over the years, she has been romantically linked to many famous men, which she confirmed during her September 2013 appearance on "Access Hollywood Live", joking about it – "My dating history is longer than my IMDB profile."
Hereupon, we've compiled  for you what we believe to be a complete list of her former flames. If you are interested in that, just keep listening 'til the end, and you will find out all the details!
Alyssa Milano's first public boyfriend was her "Who's the Boss?" co-star Kirk Cameron. They met on the set in 1985, and soon became pretty close to each other, and eventually starting their romance, even though she was only 13 years old, while he was about 14. The talented actress once said in one of her interviews that he even used to dedicate songs to her on the radio. Alyssa ended their romance in March 1986, once openeding-up about their break-up, saying, "I just couldn't deal with it."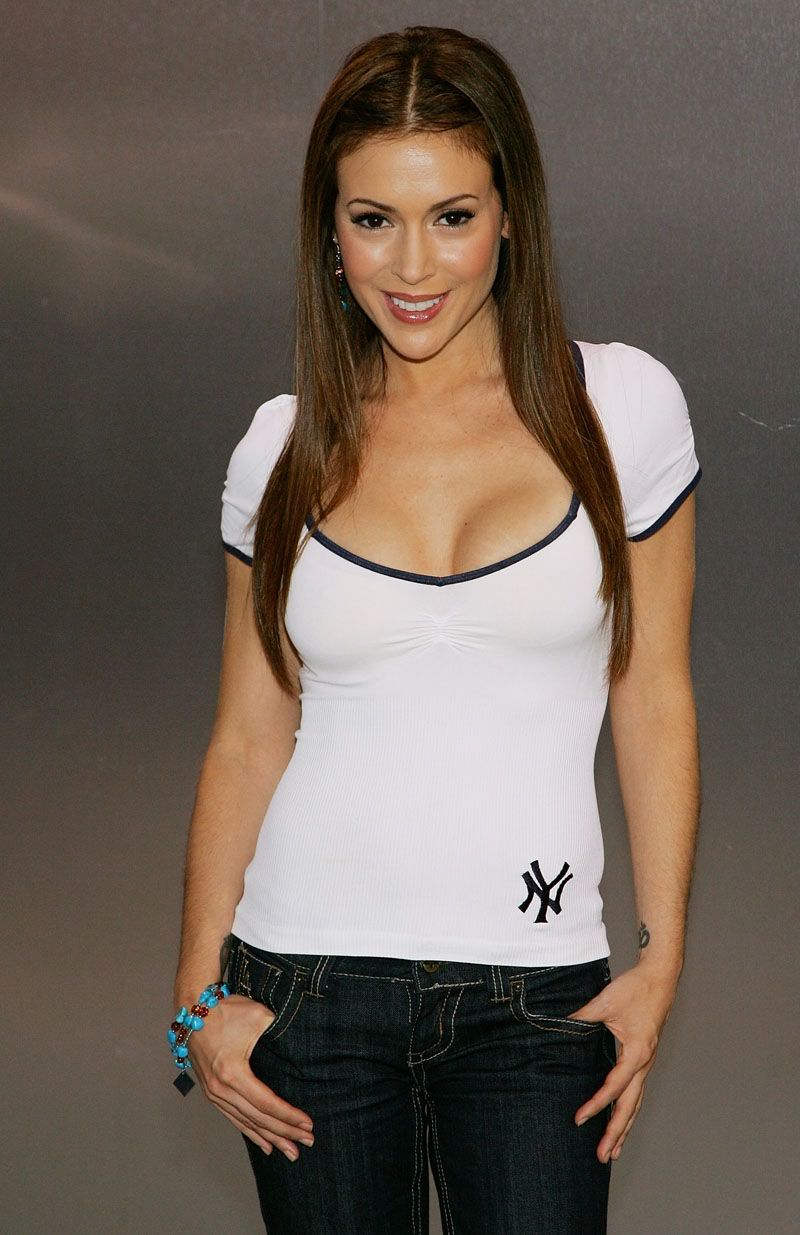 Following her split from Kirk Cameron, Alyssa Milano fell in love with famous child actor Corey Feldman, becoming romantically involved in December 1986, but after dating for four months, they allegedly broke up in April 1987, although she would later deny any romance when she was asked about him on the show "Access Hollywood Live" in September 2013.
Relationship with Corey Haim
After her rumored relationship with Feldman, the beautiful actress went on to date the late Canadian child and teenage actor Corey Haim in 1987. Their relationship lasted for three years, until they parted ways in 1990. While they were dating, Haim was already troubled by drug addiction, and although she never spoke publicly about the reason for their break-up, we assume that his addiction was the main reason, since she once admitted that she and her parents tried to help him, but unsuccessfully.
No matter, they remained on good terms, and following his death in March 2010, Alyssa even tweeted, "Just woke up to the sad, sad news that Corey Haim passed away. RIP sweet boy."
In 1990, the "Who's the Boss?" star put a spell on Canadian ice hockey player Wayne McBean, and they dated for a short period of time, during which Alyssa Milano even posed holding his hockey stick and wearing his jersey.
Alyssa Milano was next rumored to be romantically involved with David Arquette, from July to September 1991. They were spotted several times together, and making red-carpet appearances at such events as the "Bill & Ted's Bogus Journey" party, and the Los-Angeles premiere of "The Indian Runner". The famous actress would later confirm their romance during her September 2013 appearance on "Access Hollywood Live", saying, "Yes, I was like 19." Following their break-up, the former couple remained on good terms.
After starring in the comedy "Little Sister" in 1992, Alyssa set off rumors of having hooked-up with her co-star Jonathan Silverman, However, neither of them confirmed any association.
Scott Wolf – Engaged
Alyssa Milano's first highly publicized relationship was with actor Scott Wolf; they met while filming "Double Dragon" in Cleveland, Ohio in June 1993. During their joint interview with People magazine in March 1994, Alyssa recalled their first kiss, saying that it happened after a week of acquaintance, when they went to a night club with film-crew members and "played Truth or Dare." She said, "Someone dared us to kiss. I wanted to slip that guy 20 bucks," while Wolf revealed that Alyssa "was incredibly cute" and that he was "physically attracted to her."
Things were going pretty fast between them as they moved in together after only two months of dating, and two months later, Scott proposed to her with a 1940's-vintage diamond engagement ring.
Alyssa told People magazine that she knew they were meant to be the second time she met him, adding, "I called my morn and told her, 'This is the man I'm gonna marry.'" He then said, "I could have asked her to marry me two weeks after we met. I'm convinced we're like two halves of the same soul." She continued, "I really don't want people to look at this as another couple who met on a film set," while he added, "This is anything but that. You can interview us 25 years from now—and we'll prove it."
However, you're not really surprised that they called it quits shortly after the interview, are you?
During her August 2019 appearance on the podcast "Sorry Not Sorry", Alyssa Milano opened up about their romance and said, "[I] was in love for the first time in the breathless way you can only be in love when you are young. It was huge — overwhelming even. It filled every part of living. It was a joyful and exciting and powerful time in my life." She also revealed that she had undergone two abortions during their romance, because she wasn't ready to be a mother. HMM – what's that about learning from your mistakes!?
Thereafter, she went on to date former model and reality television personality Eric Nies for a few months in 1993. He later confirmed their romance during his appearance on "The Howard Stern Show" in July 2000.
I believe in the process. We are going to have to be patient while they count the ballots. Don't panic. #everyvotecounts #counteveryvote

Posted by Alyssa Milano on Friday, October 30, 2020
Mark Wahlberg – Rumored
After co-starring in the psychological thriller "Fear" in 1996, Alyssa Milano and Mark Wahlberg were rumored to become an item, but it that wasn't confirmed either.
Cinjun Tate – Her First Marriage
The "Charmed" star and Remy Zero's frontman Cinjun Tate were introduced by a mutual friend at a private party in Los Angeles, California in early 1998. They became pretty close to each other and eventually started dating in August that year. According to People magazine, she was spotted that November at the band's gig at a Los Angeles night club. The nightclub's talent booker Nikki Sweet revealed, "They made eye contact all night," and added, "She was so cute, pressed up against the stage, singing all the words to their songs and dancing."
After five months of dating, the couple exchanged their wedding vows at a private ceremony at the Rosewood Plantation hotel in St. Amant, Louisiana, on New Year's Day 1999. People magazine reported that Alyssa's bridesmaids were her on-screen sisters, Shannen Doherty and Holly Marie Combs. The ceremony was attended by their closest family and friends, with one guest revealing "They danced to a Cajun song for their wedding dance. She looked very happy."
Again, are you surprised that they went their separate ways after just ten months of being married, with Alyssa filing for divorce in December 1999citing irreconcilable differences?
Following her failed marriage, Alyssa Milano reportedly dated her "Charmed" co-star Greg Vaughan from January to April 2000, altough neither of them confirmed or denied those rumors.
John released so many new UNSEEN photos of Jason on Instagram! (Part 4) #JasonBehr #Roswell #Actor #Photoshoot #Roswell pic.twitter.com/wSmiJu2b6f

— Jason Behr Org (@JasonBehrOrg) January 16, 2019
She was also rumored to have had a brief fling with actor Jason Behr between 2000 and 2001, but it was never confirmed either; still, 'no smoke without fire'?
Later in 2000, the attractive actress developed feelings for her "Charmed" co-star Brian Krause, and it was rumored that the two started dating in November that year. According to National Enquirer magazine, he decided to end his five-year marriage because he fell in love with Alyssa Milano, although a source close to his ex-wife, Beth, told the magazine that he "accused HER of having an affair," and added, "Beth soon suspected Brian was cheating, but she'd never linked him with Alyssa. His supposedly secret date with Alyssa was the last straw."
His wife eventually filed for divorce, while Alyssa's close friend revealed that she "started hitting on Brian on the 'Charmed' set, and he went along with it," adding "No doubt about it – they were having a hot and heavy affair."
In April 2001, they were spotted together at a dinner date in Malibu, California. An insider told the magazine that the two "looked so happy together, holding hands, kissing and gazing into each other's eye." After the dinner, Brian and Alyssa "walked hand in hand along the beach. They stopped and kissed and watched the sun sink into the horizon. At one point, they just sat in the sand and held each other. It was very romantic." They split by the end of the year – no comment!
After Brian Krause, the attractive 'witch' put a spell on a guy named Josh Shambaugh. In February 2002, they went public with their romance after making d aebut red-carpet appearance hand-in-hand at the Capitol/Virgin Records Grammy party in Los Angeles, California, but… they broke up in April.
Alyssa then dated handsome American singer-songwriter Justin Timberlake for a few months in 2002. In her 2013 interview for "Access Hollywood Live", the "Charmed" star confirmed their romance, saying "That was right after Britney broke his heart, I swooped in for the kill!" Justin confirmed it in his 2016 appearance on the Australian breakfast show "Rove and Sam", admitting that he had a crush on Milano when she starred in "Who's The Boss?", saying "We dated briefly, so that got weird. I was like: "Hey, I used to be obsessed with you when I was a kid."
In December 2002, it was reported that Alyssa Milano hooked-up with Limp Bizkit singer Fred Durst, after making out with him at a Los Angeles bar. According to Blabbermouth magazine, an insider revealed that the two of them "were all over each other.
Fred Durst, el reconocido líder y vocalista de Limp Bizkit: https://t.co/GKan9svmXM #FredDurst #LimpBizkit #QRPstars pic.twitter.com/oW9kBJazjJ

— QRP (@QRPoficial) December 4, 2020
They were kissing, holding hands and groping one another." Moreover, her close friend shared that she entered a relationship with Durst before she ended things with Timberlake, but so what? That supposed romance didn't last long, since they broke up in January 2003.
Early that year, Alyssa had a short fling with dancer Jimmy Federico. According to US Weekly magazine, he was slated to tour with Timberlake, with a source teling the magazine that he "comes to the Charmed set, and spends a lot of time in Milano's trailer." Shortly thereafter, they broke up.
In May 2003, she entered a relationship with her "Charmed" co-star Eric Dane, making several appearances at various red-carper events, but after dating for four months, the couple broke up in September. When she was asked about their relationship on "Access Hollywood Live", Alyssa Milano replied, "I had to kiss a lot of frogs to find my prince."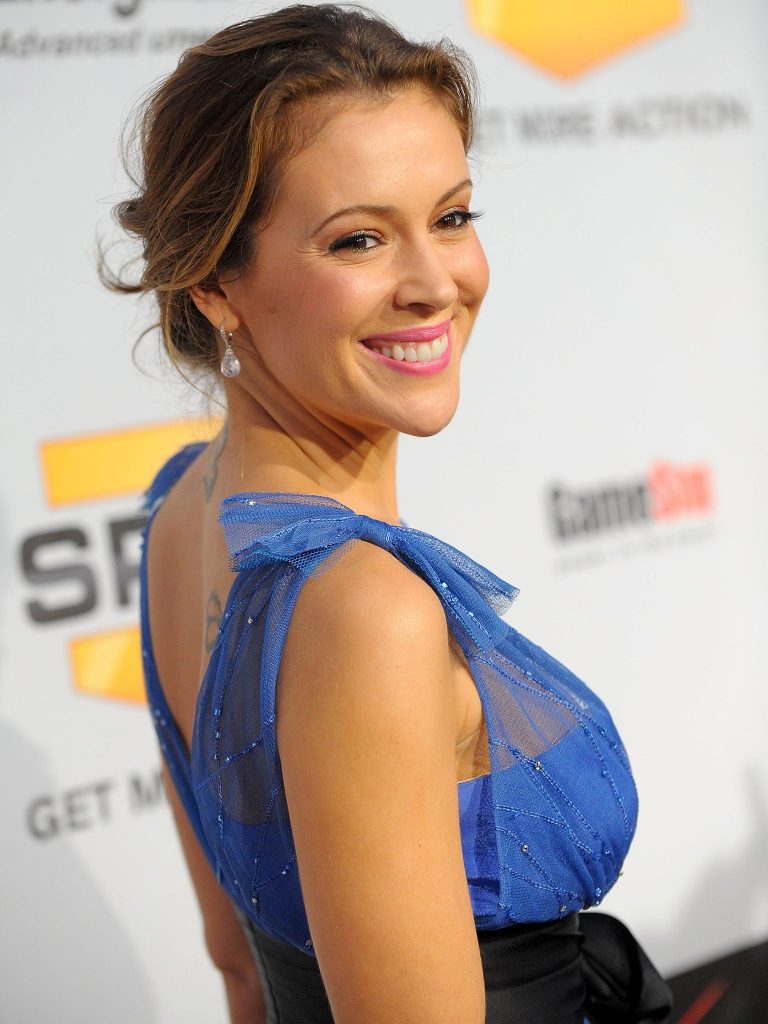 In late 2003, Milano briefly dated professional baseball player Carl Pavano, attending his games, and they were even spotted together in public on multiple occasions. According to Deadspin magazine, she confirmed their romance in March 2009, saying "This was right after he won the World Series. So he was kind of baseball royalty. It was before he came to the Yankees…and became the Carl Pavano you know." She also described him as "a great guy."
After her split from Pavano, in September 2004 Alyssa briefly dated another professional baseball player, Barry Zito,. Two months later, they were spotted locking lips at a USC Football game, but they didn't last long as a couple, separating in January 2005.
Thereafter, Alyssa Milano dated Los Angeles Dodgers pitcher Brad Penny from July to September, 2005, but in her November 2007 interview with Details magazine, the attractive actress said that she is done dating baseball players.
"I've gotten such s— about my dating choices. Like, every single article … is about how I'm 'the chick that dates athletes,' and there's an insane double standard going on." adding "I'd love to just find a good plumber or doctor."
Instead of a baseball player, Alyssa found a talent agent. She totally charmed Creative Artist Agency agent David Bugliari, whom she first met in 2006. They started their romance in December of the following year, and after dating for more than a year, the couple took a step closer to marriage, announcing their engagement in January 2009, when People magazine confirmed that David popped the question to Alyssa, and the couple became engaged on 18 December 2008. Moreover, he designed the engagement ring – how cute is that?!
The couple swore everlasting love to each other at a private wedding ceremony at David's family home in New Jersey on 15 August 2009. In February 2011, it was announced that the couple was expecting their first child, Alyssa confirming the happy news on Twitter, writing, "Yes, it's true. And we couldn't be happier." She gave birth to their son, who they named Milo Thomas, on 31 August 2011. The actress would later reveal to People magazine that her pregnancy was "lovely" and that she "knew her husband would be the most amazing father ever."
In March 2014, US Weekly magazine confirmed her pregnancy with their second child. A source told the magazine, "Alyssa is so excited to be pregnant again!" and added, "She just recently started showing, having wanted to expand her family with David for a while." The proud parents welcomed their daughter they named Elizabella Dylan, on 3 September 2014.
In her September 2015 interview with Entertainment Tonight magazine, Alyssa Milano opened up about their marriage and said that "It's hard enough to have a successful marriage in this industry, but divorce is not an option. She also added, "[Marriage is] work, and there's no one I'd rather put in the work with. The most important thing is to laugh. If you can laugh with someone, you can get through anything."
In April 2019, she told US Weekly magazine that they made "an effort" to keep romance alive in their relationship. "I think the thing what makes for a happy marriage is really making an effort to spend time together … and whatever that means for that relationship, you have to strive towards it."
The couple is still going strong and we can wish them nothing but the best!