Who has Ashley Benson dated? Boyfriend List, Dating History
• Ashley Benson is an actress known for her role in the TV show "Pretty Little Liars".
• She has been in several public and rumored relationships, with Ryan Good and Cara Delevingne being her most famous ones.
• Ashley had relationships with Justin 'JJ' Thorne, Chord Overstreet, Taylor Lautner, James Franco, Tyler Blackburn, and Nat Wolff.
• She was most recently linked to rapper G-Eazy and has been spotted wearing a diamond ring on her left finger.
• Ashley's relationships with her famous partners remain largely a mystery.
Born Ashley Victoria Benson in Anaheim Hills, California USA, on 18 December 1989 under the zodiac sign of Sagittarius, she came to prominence for being a successful actress, particularly starring in the role of Hanna Marin in the teen mystery-drama series "Pretty Little Liars", broadcast between 2010 and 2017 on ABC Family.
Ever since she made her first media appearance, there has been a lot of speculation about her love life. The young actress isn't very open about it as she explained to People magazine in August 2018, that she thinks the best way in a relationship is to keep it far away from the public eye. "I've always been very private about them, and I think it's just better," she said.
While Ryan Good and Cara Delevingne are her most famous romances, those certainly aren't her only ones – its been found that the attractive actress has been romantically linked to at least six more familiar names.
So, we made you a complete list of her relationships, rumored or not. Let's dig deeper into her personal life, and we may discover something interesting!
Ashley Benson's first known-to-public relationship was with One Call singer Justin 'JJ' Thorne, before she achieved enormous popularity in "Pretty Little Liars". She allegedly entered into a relationship with him in December 2006, while they ended things in September 2010. Before they parted their ways, Ashley featured as his girlfriend in the music video for the band's song "Blacklight". The reasons for their split remain a mystery.
Following her break-up from JJ', the famous actress fell for Ryan Good, known for being the business partner and longtime friend of famous singer Justin Bieber. They became romantically involved in a relationship in early 2011, since she revealed to Teen Vogue magazine reported in March 2012, that they had been dating "for over a year".
Ashley also revealed that during the first few months of their relationship, they couldn't spend much time together due to business commitments.
The couple reportedly ended their romance by the end of the year, hHowever, this wasn't confirmed until she opened up about their split in her April 2013 interview for Seventeen magazine. Ashley said, "Anytime you go through a breakup, it's rough," and added that she needed to be alone for a while – "I've always been in relationships, but I knew I needed to learn to be comfortable alone." She continued, "Ryan and I are still close, but I'm too young to be in a serious relationship. Work is my boyfriend!" Moreover, Ashley admitted that relationships look scary to her because "once you're in one, you have to face the idea of breaking-up or staying together forever."
In December of the same year, US Weekly magazine reported that Ashley and Ryan rekindled their relationship, as the two were spotted making out at his 24th birthday party. An eyewitness told the magazine that they "were kissing each other all night". However, they decided to take a break one month later, because "it was so hard" as she explained in her cover interview with Cosmopolitan magazine. She also described Ryan as "one of the strongest people I've met, so grounded and such a positive influence on people."
In the summer of 2014, they were seen together on vacation in Hawaii, however, they called it quits again in December. According to US Weekly magazine, a source explained that they had some issues so they decided to "put the breaks on it." Nonetheless, the duo continued with their on-again, off-again relationship for the next two years – the last time they were seen together in public was in November 2017.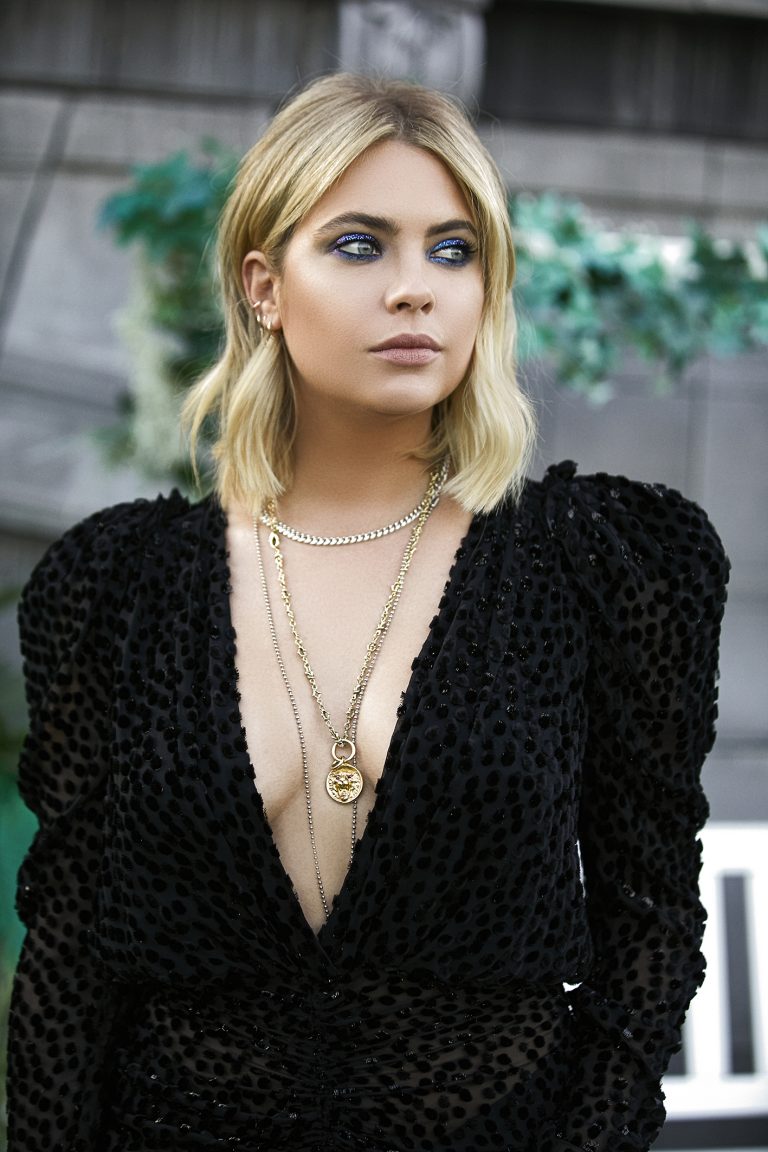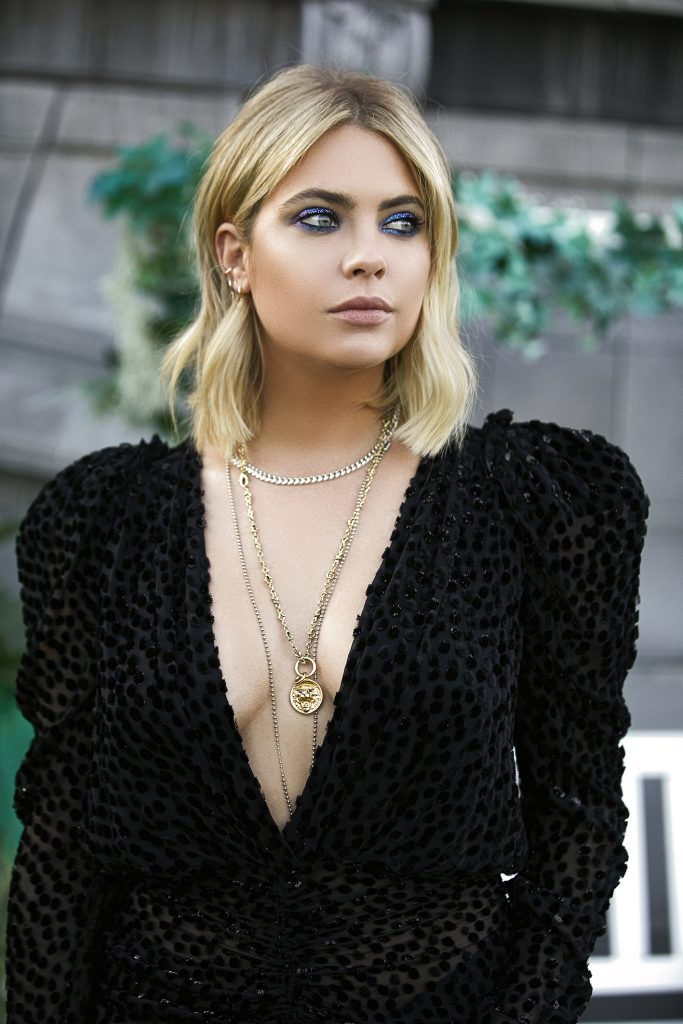 In June 2012, Ashley Benson sparked rumors that she dated famous actor Chord Overstreet, known for portraying Sam Evans in "Glee". They were spotted hanging out together at Bootsy Bellows nightclub in West Hollywood, California. Besides that, the two were seen leaving The Chateau Marmont together. Even though she was linked to Ryan Good at the time, many started to speculate that Ashley and Chord were more than friends; they even made a joint red-carpet appearance at the 2012 Teen Choice Awards. However, neither of them confirmed or denied it, so if anything happened between Ashely and Chord it remains a mystery!
Following her rumored relationship with one actor, Ashley Benson was soon linked to another. In August 2012, she sparked rumors that she hooked up with "Twilight" star Taylor Lautner, when they were spotted enjoying a dinner date in Los Angeles, California.
However, according to the Daily Mail, several sources confirmed that the two were just friends, so the rumors of a romance were quickly shut down.
However, soon afterwards in October 2012, the news that Ashley dumped Ryan because of her "Spring Breakers" co-star James Franco hit the headlines. It was reported that they were spotted holding hands at the Los Angeles Haunted Hayride event. According to Page Six magazine, a source confirmed it – "They have been seeing each other for a little over a month, but things are going well." However, the handsome actor denied those rumors in his blog post for Huffington Post magazine, while Ashley renewed her relationship with Ryan.
A source revealed more details about the love triangle to Radar Online magazine, saying "Ashley's been trying to get back into Ryan's arms because James is dicking her around." Then in March of the following year, they appeared at the premiere of "Spring Breakers". It was obvious that they were flirting, but apparently nothing more than that happened.
Ashley and famous actor Tyler Blackburn met each other on the set of "Pretty Little Liars". In the show their characters were romantically involved, so they became one of the most adorable on-screen couples. To the delight of their fans, they started hanging out a lot more on and off set, as well as sharing pictures of themselves with their fans. They became so close that it generated the suspicion that something was going on between them, and that they were actually in a relationship. In April 2013, they were spotted getting cozy at the Coachella in Indio, California, and a few months later, the talented actress reportedly confirmed their relationship in her interview with US Weekly magazine, saying, "He makes me laugh. I have such a crush!" Although they shared a number of their photos on social media at the time, it remains a mystery how long they were in an actual relationship, if the rumors were true.
In his 2019 interview with Playboy magazine, Tyler eventually opened up about them, saying that they "never officially dated". He also explained that the things between them were quite complicated – "In navigating our relationship—as co-workers but also as friends—sometimes the lines blurred a little," but adding, "She was a huge part of a huge change in my life, so I'll always hold her dear." No matter what, they remain on good terms.
In October 2015, the "Pretty Little Liars" star sparked dating rumors, to have hooked up with actor Nat Wolff, known for starring in "Paper Towns" – they were photographed holding hands during a stroll in New York City. However, a source told E! News magazine that they were nothing more than friends, while hand-holding was just a friendly thing since the famous actor "was simply trying to be a gentleman and block the photographers." We guess it was true, because they were never seen together again!
In April 2018, Ashley met supermodel Cara Delevingne on the set of "Her Smell", and they became pretty close. In no time, the girls developed romantic feelings for each other and started dating, with rumors flying around one month later, when they were photographed leaving a Lauryn Hill concert, held at the Apollo Theater in New York. Later that year, they were seen kissing and cuddling up at London's Heathrow Airport. Although it was clear that they were an item, Ashley and Cara remained silent about their romance. Before they eventually stepped out, a source close to them revealed more details to E! News magazine, saying, "They are very sweet and loving together. They are always doing simple nice things for each other and it all comes very easy and naturally. They are committed to one another and very much in love."
Who all just love Cara 😍 #instantcelebrities #CaraDelevingne #hollywood pic.twitter.com/CoOJqtI2Wn

— Instant Celebrities (@InstantCelebri) October 10, 2020
The girls went officially public in July 2019, when Cara posted an Instagram video of herself kissing the actress. The model would later reveal that she decided to confirm their relationship in honor of their first anniversary, and pride. During the same month, the girls moved in together in an apartment in Los Angeles. Moreover, they inked matching tattoos of each other's initials in the same spot.
Unfortunately, news of their break-up hit the headlines in April 2020. The couple ended their romance for unknown reasons. According to People magazine, multiple sources confirmed their split, while one of them said, "Cara and Ashley always had their ups and down before, but it's over now. Their relationship just ran its course."
Ashley Benson and G-Eazy
Ashley Benson and rapper G-Eazy started hanging out after releasing their cover of Radiohead's song "Creep" in April 2020, at the time she was still dating Cara.
Just two days after that break-up, Ashley was spotted making out with the rapper at a grocery store, which immediately sparked rumors that they had become romantically involved in a relationship. Thereafter, a source revealed to E! News that the two were just friends, but that they "are definitely hanging out and having fun right now." The source also added, "It's definitely nothing serious, but they are enjoying time together right now."
However, Cara's fans started spreading hate towards Ashley on social media. According to Marie Claire magazine, the supermodel asked them to leave Ashley alone, and posted an Instagram story – "It's more important now more than ever to spread love, not hate. To everyone hating on @ashleybenson, please stop. You don't know the truth, only her and I do and that's exactly how it should be."
https://www.instagram.com/p/CEFIbOYH6HH/
In June 2020, People magazine reported that the famous rapper took the "Pretty Little Liars" star to her sister's wedding. Two months later, when they were spotted together in public, the paparazzi noticed a huge diamond ring on Ashley's left finger. Their fans immediately started to speculate that G-Eazy popped the question, but it hasn't been confirmed yet. Recently, they were spotted showing PDA in public during the coronavirus pandemic, so perhaps their relationship has become serious.
What the future will bring them remains to be seen!  You wouldn't be surprised at any type of development between two members of the entertainment industry, now would you!?