Who has Barbara Palvin dated? Boyfriends List, Dating History
• Barbara Palvin has been setting the catwalk on fire for the past 10 years
• Discovered in the streets of Budapest at 13, she has achieved great success in the modelling industry, appearing on the covers of many magazines and walking for big names like Prada and Louis Vuitton
• She achieved international fame when she became the first Hungarian model to become a Victoria's Secret Angel in 2019
• She has dated a variety of high profile men, including Formula 1 champion Lewis Hamilton and American actor Dylan Sprouse
• She currently lives with Dylan and they celebrate their two year anniversary this June
For the past ten years, Hungarian beauty Barbara Palvin has been setting the catwalk on fire with her exquisite beauty, grabbing the attention of all the most prominent people in the world of fashion.
Barbara's enchanting features have fascinated men around the globe, and are the envy of women everywhere. Born 8 October 1993, in Budapest, Hungary, Barbara's destiny has always been to melt camera lenses, and to turn the modelling industry on its head.
Discovered in the streets of Budapest at the young age of 13 by a talent scout, Barbara's fated debut into modelling seemed inevitable. While out walking with her mother on an ordinary day, Barbara's charming features attracted attention even back in 2006.
On that day, she took the first steps of a journey that would walk her into an extraordinary career as one of the world's most successful fashion models, and it doesn't seem as if she's stopped to look back.
Barbara made her editorial debut for Spur Magazine shortly after her discovery, and since then moved to Asia where opportunities continuously knocked on her door. Some may believe it easy to simply look beautiful and to pose in front of the camera, but Barbara has never shied away from the effort it takes to appear perfect in every photoshoot, and works hard to achieve the standards expected of her.
Since her debut in 2006, Barbara has appeared on the covers of many magazines, which include a lot of international top names.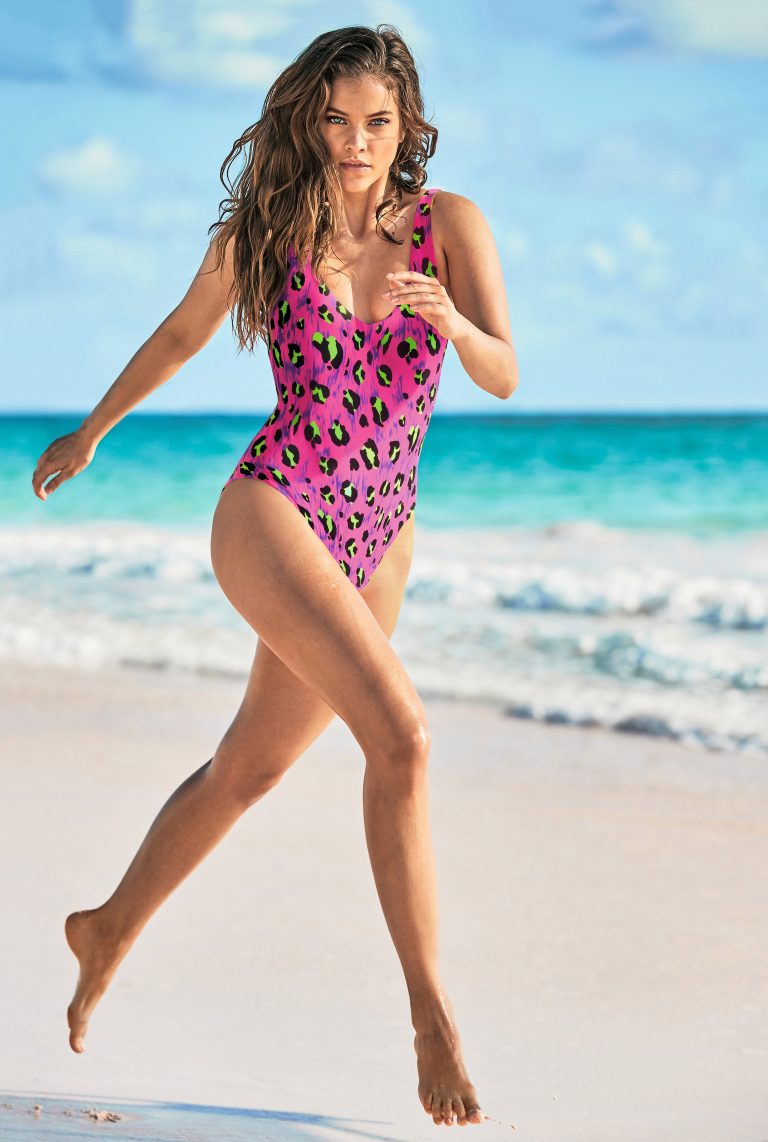 Barbara posed for the cover of French fashion magazine L'Officiel, and has appeared in Vogue, Marie Claire, Elle, the Hungarian Glamour, and even magazines such as Allure, Harper's Bazaar and Jalouse Magazine.
Barbara made her catwalk debut in 2010 for Prada during the Milan Fashion Week, in 2012 she became the ambassador of L'Oreal, Paris, and also featured in campaigns for H&M, Armani Exchange, and Pull & Bear. Palvin became the face of both the Armani signature scent Acqua di Gioia, and for Amazon Fashion. She's also endorsed advertising campaigns for Chaos and Express, and in 2016, Sports Illustrated unveiled Barbara as a Rookie Class swimsuit model for their Swimsuit shoot.
The beauty has since walked for big names like Vivienne Westwood, Louis Vuitton, Mui Mui and many others.
However, in her long and arduous career, Palvin will perhaps be most easily recognised for her work in Victoria's Secret campaigns. She made her first appearance for Victoria's Secret in 2012, and in 2019 became the first Hungarian model to receive her Wings and become a Victoria's Secret Angel.
Barbara's curvy body and off-standard model measurements are considered by many as Victoria's Secret's intentional nudge towards body positive brand movement, intended to appeal to all body types.
When it comes to grading Palvin's level of beauty, she certainly knocked the election judges off their feet, when in 2016 she made the Maxim Hot 100 list, ranked at number four.
Tumblr also regarded her as one of the most popular models on its platform.
Palvin's role models include Kate Moss and Russian model Natalia 'Supernova' Vodianova, and she's quite often compared with the latter; according to British Vogue editor Miranda Almond, Barbara seems like a cross between a younger Brooke Shields and Natalia.
Considering Barbara as one of the most beautiful women on our planet, it should come as no surprise that she dated some of the most handsome men available. Despite being a rather modest flirt, Barbara has quite possibly been involved in four relationships, which include Formula 1 champ Lewis Hamilton, as well as rumours regarding Justin Bieber, and made headlines for dating the American actor Dylan Sprouse, but who exactly have all the lucky boys been?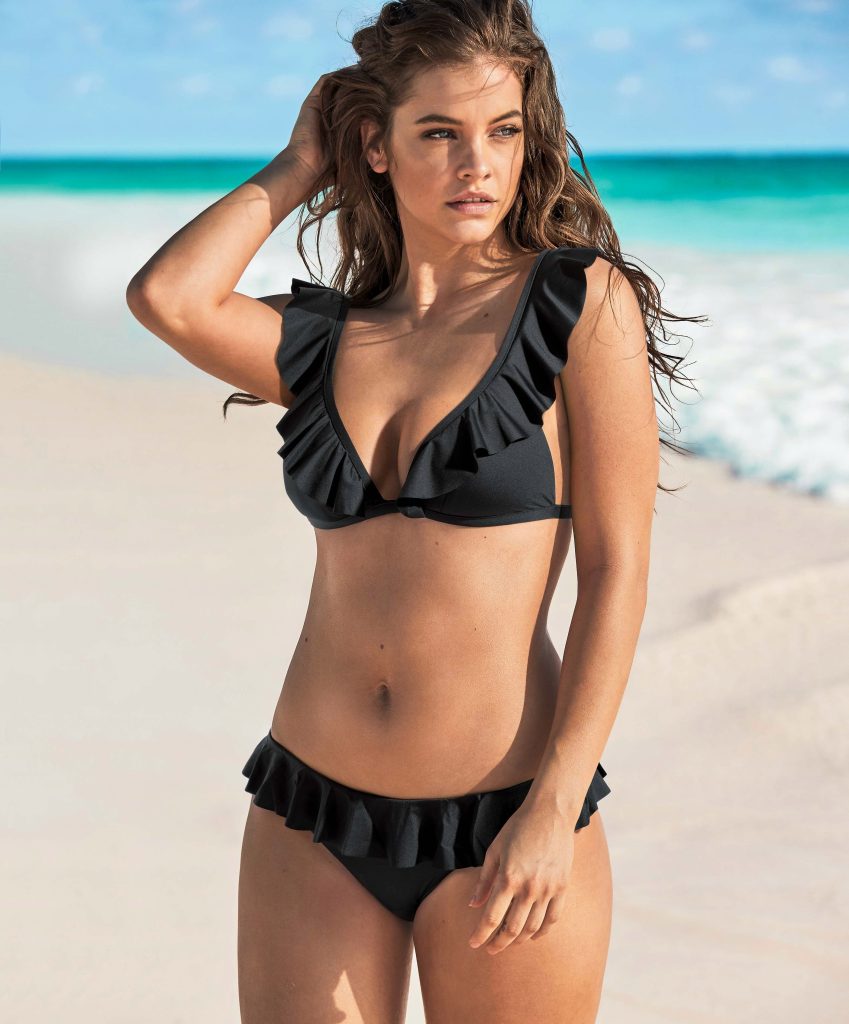 Sweet and Young Hometown Romance
Barbara's first public love was with a hometown friend, Kristof Somfai. They grew up together in Budapest, Hungary, and even went to the same school. They were friends for a long time before they decided to get together in 2010.
By then Barbara had already started a career in fashion modelling, but despite her busy schedule they found love, and for some time everything was sweet between them. However, their relationship endured plenty of media attention, sadly not because of how romantic and rosy things between them were, but instead because of how and why they broke things off.
Barbara was only 17 when they started dating, and by all accounts Kristof was her high school sweetheart.
They dated for three years from 2010 to 2013, but knew each other for far longer, and waited a while before declaring affection for one another. Now, Kristof may have never become famous for anything else other than dating a Hungarian supermodel, but many of Barbara's followers agreed that he was a handsome catch. Unfortunately, they broke up for two primary reasons, one of which involved rumours that suggested Justin Bieber was making a move on Barbara.
This happened following the 2012 Victoria's Secret Show, where Barbara posed with Justin for a selfie, and they simply kept each other company during the event. Of course, the tabloids ran with the story, and rumours raged that the two were dating.
Sadly, the news reached both Kristof and Selena Gomez, which would eventually lead to troubled waters for both couples. Selena retweeted the same selfie, adding a caption about unnecessary jealousy. While both claimed that nothing happened between them, nor that anything would happen, they couldn't reverse the damage done.
The other reason blamed for Barbara and Kristof's split was Palvin's career. She gained more and more opportunities, and was kept busy with shoots and campaigns while travelling all over the globe. This placed further strain on their relationship, and Kristof considered the distance between them as too much, and eventually gave her a choice – either she kept her career, or she kept their love.
Barbara Palvin and Kristof Somfai. pic.twitter.com/M20nZSuEL7

— Celebrity Kisses (@CelebrityKisses) January 25, 2014
While it may have broken her heart to let go of her high school sweetheart, Barbara's fans and followers will always believe she made the right choice, and perhaps somewhat selfishly love her all the more for it.
However, the relationship's ending took its toll on the blue-eyed Hungarian Angel, as the sorrow of the experience caused her to lose her contract with Victoria's Secret. Eventually, the brand realised their mistake, and for the better, because Palvin may well be one of their most beautiful Angels. On 4 April 2013, their relationship ended, and Barbara said she cried for love for days afterwards.
Fast Track Rumours
In 2016, rumours began circulating that Barbara and Lewis Hamilton might be dating, but seriously, who has the Formula 1 racer not dated?
The two were first linked together after they were spotted having some leisurely fun time in Monaco. Since then they have often appeared together in public, and according to some tabloid reports Barbara attended several of Hamilton's racing events to support him. However, during the same time that these rumours aired, Barbara seemed to have had her eye on her current boyfriend, Dylan Sprouse.
She and Lewis have since told the media and their fans that they are simply good friends who support each other. They are still friends and get together for events and fun times, but despite having a platonic friendship, rumour tabloids relentlessly publish stories about their so-called relationship.
While nothing romantic goes on between them, people can't help but notice the incredible chemistry they share, and this may undoubtedly be the inspirational fuel behind all the rumours.
Nonetheless, both Barbara and Lewis hold fast that their story of only being friends.
A Couple of One-Time Flings
In 2017, Barbara dated English singer song-writer, however, according to some, Barbara hardly considered it a relationship. They initially met at a party organised by Leonardo DiCaprio, and have since spent some time together. Naturally, rumours began surfacing, but as more and more photos of them together were posted on their Instagram accounts, people could not help but believe that the rumours were true for once. Julian accompanied Barbara on a fashion shoot in the Bahamas, and even went to visit her in her hometown of Budapest.
The relationship didn't last too long, however, which may be the reason why Barbara never considered it as a serious relationship.
"It's all very easy and simple because that's the way I like it," supermodel @BarbaraPalvin shares of her everyday beauty routine. Watch the full video of all her #beautysecrets, here. https://t.co/lbchj6Kgi7

— Vogue Magazine (@voguemagazine) July 17, 2020
After two months when things ended between them, Barbara hardly seemed phased by it, and was not exactly heartbroken, as she was when things ended between her and Kristof.
Other rumours that are circulating suggests that she may also have dated Niall Horan. Of course, Niall gained fame for being a member of the successful boy band One Direction, but despite being spotted together on occasions, the rumours remain unconfirmed.
Barbara and Niall first sparked rumours back in 2014 when they were spotted attending the 'Hunger Games: Catching Fire' premiere, and attended the after-party for David Beckham's documentary 'Class of '92'. Although a long time ago, their supposed relationship remains the subject of speculation, as people wonder whether it happened or not.
According to most of the tabloids, their relationship ended because of hectic schedules and long-distance issues.
2018 was a summer of love for everybody's favourite Hungarian supermodel, as she began dating American child actor Dylan Sprouse. For those who don't know Dylan, he starred as Zack Martin in the 'Suite Life' series of Disney sitcoms, with his twin brother Cole. Dylan and Barbara met at a party in 2018, and soon after Dylan contacted Barbra on social media for a second date. However, the earliest rumours of a romance between the pair started as far back as the rumours that concerned Lewis Hamilton, and might even be the reason why her relationship with Hamilton failed.
Regardless, Barbara and Dylan began dating in June of 2018, long after people suspected that love brewed between them. The beginning of their relationship was kept quiet for a short while, until it was confirmed in 2019 when Palvin shared their anniversary date. According to her Instagram post, this day falls on 16 June.
Palvin has since told People magazine that from the first time she saw Dylan, she wanted to be exclusively with the 28-year-old actor. In a later interview with W Magazine, the couple revealed that they first made contact on Instagram; initially, Barbara was reluctant to answer Dylan's messages, but once she did, there was no stopping the bubbling romance.
Soon after, Barbara flew down to China where Dylan was busy filming his latest movie project, and from there they spent time together at the FIFA World Cup in Russia.
The photographic evidence of their time in Russia was unfortunately lost, after Dylan cleaned his Instagram account.
Barbara mentioned Dylan for the first time on her social media accounts in August 2018, wishing him a happy birthday, which eventually fueled raging rumours that, for once, seemed to be true. In her post she captioned a selfie of them saying, despite that it's his birthday, that she feels that she received the biggest present of all. Since then they started appearing together in public more frequently, visiting Palvin's hometown, and later attending the New York Fashion Week.
In late October that same year, they attended Heidi Klum's Halloween party together, showcasing to the world their shared love of anime.
Palvin sported a Gaara, from Naruto, costume, and Dylan dressed up as Trunks from the Dragonball Z series. Things seemed especially good when Dylan supported her while she walked the catwalk for Victoria's Secret, cheering her on and clutching his heart.
By January 2019 they had moved in together in New York. They recently celebrated their second anniversary, with their relationship apparently growing from strength to strength.
As a fine example of the expression – if you want to be happy for the rest of your life, marry your best friend – the two admittedly act like children around each other. Barbara revealed in an interview with Vogue that they made up their own, silly language just to laugh together.
They still live together and spend most of their social distancing time, probably bench watching anime.