Who has Ben Azelart dated? Girlfriends List, Dating History
• Ben Azelart is a professional skateboarder and social media star with over 5 million subscribers on his YouTube channel, 5.6 million followers on Instagram, and 11.5 million followers on TikTok.
• In May 2018, Ben was rumoured to be dating actress Brighton Sharbino, which they confirmed in June 2020.
• In early 2018, Ben sparked rumors of a relationship with social media sensation Lexi Rivera, which they have not confirmed yet.
• Lexi admitted to being single in May 2020, but they are still very close.
• Ben and Lexi have recently been posting cute photos of themselves in matching costumes.
Handsome social media star Ben Azelart was born in Texas, USA on 10 January 2002 under the zodiac sign of Capricorn. He is a professional skateboarder, who came to prominence through posting various adventures and crazy skills on his official self-titled YouTube channel, on which he has over five million subscribers. Besides that, Ben Azelart is also active across other popular social media platforms, having amassed 5.6 million followers on his official Instagram account, and 11.5 million on his official TikTok channel.
Ben Azelart's successful internet-based profession and good-looking appearance has gained him enormous popularity among the female gender of Millennials. We are sure that millions of girls are interested in knowing all the details about his past and current relationships, as well as the information whether or not the handsome skateboarder is single. So, if you are one of them, just keep listening 'til the end, and you'll find out!
In May 2018 at the age of 16, Ben Azelart was rumored to be romantically involved in a relationship with Brighton Sharbino. She is a successful actress, known for starring in the roles of Lizzie Samuels in the AMC post-apocalyptic horror series "The Walking Dead" from 2013 through '15, and Allison Betts in the Brat web series "Zoe Valentine" in 2019. The public isn't aware of how and when the two of them met, but it is known that they became pretty close to each other over time.
The rumors started swirling around when she shared their photo on her official Instagram account with the caption, "Prom with @benazelart" alongside two heart emojis. They posed as a couple, since he wrapped his arms around her, which only heated the rumors.
Brighton would later confirm those rumors in June 2020, when she was pranked by her sister, Saxon Sharbino, in her YouTube video, entitled  "I Filled My SISTERS Room With Pictures of Her Ex-BOYFRIEND (Ben Azelart) *SHOCKING REACTION*." Brighton said, "Ben was perfect for me, like, literally at 15 and 16; it was the best relationship you possibly could have at that age."
She then revealed that they were together for almost the year and described their break-up as "the smoothest break-up you could possibly have." They seemingly remain on good terms.
Thereafter, the handsome skateboarder was linked to famous social media personality Lexi Hensler. Their interaction on their social media accounts set off rumors that the two became a couple, and although we're sure that they would make an adorable couple, they were nothing more than friends who collaborated a lot and appear frequently in each other's videos.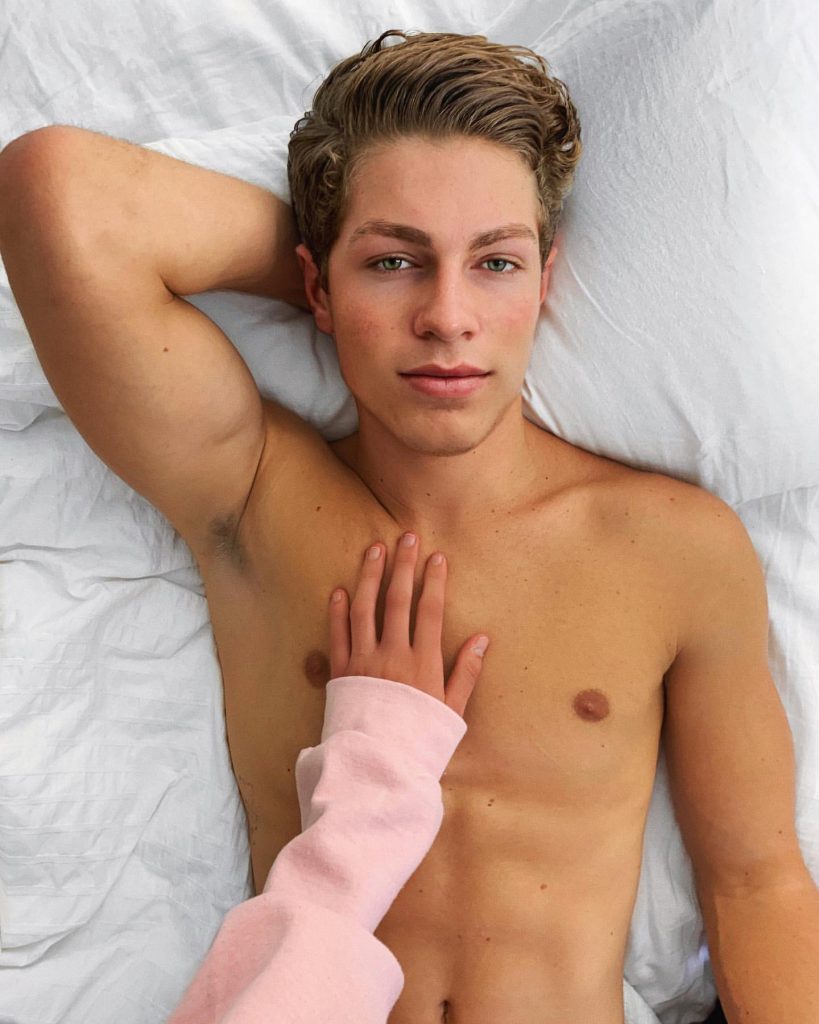 At the same time, she was rumored to be dating Ben's close friends, Brent Rivera, also known for being a social media star. So, Lexi eventually decided to shut down those rumors in her April 2019 video, entitled "REACTING TO YOUR ASSUMPTIONS!! DID I DATE BRENT RIVERA?!!" in which she insisted that Brent is her good friend, and said that she would never date him, explaining, "Ben is like my little brother. Ben comes to me for advice, I come to Ben for advice. He is, honestly, like my little baby brother," and added, "Ben is 17, I am 21. To me that is a younger brother, that is a sibling, that is family… If you notice, I am a lot closer to Ben, I spend a lot of time with Ben, and we both live really close together in LA."
In early 2018, Ben Azelart sparked rumors of having become romantically involved in a relationship with Brent Rivera's younger sister and social media sensation Lexi Rivera. They were apparently introduced by Brent and became pretty close as time passed. However, in September 2018, Ben uploaded a Q&A video, "WHAT'S MY RELATIONSHIP STATUS?! SINGLE?!" in which he said, "I'll just say this, you know, I obviously have a crush on someone," and then added, "Pretty big crush."
Following its release, many speculated that his crush was actually Lexi Rivera, since they started creating a huge amount of content together. In most of their videos, Lexi has even referred to Ben as her 'boyfriend' and 'crush'.
However, in May 2020, Lexi admitted that she is single in a Q&A video "Lexi Rivera Answers the Internet's Most Searched Questions About Herself," saying "I'm not dating anyone at the moment". Maybe Lexi denied that she is in a relationship with the young skateboarder in order to keep their romance away from the eyes of the public.
Anyway, some things couldn't go unnoticed! If you scroll down through their Instagram accounts, you will find a number of their joint photos. Moreover, Ben even surprised her on Valentine's Day 2020, and shared an Instagram photo of them and referred to her as "someone special" in the caption. How cute is that! In turn, she wished him a happy Valentine's Day by sharing photos of Ben kissing her on the cheek, and hugging her in a swimming pool.
Recently, they shared cute photos of themselves posing in matching costumes for Halloween. It is obvious that they are more than inseparable friends, and we can wish them nothing but the best!