Who has Bradley Cooper dated? Dating History Since Youth
• Bradley Cooper is a successful actor and producer who overcame alcohol abuse
• He has been romantically involved with many A-list celebrities, including Jennifer Esposito, Renee Zellweger, Zoe Saldana, Suki Waterhouse and Irina Shayk
• His relationship with Jennifer Esposito was short-lived and ended in 2007
• His relationship with Irina Shayk resulted in the birth of their daughter in 2017, but the couple separated in 2019
• Rumors circulate that his chemistry with Lady Gaga is responsible for the end of his relationship with Irina Shayk
Bradley Cooper is one of Hollywood's most celebrated actors and producers, who has earned numerous accolades and nominations, but his success had not been without difficulties. He may have become one of the highest-paid actors of the 21st century, with his films earning a gross of $11.2 billion worldwide, but he was once a struggling actor who had to overcome alcohol abuse.
Many would know Bradley Charles Cooper from his days of acting in the television series' 'Sex and The City' and 'Alias', but despite being his debut roles which brought him to notice, it was also probably the darkest time of his life.
After his character in 'Alias', Will Turpin, was demoted, Bradley considered giving up on his acting career, and surrendering to the empty promises of the bottle. He suffered from depression and even had suicidal thoughts, but upon pulling himself together and realizing that his addiction could ruin his life, Bradley set out to rehabilitate himself.
HAVE A GOOD WEEK! #bradleycooper #photooftheday #premiere pic.twitter.com/uSiiEos1Vu

— BradCoopNews (Fan Account) (@BCooperfanpage) September 14, 2020
Undoubtedly, many of his fans would be grateful for his recovery as both 'Horrible Bosses' and 'The Hangover Trilogy' would just not have been the same without him, nor would it seem befitting of anyone else to be the voice of everyone's favourite racoon, MCU's Rocket.
With many thanks to his breakthrough role in 'Wedding Crashers', Bradley has blossomed into one of the most appreciated American actors, and is today considered to be among the most eligible bachelors of the film industry, not only because of his wealth but also because of his good looks.
The blue-eyed wonderboy has earned his place among the hottest and most handsome men of Hollywood, receiving 'People Magazine's vote in 2011 as the sexiest man alive.
Naturally, his success and good looks would earn him the affection of the world's loveliest ladies, and by all means, Bradley had not been unsuccessful on the dating scene.
He has a history of being involved with some of the hottest supermodels and actresses, which includes several A-listed celebrities.
While working on the film 'Failure To Launch' and the series 'Alias', back in the earlier days of Bradley's career, he had a quiet relationship with actress Jennifer Esposito. The details of their relationship were kept under wraps and super quiet, and even after being questioned about the possibility that something romantic could be going on between them, the pair kept their lips tightly sealed.
At one point, Jennifer even refused to reply to the questions that reporters had, however, in October 2006 it became obvious that Bradley had asked the big question, as Jennifer was spotted browsing for a wedding dress, which had the tongues wagging and questions burning to be answered. Their relationship was eventually made public, after they appeared together on the red carpet, and announced their engagement.
After dating for actually less than a year, the couple married in December of 2006. The ceremony was held quietly in the South of France, but as many would speculate, the engagement period of their relationship may have been the happiest time the couple had spent together, as just four months after the wedding, in May of 2007 Jennifer filed for divorce, citing irreconcilable differences. Bradley later admitted in simple terms that it was just something that happened, and that they were lucky to realize their mistake before too much damage could have been done.
While many questioned the true reason behind their separation, a possible answer was only revealed several years later, following the publication of Jennifer's memoirs about struggling with and overcoming Celiac disease.
In her book, she referred to an unnamed ex, calling him a master manipulator.
Most people speculated that she may have directly implied Bradley, as she made further claims that the person in question was a funny man with a brilliant sense of humour, but that he also had a colder side that was cocky and arrogant, with tendencies to be manipulative.
She also stated in her writing that she did not find him as attractive as many others did, and considered that she could put up with his nonsense for a while, because she enjoyed his sense of humour, but also stated that the man's mood could flip as easily as a dime. However, when questioned about her book, Jennifer attempted to brush the slander under the carpet. She claimed that the book was about the struggles of living with Celiac disease, and making it about anything else would be to insult her and everyone who has to live with the disease.
To most though, it seemedthat Esposito was only looking for an opportunity to lash out at her ex-, especially after she made a recent, questionable comment on an Instagram post, that David Spade shared on Lady Gaga and Cooper's intimate performance in 'A Star Is Born'. Spade questioned whether Gaga and Cooper could have likely been intimate, judging by the incredible chemistry of their performance, to which Jennifer commented with 'Ha'.
Even though they have been separated for more than 12 years, it seems her infatuation with the blue-eyed hunk is far from over, but Bradley has long since moved on.
It seems that Bradley has a thing for British dames, observed by his past tendencies to fall for not one but a couple English-born celebs. His first Anglophilic relationship, quite often an easily forgotten past romance, was with English actress Renee Zellweger. This followed after speculation that he was dating American casting agent, Isabella Brewster, in 2008, but the relationship was never made official, and is still contended as not real, despite being seen together on several occasions.
Bradley met Zellweger in 2009 on the set of the film 'Case 39', soon followed by rumours that they might be dating. Their romance was eventually confirmed in 2010 shortly after the release of the film, with Bradley speaking openly about how much he adored Renee. He added that there is a lot that he could learn from the actress, and that he enjoys working with her. The couple lived together for a few months before their separation in March 2011.
At the time, Bradley became an overnight sensation, and his acting career was taking off, while Renee had earned several nominations for her talented acting. Their separation was blamed on their growing success and busy schedules, and during a recent reunion at the 2020 Oscar Awards, nearly nine years after their relationship ended, it was clear that the couple ended things on friendly terms, and that there wasn't any bad blood between them.
Both had been nominated for Oscars that night, Renee for her role as Judy in 'Judy Garland', and Cooper for his production of the film 'Joker'. While spending the evening in each other's company, they seemed relaxed and were catching up on their old friendship.
Following Jennifer Lopez's divorce from her husband and father of her two children, Marc Anthony, rumours were sparked that she was on the rebound with Cooper after the two were spotted having dinner together at a fancy restaurant. They were also seen at a Tommy Hilfiger show during the New-York Fashion Week sometime earlier in September 2010, appearing to be very comfortable with each other.
They were later spotted driving together, which made the gossip tabloids suspect that something was going on behind the scenes, and started questioning whether Bradley was a rebound romance after her failed marriage.
While both claimed that their supposed date was strictly business, it began to appear that something was up the more times they were spotted together. The pair had been friends for a long time, but if something romantic was happening between them, they kept it quiet and to themselves.
Nothing was ever confirmed, but it didn't put the rumours to rest, and things heated up again at the 2019 Oscars, when the two were seen seated close to each other. J-Lo even gave him a pep talk before his performance with Lady Gaga.
Since Jennifer has been in a long-term relationship as of late, it does not appear that anything between the two can be rekindled, if indeed there was anything to begin with.
In 2011, Bradley began dating his co-star in the film 'The Words', Zoe Saldana, not too long after she broke-off her engagement to Keith Britton. Their relationship seemed to be an on-again-off-again continuation for the following year of 2012, during which they broke up twice before calling it quits for the last time towards the end of that year.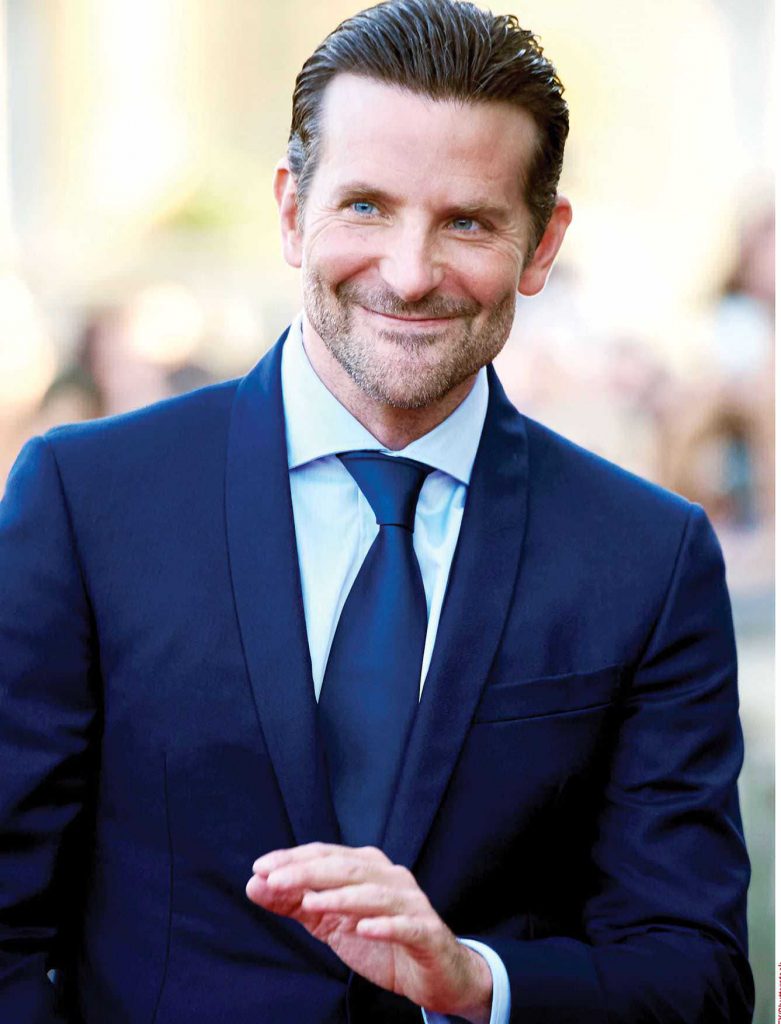 The couple never confirmed their relationship publicly, and only after they were seen welcoming in the new year in separate locations could it be confirmed that they had split up. Their initial reason for separating was blamed on their conflicting schedules, but despite being co-stars on the set of 'Guardians of The Galaxy', Zoe has made it clear that she doesn't keep up any friendships with her exes. She has since moved on and married Italian artist Marco Perego.
In March 2013, Bradley began dating British model Suki Waterhouse, despite being 17 years her senior. While most would have thought that Cooper would be looking to settle down at the age of 40, it turned out that he was only looking to further explore his Anglophilic tendency. Suki, who was 23 at the time, was seen getting cosy with the actor at the Cirque Du Soir club, and was also seen visiting him in Boston on the set of his latest film.
Rumours took flight, but neither one would comment on the suspicions and throughout their relationship kept all the intimate details sealed.
They dated for about two years, during which time they were seen together on numerous occasions, and were also one another's companion at several gala events and dinners.
However, they kept their relationship quiet and only after Suki revealed the truth to ELLE Magazine were the rumours confirmed. They ended their relationship before the January Oscars, but remained friends long enough to accompany each other during the event, and were later spotted having dinner at Nobu Malibu.
Following their break-up, neither one was available for comment, which left the world wondering what exactly went wrong. People eventually assumed it was because he wanted to settle down, but Suki was far from ready.
Following his separation from the British model, Suki Waterhouse, Bradley had turned his charms on a second supermodel, this time Russian-born and the ex-girlfriend of the Portuguese football star, Cristiano Ronaldo, Irina Shayk.
For a long time, they had been the most envied couple to walk the red carpet, and their chemistry had afforded them consideration for being one of the most influential power couples in existence, but sadly, despite how good things seemed between them, it was not ultimately meant to be. The couple hooked up for the first time in April 2015, and by November that year had moved in together. Things appeared stable, and everyone finally thought that the 'Hangover' actor was ready to settle down, especially after the announcement of Irina's conception.
On 21 March 2017 their daughter, Lea De Seine, was born, but in June 2019, Irina announced that she and Bradley were separating. The sad news shocked some people, but considering the on-screen chemistry the actor shared with Lady Gaga, and, of course, the steaming live performance that made headlines, it did not come as a total surprise.
Following the news of their split, speculations have it that suggests the filming of 'A Star Was Born' is the reason behind Irina and Bradley's relationship fall out.
Bradley & Lea out and about. (September 03) pic.twitter.com/kEd5aNBbUF

— Bradley Cooper Network (@bradcoopernet) September 4, 2020
However, the couple is yet to announce the true reason, and say for now that they are only trying to come to a conclusive compromise concerning the custody of their two-year-old daughter.
In the meantime, Lady Gaga has suffered plenty of scrutiny from her fans, and at one point lost all patience with their insinuations, that she told fans to either be kind or f…off.
Commenting on their performance at the Oscars, she said that what people saw was love, but that was the entire intention of the performance and that their chemistry was nothing more than professional quality.
In a recent interview, Irina revealed that she is ready to move on, saying that life without Bradley is new ground, but she knows what she wants and is not afraid to go for it. As of yet, it doesn't appear that Bradley has had any new romance in his life, and is assumed to be enjoying life again as a bachelor, although one wonders for how long……