Who has Bruno Mars dated? Girlfriends List, Dating History
• Four Guinness World Records, 11 Grammy Awards, 10 Soul Train Music Awards
• Nicknamed "Bruno" by his father, who thought he looked similar to wrestler Bruno Sammartino
• Started performing on big stages at the age of five
• Dated Chanel Malvar from 2007-2009, Rita Ora from 2009-2011, Rocsi Diaz in 2011 and Amelle Berrabah in 2011
• Has been dating Jessica Caban since 2012 and became godparents to his brother's daughter in 2018
Four Guinness World Records, 11 Grammy Awards, 10 Soul Train Music Awards – and the list is still not complete for such a legendary R&B, pop-funk and hip-hop performer as Bruno Mars. However, his consistency in winning awards still can't compete with his former personal life, as he was often rumored to have flings with his fans while having a supposed regular girlfriend. However, things have totally changed for Bruno, as he has been dating his girlfriend Jessica Caban since 2012, and apparently they still can't take their eyes off each other. Let's recall the previous affairs for which he is famous, or should that be infamous?
Bruno Mars was born as Peter Gene Hernandez on 8 October 1985, in Honolulu, Hawaii USA. His father, Peter Hernandez who is half Ashkenazi-Jewish and half Puerto-Rican, nicknamed his son "Bruno" as he thought the boy looked very much like wrestler Bruno Sammartino.
However, as Bruno grew older he didn't have anything against that nickname, and used it as a part of his stage name. His mother Bernadette migrated from the Philippines –  both of Bruno's parents were singers, so he was exposed to various music genres from an early age. He started performing on big stages at the age of five, and soon even appeared in the movie "Honeymoon in Vegas" in 1992. Despite hard times in his family, when Bruno had to live on the streets, on the roofs, in an abandoned zoo along with his father and brother, he never forgot his musical background and Hawaiian roots. He gave himself a target to get into the entertainment industry, and he made it during his senior year in high school, when he started to perform a covering of Michael Jackson's songs. Bruno's sister gave his demo to Mike Lynn, the popular music producer in Los Angeles, and he asked Bruno to come to California.
Bruno moved to Los Angeles in 2004, and a year later met Chanel Malvar, an aspiring actress, who appeared as a swop dancer in "Idlewild", starring Big Boi and André Benjamin. At the moment Bruno and Chanel started dating in 2007, Mars was struggling with his music career, being dropped by Motown Records after less than a year of working for the label. Unable to develop as a solo artist, Bruno earned money working as a music producer and writing songs for The Sugarbabes, Travie McCoy and Jaeson Ma.
Meantime Chanel developed her dancing career, but they spent a lot of time together, dreaming of a better life and more successful careers. A lot of photos of them partying with their friends were posted on Chanel's MySpace page. In 2009 she landed the role of a cheerleader in "17 Again", starring Zac Efron, while Bruno was recording songs for his first EP "It's Better If You Don't Understand", released in 2010.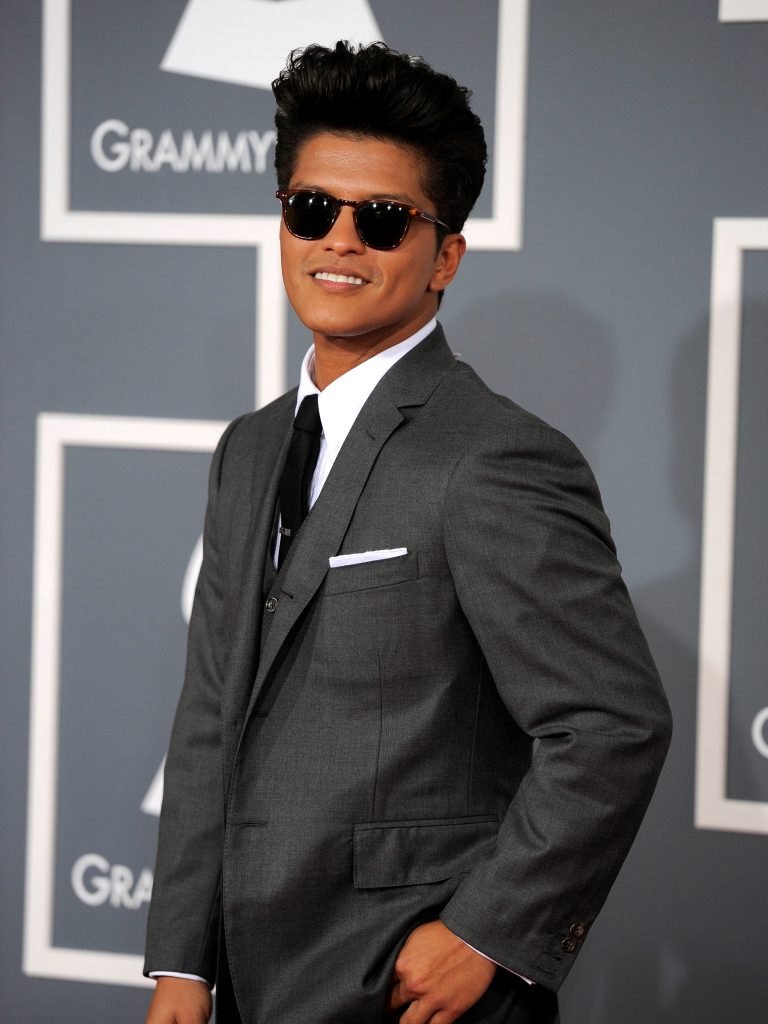 The success of the album was a turning point for Mars, but his relationship with Chanel seemed strong enough to endure the test of glory.
After landing a few more roles in such movies as "Bring It On: Fight to the Finish" and "Community", Chanel quit her acting career, focusing on supporting Bruno, still making rare dancing performances. Bruno founded his music band "The Hooligans" along with his brother Eric Hernandez and six other musicians, and Chanel promoted their concerts, posting  information on various social networks. 'He is so freaking ADORABLE!!' she wrote on her MySpace page posting the photos from Bruno's and "The Hooligans" show in the club.
Despite appearing as a happy couple and spending vacations together at Hawaiian beaches, Chanel found out that Bruno was cheating on her. After five years of relationship, Chanel revealed she asked Bruno questions on his fellow female singers, but Bruno insisted he was 'just working' with them.
However, Chanel broke-up from him, posting a long letter in which she explained the reason for their split. 'I trusted you because i thought you were my best friend/significant other..and a best friend would never lie', she wrote in her open letter, stating that she was embarrassed to meet the girl with whom Bruno was allegedly cheating, and not even guessing something was going on between them. 'I should have known when I met her and she shook my hand like there was a secret…a secret that only you two knew and I was the one being laughed at behind closed doors', Chanel shared her hurt feelings.
People close to Bruno noticed that he stopped taking Chanel with him while touring, and they found that weird as they were never apart. Chanel later shared that he did that as he wanted to protect her from hard days of being on the road for a long time.
However, Chanel stated he wanted her to stay at home so he could meet his lover, who was much younger than he was – Rita Ora would be the first one to reveal that the young girl was her.
At the beginning of 2011, two years after the split, Chanel posted a mutual photo with Bruno on her Twitter profile, captioning it with the words: 'once upon a time there was a girl she got lost. and finally found her way'. Chanel appeared in several music videos, including Lady Gaga's 'Marry The Night", Jasmina V's "All These Boys" and "W.E.R.K." and T-Pain's "I Can't Believe It". She also acted as a principal dancer in Mitch Sebastian's "Cheers" musical production.
Bruno met the aspiring singer from Prishtina, SFR Yugoslavia named Rita Ora in 2009, when he was still mainly working as a song-writer. Rita signed a recording and publishing deal with the popular label Roc Nation, so Bruno wrote songs for her, as he also worked with the label, along with Jay-Z and Drake.
'He was the first songwriter I ever worked with', Rita shared in her interview with Mando Fresko from Power FM. The 17-turning-18 rising star felt so grateful to work with somebody as talented as Bruno at the start of her career, that she later said it was 'love from first sight' for her: 'I thought, 'Wow, that's just the world's greatest guy!' <…> Our time together was wonderful, but once we got famous, work got in the way', Rita stated in her interview with The Sun.
According to Bruno's then-girlfriend Chanel Malvar's open letter, Rita knew Bruno had someone, but ignored the fact. Rita said that they met with Bruno in Los Angeles and then worked in New York: 'I knew Bruno for a while', Rita said and then laughed conspiratorially talking to Mando Fresko, while discussing her connection with Mars. Albeit Rita was quite honest on her relationship with Bruno, the "Uptown Funk" singer kept silent and didn't comment on her words; he also didn't answer a single question on his affair with Rita, as he had a lot of them coming from Chanel Malvar.
According to Rita, their fling lasted from 2009 to 2011, so they actually separated the same year Bruno split from Chanel.
Although Rita Ora opened up about her dating Bruno Mars, other girls he was spotted with were not so off the latch on their affairs with the famous singer.
In October 2011, several sources such as Page Six and Gossip On This reported that Bruno was dating Emmy Award-winning TV host Rocsi Diaz, who is now co-hosting the game show "Cannonball", broadcast in the US. Bruno and Rocsi  – born Raquel Roxanne Diaz – were spotted shopping together in Paris and Milan, while Bruno was on tour in Europe, and took Rocsi with him. Celebrating Bruno's 26th birthday, Rocsi wrote on her Instagram – 'Happy Birthday @BrunoMars … Hope you have the Best B Day ever !!!!'.
According to a source close to the couple, they had already dated for several months. However, something must have gone wrong between the TV host and the funk-pop singer, as the next month he was seen getting cozy with another girl.
In November 2011 Bruno was spotted enjoying time with a British singer Amelle Berrabah. They met for the first time in 2009, when Bruno started working as a songwriter for The Sugerbabes – Amelle had joined the band after the departure of the band's initial singer Mutya Buena in December 2005. Bruno wrote the song "Get Sexy" for The Sugababes' album "Sweet 7", which hit the UK charts at number two. Amelle tried herself as a solo singer, probably asking Bruno to write some songs for her career, however, their fling was short, and the story of their relationship didn't have any continuation.
After Cosmopolitan reported Amelle and Bruno were seen together a few times in November 2011, no further news ever appeared on them.
Bruno is said to have met his now-girlfriend in June 2011 – they instantly felt that there was something between them, but Bruno's heart wasn't vacant at that moment. However, Bruno and Jessica started dating at the  end of 2011, and in July 2012 Mars took his girlfriend to meet his mother. They celebrated the 4th of July together, and only a month later, the winner of the first season Model Latina moved into Bruno's $3-million-house in Los Angeles. What did "Grenade" singer's fans know about Jessica at that intriguing moment?
Jessica Marie Caban was born 13 June 1982, and raised in Spanish Harlem, New York City.
Her modelling career took a major twist when she competed in a nationwide contest for representing the brand J.Lo, the line founded and owned by Jennifer Lopez. Jessica could be seen in the music video "Holla" of the band Proyecto Uno. In 2008, Jessica was crowned as the first Model Latina, winning the modelling competition ahead of Darlenis Duran, another Puerto Rican model, as runner-up. In 2010 Jessica landed the main role of Thea Gala Larson in the movie "Are You for Great Sex?", which granted her Boston International Film Festival Award in the category "Best Acting Performance in a Feature Film", as well as the Hoboken International Film Festival in the category "Festival Award for Best Actress". For Bruno, it was a glimpse of guarantee that a girl dated him for him, and not just to make up her career – Jessica had it all as a model and actress.
Nevertheless, Bruno filmed Jessica in his video "Whatta Man" in 2012, when the rumors of their engagement could widely be heard. Despite speculation, after eight years Bruno and Jessica are still not even formally engaged, simply enjoying their life together.
Fans all over the world wonder if the couple will announce their engagement, but Jessica and Bruno is in no hurry. Jessica often shares family pictures with Bruno, as they celebrated Easter in 2019 with Bruno's brother, Eric and his family. In June 2020 Jessica took Bruno to her family, so they spent Father's Day together with her parents.
In December 2018 Bruno and Jessica announced that they had become parents, only adding the small detail they were actually taking the roles of godparents to Bruno's brother's daughter, Nina.
A big Happy Birthday to one of the most gifted, successful, warm, generous and kind-hearted people on this planet. To someone cares for us and who constantly continues to spread his love and passion with us! Happy Birthday @BrunoMars ❤️🥳 today we celebrate YOU! pic.twitter.com/ur7AyL2fHL

— Bruno Mars US (@BrunoMarsUS) October 8, 2020
In his interview with Rolling Stone magazine, Bruno admitted that he wrote a lot of songs inspired by Jessica and his relationship with her. His song "When I Was Your Man" was written during a hard period in their romance, as Bruno thought he was losing his girlfriend. However, things improved, and now Bruno feels uncomfortable when he sings that song: 'You're bringing up all these old emotions again. It's just like bleeding!', he shared in his interview. Despite his previous fame of a flippant lover, Bruno hasn't been noticed in any affair on the side from Jessica. On the contrary, he demonstrates his best efforts to keep the relationship he and Jessica have been growing.
Hopefully, the sometimes notoriously negative world of entertainment won't have a negative effect on this so far happy couple.