Who has Chace Crawford dated? Girlfriends List, Dating History
Ever since he starred as Nate Archibald in The CW's teen drama series "Gossip Girl" from 2007 to 2012, it seems like everyone is talking about the handsome actor. Born Christopher Chace Crawford in Lubbock, Texas USA, on 18 July 1985 under the zodiac sign of Cancer, he is also known for his roles as Billy LeFever in the ABC prime time soap opera "Blood & Oil" in 2015, and currently as Kevin Moskowitz, a.k.a. 'the Deep' in the Prime Video superhero series "The Boys" since 2019.
Thanks to his good-looking appearance and apparently effortless charm, Chace Crawford has even been named one of the hottest bachelors as well as one of the sexiest man in the entertainment industry by various magazines, which might be why there's so much interest in his personal life and dating history.
We are sure that he has stolen many women's hearts through the years, sod if you are interested in which ladies have won his heart in return, stay with us 'til the end and you will discover, as we've done a little research into his dating history, and compiled for you what we believe to be a complete list of the beautiful girls the "Gossip Girl" star has been romantically linked to.
Even though he may have been romantically involved with several girls before his rise to stardom, Chace Crawford's first affair known to public was with former Playmate Shauna Sand. According to her November 2009 interview with Star magazine, the two of them met at a college party in Malibu, California in August 2003, when he was 18 years old.
She said, "He was so incredibly beautiful — I immediately fell in love with him! I even gave him a key to my apartment." Shauna, who is 14 years older than Chace, also claimed that their secret on-again, off-again relationship lasted for about a year.
One of Chace's closest friends revealed to the magazine that he even lost his virginity to Sand. Chace allegedly told his friend, "Shauna was the first girl I ever had sex with! She blew my mind, and I'll never forget it!"
In the fall of 2007, the "Gossip Girl" star fell in love with American singer-songwriter and producer Carrie Underwood.
The first time they were spotted together was in October at Manhattan's Marquee nightclub, after which they were seen at the Gramercy Park Hotel's Rose Bar. At the time, she told People magazine that Chase is "really cute" and added, "I've met him and he seems like a really nice guy. He's got cool hair, he's a nice height and he just has beautiful blue eyes."
Unfortunately, their relationship didn't last long, as they parted ways in early 2008, and a month later, Carrie opened up about their split to Extra magazine, saying "It was completely mutual. We broke up over text so … it's like 'peace out.'" She also added, "It just didn't work. We both knew it didn't work and [had] no hard feelings at all whatsoever."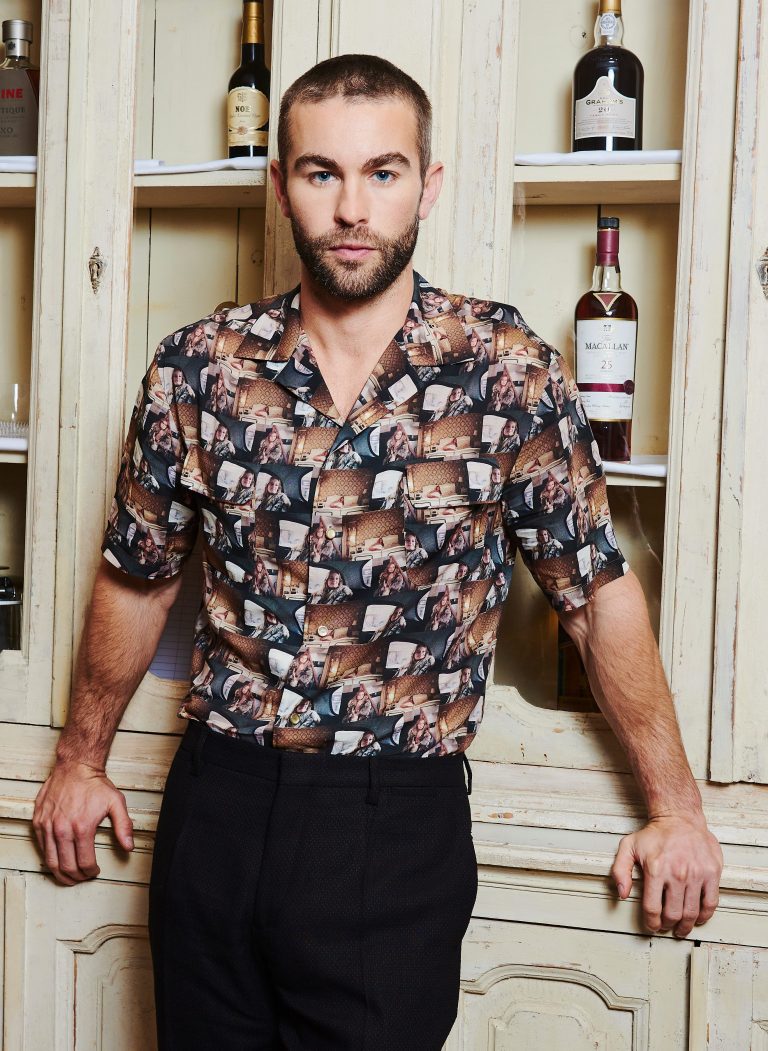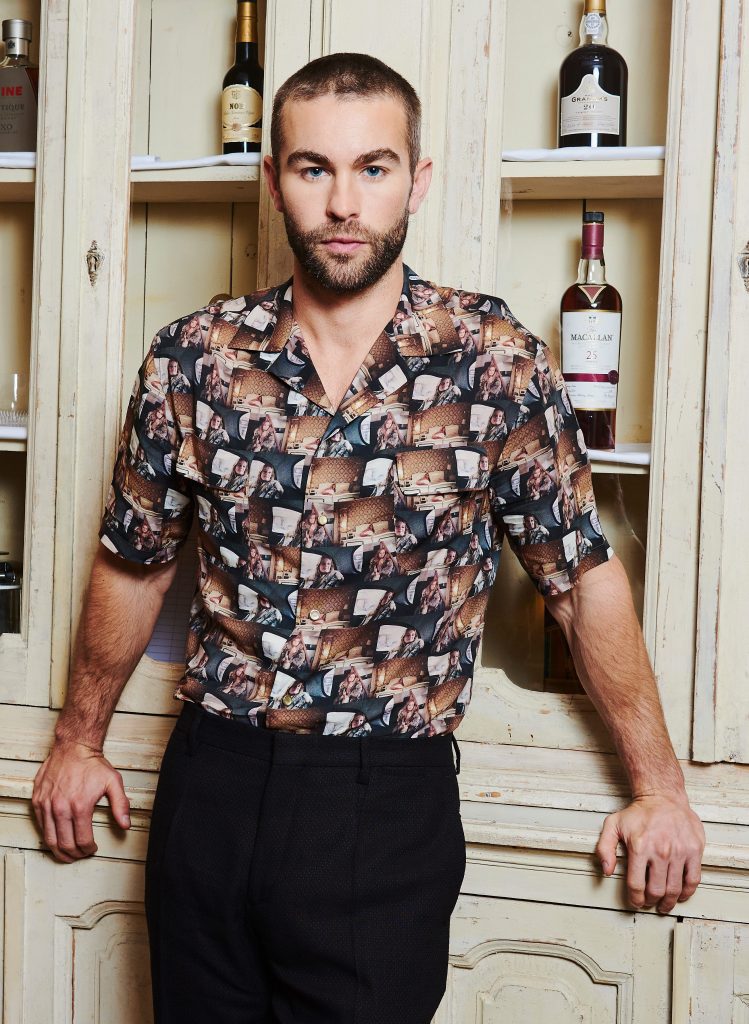 An insider revealed to People magazine that she was "the one who broke Chace's heart, not the other way around." The insider also said that the handsome actor "flew to visit her, went on tour with her—he did everything he could for this girl," but eventually initiated their break-up saying 'Enough is enough', the source adding "He was upset, but he also had to make the decision that it wasn't meant to be anymore."
According to the magazine, Carrie "had always downplayed the relationship in the press", saying in January 2018 that she wasn't serious with anybody. It certainly hurt his feelings. No matter what, we hope that the former lovers remained on good terms.
In late 2008, Chace Crawford was rumored to have hooked up with his "Gossip Girl" co-star Taylor Momsen. According to Page Six magazine, the two were spotted locking lips at their holiday party. However, his rep shut down those rumors.
Following that rumor, it was speculated that in May 2009, the American actor put a spell on beautiful Israeli model and actress Esti Ginzburg. According to The Hollywood Gossip magazine, she was caught texting him all night long during Sergio Rossi's dinner party at Sole East in Montauk, New York, and even left the party to meet him. The report added that Esti described her relationship with the famous actor as "initial", whatever that means, however, neither of them confirmed or denied any relationship.
In June 2009, Mirror UK magazine reported that Chace Crawford was dating The Kills lead vocalist Alison Mosshart, but that has never been confirmed either.
Later in 2009 the "Gossip Girl" star set off the rumors of being in a relationship with the "Twilight" star Ashley Greene, after the two of them were spotted flirting with each other at the Teen Choice Awards red carpet event, and then making out in the back of her car at LAX Airport in Los Angeles, California, which seems rather unlikely.
A source told E! News magazine that the duo "have known each other for a while" and then shared, "They used to hook up actually back when he lived in L.A. It was never anything too serious. It was before either of them were famous. They stayed good friends."
A night out with @AbsolutVodka_us in BK. Celebrating the launch of https://t.co/VG5Buzg7qu. #AbsolutHoppr #ad pic.twitter.com/dj9MVMLeCL

— Chace Crawford (@chacecrawford) December 10, 2015
It was also reported that they were spotted getting cozy at J.C. Chasez's birthday party at The Continental bar in Los Angeles. An insider told InStyle magazine that they were "all over each other" there and added, "They were hooking up a year ago, and Chace always liked her." Again, if there was a romantic association, it was very short-lived.
Chace Crawford and Sports Illustrated model Bar Refaeli sparked rumors of becoming involved in a relationship in September 2009, when Just Jared magazine reported that they were seen flirting on the dance floor at 1Oak in New York City, after she ended her relationship with Academy Award-winning actor Leonardo DiCaprio.
A party-goer told the magazine that the two were "dancing on each other" and "swaying their hips together from side to side," and then added, "At one point, Bar reached down and grabbed Chace's backside. They were very affectionate with each other." Another insider revealed, "Bar and Chace have been spending a lot of time together since Bar is town and attending NY Fashion Week events." However, they didn't confirm a romance, and the rumors quickly fizzled out.
Thereafter, the "Blood & Oil" star reportedly dated Swedish model and social media personality Tess Montgomery for a short period sometime in 2010.
It's still unclear whether they were just friends or something more, but they would definitely make a cute couple!
In June of the same year, Chace Crawford was seen on a dinner date in Milan, Italy with Canadian lingerie model and blogger Elizabeth Minett. It immediately sparked the rumors that the two were actually an item. The second time they were seen together was in June 2011, when they attended the Versace show, so many believed that they dated from 2010 to 2011.
However, in February 2011 Chace had been spotted hanging out with his "Twelve" co-star Emma Roberts, at Elton John's Academy Award Viewing party.
According to US Weekly magazine, they stepped outside to share cigarettes and chat one on one three times during the party, at one point were even holding hands. An eyewitness said, "Emma is clearly smitten with Chace. They weren't making out, but you could tell they had a definite chemistry and were into one another." Whatever really happened between them, if anything, remains a mystery.
In November 2011, US Weekly magazine reported that the "Gossip Girl" star was caught locking lips with reality TV star TLauren Conrad, at a pre-Halloween party in October. A source told the magazine, "There's always been an attraction between them. But Lauren is really enjoying herself lately. She's not taking anything too seriously!" Their reps denied the rumors!
Lauren Conrad Gets Candid About Being A Mother Of Two Sons https://t.co/f6j4VNhGYK
Celebrity News #LaurenConrad #Celebrity pic.twitter.com/rzCMSmWBN8

— CelebrityInsider.org (@CelebInsiderorg) December 7, 2019
Later that month, the handsome actor was photographed cuddling with Canadian model Amanda Laine at a New York Rangers hockey game in New York City. They were accompanied by her "Gossip Girl" co-star Jessica Szohr and her boyfriend, British actor Luke Pasqualino, in what appeared to be a double date! Thereafter, they were never seen together in the public again, so whatever happened between them, it was obviously short-lived.
In May 2012, US Weekly magazine reported that Chace had started dating ESPN sideline reporter and "Dancing with the Stars" alum Erin Andrews. A source revealed that they had been "on a few dates" and then added, "They're getting to know each other."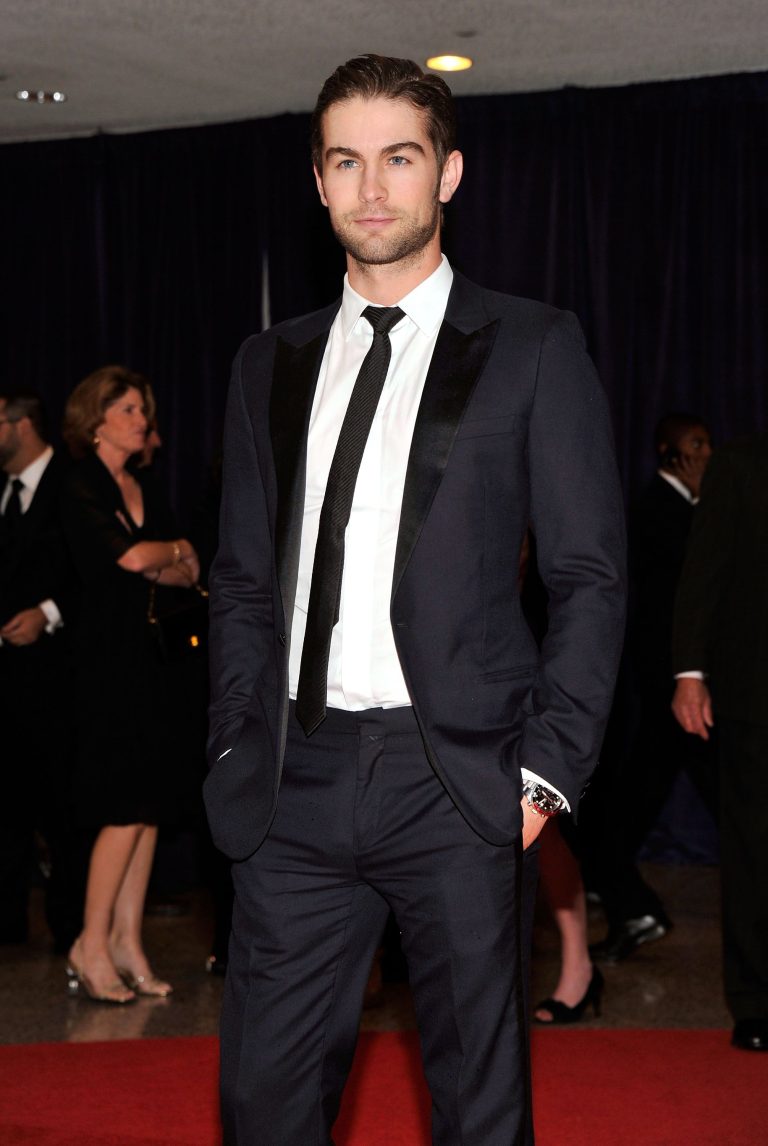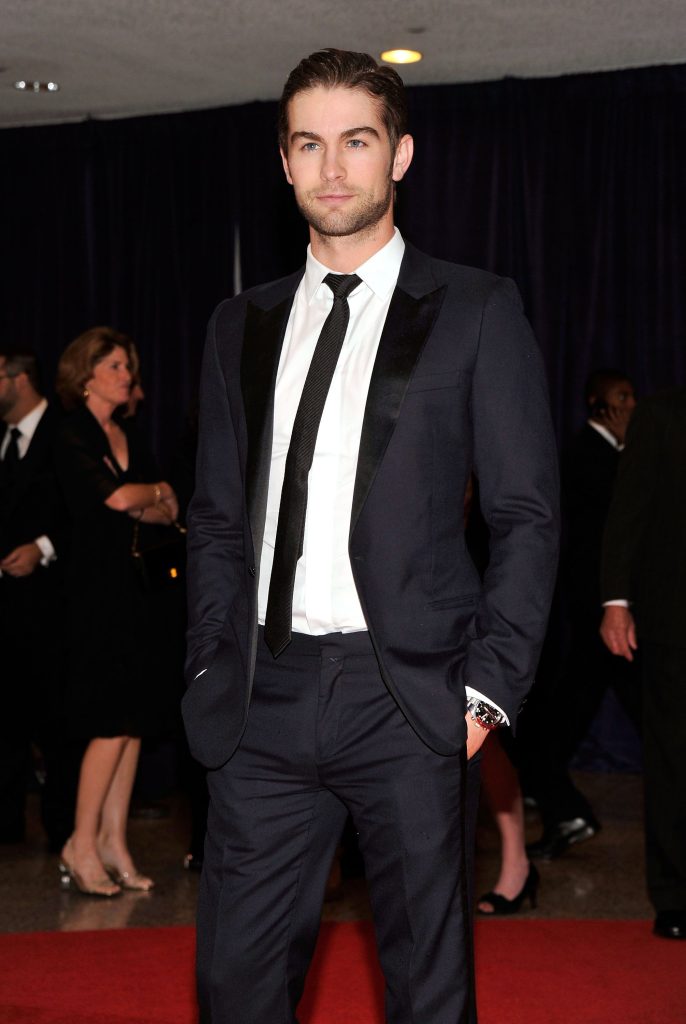 The pair was even pictured together at the 2012 Super Bowl in Indianapolis, but the attractive sportscaster dismissed those rumors during the same month, claiming that she wasn't dating Chace.
After a number of rumored relationships, the American actor eventually fell in love with beautiful Canadian model Rachelle Goulding in February 2013. The duo started dating while he was still living in New York City. They went public with their relationship a month later, when they were spotted getting cozy at a New York Knicks basketball game, according to E! News magazine.
A source close to them revealed to the magazine that they were introduced to each other in the summer of 2012 by mutual "high society friends".
The source also added that Rachelle "moved to New York and reached out to Chace," and that they had been "hanging out" for about three months. At the time, their relationship was "nothing serious, quite possible since Chace and Rachelle parted ways after a year of dating. In July 2014, he confirmed their split during his appearance on "The Kyle and Jackie O Show", revealing that their split was amicable and added, "It's totally good. We had fun." The long distance apparently caused their break-up since he moved to Los Angeles, California to pursue his career further, while she had to stay in New York City.
In February 2015, Chace Crawford was photographed locking lips with Brazilian singer-songwriter Manu Gavassi at one of the Brazilian Carnival parties in Rio. She revealed more details about that night during her appearance on the reality TV show "Big Brother Brazil 20", saying "I went crazy at Carnival and I got the boy from Gossip Girl and I Saved his number as Nate Archibald, which is the character's name." She continued, "I remember seeing the news the next day, and saying 'Am I?' They told me, 'Of course it's you, Manu, you stayed with that boy all night'. 'WHAT?!' I didn't remember," and then added, "Thank God, […], there were photos, otherwise I would never know that I stayed with the boy from Gossip Girl." Manu also shared that he called her the next day, and they ended up meeting again at a dinner, but nothing more happened between the two.
In July 2015, Chace Crawford entered a relationship with his "Blood & Oil" co-star Rebecca Rittenhouse – they met on the set of the series, and became pretty close to each other. The interesting fact is that Chace and Rebecca were romantically involved on the series, and in no time, they made their on-screen romance a reality, to the delight of their fans.
Multiple sources confirmed their romance to US Weekly magazine, one of them saying "They had great chemistry on set, and he really enjoys hanging out with her," but added, "I wouldn't call them official, but there is a romance between them for sure." As time passed, the relationship became official, and lasted for the next three years, but little is known about it since they managed to keep it under the wraps.
The pair broke up in March 2019, but mutually decided to stay friends. In April of the same year, Chace confirmed he was back on the market to the magazine during his appearance at the screening of "The Boys" at the Tribeca Film Festival's He said, "I've been dating around a little bit, but, you know, nothing serious," and then revealed that the way to his heart is quite simple – "Listen, some Knicks tickets, a pizza. That's it!"
Since he ended things with the beautiful actress, the now 35-year-old Chace Crawford has been one of the hottest bachelors in Hollywood. We can only wish him well in finding the 'right' girl, who will take him to Knicks games, buy him pizza, and settle down!