Who has Charlie Puth dated? Charlie Puth's Dating History
• Charlie Puth was born in 1991 and is a successful pop singer-songwriter and producer
• He has been romantically linked to many women, including Madison Grace Reed, Meghan Trainor, Bella Thorne, Selena Gomez, Danielle Campbell, and Halston Sage
• He had a brief fling with Meghan Trainor in 2015 and was rumored to have had a relationship with Selena Gomez in 2016
• He was in a relationship with Charlotte Lawrence from 2019 to 2020
• Currently, he is single but fans are speculating that he is in a new relationship
 Charles Otto 'Charlie' Puth, Jr. was born in Rumson, New Jersey USA, on 2 December 1991 under the zodiac sign of Sagittarius. The handsome young guy came to prominence through being a successful pop singer-songwriter, and producer, known for releasing such hit singles as "One Call Away", and "We Don't Talk Anymore", featuring Selena Gomez. His beautiful voice and attractive personality has helped him to steal many women's hearts. While Selena is probably his most famous romance, she certainly isn't his only one. Since there's always been a lot of curiosity about beautiful women he was romantically linked to over the years, we've compiled his dating timeline made you. To find out more, just keep listening!
After posting a few snaps on his official Instagram account of attractive model Madison Grace Reed, also known as the sister of actress/singer Victoria Justice, Charlie Puth sparked rumors that he had a brief affair with her back in 2015.
Moreover, she made an appearance in the music video for his song entitled "Suffer", which was so saucy that it was removed from his YouTube channel. It was obvious that there was chemistry between the two of them, even though they never publicly confirmed or denied the rumors that they were in a relationship. According to J-14 magazine, in early 2016, Charlie accused one of his ex-girlfriends of social climbing, saying "I'm single. I thought it was going to work out. Now I'm like, 'Nope, she wants to use me to up her social standing'… I'm going to take a break from dating." Many fans believed that it was addressed to Madison, however, the truth about them remains a mystery!
In 2015, Charlie was rumored to have had a brief fling with famous singer Meghan Trainor. They collaborated together on their song entitled "Marvin Gaye", and even kissed in the music video for the song.
According to MTV magazine, the "All About That Bass" singer described what happened during the filming of the video – "There were like, 40 people there and his parents were in the green room, and so we had to make out a bunch of times. Everyone was cheering because I was so good at it, and we went back to the green room and I was like, 'What's up Mom and Dad?' So awkward." Shortly afterwards, their on-screen kiss was moved to the stage at the 2015 American Music Awards event. At the end of their performance, Charlie and Megan started kissing and hugging each other like they were a real couple. Nonetheless, he shut down the rumors during his appearance on the JohnJay & Rich Show and explained why they made out on stage. According to Teen Vogue magazine, he said, "I'm a very aggressive maker-outer. But Meghan is my friend, and I don't know, like, my natural boy instincts kinda just like kicked in…I was like all nervous before, like how am I going to make this look real, because I'm not attracted to her in that way. She's my friend…It was mostly lip action, but I didn't want to get too crazy."
He also told USA Today magazine, "Meghan and I are good enough friends that we can laugh about it now. Holy shit! What did we just do? I have a girl kind of in my life right now that I'm not making too public and I don't want people to get the wrong idea," but adding, "I was very surprised to go on YouTube and find that the video had millions of hits. I didn't know people would care about my lips on my friend's lips so much." Of course, we would care about that, because we don't believe in "just friends"!
Charlie Puth and Bella Thorne
In December 2016, the handsome singer was spotted kissing the "Midnight Sun" star Bella Thorne on a romantic beach stroll in Miami, Florida. Later that month, they made their first joint red carpet appearance at Y100's Jingle Ball, where he performed – it was obvious that they were an item. Unfortunately, Charlie soon accused the attractive actress of cheating with him on her ex-boyfriend Tyler Posey, a conclusion based on Posey's interview which made it seem like they were still together, so Charlie apologized to him via Twitter, writing "No one should have their heart messed with like this, and I'm not going to be in the middle of it."
He also wrote, "I don't know Tyler personally, but I know he shouldn't be treated this way." It eventually turned out that it was an old interview, and it was clear that she didn't cheat on him with Charlie, even claiming that she wasn't romantically involved into a relationship with the singer. According to People magazine, Bella opened up about the drama in her 2017 interview on SiriusXM's "The Jenny McCarthy Show", saying 'He was trying to reach out to me. I hung out with him twice. We went to the movies. He was cool," she continued. "I was like, 'Wow, you're really talented. Holy s—. You're f—ing great, dude.' She then explained that the drama would have been avoided if he had simply texted her and asked about that. Pretty messy!
Charlie Puth and Selena Gomez – Rumor or Not?
Charlie Puth and Selena Gomez met at the 2015 MTV VMAs afterparty, as he described to US Weekly magazine, saying "I just went up to her and started talking to her. I was very floored by how well she handled herself and how mature she was.
It's nice to get to know the actual person and finding out she's an interesting person … I'm happy that we're friends." Subsequently, they collaborated on the hit single "We Don't Talk Anymore". In November of the same year, he told the magazine, "I don't know if anyone really understands me, which is why I hang out with Selena Gomez. She gets me." Charlie then posted a Snapchat video of them, after which Selena told E! News magazine, "We're [not dating], that's for sure." Then something changed, since they soon set off rumors that their friendship turned into relationship for a short time in March 2016. At the time, a source told the magazine, "It's not serious, but she's super into him."
Selena had previously broken-up with her on-again, off-again boyfriend Justin Bieber, and her emotions towards her ex-boyfriend caused something of a scandal since Charlie yelled "F—k you, Justin Bieber" during his performance of "We Don't Talk Anymore" at a concert in Dallas, Texas, which immediately hit the headlines.
He then apologized via Twitter, writing, "Hey everyone. I feel like I need to clear something up. What I said at the concert last night about Justin was meant to be a joke," but he later deleted it, and then unfollowed Selena on Instagram. Moreover, she didn't appear in the music video for their hit single, after which he revealed that they "don't talk anymore".
After two years of denying the rumors, he eventually opened up about his relationship with the attractive singer in his 2018 interview for Billboard magazine, saying "I don't kiss and tell, but the only way a song like that can come across as real is if there's something else going on behind the scenes, and that's what was happening with Selena. Very short-lived, very small, but very impactful. And it really messed me up. I'm trying to put this the best way possible: It wasn't like I was the only person on her mind. And I think I knew that going in — what I was getting myself into." So, the main reason for their breakup was the third person! Can we say Justin Bieber? Anyway, a source close to Selena told People magazine that they "never dated". No – we don't believe it either!
In October 2017, many fans speculated that Charlie Puth and Danielle Campbell had become romantically linked to each other, in a secret relationship. According to Hollywood Life magazine, Charlie sparked those rumors after he shared a screenshot of himself on FaceTime app with Danielle, but immediately removed it, to keep their romance under the wraps. Moreover, he posted a comment on her photo on Instagram, and began following her siblings, Stephen and Mikaela. Charlie made an appearance on "The Ellen DeGeneres Show" during the same month, and revealed that he had a girlfriend, saying "I'm actually not single right now. I'm in a relationship . . . but I'm kind of done with dating people in the public." He didn't name the mysterious girl, but the above 'evidence' indicated that "The Original" star was the one!  
In September 2018, Charlie shared a photo of the "Paper Towns" star, Halston Sage sitting on his lap after they attended the Yellow Ball during New York Fashion Week. The photo certainly sparked rumors, strongly suggesting that they were more than just friends.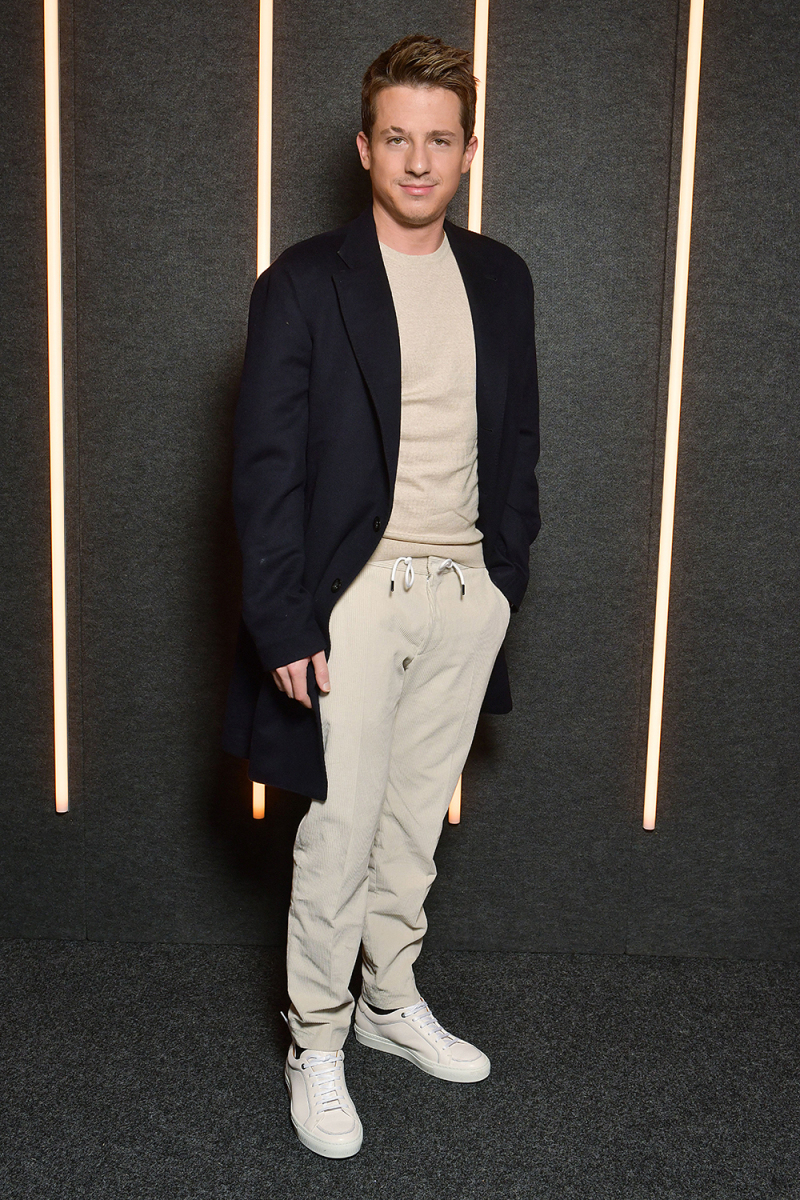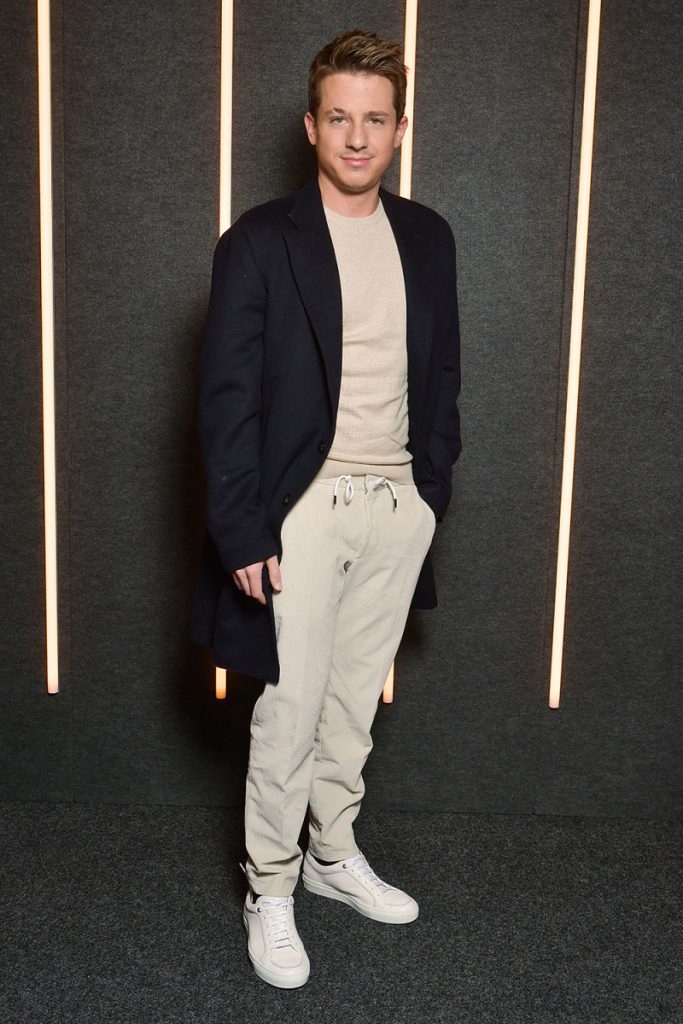 He then shared a number of cute photos with the beautiful actress on his Instagram account, and she confirmed their romance by posting an Instagram photo on her official Instagram account of them getting cozy together in a swimming pool. In the photo she was kissing a smiling Charlie on the cheek. She even wrote in the caption "9.22.18," which probably referred to the date their romance started. The happy couple became inseparable, and were even spotted together at various public events. However, their romance didn't last longer than a few weeks as they parted ways, with the reason for their split remaining unknown.
In early 2019, Charlie Puth apparently fell in love again when he put a spell on beautiful singer-songwriter Charlotte Lawrence. They were spotted for the first time together at a fashion show during New York Fashion Week, while they confirmed their romance through an Instagram post on Valentine's Day. According to Daily Mail magazine, Charlie posted a photo of them with the caption "Happy Valentine's Day" with a heart emoji.
He also shared the same text on Twitter, and added "I Miss You", on which she responded with a heart emoji. After dating for a while, they parted ways in September 2019, with the "Attention" singer confirming their split via Twitter, writing, "Only because I want people to stop asking the question….Yes I am single now…and please dont believe everything you read…thank you." It remains a mystery what went wrong between the two of them, even in February 2020 when she opened up about their relationship in an interview for Vanity Fair magazine, saying "I never regret any of my ex-boyfriends. He opened my eyes to a whole different side of music."
Updated Relationship Status
Following his split from Charlotte Lawrence, Charlie again became one of the most handsome single musicians out there. Since he is one of those artists who finds inspiration in their own love life to create music, we believe that he fell in love again according to the lyrics of his latest hit single – "Girlfriend". However, in June 2020 he posted an Instagram video with the caption "I'm single if you're wondering".
Maybe something has changed in the meantime, which of course remains to be seen!