Who has Conor McGregor dated? Girlfriends List, Dating History
• Conor McGregor is a respected former lightweight and featherweight division champion of UFC league.
• He is the highest-paid athlete of 2021 and sold his shares of No.12 Irish Whiskey for $600 million.
• He is known for getting into trouble outside the ring and has had several endorsement deals.
• He has been in a long-term relationship with Dee Devlin since 2008 and they share three children.
• He has recently been booked for match-ups and is considering retiring from UFC.
Conor McGregor is an Irish professional boxer, businessman, and mixed-martial artist, best known for his fierce competition in the Octagon, the nickname given to the Ultimate Fighting Championship ring. McGregor is known as the former lightweight and featherweight division champion of the UFC league, and currently occupies the number nine spot among the UFC Lightweight rankings.
Conor is also the first UFC contender to win titles in two weight divisions. Known as Notorious, McGregor is a respected fighter among his peers and fellow UFC contenders, and could possibly be the most famous UFC fighter to date. Not only does McGregor have a large fan base but his fights and bouts have attracted more viewers than any other contender in UFC history.
Although UFC has not been around that long, Conor's achievements are nonetheless astonishing, especially considering that Forbes named Conor the highest-paid athlete of 2021. McGregor's current earnings are estimated at $180 million, though in 2021, McGregor sold his shares of No.12 Irish Whiskey, Conor's own brand which sells in Ireland and the US, for $600 million.
Born Conor Anthony McGreggor on 14 July 1988, in Crumlin, Dublin, Ireland, Conor's parents, Tony and Margaret, raised him as a catholic in Ireland. He attended Irish-language schools where he nurtured his love of sports, and competed in local football for the Lourdes Celtic Football Club.
When he turned twelve, Conor's interest shifted to boxing, which he hoped would help him defend against bullies, and would give him the confidence to succeed in life. In 2006, shortly after his eighteenth birthday, Conor and his family moved to Lucan, Dublin, where he had an apprenticeship as a plumber. While in Lucan, McGregor met UFC fighter Tom Egan, with whom Conor began training in mixed martial arts. In 2007, Conor made his MMA debut in the lightweight division, a match he lost by submission.
Since then, Conor has gone from strength to strength, eventually becoming the fierce fighter and Irish bad boy of UFC, after making his debut in 2013.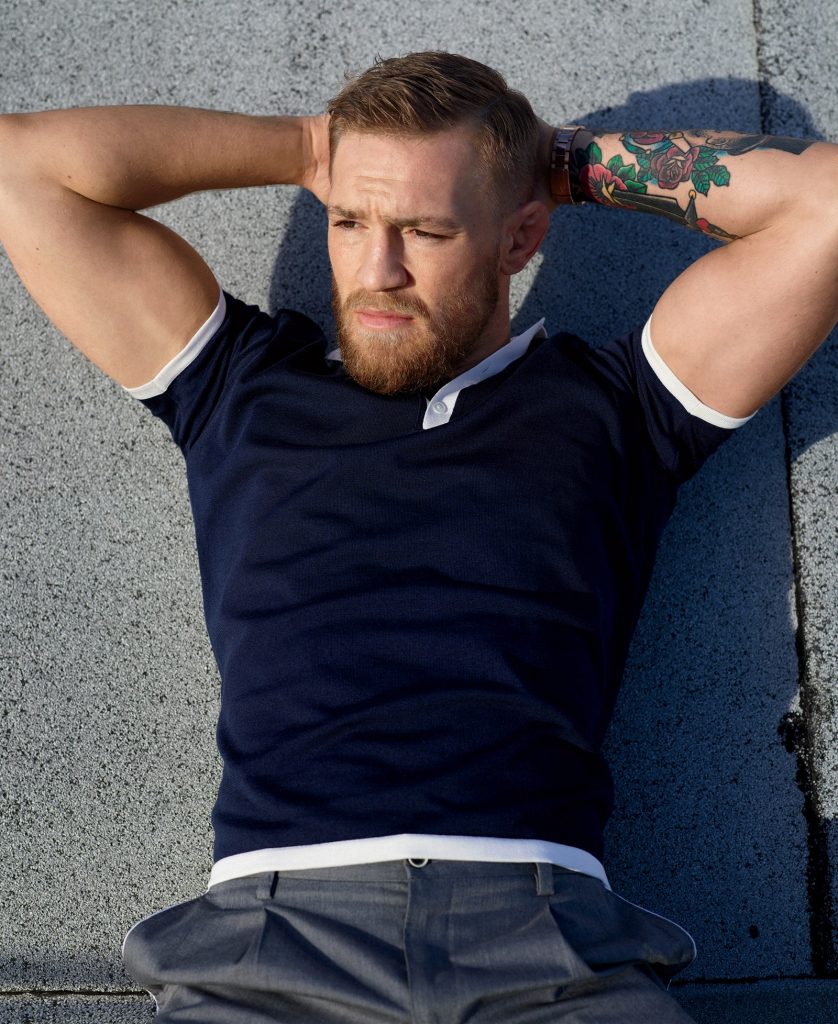 Getting into trouble seems to come naturally for the Celtic, red-headed McGregor, who landed in hot water with the UFC even before he became an official contender.
Of course, his fans would know all about the mischief McGregor has been involved in, though the most serious controversies include getting into altercations outside the ring, with fellow fighters, as well as picking fights in pubs. Unfortunately, there were also a couple of sexual assault charges against Conor in 2019, of which he has been excused as prosecutors withdrew the case.
Since becoming a successful contender in UFC, Conor has earned several endorsement deals with brands that include Monster, Beats By Dre, Bud Light, and Reebok.
Without a doubt, Conor is one of the most successful UFC fighters, and as such, his fans and followers have taken an interest in his love life. Unfortunately, the Irish martial artist has successfully kept his private life quiet, as very few details about his love life can be uncovered.
Happy Matrimony
Of course, as his most dedicated fans would know, Conor has been in a long-term relationship with Dee Devlin, the mother of his children and current fiance. Then Conor, the Irish bad boy of UFC, made headlines in 2017, after rumours surfaced suggesting that he hooked up with the singer Rita Ora.
However, the only confirmed relationship in Conor's history is with his long-term partner, Dee Devlin, though in all honesty, few details about their romance are available. Of course, the couple shares intimate family moments on social media, but while sweet and adorable, they don't answer any questions.
According to the only information to be found, the couple started dating in 2008, but the details of how they met remain a secret kept between them. One source, however, claims that the couple met at a nightclub, but this is yet to be confirmed.
Since first appearing together, Dee has been a constant by Conor's side, even supporting him during his fights in the Octagon, becoming a familiar sight to all of Conor's dedicated fans.
According to information about Dee, she once worked as a waitress, but unfortunately, the published source can't be fully trusted. In truth, little is known about Dee Devlin, and the nature of her relationship with McGregor. Regardless, everyone knows that Dee is the only woman in Conor's life, and despite not being married, the couple has produced three children.
Conor's children with Dee are Conor Jr, Croia and Rian, but details of their births are as obscure as most of Conor's personal life, unless of course the Irishman is busy picking fights with pub patrons. In 2020, Conor took to Instagram to share with the world the news of his proposal to Dee, who could be seen in the pics, clearly on cloud nine.
Things between Conor and Dee certainly seem fine, and at present they could not be any happier, though not too long ago it appeared that there may have been trouble in paradise. In 2017, while attending the Fashion Awards in London, Rita Ora shared a video of herself and Conor on social media captioned with 'Date Night?'.
The video quickly went viral, and rumours obviously suggested that the night ended in a steamy hotel room. Needless to say, the story caused a major ruckus, but the Irish bad boy couldn't have acted any cooler and unphased by the circumstances.
Eventual responses from close friends of McGregor, who include his sparring partner, claimed that Rita was out to cause trouble, and that Conor remained loyal to his girlfriend, Dee.
In the meantime, Conor posted a picture of himself and Dee on his Instagram in response, captioning the pic with 'Zoom In', suggesting that things between McGregor and Devlin were perfectly fine.
After all, Conor admitted that Dee's support through the years was the key to his success, and who would want to lose that?
The heat from Rita's little stunt took a while to cool down, though eventually it was all forgotten about. Nowadays, Rita's been more in the news for violating isolation protocols, while it seems McGregor is out to cement his family firmly, by tying the knot with Dee.
Unfortunately, recent global events have placed a damper on Dee and Conor's plans, as both confirmed that they've become engaged, but haven't decided on a date yet. The most recent news concerning McGregor is his intention of retiring from UFC, but despite the talks, Conor has recently been booked for match-ups.
Even if everyone's favorite Irish mixed martial arts champion is retiring, his fans will no doubt keep up with the man on his social media.
Hopefully, one day soon, we might finally see Notorious settle down and enjoy happy matrimony with his wife-to-be, Dee Devlin, and their three adorable children.