Who has Danny Amendola dated? Girlfriends List, Dating History
• Danny Amendola is a professional free agent in the NFL, playing for the Detroit Lions on a one-year contract worth $4.5 million.
• Danny started his football career in high school, playing in the same position of wide receiver.
• Danny was not initially drafted in the NFL, but had a successful college career.
• Danny has been in a few high profile relationships, including with Miss Universe 2012, Olivia Culpo.
• Danny is currently in a relationship with singer Jean Watts.
Danny Amendola is an American football star, who plays as a professional free agent in the National Football League. Danny has worn several jerseys during his career, currently playing for the Detroit Lions on a one-year contract worth $4.5 million. Though not initially cutting the national draft, Amendola is a talented player worth his weight in gold, and has proven vital for the success of the various teams he's played for, including the New England Patriots and the St Louis Rams.
Although little is known about Amendola's childhood, it's clear that he started his football career early, having acquired a notable record in the sport during his schooling years. Born and raised in The Woodlands, Texas, on 2 November 1985, Danny attended The Woodlands High School, becoming a member of the first team in the school's history to achieve a chance at the State Championship.
Recent work with @DannyAmendola and @MonarcSport // @MazuMediaHouse #DetroitLions #NFL pic.twitter.com/SnPOjx9tuO

— Zaid Patel (@ShotsbyZaid) July 24, 2020
They lost the opportunity of claiming the championship to North Shore High School, but still achieved glory among their school peers. Even back then, Danny played in the same position of wide receiver, which he also played throughout his college years. In 2004, during Danny's freshman year at Texas Tech, where Amendola studied Communication Studies, his football career slowed down.
Though he nonetheless still represented the team, Danny only saw limited field time as Texas Tech's Big 12 team's punt return specialist, and was rarely used for offence. Punt return, a skill in which Danny displayed profound affinity his entire career, became the worth behind his free-agent value.
Spending a great deal of his time in the shadow of his teammate, Michael Crabtree, who is himself an astounding wide receiver, Danny played a substantial role in the success of the Texas Tech Red Raiders, and during two matches he notably snatched them the win.
Unfortunately, being out-shone by Crabtree, Amendola didn't attract much attention during the NFL drafting session, despite building a record-achieving college portfolio.
Foregoing his studies, Danny dropped out of college to begin training, and later attending the NFL Scouting Combine. There, Amendola earned notable statistics which compared him almost equally to former Texas Tech Wide Receiver and punt returner, Wes Welker.
Unfortunately, it didn't earn him a place among the draft selection, though undeterred and aware of his talent and potential, Danny then sought to sell himself to the highest bidder. On 27 April 2008, the Dallas Cowboys recruited Danny into their practice team. Later that year, Danny moved to the Philadelphia Eagles, also only participating in their practice team.
In 2009, Danny saw field play again, wearing the St Louis Rams jersey playing as their slot receiver. His play was once again impressive, and this time he became a formidable fixture in the Rams' line-up. In 2013, when Wes Welker resigned from the New England Patriots, Danny was offered $28 million to take his place. Naturally, Danny accepted the offer, with some speculation surrounding the deal suggesting that Danny signed even before Welker resigned. Danny would continue to play formidably for the Patriots in no less than five seasons, though was hampered by repeatedly suffering injuries.
In 2018, Danny signed a two-year contract with the Miami Dolphins but didn't complete his time with them. In 2019, with a year remaining on his contract, the Dolphins dropped Amendola from the team. Danny then signed a one-year deal with the Detroit Lions, which he renewed in 2020.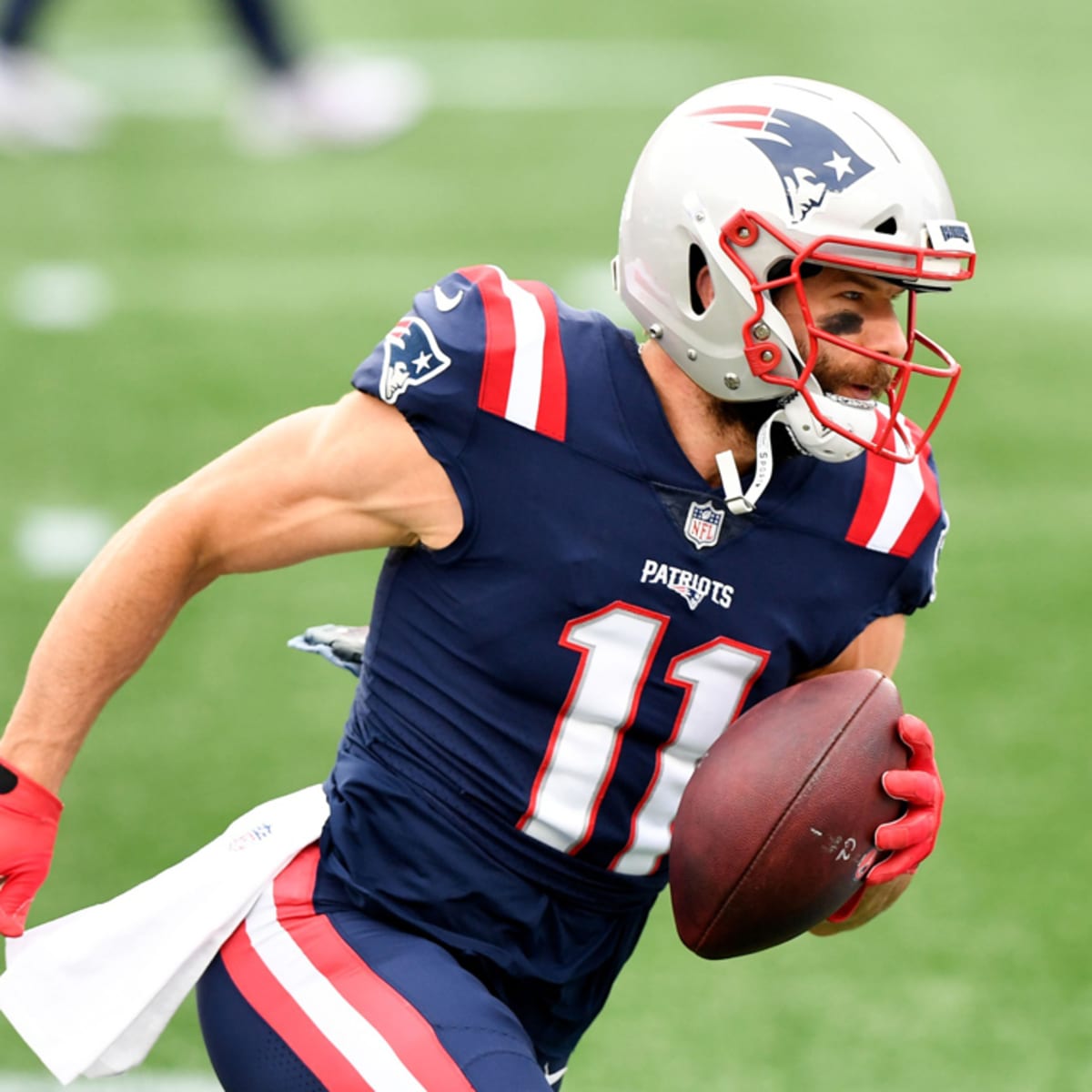 With such a good record, one might believe Amendola would have few shortages when it comes to romantic partners. In 2017, Danny became the first NFL player to ever be cast as a Ford Model, proving he's as attractive and charming, as he's talented on the field.
Danny and the Oklahoma Beauty
Although not the most famous all-star in the US, Danny's romance with the fashion influencer, Olivia Culpo, earned its fair share of attention, yet, there are many secrets to uncover about the Detroit Lions Wide Receiver's past romances.
Danny's earliest known relationship was in 2013 with Oklahoma model and actress Talor Reazin. Though few details are known about their relationship, plenty of information can be found on Talor; she was a varsity student enrolled at the University of Central Oklahoma, and a member of their Honeybees Hornets cheerleading squad. She later enrolled at the MKC Beauty Academy.
Talor later moved to Texas, where it's suggested that she continued to live, pursuing a career in sales. Reazin has earned several credits as a model, and had starring roles in 'Bikini Vampire Babes' as well as 'Southern Tale', though earned greater renown after becoming the girlfriend of a rising American Football all-star.
It is not known precisely how long the couple dated, nor why they later broke-up, but it's commonly suggested by various sources that Amendola and Reazin spent at least a year together.
Stirring Gossip
Between 2015 and 2016, Amendola was rumoured to have become involved with the popular sports telecaster, journalist and television personality Kay Adams.
Adams, who is the current host of 'Good Morning Football' on the NFL Network, has never earned a reputation for mixing pleasure with business. However, when it came to Amendola, it seemed she couldn't help herself, if rumours are to be believed.
Danny, who at the time played for the Patriots, was seen with Adams and a group of friends at the annual Super Bowl event. Of course, rumours spread quickly and suggestions rose, clearly built on speculative conclusions.
A particular photo that Adams uploaded to her social media placed even more attention on the possibility of blossoming romance. However, neither one confirmed nor denied anything when asked, though Adams said that she has no interest in dating football stars.
It's #BreastCancerAwarenessMonth and I'm supporting @StrykerPRS and their #KnowYourOptions campaign. Join us in our mission to raise awareness & help educate. Who do you wear pink for? #BCSM #ad pic.twitter.com/zYtnapcMGq

— Danny Amendola (@DannyAmendola) October 25, 2019
Regardless of her statement, when Amendola and Adams appeared together five months later at the ESPY Awards ceremony, it just about confirmed all the speculation in the media.
In 2016, their suspected relationship reached its first-year anniversary mark, but around the same time the rumours started fizzling out, and so it seems had the chemistry between Amendola and Adams. The couple didn't attract much attention following this point, and haven't been seen together since.
Winning The Hand of Miss Universe
2016 marked the beginning of Amendola's most talked-about relationship, with no other than the beautiful Olivia Culpo.
Culpo, who became a renowned and popular social media personality and fashion influencer, won the Miss Universe crown in 2012, following the Miss USA title prior to this great achievement.
Considered by all means a lucky man, Amendola dated Culpo for three years, going through a long and sometimes arduous relationship marked by numerous on-again-off-again complications.
In 2019, their tumultuous relationship came to its final end, with Amendola posting a ranting message about their relationship on his social media feed. In the post, which was deleted soon afterwards, Amendola complained about Culpo's lifestyle and her constant concern in gaining attention on her social media platforms.
https://www.instagram.com/p/CQl7sjHHJ4A/
Amendola insisted that her lack of privacy clashed with his lifestyle, considering that he would rather nail photos to a wall than display his life where others would be out to judge him or his closest family. After deleting the post, Amendola uploaded a photo, accompanied by an invitation to join the party, stating that since it's over between them, he might as well enjoy his time as a bachelor.
While few actually know what went wrong between Culpo and Amendola, most people have accepted that their different lifestyles drove them apart. However, according to stories published around the same time, there might exist a faint possibility that Amendola's involvement with the sports reporter Bianca Peters, could have been the reason behind their separation.
In 2018, pictures of Amendola and a bikini-clad Peters surfaced, suggesting an affair between them. However, the pair insisted that they were only friends, having met the night before at a house party. When the scandalous pictures emerged, both Peters and Culpo both stated that they wanted nothing more to do with the recent Miami Dolphins signed wide receiver.
Peters added that Danny hadn't informed her about his girlfriend, and didn't want to be dragged into their mess, while Culpo expressed her shock and heartache before her social followers.
The Ladies Since
In 2019, following his release by the Dolphins and his signing to the Detroit Lions, Danny was seen getting cosy with another social media influencer, Emily Tanner. The pair met following his break-up from Olivia, with rumours of a mysterious woman getting closer to the football all-star.
The woman was quickly identified as Emily, with whom Amendola would spend a lot of time in the days and months that passed. Unfortunately, it seems that their romance was never meant to last, as barely a year later the couple parted ways.
In February 2020, new pictures of Amendola and an unknown female companion walking on the beach surfaced, with speculation once again running wild. The lady at Amendola's side turned out to be the singer Jean Watts, who according to most reports, Amendola had been dating. As of late, the only news concerning Amendola's relationship with Watts is about another beach trip they took recently.
The couple seems happily in love, and for now, it's accepted that Amendola is in a stable relationship with his latest partner, Jean. Well, just hang on to confirm the validity of that statement, or not!