Who has David Hasselhoff dated? David Hasselhoff's Dating History
• David Hasselhoff is an American actor, singer, producer, and TV personality
• He married Catherine Hickland in 1984, but divorced 5 years later
• In 1989, he married Pamela Bach, but the marriage ended in 2006
• He then married Welsh model Hayley Roberts in 2018
• Despite a 28 year age gap, the couple are still happily married
If you don't know who 'The Hoff' is, you may as well have been living under a rock. American actor, singer, producer, and TV personality, David Michael Hasselhoff holds the Guinness World Record as the most-watched man alive today. Ever since the beginning of 'Knight Rider' back in 1982, David Hasselhoff has become a household name that almost everyone knows, and with the advent of 'Baywatch', his popularity grew even more.
David was born on 17 July 1952, in Baltimore, Maryland USA, to Dolores Therese and Joseph Vincent Hasselhoff who have German, English, and Irish ancestry. While his mother was a homemaker, David's father was a business executive, and despite the family moving a couple of times, David's childhood was mostly easy-going.
David spent most of his early life in Jacksonville, Florida, but later moved to Atlanta, Georgia, where he completed Marist School. He made his first stage appearance as Peter Pan when he was seven years old, and since then dreamtd of having a successful career in acting on Broadway. Following his matriculation in 1970 from Lyons Township High School in La Grange, Illinois, David attended Oakland University.
Other than a successful career as an actor, David has also had some success as a singer. His singing career took off in the early eighties, and his most recent album release was in 2019. His first album, 'Looking For Freedom', was widely popular and well accepted in Europe, and even produced a No 1 top charter.
However, as interesting as 'The Hoff's' career has been, his romantic interests have inevitably attracted some attention, especially his most recent involvement. Aside from making headlines as drunk in 2007, David has also made headlines with two past divorces, and now for dating a woman 27-years younger than himself.
From all of David Hasselhoff's relationships, it is easy to tell that he has a thing for blonde beauties. His first wife, Catherine Hickland, is a blonde bombshell who gained prominence as an actress throughout the seventies and eighties.
She starred in numerous soap operas, including 'One Life To Live' and 'Texas'. Her signature blonde hair and blue eyes afforded her plenty of attention, and she married several of the most successful men.
David was her second husband, who she married after her first marriage to Richard Knowlton hit rock bottom.
While engaged to David, they recorded two songs together – 'Our First Night Together' and 'Let It Be Me'. Catherine also appeared in Hasselhoff's series 'Knight Rider' as Michael's love interest, Stephanie, and in the episode 'The Scent Of Roses' they filmed their on-screen  wedding, which was a recreation of their real-life celebration. On 24 March 1984, they tied the knot in real life, but before they could celebrate their fifth anniversary, the couple separated and divorced on 1 March 1989.
In a surprising turn of events, it seemed as if Catherine's obsession with 'Knight Rider' would not end there.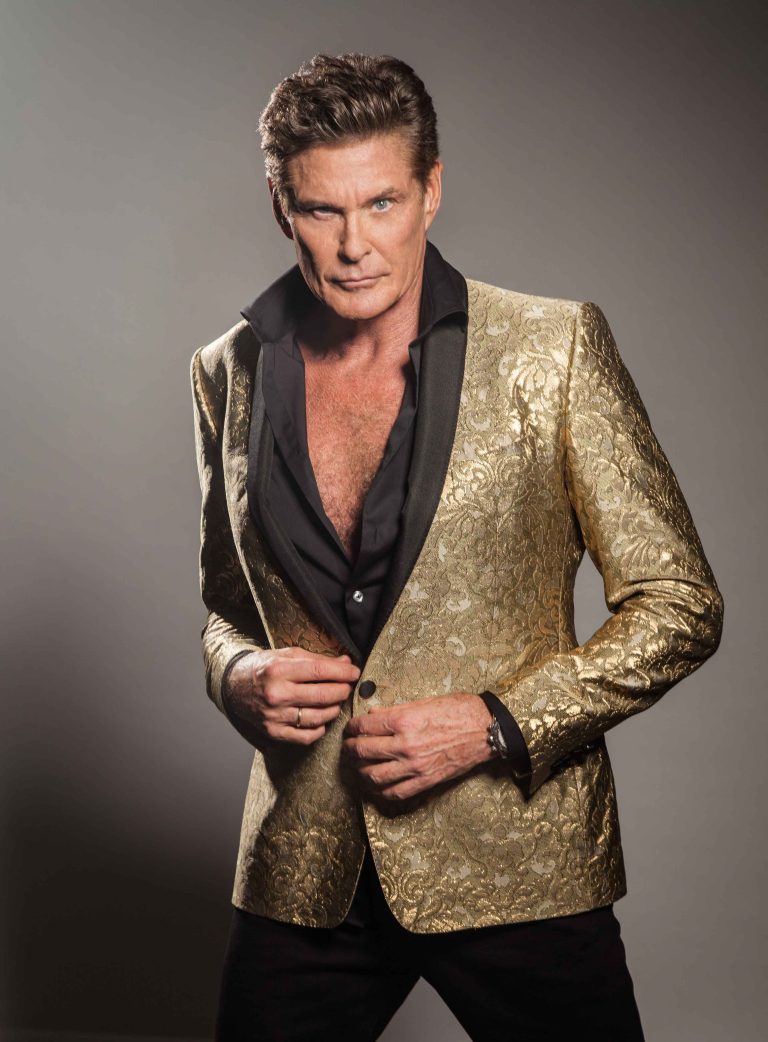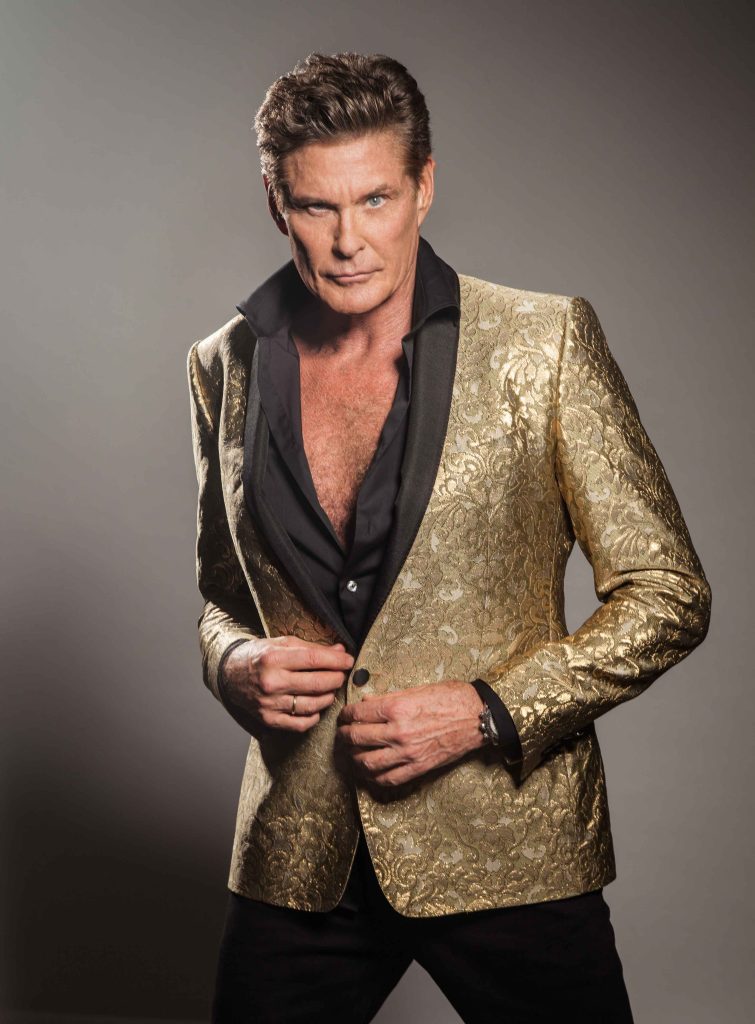 Despite being divorced from the star of the show, Catherine had found a way to remain married to Michael. In 1992, she married 'The Young and The Restless' star Michael E Knight, and even to this day she still owns a replica of Hasselhoff's talking car KITT.
Since most of the details about David and Catherine's marriage are lost in history, it is hard to say what exactly went wrong and why the couple divorced. Most of it is a mystery that will now only be known to Hasselhoff and Hickland.
Catherine has since divorced Michael, and married producer Todd Fisher in 2012, while David moved on to a second wife who he met a couple of years after his divorce. Hickland nowadays works as a hypnotist, and is also the celebrated author of heartbreak recovery self-help books.
Although Hasselhoff has had several public relationships that attracted a lot of media coverage, David has also had a few relationships that people hardly knew about, and are likely by now forgotten.
During the seventies while still a rising star, David dated, and later became engaged to Roberta Leighton. Like all of David's love interests, Roberta is a blonde beauty, and an actress who gained fame for her role in the 1981 war comedy 'Stripes', starring Bill Murray.
David and Roberta dated through 1970 and '71, but because the relationship happened so long ago, few still recall details of their romance. It may also be because, at the time still under 20, David hadn't gained too much exposure, and was relatively unknown. Exactly who broke off the engagement is disputed – some believe that Roberta ended the relationship, while others support the belief that it was instead David's decision.
David Hasselhoff interpretará a un superhéroe para DC https://t.co/2cpFBGncvK #DavidHasselhoff #DC via @LaCasaDeEL

— Sonia thoss (@sonia_thoss) October 15, 2020
The other relationship that got by under the radar was with Linda Butsnik, now Linda Morris. Linda is an unknown woman with whom David had an affair during his separation from Catherine, but while few even know what she looks like, if one had to guess, she would most likely be blonde. Their relationship, however, was short-lived, lasting from August 1988 to February 1989, and few details are available about the true nature of their affair.
David may have starred alongside Pamela Anderson, but despite fitting David's preferred profile, she didn't become one of his love interests. However, David did marry her namesake, Pamela Bach, his second wife.
David's second marriage, despite lasting 16 years, was perhaps the most ridiculed and endured plenty of media coverage, that especially focused on digging up the dirt.
Few people know when David Hasselhoff started drinking, but during his second marriage, his habit apparently began getting out of hand.
In the beginning, their relationship seemed to be good, but according to Pamela it was his habit that drove them apart. They met on the set of 'Knight Rider' in 1985 while Hasselhoff was still married to his first wife. Nobody knows for sure when they started their romantic involvement with each other, but in 1989, shortly after he divorced Catherine, the two got hitched.
Pamela was yet another blonde bombshell actress who fascinated the 'Baywatch' actor. She starred in a recurring role in the 1990s crime drama series 'Sirens', as well as several other series and films, but after marrying David, Pamela placed her career partly on hold to raise their children. In 1990, Pamela gave birth to Hasselhoff's older chil, Taylor Ann, and in 1992 Hayley was born.
In 2006, while Pamela and David went through their divorce proceedings, things between them quickly became ugly. David claimed that the divorce would eventually see him broke, despite having earned $100 million for his involvement in 'Baywatch' alone, however, it was simply an attempt to prevent major financial loss with the settlement.
During the court hearings, information regarding the nature of their marriage leaked to the public, and it seemed that both parties threw dirt at the other. Pamela accused David of being a serial cheater, an alcoholic, and also claimed that The Hoff abused drugs and turned violent against her on several occasions. In response to the abuse claims, David said that the only person who messed up Pamela's nose was her plastic surgeon.
However, the accusations of alcoholic abuse turned out to be true, as a video went viral in which Taylor begged her drunken dad to stop drinking. David later admitted he had a problem, and sought help in a rehabilitation centrum for his excessive drinking. During the proceedings, David also accused his ex-wife of drug abuse, claiming that she tested positive for cocaine only months before the divorce hearings. He also accused her of being drunk at their daughter's sixteenth birthday celebration.
On 12 January 2006, the divorce proceedings ended, granting joint custody of the children and a settlement of $21,000 a month in spouse payments for Pamela. However, David later regained custody of his children, and reduced the maintenance payments to his ex-wife by half of the original agreement.
During an interview in 2008, Pamela talked for the first time about the reality of their marriage. In her revealing tale-tell, Pamela said that Hasselhoff's drinking was the real reason for their separation. She mentioned one occasion where David would call her up from a hotel room, telling her that he had been drinking and felt on the verge of dying. Following this episode, in 2002 David agreed to start seeking help for his problem, but failed to comply and follow through on his word. Pamela said that he, unfortunately, loved the bottle more than he loved her. David has since admitted that he feels guilty about both his failed marriages, since he thinks of himself as a romantic, and only wanted one life partner.
Third time seems to be the charm for the 68-year-old 'America's Got Talent' judge, or at least that is what he believes. In a recent interview, David insulted his previous wives by saying that his third marriage was the only one in which he married for love.
Despite a concerning age gap of 28 years, Hasselhoff tied the knot with his 40-year-old Welsh model girlfriend, Hayley Roberts who, unsurprisingly, is a blonde beauty. The two met for the first time in 2011 when The Hoff auditioned to become a judge in the British version of the 'Got Talent' show.
Hayley approached Hoff at his hotel in Cardiff, asking for an autograph, but David agreed only on the condition that she give him her 'phone number. Since then, they have been inseparable, having started dating shortly afterwards. David once confessed that he knew he was going to marry the beautiful Welsh model from the first time he laid eyes on her, and his proposal five years later seemed inevitable.
In an interview with Hello! Magazine in 2016, Hayley said that his proposal surprised her, as she never thought that he would ever ask her to marry him.
She also mentioned that they were both in tears, though despite being sweet and romantic, that would not be a way anyone would want to picture Michael Knight.
To make things even more romantic, The Hoff proposed while the couple picnicked on a Malibu beach. Roberts, now Hayley Roberts-Hasselhoff, would not have accepted the proposal without her husband's children's permission. Hayley, who shares her name with David's youngest daughter, said she formed a very close bond with both Taylor Ann and Hayley, who both gave their blessings when their father announced the engagement.
On the wedding day, both had the honour of being their father's ring bearer. After dating for five years and being engaged for another two, the couple made their vows on 31 July 2018 at a small ceremony held with friends and close family in Puglia, Italy, at the Masseria Pettolecchia La Residenza.
Roberts wore a gown designed by Galia Lahav, and in true Hollywood fashion, to finish off the ceremony, David treated the guests to a pool party.
They then spent their honeymoon lazing on the beaches in the Maldives for two weeks. Like her role model, Meghan Markle, Hayley now too has the title of HRH, actually just so happy to be Hasselhoff's Royal Highness.
When asked about their obvious age gap, Hayley said that at first it was a nerve-racking concern for her, but after she got to know The Hoff, she admits that now she hardly even notices the difference. David admitted that he was afraid of marrying Hayley because of their age difference, but they had been so great together that he convinced himself to go through with it. She admitted that this might be because David acts much younger than his age, and it puts her at ease.
Today, the couple have seemingly been happily married for two years, and everything seems to keep getting better for them. At least there haven't been any controversial incidents between them – let's hope that it stays that way!