Who has Dennis Rodman dated? Girlfriends List, Dating History
Dennis Rodman is a retired American professional basketball player, who was a 2x National Basketball Association (NBA) Defensive Player of the Year, 5x NBA Champion, 7x NBA Rebounding Champion, and a 7x NBA All-Defensive First Team. With this impressive basketball resume from being one of the talented Bad Boy Pistons to the much-celebrated Chicago Bulls' Big Three along with Michael Jordan and Scottie Pippen, it wasn't any surprise when he was inducted into the Naismith Memorial Basketball Hall of Fame in 2011.
He even earned the moniker "The Worm," due to his uncanny ability to circumvent his way out of any tough situation under the paint, just to get possession of the ball in rebounds. However, his eccentric activities and flamboyant personality off the court, including his fashion style, colorful hairstyle, family drama, and dating history sometimes overshadowed his basketball legacy.
Bad boys for life… pic.twitter.com/XzCX0XxDDd

— Dennis Rodman (@dennisrodman) May 8, 2020
His recent tête-à-tête with North Korean leader Kim Jong Un, left everyone perplexed, particularly when he told the dictator that he had a friend for life, when meeting for just the first time.
Dennis was a product of a broken home, as his father, Philander, a US Air Force veteran who served in the Vietnam War, left their family in Trenton, New Jersey when he was still a young kid, to settle in the Philippines. He and his older sisters were single-handedly raised in one of the poorest communities in Oak Cliff, Dallas by his mother, Shirley. She was quite busy handling odd jobs, just to put money on the table, so didn't have enough time to coddle him. He had a hard time growing up, as he was bullied by other kids in the neighborhood. He couldn't find direction, and was shattered after failing to make it onto the football team, and being benched on his basketball, team as he was just 5ft 6ins, or 1.67m back then.
After graduating from high school, he was kicked out of his own home by his mother when he couldn't find a job. He lived on his friend's couch, and worked several odd jobs including being a janitor in the local airport. Then he had a growth spurt from 5ft 11ins to 6ft 7ins, (1.75m – 2.01m) and decided to try basketball once again in college. He found his niche, thrived on it, and the rest is history.
Dennis Rodman's Sexuality and Dating Evolution
Over the years, people had been fascinated as well as confused with Dennis' sexuality. He was often seen wearing clothes that were considered effeminate, along with painted nails and bleached hair; apparently, his older sisters would dress him up in feminine clothes when he was a child. During the autograph signing of his book, he showed up in a wedding dress with a wig and in full make-up. Some believed it was a marketing ploy when he said, 'I'll wear anything to get you to spend $24.95.' Even Oprah Winfrey asked him during an interview back in 1996 if he was gay, but he denied it.
However, Oprah pointed out that he wrote in his book, "Bad As I Wanna Be" (1996), that in his mind, he was bisexual. Dennis said that one could be capable of being attracted to the same sex, but it doesn't necessarily mean one has to act on it. Whether he's bisexual or not, no one knows for sure, but it can't be denied that he has the most fascinating dating history, including with some of the most coveted women in Hollywood.
The First Wife – Annie Bakes (1987 – 1992)
Dennis met his future first wife, Anicka "Annie" Bakes in 1987, when he was partying at a club. She did club hosting after she quit modeling when a vehicular accident left her with scars. They dated for a while, then moved in together. After a year, Annie bore him his first child, a daughter they named Alexis. While the relationship was on and off, they eventually married in 1991 in Lake Tahoe, Nevada, but she filed for a divorce the following year, later revealing that it was a tumultuous relationship, and that Dennis had forced her to have four abortions during the time she was with him.
She also said that he was cheating on her, and she even contracted a sexually transmitted disease from him. All of it was detailed in the book that she released, entitled "Worse Than He Says He Is: My Walk on the Wild Side with Dennis Rodman."
Madonna, "The Material Girl" (1994)
When it was revealed that Madonna, the quintessential Queen of Pop, was dating "The Worm," the media couldn't get enough of them. When two wild, unapologetic and outlandish personas come together, it stirs up the curiosity of fans worldwide, as they expected controversial scenarios. What was remarkable was that Dennis and Madonna only dated briefly, just about two months, but it was so highly publicized that people thought they hooked up for quite a while. At that time, he was still dating another woman by the name of Kim – when he flew to Vegas with her, Madonna learned about it and went to Vegas as well, and booked the room beside Dennis's room at the Mirage hotel. When they met, she told him that if he wanted to be with her, he had to leave his other girl, which he did.
Dennis said he didn't feel that bad for Kim, since the relationship was already on the rocks, apparently due to Kim's repeated lies.
Dennis shared in his autobiography, "I Should Be Dead By Now," that Madonna was trying to get pregnant at that time and locked him inside their hotel room to devote time to achieving her goal. It was even reported that Madonna offered him $20 million just to have her impregnated. He recalled a time when he was away in Las Vegas and gambling in one of the casinos, when she called him up saying, 'I'm ovulating, you need to come here.' He was thousands of miles away at that time, but she was insistent and sent a private plane to fetch him! He left the playing chips on the table, and told the casino management to hold his place. Dennis flew to New York, did his part, and flew back to Vegas to continue playing. He said that he left Madonna in an upside-down position to hold his sperm, apparently just as most women did when they were desperately trying to get pregnant. Unfortunately, nothing came of it as she never bore him any offspring, and they went on their separate ways as the relationship didn't work out.
Most people believed that it was Madonna who influenced him in freely expressing himself through his controversial fashion choices and bizarre marketing stunts. However, Dennis said that wasn't true, and whatever he did was his unique way of introducing the other part of himself to the public. In a 2020 interview, he downplayed his relationship with her to 'just a fling', and said that he didn't really know her even if they had talks at that time. He now claims that they were friends who helped each other.
Jeannie Buss – The Most Improbable (Sometime in the 90s)
Many were shocked when it was revealed that he dated Jeannie Buss, who's the current controlling owner and President of the Los Angeles Lakers basketball team. No one knew the exact details of the relationship, but people assumed that it probably happened during Jeannie's wild Playboy Magazine days, when she posed nude for the cover, and way before her relationship with Phil Jackson, former Chicago Bulls coach and former President of the New York Knicks. They remain friends up to this day, and in 2018; she provided front row seats for him and his children in a Lakers basketball game.
Toni Braxton – Denied (1996 – 1997)
During the MTV Video Music Awards in 1996, photos of Dennis hugging R&B singer Toni Braxton on the red carpet went viral. Fans believed that they were romantically involved just by looking at their body language, and for several years it was generally accepted that they indeed hooked up back in the '90s. Many envied Dennis for having dated Toni at her prime, because at that time she already had three Grammy Awards, two Billboard Awards, and three American Music Awards for her mega-hit songs, "Unbreak My Heart" and "Breathe Again." In Michael Jordan's "Last Dance" documentary aired in 2020, that photo was shown when they talked about Dennis's past relationships. During a recent Twitter Q&A Toni had with her fans after the documentary was shown, the multi-platinum artist refuted any dating claims. She told her fans that while Dennis was quite hot back then, they didn't date. She further elaborated that they were together solely because they presented someone that night. However, there was another photo floating around social media of her and Dennis sitting inside what appeared to be a restaurant.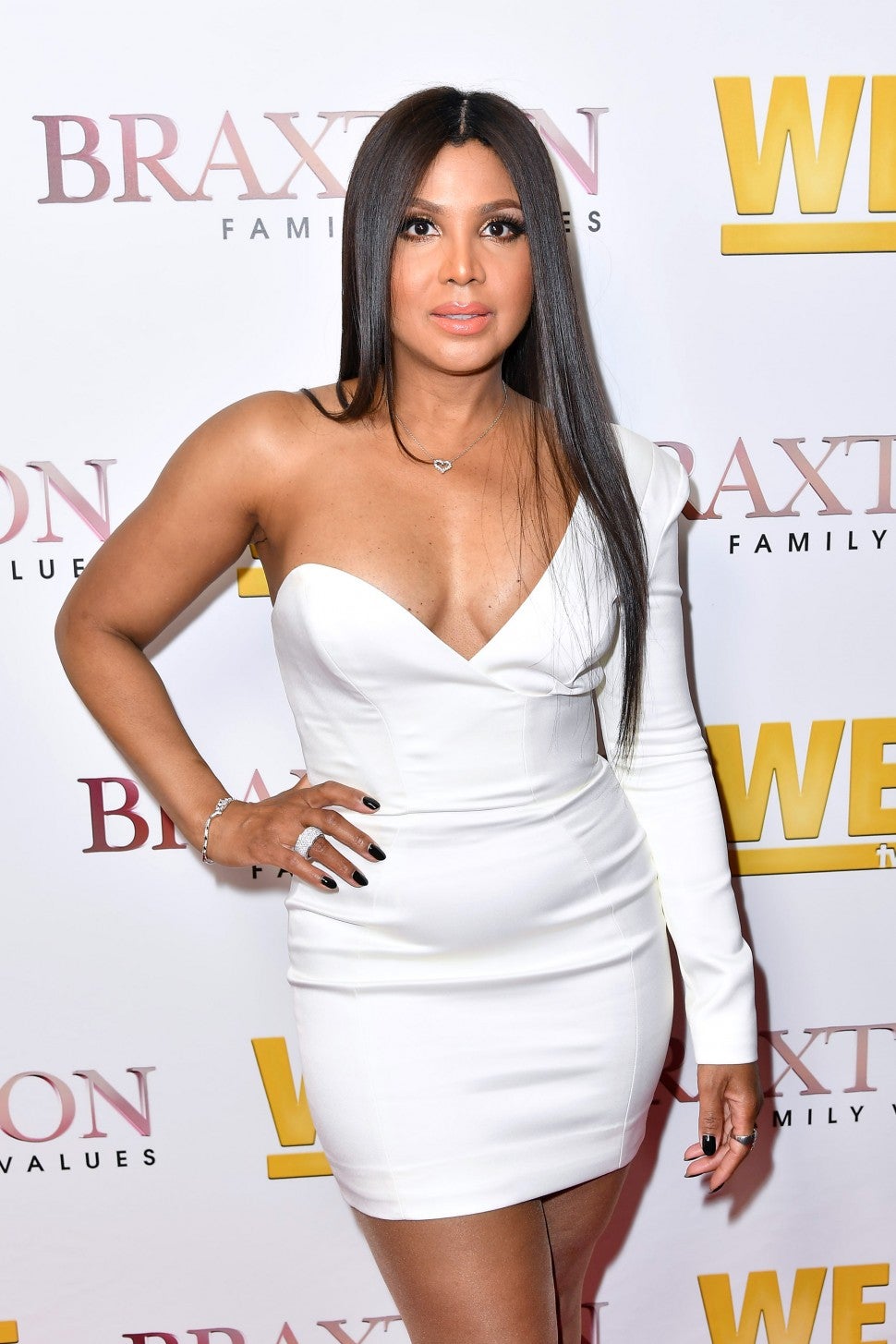 Vivica A. Fox (1997 – 1998)
Dennis made the headlines once again in 1997, as he had the beautiful actress Vivica A. Fox on his arm during the Academy Awards in Tinseltown. At that time, Viveca's career had just taken off after being in the sci-fi disaster movie starring Will Smith, Bill Pullman, and Jeff Goldblum called "Independence Day," which grossed more than $800 million globally in 1996. She also had another blockbuster and critically acclaimed movie entitled "Set It Off", with Queen Latifah and Jada Pinkett Smith.
After those two were seen together that night, everyone assumed that they were a couple. Since there weren't any social media back then, celebrities couldn't deny or confirm any allegations in real-time, unless they had certain resources and could schedule a press conference. In 2020, it was brought up once again, and Vivica had the chance to clear it up in her talk show, "Fox Soul." She denied it, and explained that she received a call from her agent that she was invited to the "Oscars." She said yes, and learned that she would be partnering with Dennis. That night was the first time she met him, and they parted ways after the event.
She said that not everyone knew that pairings during Hollywood events like that were set up by organizers to bring more glitz and diversity to the event. In 2019, during his podcast entitled "On The Rebound," Dennis clarified that he only dated a black girl once in his life, and that was when he was 18 years old. One of his guests pointed out that his Wikipedia page says that he dated Vivica, which he flatly denied. He said she pissed inside his limo that "Oscars" night – it wasn't clear if he was joking.
Carmen Electra – Second Wife, "Baywatch Babe" (1998 – 1999)
His relationship with American singer-actress, host, and Playboy cover girl Carmen Electra, was one of the most riveting and buzz-worthy of all. This was only because both of them were willing to candidly share with the public the good, the bad and the ugly in their relationship. Everything was going great for Carmen, as she had become a series regular in the popular lifeguard TV series "Baywatch," and took over hosting duties from Jenny McCarthy in the high-rating dating show called "Singled Out."
👀Carmen Electra says she and Dennis Rodman had sex "all over' the #Bulls' practice facility: https://t.co/iF1x4vTWM4 pic.twitter.com/KMc8bzCxbC

— Complex (@Complex) April 27, 2020
However, in 1998 she was devastated and felt lost when her mom died of brain cancer, and a couple of weeks later, her sister passed away after a heart attack. She met Dennis when she was in a self-destructive mood, and he was the life of the party. A few weeks after the deaths, she and Dennis married in Vegas. She had tried numbing herself to the pain by drinking alcohol, and latched on to Dennis just to have fun. People were quite surprised at why she apparently fell in love with him, because he had the reputation of being one of the 'baddest' boys on and off of the basketball court. In her eyes, he was just an emotional gentle giant, who was embroiled in a lot of suppressed pain. That was the reason why they connected quite easily.
Their over-the-top Hollywood parties were quite legendary, Dennis saying that those times were quite wild, and they really had fun. She shared through an interview that in their relationship, when it was good it was really good, but when it became bad, it was horrid. They had a very passionate relationship with lots of sex involved.
There was one time that he surprised and brought her blindfolded to an empty Chicago Bulls practice facility, and they had so much sex around the facility including the training room, locker room, shower area, and on court. In Michael Jordan's documentary in 2020, he shared an interesting anecdote when he needed to fetch Dennis from a hotel room in Vegas, because they were in the middle of winning an NBA championship. When an incensed Michael knocked on the door, a nude Carmen hid behind the sofa, because she knew that Dennis was in trouble and she didn't want to be in the middle of an angry confrontation between the two.
However, not everything was great between them, as they were both arrested and in handcuffs in 1999 for domestic violence. They fought in a Miami hotel, and things escalated to the point that the police were called to intervene. They were both slapped with a $2,500 fine, and were ordered by the judge to stay at least 150 meters away from each other.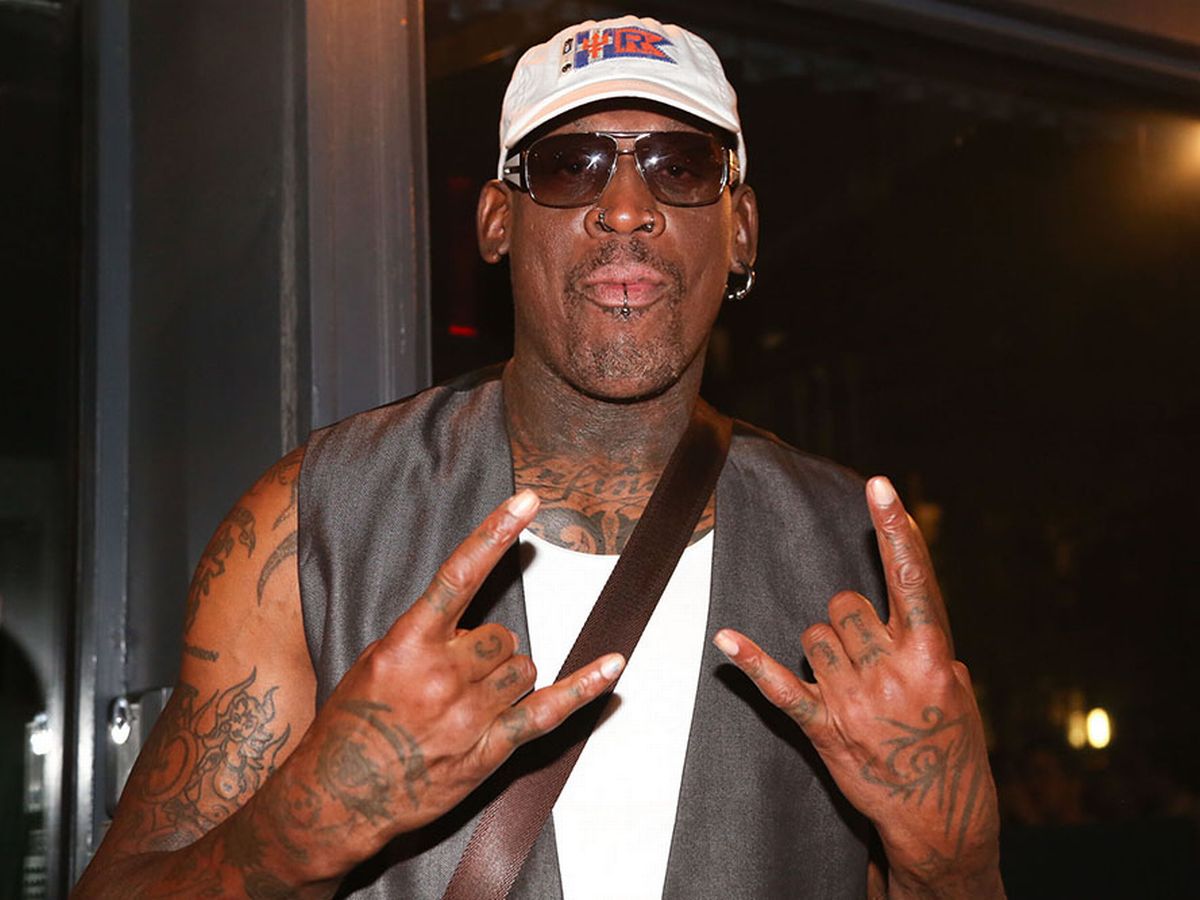 Nine days after their wedding they filed for divorce, citing that they weren't of sound mind when they married. They were granted a divorce in 1999 after being married for a year, but they still continued to date after that, as apparently they really liked each other.
Michelle Moyer – Third Wife, "Longest Relationship" (1999 – 2012)
As with most of his previous relationships, Dennis met his future third wife, Michelle Moyer, at a club in 1999. The 36-year-old blue-eyed white Caucasian was also living at Newport Beach, about two miles away from Dennis's home in California. No one knew what she was doing before she met Dennis, but she has a daughter named Teyana from a previous relationship. Everything seemed to be going great between the two; they dated for four years before he asked her to marry him, in a civil ceremony on 13 May 2003 that coincided with his 42nd birthday.
During those four years, she bore him two children, a boy named Dennis Thayne Rodman Jr. born in April 2000 whom they fondly call D.J., and a girl they named Trinity Rodman, born in May 2002.
They had a very unconventional living arrangement, as they didn't live together. She would either bring the children to his home or he would visit them in her home. Some people thought that it was probably the reason why the marriage lasted for quite some time, because they didn't get to see each other day in and day out.
However, not everyone knew that less than a year into the marriage, she filed for a divorce in 2004; Dennis contested it and wouldn't sign the papers. He wanted them to work it out, so they reconciled. For many years they continued trying to work out their differences, but eventually, she re-filed for a divorce. She revealed the ugly truth about their marriage, such as Dennis always being intoxicated in the presence of their children. The divorce was granted in 2012.
Dennis battled alcoholism and couldn't earn money steadily. This resulted in him owing his former wife around $800,000 for child support, and more than $50,000 for spousal support in 2012; his lawyers claimed that Dennis couldn't pay due to his condition.
Gina Peterson – Misdemeanor Spousal Battery (2008)
Although Dennis and Michelle were already separated, they were still officially married when he made the headlines once again, and was arrested for physical abuse, but released on bail, pleading no contest to a misdemeanor spousal battery that was filed against him in June 2008. While most people thought it was Michelle who filed the case, it wasn't, but a girlfriend by the name of Gina Peterson. Apparently, the two had too much to drink in a hotel and started to argue, which later escalated. Some said he whacked her up while others said that the large bruise on her arm was just him grabbing her. Someone from the hotel security called the Los Angeles Police Department, and they made the arrest. Dennis was sentenced to 45 days of cleaning streets, and a year of counseling, with three-years probation.
Domestic violence was not something new for Gina Peterson, as her former husband George Peterson whom she married in 2002 and divorced in 2004, successfully filed a restraining order against her to stay away from him, their children, and his new wife.
HBD, @dennisrodman pic.twitter.com/D5Bty5vxe0

— FREE AGENT (@evboogie) May 13, 2019
It was found out that she had a history of violence not only with George, but also with their children and was once ordered to involuntary psychiatric lockdown by the court. George was part of the cast of the reality television show entitled "The Real Housewives of Orange County", as he married one of the series regulars, Lauri Waring, in the second season.
Dennis and Gina allegedly continued dating, as she said in an interview that she didn't mind being the catalyst for him to go on rehab, but she had harsher words for her former husband, George, saying that he was a pathetic liar.
Due to the many trials and tribulations that Dennis has gone through in the past, he has managed to keep his recent relationships, if he has any, to a low-key status. He would still share past dating anecdotes during interviews, but he would also often talk about his children's achievements, and his grandchild these days.
Dennis is approaching 60 years old, and is officially single at the moment. Do you think we've heard the last of Dennis Rodman? No, we think not….