Who has Gina Carano dated? Gina Carano's Dating History
Gina Carano was raised in a family of sports lovers, so her becoming a fighter didn't catch her relatives by surprise. Her father, Glenn Carano, instilled the love for sports activities in his three daughters (Gina is the middle one), as he was a professional AmericanFootball player, for the Dallas Cowboy and then for the Pittsburgh Maulers. Gina's choice of boyfriends is also not surprising – she mostly dated her colleagues, who were fighters, kickboxers or at least bodybuilders.
Gina Carano cites Kevin Ross as her biggest inspiration
Gina has always been an athletic person – in her early years she moved to gymnastics after a couple of years of taking dance classes; then she played some volleyball, basketball and softball during her high school years. However, Gina's family was going through a big crisis, so she rejected all offers to play basketball and volleyball at college, staying close to her family members.
It was the time when Gina's older sister had serious problems with drugs; the situation was even more difficult as Gina's parents were already divorced by that time, so they worked hard to make their kids feel comfortable in any life situation.
By 2007 Gina didn't mind talking about it, as her family overcame all the difficulties. It was Kevin Ross who supported Gina during that hard period. By the time they started dating in 2005, Kevin had trained in Muay Thai for a couple of years already, tutored by Master Toddy, the famous trainer. Kevin convinced Gina to start her fighting career, also training in Muay Thai. Done with her studying – first for a year at the University of Nevada, Reno, and then for three years at University of Nevada, Las Vegas – Gina made her decision to start a fighting career. 'He really did start off my career and gave me meaning to my life. It's weird that it happened, I don't know if it wasn't for him. He's the kind of person who in one day completely just changed his life and that affected mine', Gina shared the influence of Kevin Ross on her career in her interview with Las Vegas Sun Fighting.
Kevin Ross was a very successful kickboxer, who trained in Thailand for a long period of time, taking Gina with him to witness the real world of kick-boxing and to train with the most experienced masters, including Master Toddy, who trained Kevin Ross. In only a year she was noticed as a prospective fighter, and was even invited to star in a reality series, "Ring Girls", which was later promoted at the Bangkok film festival.
Breaking up with Kevin Ross
Gina and Kevin were very supportive of each other as they followed the same goals – to train, to fight and to win. While they trained, they were even sparring partners: 'When we were dating we used to beat the crap out of each other! It would be pretty funny to watch because I'd get emotional and try and knock his head off and he would have to gently put me in my place', Gina recalls in her interview with Las Vegas Sun Fighting in 2008. However, they were also focused on their own careers, which left little time for them to be together.
After another hard year of endless training and championships, Gina and Kevin broke up. '(Fans) don't see the sacrificing of friends and family. Having to be in the gym all the time, not being able to go and hang out with your friends', Kevin shared his thought in one of his interviews in 2008, also adding that most of his family members and friends, not even speaking about fans, have no idea of what it took to be a professional fighter. In 2008 they decided to stay friends, as they would still see each other often, working in the same sphere. However, they understood their relationship had no chance of lasting any longer. Some sources say that Kevin didn't agree with Gina's decision to try herself as an actress after her successful debut in "Ring Girls". Another offer to voice over the character of Natasha Volkova in the video game "Command & Conquer: Red Alert 3" in 2008 made Gina think that she really had a chance to get to Hollywood, while Kevin tried to convince her she should focus on her fighting career. Tired of disagreements, they split.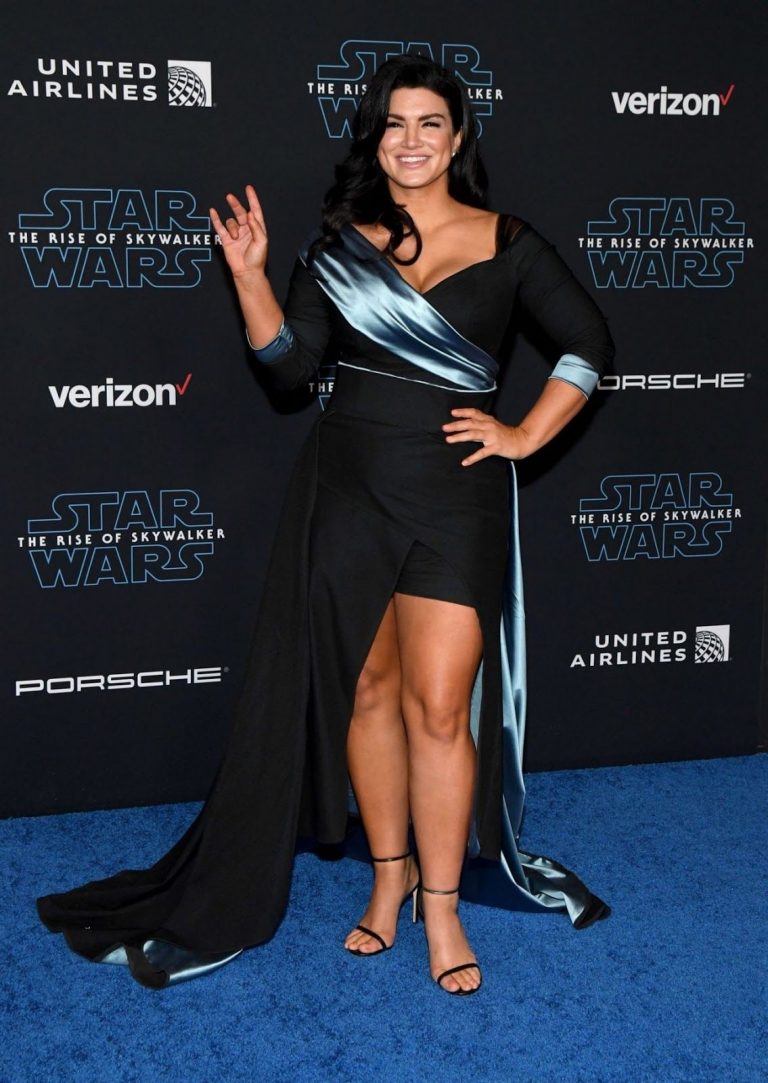 Meeting Kit Cope: how Gina Carano met the host of "Wild World of Spike" TV series
In 2007 Kristopher Lee 'Kit' Cope, an experienced Muay Thai kick-boxer from Williams, Arizona, hosted the sports show "Wild World of Spike", and pursued his fighting career, often visiting Thailand to participate in local lethwei matches. There he met Gina and was charmed by her self-confidence and fighting skills. The couple started dating right after Gina broke up with Kevin Ross. Gina's popularity grew from day to day, and by 2008 she was considered to be one of the top MMA female kickboxers. Gina was invited to grace the cover of Maxim in 2009, shot by the famous photographer Steve Shawn. However, Gina's fans were not at all happy with the resulting photos, as they were edited with breast implants, which in fact was impossible as they would prevent her from fighting effectively. Kit supported Gina, who was sad her that photos were made to look perfect, while she wanted to look realistic.
Kit and Gina continued working out together, making plans for the future.
By the end of 2009 Kit asked Gina the important question, so the couple announced their engagement. However, the couple eventually split without stating any reason of their unexpected break-up. The same year Kit shared that he had a sex tape with Gina he kept in his bedroom which she didn't know about; in the same record Kit also stated that he wasn't at all sure if Gina would still be successful if she continued to fight for Xtreme Couture, one of the most popular mixed martial arts training organizations.
In 2016 Kit married Lacee Casas, another kickboxer. There is no information if he still remains friends with Gina.
Was Gina briefly in love with Tyson Griffin?
In 2011, when Gina was officially single, rumors about her attraction to another kickboxer, Tyson Griffin, started circulating around.
Gina and Tyson first met in 2007, and were seen together on 15 November 2008 while attending the MGM Garden Arena to witness the UFC 91: Couture vs. Lesnar event, talking a lot, joking and smiling all the time; if Gina wasn't dating Kit Cope those times, anyone would think she and Tyson were a couple. The two were spotted together once again on 4 September 2011, as Tyson was hosting a fundraising event for the Boys Town of Nevada, which he also mentors, while Gina was invited as a guest star to attract more attention to the event. Nevertheless, neither Gina nor Tyson ever announced that a relationship took place, even though they were seen together quite often.
Meeting Henry Cavill: how Gina started dating the Man of Steel star
By 2012 Gina's acting career took a big twist, as she landed two roles movies: in "Blood and Bone" (2009) she portrayed Veretta Vendetta, and in 2011 she appeared in "Haywire" as Mallory Kane.
Henry Cavill attends the GREAT British Film Reception at British Consul General's Residence on February 22, 2013 in Los Angeles, California. Source: Mike Windle/Getty Images North America via zimbio.com

Posted by Henry Cavill Fanpage on Friday, February 22, 2013
Not knowing anything about Gina, during the same year Henry Cavill, a successful Hollywood actor was licking his wounds after a painful separation. By the end of 2011 he had split with his fiancé, Ellen Whitaker, a famous British showjumper. Henry and Ellen announced their engagement in May 2011, but separated several months later, causing a lot of speculation on the reason. Being half-British, Henry spends a lot of time in the UK, having a house in London. It was the "Jessie J Live" show in the capital of Great Britain where Gina and Henry first met. On 4 August 2012 Gina and her fellow actor Luke Evans decided to take a break from their filming of "Fast & Furious 6", and appeared in the VIP reception of the popular singer's live show. Luke Evans introduced Gina to Henry, as he was his good friend, and apparently they instantly liked each other, having a lot to discuss – their passion for sports, bodybuilding and working out saw them talk for hours. Henry invited Gina to take the passenger seat in the brand new McLaren 12C Spider which he was to pilot during the Jubilee Tour of Elegance in September 2012; Gina couldn't but agree.
Why Gina's affair with Henry Cavill wasn't that smooth; the reason for their first split?
Gina didn't share too many details on her affair with Henry, keeping their relationship low-key. However, the couple were spotted together on 10 January 2013 at the 18th Annual Critics' Choice Movie Awards, which took place at Barker Hangar, in Santa Monica, California, the first time for Gina and Henry to appear officially as a couple. According to Henry's interview with Details magazine, they preferred to spend their spare time close to his home at Manhattan Beach. The US Weekly also stated that Henry and Gina had instant connection, and were serious enough about their relationship. However, in May 2013 Gina was too busy promoting "Fast & Furious 6", while Henry was locked in his tight schedule of "Man of Steel" promotion, which was about to be released in June 2013. During that period of time, lacking closure, the couple broke up for the first time. They both later shared that they tried to balance between their personal life and work, but eventually both chose to focus on their work.
Gina's performance in "Fast & Furious 6" was praised by many critics, though she admitted that acting and fighting were hard to combine: 'In training in mixed martial arts, you're taught to keep all your emotions inside and then just exude it through your power. With acting, you bring all your emotions to the outside and pull back your power', Gina shared in her interview with the Los Angeles Times. Henry was also quite successful in his role of Clark Kent in "Man of Steel", earning $14 million in total for portraying Superman.
Did Henry Cavill actually dump Gina Carano for Kaley Cuoco?
In June 2013, only a month after Henry and Gina separated, the tabloids exploded with the breaking news that Henry Cavill had started dating the star of the "Big Bang Theory", Kaley Cuoco. The couple officially announced their relationship, and many sources followed the story.
However, Henry and Kaley shocked the reporters by announcing their split only 12 days after the beginning of their relationship. They were briefly caught by paparazzi while walking in the streets, shopping or hiking, always holding hands, yet the chemistry between the actors disappeared in less than two weeks. They remain friends, but were not in a relationship anymore, however, Kaley later shared with Cosmopolitan that dating Henry made paparazzi hunt for her as never before: 'I had no one following me until I met Superman. I've been in this business for 20 years <…>, I could go anywhere, do anything. There had not been one paparazzi photo of me <…> The recognition was crazy', Kaley recalls the days she spent with Henry, definitely not wanting to repeat that experience. Yet no one knows what Gina felt reading the news on Henry's new affair, when it was barely a month after their actual break up.
Reuniting with Henry Cavill: how long did this stage of their relationship last?
In October 2013 Henry Cavill started filming in Guy Ritchie's new adventure action comedy, in his homeland, in Greenwich, London.
It was the period when he and Gina started dating again, as they were seen together later in Rome enjoying some red wine on a date. It seemed that Gina did everything she could not to remember Henry's absurd affair with Cuoco, not to spoil another chance for them to be together. They started living in Henry's mansion in the US as soon as he returned there from shooting in Europe. In January 2014 the couple shared the news: they had adopted… an Akita puppy. Gina and Henry got their new buddy from the breeder in Arkansas and posted photos on social media holding a furry puppy in their hands.
The fans were more than happy – if Gina and Henry adopted a puppy (as cute as it was), they were surely ready for a long run romance. The lovebirds don't show up too much, unlike previously when they attended one event after another, and were spotted together at the Vanity Fair Oscar Party in February 2013, at a British Film Reception, held at British Consul General's Residence, located in Los Angeles, California the same month, at BAFTAs 2013 Red Carpet, etc.
Love him so much 😍😍😍#HenryCavill pic.twitter.com/HdwCEpuOwO

— 𝕾ara of 𝕽ivia 🐺 (@SaraA_HC) September 12, 2020
The fans were waiting patiently for the updates coming from their favorite couple, and the couple didn't wait for too long… to announce their break up. E!Online magazine posted the news of their second and probably last split on 9 December 2014. The Akita puppy named Kal still lives with Henry, of course a grown-up dog now.
Reuniting with Kevin Ross: does Gina enjoy reuniting with ex-boyfriends?
After her final split from Henry Cavill, Gina fully focused on her work to keep her mind busy with other thoughts. She successfully portrayed Ava in the action movie "In The Blood" (2014), and also landed the role of Kris in "Heist" (2015), starring Robert De Niro, Dave Bautista and Jeffrey Dean Morgan. By the time Gina celebrated her successful starring in Steven C. Miller's "Extraction", sharing the screen with Bruce Willis and Kellan Lutz, she also enjoyed another success happening in her life – reunion with Kevin Ross, her ex-boyfriend, who brought her to the world of professional fighting.
Gina Carano ponownie w związku z mistrzem Muay Thai Kevinem Rossem! http://www.fightsport.pl/newsy/9284-gina-carano-ponownie-w-zwiazku-z-mistrzem-muay-thai-kevinem-rossem

Posted by Fightsport.pl on Saturday, December 5, 2015
Kevin and Gina posted a photo of themselves on their social media accounts, gently kissing, and their fans around the world exulted – they simply couldn't believe it was possible. However, it was possible indeed, as Gina and Kevin are still together, as of July 2020. Kevin doesn't seem to bother Gina quitting her fighting career, and supports all her endeavors. They have been spotted together at the promotion events for such films as "Deadpool" (2016), in which Gina played Angel Dust, "Kickboxer: Vengeance" (2016), in which Gina landed the leading role of Marcia, and "Scorched Earth" (2017), another movie in which Gina played the leading role. Kevin seems to be even more focused on his girlfriends' career, as his own professional path is probably coming to an end: fighting in Bellator Kickboxing Featherweight Championship, he has lost his matches since 2017, being defeated by Shan Cangelosi in his latest fight in 2019. However, he hasn't said a word about his retirement from kick-boxing. Meanwhile, Gina has recently reached another peak in her career, landing the role of Cara Dune in "The Mandalorian" mini-series, which brought her to a new level of recognition.