Who has Gwyneth Paltrow dated? Boyfriends List, Dating History
Gwyneth Kate Paltrow, called Gwynnie by her friends, is a famous 48 year-old, award-winning and whimsically beautiful American actress, who has also sung some tunes, written books and is quite an entrepreneur in the wellness arena to boot. She was born on 27th September 1972, in Los Angeles, California, and not only has she had a busy acting career, but she's also been busy on the dating front, with a whole string of suitors and probably some broken hearts scattered in her wake.
Gwyneth's father, well-known producer/director Bruce Paltrow, was from an Eastern European Jewish family, and her mother, actress Blythe Danner is predominantly of German descent. She has a younger brother, Jack Paltrow. The family moved to Massachusetts when Gwyneth was 11, and her parents then started training her to become an actress.
Gwyneth graduated from the girls' Spence School in New York City in 1990, and went on to study as an Art History major at the University of Santa Barbara in California.
However, this wasn't the direction she wanted to go in, so after a year, she quit to make her debut in a minor role in the movie "Shout". A whole string of movies followed over the next five years, including "Flesh and Bone", "Moonlight and Valentino", "The Pallbearer" and so on, until she played the title role in "Emma Woodhouse" in 1996. This opened doors for her, and brought her the part of Viola in "Shakespeare in Love" in 1998. Her performance in this movie won her the Golden Globe, Screen Actors Guild and Academy Awards for Best Actress in a Leading Role, and jetted her into stardom.
Our blue-eyed, blonde-dyed, slender and shapely Libran star may have a waif-like air about her, yet she stands an elegant 5 ft 9 in (176 cm) tall. In 1996 she became a model for Calvin Klein, and in 1998 was recognized as one of People magazine's 50 Most Beautiful People in the World, although on the downside the same year was on Movieline Magazine's "100 Most Stuck-up" list.
Gwyneth has an ethereal, serene beauty that carries an air of mystique.
Perhaps the fact that she practices Transcendental Meditation has something to do with that!? This graceful star also practices yoga, and is on a macrobiotic diet. She also speaks some Spanish since spending time during her teens in Talavera De la Reina, Toledo, Spain.
Gwyneth Paltrow's first love
18-year-old Gwyneth's first known boyfriend was the 21-year-old American actor Robert Sean Leonard, who achieved fame through "Dead Poets Society", "House, M.D.", and in 2001 as Best Featured Actor in a Play in "The Invention of Love", which won him a Tony Award. Robert is a 6 ft (183 cm) tall good-looker in an academic, sensitive way. The young couple were together a year before going their separate ways in 1991; in July 2008, Robert married famed Equestrian Show Jumper Gabriella Salick, and they're still together.
Gwyneth Paltrow teams up with Donovan Leitch Jr.
Next up on Gwyneth's radar in 1993 was the American actor, dark-haired, green-eyed, Donovan Leitch Jr. who was born in London, England – Gwyneth was 20 and Donovan 25 when they met.
One could say that Donovan also a sports academic, with sensitive good looks. He's known for "Nancy Boy", and was the lead singer of the rock cover band, "Camp Freddy" from 2002 'til 2014. Not much is known about their relationship except that it crumbled two years after initiation, and they parted in 1995.
Gwyneth is swept away by Brad Pitt's charm
In December 1994, when Gwyneth was 22, she worked on set with her co-star, the famous and handsome, blue eyed blonde American actor/producer Brad Pitt on the movi, "Se7en". Brad was 30 at the time and is a Sagittarian at 5ft 11 in (180 cm) tall with a muscular body. Before long they started dating, which led to their engagement two years later on 20th December, 1996.
William Bradley Pitt was born in Shawnee, Oklahoma, USA, on 18th December 1963. He kicked off his acting career in television series in 1964, and since 1987 has starred in a whole string of multi-faceted movies, including "Thelma & Louise", "Interview with The Vampire", "A River Runs Through It", "Legends of the Fall", "Fight Club", the "Ocean's Eleven" sequels,  "Inglorious Bastards" and, most recently in 2019, "Once Upon a Time… in Hollywood".
He has won multiple awards and his charming, devilish attitude keeps him high up on the popularity stakes.
Of course the couple were in the world's spotlight, which Gwyneth said felt surreal to her. That lasted until some dark moment, which neither one has clarified, that blew their relationship apart in May 1997. There were rumblings that she had cheated on Brad with her "Sliding Doors" co-star, John Hannah, but that was never verified. She later admitted that she was just a kid at the time, and not ready to make the big commitment of marriage. She also intimated that she blamed herself for the split because, as she put it, her 'internal stuff tripped up that whole relationship' and 'I was the architect of my own misery … I just made a big mess out of it'. She was heartbroken for a long time after.
Hollywoods's heartthrob, Brad, went through many relationships post Gwyneth, was married to Jennifer Aniston from 2000 to 2005, and Angelina Jolie from 2014 to 2019. It seems he's currently single.
The best looking man with buzz cut, does this head look like a kiwi?🤣😍#BradPitt pic.twitter.com/CBfvCM6X4K

— dodo (@mephist19) July 27, 2021
The first of many rumors
Was it true that, shortly after a the bad break-up from Brad, Gwyneth sought comfort in the arms of the ruggedly, handsome actor, Viggo Mortensen? They met on the set of the film "A Perfect Murder", when the dark-haired, green-eye, Viggo, who was 38, and famous for his role in "The Lord of the Rings"; he's also a poet, musician, photographer and painter. He is 5 ft 11 (180 cm) tall, yet somehow his stature and appearances in movies make him appear taller. Their suspected short interlude only lasted two months, from October until December 1997.
The Benneth Connection
But wait a minute! Wasn't it at this very same time that Gwyneth had actually started dating Ben Affleck?? Apparently Gwyneth and Ben met at a dinner hosted by the producer Harvey Weinstein, and started dating in November 1997. Ben is only a month older than Gwyneth, so they were both 25 years old when they met.
Gwyneth Paltrow says dating Ben Affleck was 'very much a lesson'https://jffc.in/2018/05/25/gwyneth-paltrow-says-dating-ben-affleck-was-very-much-a-lesson/

Posted by Editorial vocab on Friday, May 25, 2018
Benjamin Geza Affleck-Boldt is an American actor/writer/producer, born on 15th August 1972 under the star sign of Leo in California, of Scottish and Irish ancestry. His brother, Casey Affleck, has often worked with him. Ben is famous for almost 80 movies, many of which were award-winning, including "Chasing Amy", "Good Will Hunting" – co-written with his lifelong friend Matt Damon, and which set both of them off on the road to fame – "Dogma", "Pearl Harbor", "Dazed and Confused", "Batman v Superman: Dawn of Justice" etc. He teamed up with Matt Damon on the reality TV series, "Project Greenlight" and has featured in multiple TV interviews.
Ben has dark brown hair and hazel eyes and stands a good 6ft 3ins (192 cm) tall. His solid, stern good looks have had him portraying many ruthless and arrogant characters.
In 2000, Ben and Gwyneth, affectionately dubbed as "Benneth", starred together in "Shakespeare in Love", and in 2001 the romantic comedy "Bounce".
Sadly, Benneth wasn't meant to last, and they split up in October 2000. Gwyneth admitted that their relationship was formed when she was on the rebound and feeling raw post Brad. She claimed that Ben had a different value system, and complicated his own life so needed to sort himself out, but later admitted that they both had learnt many lessons through their relationship, and grown. They still remain friends to this day.
In August 2001 Ben realized he needed to do something about his alcohol addiction, and voluntarily booked himself into the Promises Rehabilitation Centre in Malibu, California. In November 2002, Ben and Jennifer Lopez became engaged, and her song "Dear Ben" bears testimony to her love of him, but the "Bennifer" relationship fell apart in January 2004. In June 2005 he married actress Jennifer Garner, and they had two daughters and a son, but divorced 10 years later in June 2015.
Truth, rumors or short flings?
Was it true that while Gwyneth was dating Ben, she was double-dating (or should we say double-crossing) him?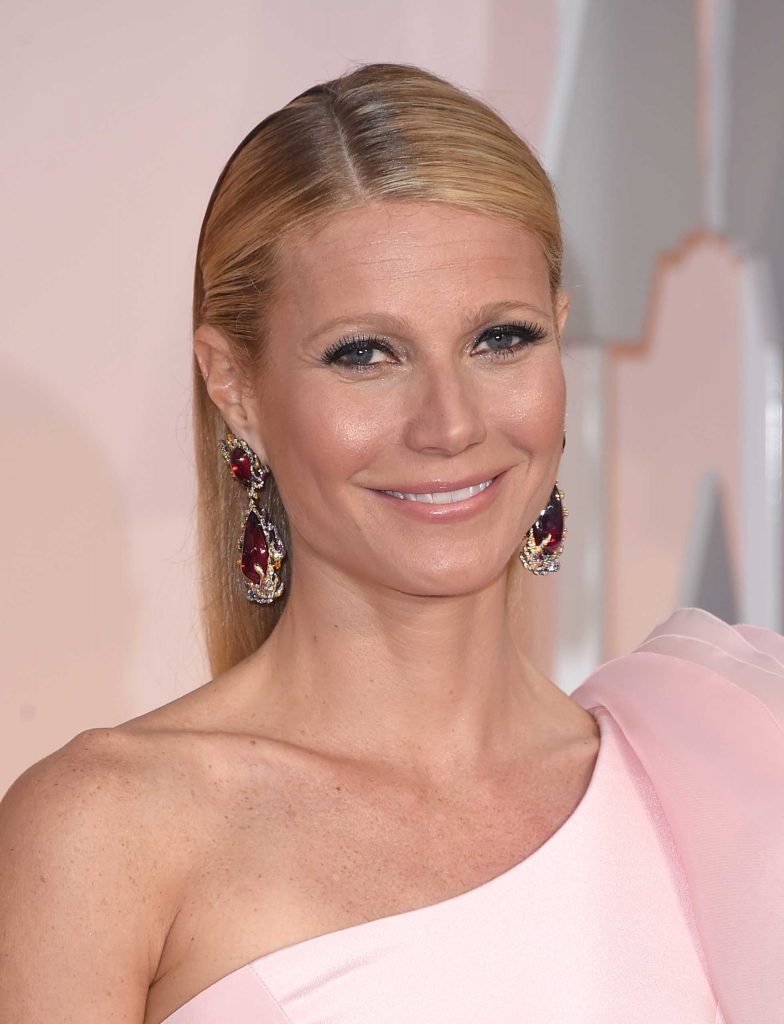 The only film on which Gwyneth and her dad, Bruce Paltrow worked on together was "Duets", in which, by the way, Gwyneth did her own singing. One of the actors on set was the cute, blue-eyed, light-brown haired American actor Scott Speedman. Scott is known for his role in the film "Felicity", and is two years younger and 2cm taller than Gwyneth. They were seen 'holding hands and nuzzling' at a Playboy Mansion party in November 1998. Did they date for two months, or did they have a short romance until January 1999 when rumors about them fizzled out?
ABC News reported on 14th November 2000, a month after the Benneth break-up, that Gwyneth was romantically intertwined with the heir to the Heinz ketchup and canned food legacy, Chris Heinz. He has strong manly looks with dark brown eyes and hair; and stands at a good height of 6ft 2in (188 cm), was 27 at the time – a year younger than Gywneth.
Was it true that Chris romanced her by flying her to London for their first date?
They were seen together around and about for a short while, until Chris canned the relationship when he found letters that Ben had written to Gwyneth.
The next relationship was for real, but not meant to be
In-between the rumors, Gwyneth hooked up with another good-looking American actor. This time the 6 ft (183 cm) tall, dark haired, hazel-eyed Luke Wilson, born under the Virgo star sign. Luke is best known for the musical TV talk show, "Wilsons Brothers". Gwyneth, 28 at the time and Luke a year older, started dating in March 2001 while filming the flop film, "The Royal Tennenbaums".
Luke has a kindly, serious face and a reputation for on-screen match-ups including those prior to Gwyneth, Cameron Diaz in "Charlie's Angels", and Drew Barrymore in "Best Men". Gwyneth and Luke were planning to marry, but a few weeks after announcing so, their relationship fell apart in January 2002.
Gwyneth was becoming notorious for launching into love affairs with her co-stars, only to dump them after the film launched.
The heartbroken Gwyneth took on a rebellious attitude, and her image suddenly transformed into that of a grungy biker chick dressed in leathers and learning to ride a Harley Sportster.
More reports, stories and rumors
By this stage Gwyneth had hit 29, and had probably never got over Brad Pitt, who she admitted was still the "love of her life". It seemed that she preferred to stay footloose and fancy free… at least for a while. But, as usual, the press didn't lay off, and soon more juicy reports of her gallivantings hit the tabloids.
First up: Did Gwyneth have a brief liaison with the British actor James Purefoy in 2002 whom she met when she was in London performing in the West End production of "Proof"? James (37 at the time) is 6ft 1 in (185 cm) tall, has brown hair and eyes and a smoking hot, moody look, which got him the 1997 Hunk of the Year award from a British magazine. He is well known for "Feast of July", "Camelot", "The Following" and the HBO series "Rome", as well as "Altered Carbon".
He had previously been married to Jessica Adams with whom he has a child, and British actress Holly Aird for seven years, and they also have a child.
Second up: The sexy and famous Canadian musician Bryan Adams, who unleashed the hit albums "Cuts Like a Knife" and "Reckless" among many. In August 2002 they were spotted at London's top exclusive the Wellington Club in Knightsbridge, and then again zipping around town on Bryan's moped. Was that enough to establish that Gwyneth was involved with the then 42 year-old blue-eyed Scorpio, who is a smidgen shorter than her?
Lastly, the British writer who published the book, "Ladies of Spain", Andrew Morton, claimed that there was something more than a friendship going on between Gwyneth and King Felipe of Spain in October 2002 when Gwyneth had turned 30, some months before the king and Letizia announced their engagement. King Felipe with his dark hair and blue eyes, is a well-groomed, tall, handsome man – a whole 6ft 5ins (196 cm) – and would certainly be a good catch for any woman. King Felipe and Queen Letizia have been married for 16 years since 22nd May 2004.
Wedding bells for Gwyneth Paltrow
Gwyneth's father, Bruce Paltrow, succumbed to cancer, and passed away on 3rd October 2002. Three weeks later Gwyneth, who was still in mourning and wasn't in the mood, was finally convinced by friends to go to a Coldplay concert with them. There she met Chris Martin, the band's founder and voice, rhythm guitarist and pianist, and they immediately hit it off.
Christopher Anthony John Martin was born on 2nd March 1977, in Exeter, Devon, England.
He is five years younger than Gwyneth and is good-looking in a real nice-guy kind of way. He stands 6ft 1in (186 cm) tall, has light brown hair with incredible, piercing blue eyes and a great smile. Coldplay's songs are pensive and emotionally touching. In April they launched their first EP, "Shiver", and the second with the highly popular track "Yellow" propelled them on the road to fame. Their debut album "Parachutes" sold in excess of 500,000 copies.
#HigherPower // Official music video // WATCH NOW ⚡️// https://t.co/MXJj933yCt pic.twitter.com/ABpltsO6ss

— Coldplay (@coldplay) June 13, 2021
The band has received some negative criticism over the years, as they had broken into the scene during a predominantly aggressive rap-metal era, and Chris' clean-cut image and his aversion to alcohol attracted mean critiques, but the band having sold more than 100 million records worldwide prove that they have a strong and loyal fanbase.
Chris has been quite outspoken on political issues, such as promoting fair trade through Oxfam's Make Trade Fair campaign, opposing US President George W. Bush and the Iraqi war, supported Obama for president in 2008, David Cameron, the British Conservative Party's leader, as well as performing in the Sound Relief benefit concert in Sydney, to raise funds for bushfire victims, the 12 12 12 Concert" for Hurricane Sandy and Band Aid 30. In 2015 he became the creative director of the Global Citizen Festival, which he envisions continuing to stage for 15 years.
Chris succeeded in capturing her heart. It's not surprising as he is a man with depth and good intentions, while being humble and authentic.
BREAKING: Gwyneth Paltrow and Chris Martin have decided to separate: http://usm.ag/1hWE003 Or, in their words, "consciously uncouple" after more than 10 years of marriage.

Posted by Us Weekly on Tuesday, March 25, 2014
Gwyneth fell pregnant, and the loving couple were married in Mexico in a secret ceremony on 5th December 2003. They mainly lived in London, but also had homes in New York and Los Angeles. Their daughter, Apple Blythe Alison Martin, was born naturally on 14th May 2004, after a gruelling 70-hour labor. When Apple was 10 months old Gwyneth returned to work on the set of "Running with Scissors", and subsequently finished working on "The Good Night" when she was six months pregnant with her son. Moses Bruce Anthony Martin arrived via Caesarean section on the 8th April 2008, as Gwyneth was afraid of going through another difficult labor. She suffered postpartum depression afterwards, but 11 months later was back at work, on "Iron Man".
In 2008 Gwyneth was appointed Ambassador for the Entertainment Industry Foundation (EIF)'s Women's Cancer Research Fund.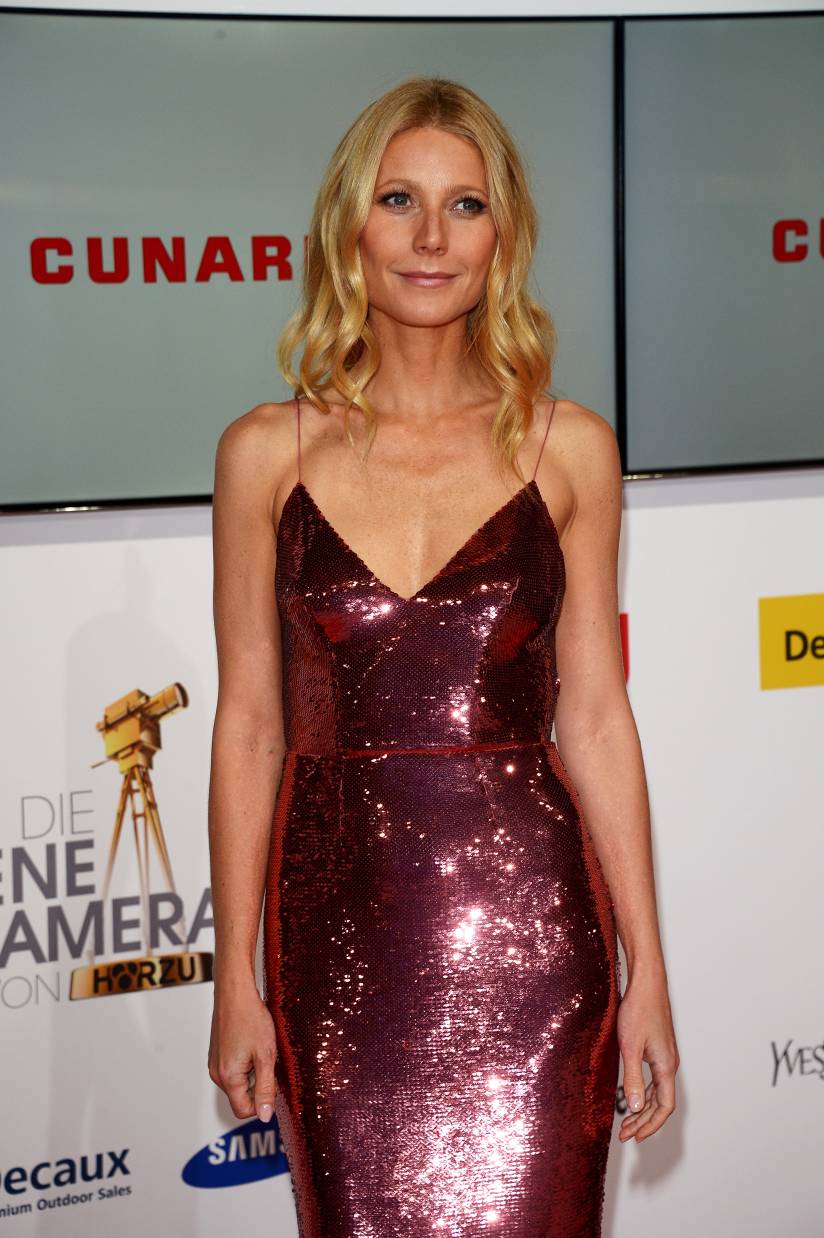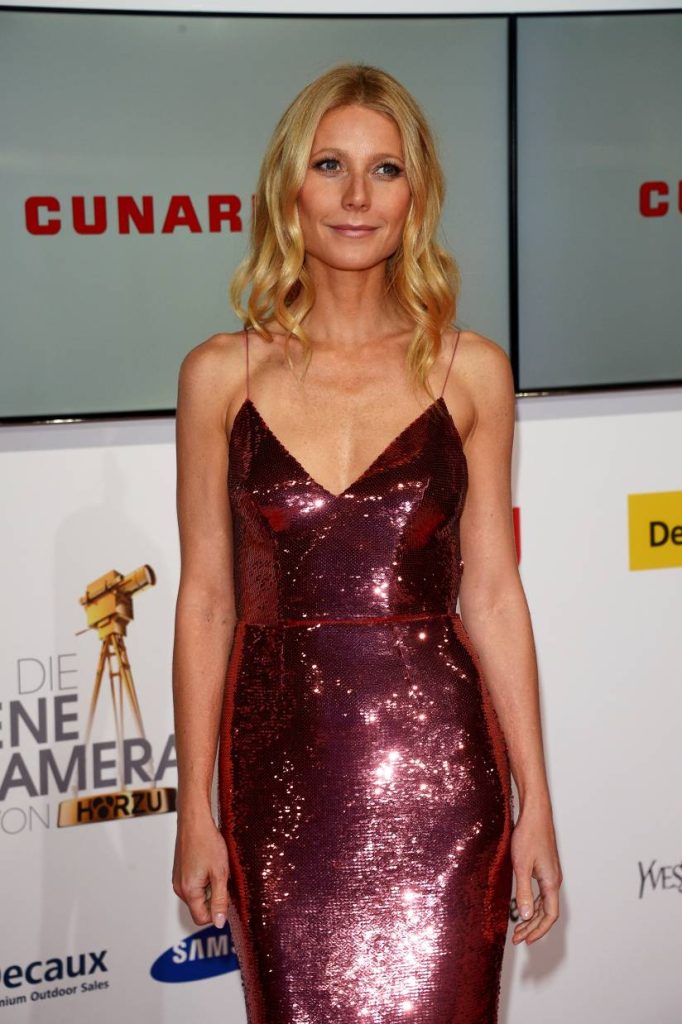 In September of that year, Gwyneth launched Goop, a lifestyle and wellness company, from her home. It started off as a weekly e-zine, and evolved through an online fashion, natural beauty and health products shop, pop-up shops, a wellness summit, a print magazine in 2017, and podcasts. In 2020 Gwyneth teamed up with Elise Loehnen, who was previously on iTV's daily news programme, "Good Morning Britain", to launch a Netflix docu-series. The name originated as a result of someone telling Gwyneth that many successful companies have a double "O" in their name, and she "wanted it to be a word that means nothing but could mean anything." Yet, for all the good intentions, Goop has been the subject of much criticism over the years, as many claimed it spread false information dangerous to people's health.
In 2011 Gwyneth published her first cookbook, "My Father's Daughter", which hit the New York Times bestseller list.
She followed that with another New York Time bestseller in 2013, "It's All Good" featuring gluten-free, sugar-free and vegetable recipes.
Gwyneth was heard to say at times that she and Chris had gone through times that weren't all rosy. Well it appears that he wasn't altogether a loyal husband, although nobody knows for sure whether or not there was anything between him and American actress Kate Bosworth, the. The story was that Chris and Kate had connected at a U2 concert in Las Vegas in October 2009. When Star Magazine, who had openly called Gwyneth 'the most hated celebrity', first published the news that Chris and Kate were openly kissing at the event, followed by other supposedly reliable eyewitnesses, Chris threatened to sue, but that never happened and things grew tense at home.
In September 2013, Gwyneth, apparently no angel either, was caught on camera smooching with her ex-boyfriend Donovan Leitch at an LA Dodgers game.
At that time, Donovan was married to Scottish model Kirsty Hume. Gwyneth, whose kids were with her, merely glossed over it as a day with a friend. Chris made no comment when the news reached him.
Gwyneth and Chris only announced their split a year later through the Goop newsletter, and then while the news flooded the streets, dashed off on a family holiday in the Bahamas. Yet Gwyneth admitted later that Chris and her just didn't quite fit together. In fact, when Chris took her to Italy for her 38th birthday in 2010, there was a moment when she suddenly realized that she had fallen out of love with him, and her marriage was over. Yet she stuck it out and they both strove to make their marriage work until they made the final break, formalized by their divorce in April 2015.
They coined the dissolution of their relationship "conscious uncoupling", and worked hard at remaining good friends while parenting their children, hence enduring the joint family holiday in the Bahamas when their break was publicly announced.
Many of Gwyneth's critics scorned the use of that term, but she wasn't perturbed and remained firm in her intention to keep it all cosy and comfy between her and Chris, even though they were estranged. In 2013, after their divorce, Gwyneth revealed that she had miscarried Chris' third child, and had almost died.
Notwithstanding their trying to be grown up about it, Chris struggled with depression for years after the dissolution of their marriage. He had been vegetarian while he was with Gwyneth, but reverted to eating meat after their divorce, and later dating American actress, Jennifer Lawrence. In 2017 he featured on Debrett's list of the most influential people in the UK. After dating another couple of girlfriends, Chris hooked up with the American actress, Dakota Johnson in October 2017 and they have been together ever since.
Wedding bells ring again for Gwyneth
In 2010 Gwyneth appeared as a guest in the comedy/drama TV series "Glee", co-created by American film director/screenwriter/producer Brad Falchuk, and Ryan Murphy.
She featured again during another four episodes, and started dating the 42 year-old Brad in 2014, a year after her divorce, when she was 41 years-old. After about a year, the couple stepped out in public together to attend Robert Downey Jr.'s 50th birthday party in Santa Monica. Their love grew deeper and they became engaged on 21st November 2017, followed by a wedding ceremony on 29th September 2018 in Amagansett, New York with 70 guests bearing witness to their tying the knot.
Brad, born on 1st March 1971 under the zodiac sign of Pisces, is 6 ft (183 cm) tall, has an average build and good looks with an interesting, generously full-mouthed face, light brown hair and striking blue eyes. He is best known for the drama series "Pose", the drama series "American Horror Story", the horror comedy "Scream Queens", and was the executive producer and a writer on the popular TV series, "Nip/Tuck".
Brad was previously married in 1994 to producer, Suzanne Bukinik and they had two children together, Isabella and Brody, so Gwyneth became a stepmother.
And to finish off
Back in 2011, Gwyneth starred in the pandemic thriller, "Contagion", coined as one of the most-watched movies of 2020 when COVID-19 struck the world. In 2020, Gwyneth herself became a victim of the virus. While recovering she suffered fatigue and brain fog, and since then her metabolism has been affected, so becoming even stricter with her diet, and refrains from sugar and alcohol. That hasn't stopped this go-getting woman though, who is currently working on putting a new book together.
Gwyneth has been quite honest and open about her failed relationships, which she claims were due to her fear of intimacy, and culminated in her mucking them up. "So if you don't have a good relationship with your partner, your children, your best friends, then I think it's very hard to claim success," she quite rightly said. "It makes life feel full and rich and happy".
We all learn lessons the hard way and it looks like Gwyneth has taken responsibility for hers, and control of her life – hopefully her and Brad go on to share a long lifetime of joy together.