Who has Hailee Steinfeld dated? Boyfriends List, Dating History
• Hailee Steinfeld was born in Tarzana, California in 1996.
• Her cousin True O'Brien inspired her to become an actress.
• She dated Instagram personality Cameron Smoller from 2016-2017.
• She was also romantically linked to Justin Bieber and Douglas Booth.
• From 2017-2018, she dated One Direction singer Niall Horan.
The popular American actress, singer and model still looks too young to have a stormy personal life, however, Hailee Steinfeld has already been noticed through some affairs which hit the headlines of tabloids all over the world. Let's find out if her previous or current relationships have led to something serious.
Hailee Steinfeld was born on 11 December 1996, in the neighborhood of Los Angeles called Tarzana. She is the younger child of interior designer Cheri Damosin Steinfeld and personal fitness trainer Peter Steinfeld; her older brother's name is Griffin. Even the first look at Hailee's family will let one understand that it's pure inspiration, and a bunch of success stories in all fields of the entertainment sphere.
Her paternal uncle is Jake Steinfeld, a fitness icon and the author of the fitness program and brand "Body by Jake". Her cousin is actress True O'Brien, and it was her who inspired Hailee to become an actress too, as she was deeply impressed to see her cousin in a commercial on TV; Hailee was only eight years old then, but she firmly decided to join O'Brien on her successful acting path. Hailee's great-uncle was a child actor named Larry Domasin, so a lot of critics saw an innate gift in Steinfeld, and she hasn't turned out to be a disappointment.
Hailee debuted on TV when only 10 years old, in an episode of the series "Back to You". She then appeared in several short films, including "Without Wings", "Summer Camp" and "She's a Fox".
Her breakout happened after she landed the role of Mattie Ross in the Coen brothers' movie "True Grit", starring alongside Jeff Bridges, Matt Damon, Barry Pepper and Josh Brolin. Her performance gained very positive reviews from critics, so she went on landing more interesting roles, including Juliet Capulet in "Romeo and Juliet" (2013), Louise in "The Keeping Room" (2014) and Eliza in "10,000 Saints" (2015). However, her biggest success was her portrayal of Emily in "Pitch Perfect 2", as it triggered her singing career.
In October 2016, the "Barely Lethal" actress was spotted with now-Instagram personality Cameron Smoller, when they attended the Just Jared Halloween party, holding hands and wearing matching black-and-white skull make-up.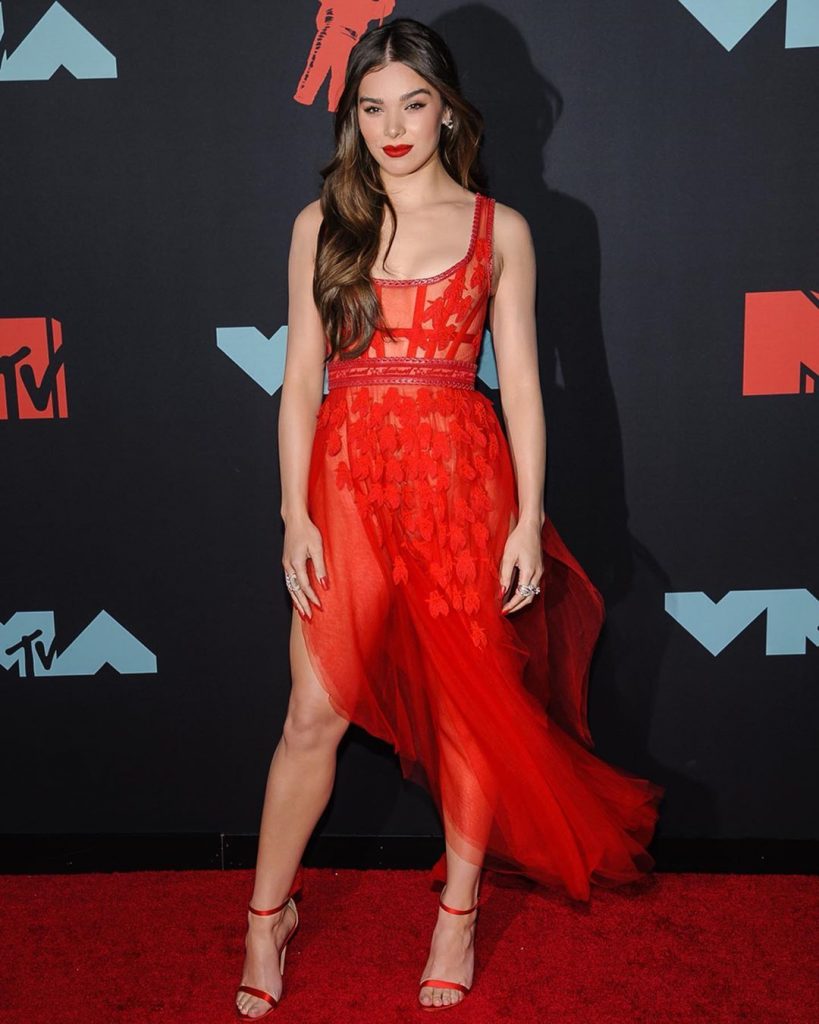 They willingly posed for photographers, still holding hands as if emphasizing their being a couple. By the time the two started dating, Hailee had released several singles, and such music videos as "Love Myself", "Stitches" (featuring Shawn Mendes) and "Rock Bottom" (featuring DNCE). She also finished filming "The Edge of Seventeen", and was busy promoting the movie. As to Cameron, he struggled to find his career path, while settling things with Hailee. The fact of their relationship made Smoller quite popular, so he gained an impressive following on his social media profiles.
In January 2017 the couple attended a Golden Globes party together, but Hailee was still rumored to have flings with other personalities.
Allegedly there was something between her and Canadian singer Justin Bieber, and was also rumored to have chemistry with her on-screen match-up Douglas Booth, whom she co-starred with in "Romeo and Juliet". Either these rumors caused troubles in Cameron and Hailee's relationship, or their romance simply came to a logical end – it is hard to say. The fact is Hailee and Cameron called it quits in November 2017.
As of 2020, Cameron has around 40,000 followers on his Instagram account, and is dating Sonia Ammar, a fashion model, singer and actress, known for her modeling of Dolce & Gabbana, Nina Ricci, Miu Miu, and Chanel.
Hailee then met Niall Horan, one of the members of the super successful boy band One Direction, with the help of mutual friends in the music industry. They two were spotted together for the first time when they attended the live show of the Backstreet Boys in Las Vegas in November 2017, and were officially romantically linked. In December  Hailee took a photo of herself wearing a promo T-shirt of Niall's world tour, and posted it on her Instagram account. The couple was then seen kissing and hugging at BBC Music's Biggest Weekend, held in Swansea, Wales.
In April 2018 Niall took his girlfriend with him to attend the Masters golf tournament in Georgia, and a week later they left for the Bahamas to spend a vacation there.
All in all, the couple didn't try to keep their relationship low-key, and they were later spotted enjoying their shopping trip in Los Angeles; Hailee and Niall simply couldn't take their hands out of each other, hugging, holding hands and kissing right in the middle of the street.
During that period of time, Niall Horan, born 13 September 1993, was fully submerged into his upcoming solo tour "The Flicker World Tour". Hailee's career also took a major twist, as she landed the voice role of Gwen Stacy/Spider-Woman in 'Spider-Man: Into the Spider-Verse" (2018).
However, in October 2018 Hailee refused to talk about her boyfriend during her interview with Cosmopolitan magazine, also stating that she didn't want to use the word "love" too often.
'When you fall in love, you pick up on the tiniest things about yourself. I am one to spread out on the mattress and take up every inch of space. Now I don't want to do that anymore. I want to make as much room for you as possible', referring to Niall Horan, yet not mentioning his name. Hailee, who hasn't been the subject of any negative stories throughout her entire career, seemed to hide something by skipping details of her relationship with then-boyfriend. Was it the first bell for the couple to chill with each other?
Her new single "Used To This" hinted the opposite. The lyrics of the song praised the romantic moments of sharing breakfast and enjoying a lazy day in bed with someone special.
However, while talking to a Cosmopolitan reporter, Hailee mentioned that she was slightly afraid to discover what true love can bring into her life, as if she was still feeling the pain of her earlier high school heartbreak.
Nevertheless, on 13 December 2018 Entertainment Tonight reported that Niall and Hailee had separated – fans considered that they broke-up even earlier, as Niall didn't congratulate Steinfeld on her birthday as he did the previous year on his Instagram account, writing warm words to Hailee: 'Happy birthday to the loveliest person on the planet and one of my best friends'. Hailee was also spotted hanging out with Cameron Smoller, her ex-boyfriend, in November 2018, which also generated rumors of her break-up from Horan.
After the couple split, Niall was rumored to have an encounter with Amelia Wooley in April 2020. Amelia is a designer shoe buyer, raised in Birmingham, West Midlands, England. She is three years younger than her One Direction beau. According to Capital FM, they are still dating. MailOnline also reported that Niall was very serious about Amelia, and that 'lockdown has definitely intensified his feelings for her'.
As to Hailee, she is reported to be single since her split from Horan, as she hasn't been noticed with any other potential suiter.
— Hailee Steinfeld (@HaileeSteinfeld) November 17, 2020
It's quite understandable, as she is determined to develop her acting and singing career, as she has recently finished filming as Emily Dickinson in the TV series "Dickinson", and it is still not clear if the second season of the show is coming in the near future. She is also rumored to land the role of Kate Bishop in "Hawkeye", starring Jeremy Renner.
In 2020 Hailee released a music video for her single "Wrong Direction", and some of her fans think it was her own way to reflect on her relationship with Niall Horan. So those same fans are being kept waiting to discover who Hailee will be linked to next, hopefully happily and even perhaps permanently.