Who has Halle Berry dated? Boyfriends List, Dating History
Maria Halle Berry was born in Cleveland, Ohio USA, on 14 August 1966 under the zodiac sign of Leo. After starting her career as a beauty queen then fashion model, she eventually transferred to the film industry, and gained worldwide fame for starring in such roles as Ororo Munroe a.k.a. Storm in the "X-Men" films, Patience Phillips a.k.a. Catwoman in the film of the same title, Bond girl Giacinta 'Jinx' Johnson in "Die Another Day", and Leticia Musgrove in "Monster's Ball", which earned her an Academy Award for Best Actress. Halle Berry is rated one of the most successful and highest-paid actresses in the world.
Regarding her personal life, Halle Berry caught the intense attention of the male audience from her acting debut because of her attractive appearance.
Over the years, she has been romantically linked to plenty of handsome celebrities. Hereupon, there has always been a lot of curiosity about her love life. So, we dig deeper into her dating history and compile you what we believe is a complete list of her past relationships, rumored or not. Stay with us 'til the end to find out more! We promise you it will be interesting!
Halle Berry's first big love appears to be a man named LaShawn Boyd. He was her childhood sweetheart, and they were romantically involved in a relationship between 1983 and 1984, before she achieved enormous popularity. Both of them attended Heskett Middle School where Halle Berry was a cheerleader, while he was an American Football player. According to Female First magazine, she once described him as "probably one of the best boyfriends" she ever had.
However, they eventually broke-up, with Boyd the one to end their relationship "because he was sick of her jealous male admirers", admitting that it was for her own good, explaining "I wanted her to grow; I wanted her to blossom to the woman she is now. She was outstanding. She was a star to me then," and added, "Everybody wanted to go with Halle Berry, and they was jealous of me because of the fact that we had a long relationship together." He then said that Halle was "a great kisser" and revealed that he wrote her the message "You are a wonderful person… You better keep in touch" on the back of her 1984 school photograph.
At the time her career had just taken-off in 1989, Halle Berry entered a relationship with New Kids on the Block singer Danny Wood, however, their romance was short-lived.
He would later confirm it during his 2013 appearance on Andy Cohen's show "Watch What Happens Live", saying, "Well, everyone kinda knows that I dated Halle Berry back in the day." The reason for their split remains a mystery.
Almost immediately, later in 1989 Halle Berry set-off rumors that she'd hooked-up with famous Hollywood actor and producer Kevin Costner, although at the time, he was still married to Cindy Silva. However, neither of them confirmed, or denied the rumors.
Halle then dated Chicago dentist John Ronan, and were romantically involved in a relationship from March 1989 to October 1991. The thing between the two of them apparently didn't end well, since he tried to sue her for $80,000 in November 1993, claiming he lent her the money to jump-start her career while they were together, while she claimed that it was a gift. The case was eventually dismissed.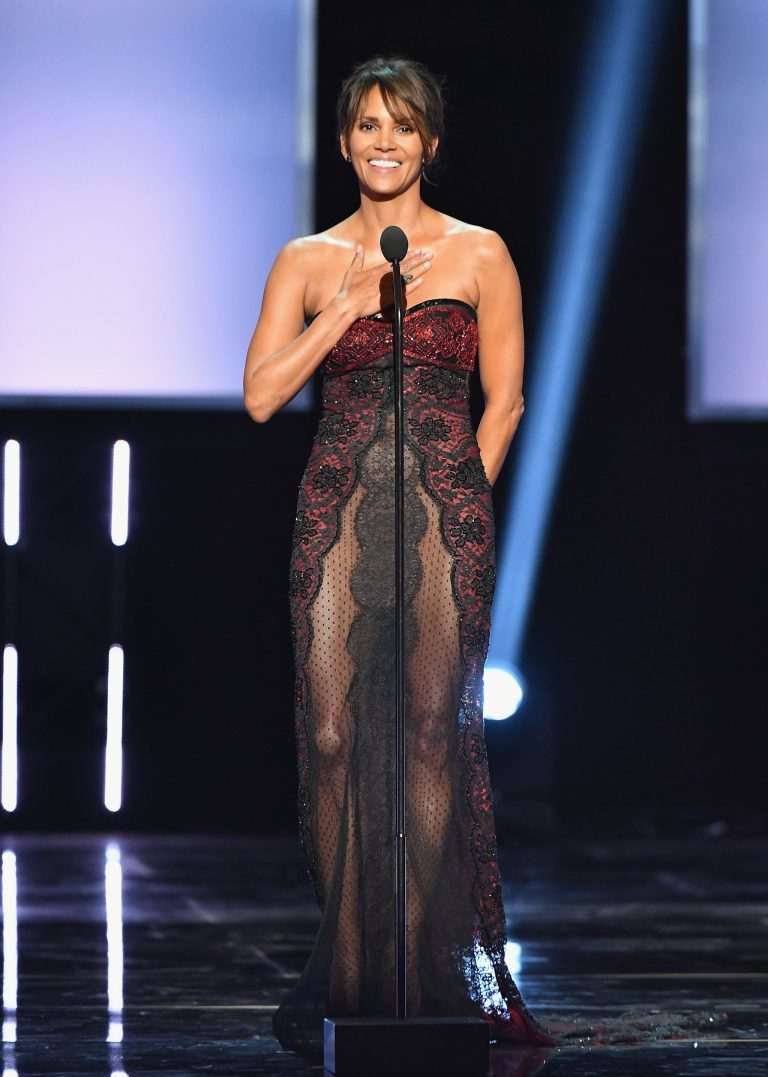 Halle Berry and Wesley Snipes started dating while they were filming "Jungle Fever", however, their relationship didn't last long. In her 1996 interview with People magazine, Halle revealed that she lost eighty percent of her hearing in her left ear after her ex-boyfriend hit her eardrum during the filming of "The Last Boy Scout" back in 1991. She didn't want to share the name of the abuser, but described him as "someone well-known in Hollywood." It was later rumored that Wesley Snipes was the abuser. According to E! News magazine, Halle's ex-boyfriend, R&B singer Christopher Williams told the entertainment website Eurweb in January 2004, that Snipes was the one who hit her, saying, "I'm so tired of people thinking I'm the guy who did it! Wesley Snipes busted her eardrum, not me." Halle hasn't confirmed either version.
Following her failed relationship with Wesley Snipes, Halle Berry was rumored to be romantically involved with her "Boomerang" co-star Eddie Murphy, but that was never confirmed either. Whatever happened, they remain pretty close friends.
In November 1991, the "Catwoman" star fell in love with R&B singer Christopher Williams. However, true to form, their relationship didn't last long, since they parted ways in April of the following year – Williams once said that they broke-up because of their growing careers.
In April 1992, Halle became romantically involved in a relationship with baseball player David Justice. According to People magazine, the first time she saw him was when he appeared on TV playing in a celebrity baseball game.
Shortly afterwards, a reporter from David's hometown told her that David was her fan and would like a photo, but instead of a photo, she sent him her 'phone number, and they soon started dating. After dating for six months, David popped the question, and they became engaged, and tied the knot on 1 January 1993. Halle described their marriage to the magazine, saying "We were like any other couple. We had good days, we had bad days." She also referred to him as "a prince on a white horse."
Unfortunately, things soon started to fall apart between them. David told the magazine, "She wasn't the same person I was with before we got married." He also revealed that she was very jealous and added, "Every time she saw a picture of me with a woman, any woman who might have been standing by my side, she thought I was cheating. She carried a lot of baggage from her previous relationships. She was always suspicious."
Anyway, Halle and David remained together until going their separate ways in February 1996, described by her as "a painful chapter" in her life. She also said in her interview with People magazine, "For four years David was part of my life, every day, every hour. I do keep telling myself that this is one of life's lessons, and as long as I can learn something from it, then all the pain will be worth it."
The divorce was finalized on 24 June 1997. She would later confessed in her 2007 interview with Parade magazine that she was so depressed afterwards that she even tried to commit suicide, saying "I was sitting in my car, and I knew the gas was coming when I had an image of my mother finding me. She sacrificed so much for her children, and to end my life would be an incredibly selfish thing to do.
My sense of worth was so low. I had to reprogram myself to see the good in me. Because someone didn't love me didn't mean I was unlovable. I promised myself I would never be a coward again."
After her divorce, Halle fell in love with "The Young and the Restless" star Shemar Moore, and they dated from 1997 to 1998. Little is known about their romance since they kept it under the wraps, but it is known that they remained on good terms after their break-up.
In 1999, Halle Berry started dating famous singer-songwriter Eric Benét. According to People magazine, they first met each other after a concert at Los Angeles' House of Blues two years earlier, with her saying that there "weren't any sparks" at first and that her feelings for him developed over time. After exchanging emails for more than a year, she told him, "You know what? I think I love you."
In the following year, he proposed to her at the Cleveland premiere of her film "Introducing Dorothy Dandridge". The couple exchanged their wedding vows at a ceremony held on 24 January 2001, with Halle even adopting his daughter, India from his previous relationship.
Again, things went sour before long, due to his infidelity. In 2002 he underwent a rehabilitation treatment for sex addiction, before Halle announced their split in October of the following year. She said in her statement, "Eric and I have had marital problems for some time now, and have tried to work things out together. However, at this point, I feel we need time apart to reevaluate our union." The divorce was finalized on 3 January 2005.
Eric would later confirm his infidelity in his interview later that year with People magazine, saying, "We all know I cheated. It was out there. It's a betrayal. But I never did have sexual intercourse with anyone while I was with Halle."
He continued, "Going into rehab was presented to me by her mother that in order for the marriage to have a shot, this is what you need to do…. But I'm not a sex addict. I wanted to save my marriage and do anything necessary to do that." adding "Ultimately what was the end of us was she just couldn't trust me anymore. You can't blame her for that."
In 2002, Halle Berry sparked rumors of being romantically involved with her "Monster's Ball" co-star Billy Thornton. They filmed explicit love scene for the movie. They allegedly dated for several months during that year, but it was never confirmed – well, Halle was supposedly married.
In late 2003, the Oscar-winning actress was rumored to be dating Limp Bizkit singer Fred Durst. The rumors started swirling around after Halle and Fred featured in the music video for the band's song, "Behind Blue Eyes", in which they locked lips.
He then told MTV News magazine, "There was this moment where I'm getting ready to kiss her and I thought it might feel weird, but it really felt right, and I think it read that way on film. It's very convincing, very real and I think we both had a good time doing it."
Apparently, that was all as in December 2003, it was reported that British TV presenter Steve Jones made a trip from London to Los Angeles just to have dinner with Halle Berry. A source told Evening Standard magazine, "It was a very long way to go for one date, but they didn't have any choice," adding "Steve and Halle just want to get to know and see if they like each other, but they live on opposite sides of the world." Well, they didn't supposedly didn't get on, as nothing happened between them.
In July 2004, Halle started dating actor Michael Ealy – they met while they were filming "Their Eyes Were Watching God", and immediately hit it off.
Fatale Trailer https://t.co/vh2tEshNAh #Fatale #HilarySwank #MichaelEaly #MikeColter #GeoffreyOwens

— Box Office Buz (@BoxOfficeBuz) December 3, 2020
Perhaps unsurprisingly they didn't last long as a couple, since they broke-up sometime in 2005. In her 2007 interview with InStyle magazine, Halle Berry said, "After my last relationship broke-up I was feeling like, well, it wasn't that I didn't want to be in a relationship, it's just that I thought it would be okay to be on my own."
In March 2005, Halle Berry was spotted having dinner at a Los Angeles restaurant with rapper Heavy D; a source revealed to US Weekly magazine, "They sat down at a cozy booth in a quiet corner and had dinner and drinks. When they walked out, they held hands again." Shortly afterwards, Heavy D's rep insisted that they were nothing more than friends.
In November 2005, Halle Berry met handsome French-Canadian model Gabriel Aubry at a Versace photo shoot, and the two became romantically involved. They went public with their relationship at the opening of Donatella Versace's store in New York City in February 2006.
In her 2007 interview with InStyle magazine, she vowed to "never, never get married" and added, "Actually it's just that now I've come to a place where I think two people can share their lives without the ring, without the piece of paper." She also said "Gabriel was disarmingly sweet and caring and different. In the past I've been attracted to big personalities. Gabriel was shy. He hardly talked to me at first," also admitting "I definitely want children. Very much!" So, in March the following year, the beautiful actress gave birth to their daughter they named Nahla.
Halle and Gabriel ended their relationship after being together for five years, announcing their split in April 2010. A source told People magazine, "She kicked him out months ago because he wasn't able to pull his weight in the relationship, and she wanted to move on," adding "They're very amicable in healthy ways because of their child. Her main concern is for the health and happiness of their daughter."
Halle Berry takes ex Gabriel Aubry to court for trying to make their daughter look whiteDetails here: http://rsvpmagazine.ie/halle-berry-takes-ex-gabriel-aubry-court-trying-make-daughter-look-white/

Posted by RSVP Magazine on Tuesday, November 25, 2014
Following their split, the former lovebirds became involved in a custody battle, since she wanted to move with their daughter to France after marrying French actor Olivier Martinez, with the judge eventually denying her request. They were even engaged in a physical fight at her residence in 2012, after which they were treated for injuries. The custody battle was over in June 2014, with Halle being ordered to pay Gabriele $16,000 each month in child support.
Shortly after her split from Gabriele, in August 2010 the "Die Another Day" star fell for French actor Olivier Martinez, having met on the set of "Dark Tide" in Cape Town, South Africa. The news about their engagement went viral in January 2012, after Halle Berry was spotted wearing a diamond engagement ring. He would later confirm the news in her interview with The Miami Herald magazine, saying, "Yes, of course it's true."
In April 2013, E! News magazine confirmed Halle Berry's pregnancy with her second and their first child. A source told the magazine, "Halle and Olivier are really excited. It's a blessing. They can't wait to have a baby together." Thereafter, the two tied the knot at a private wedding ceremony at Chateau des Conde in Vallery, France on 13 July 2013. The newlyweds welcomed their son, named Maceo, in October of the same year.
However… did you know, or guess? After being married for two years, Halle and Olivier announced their divorce in a joint statement. According to E! News magazine, they said, "It is with a heavy heart that we have come to the decision to divorce. We move forward with love and respect for one another, and the shared focus of what is best for our son." She filed for divorce in October 2015, citing irreconcilable differences; the divorce isn't yet finalized.
She subsequently opened up about her three failed marriages to Entertainment Tonight magazine, during her appearance at the 2017 City Summit and Gala. "I've often felt guilty and responsible. I've suffered a lot of pain and anguish," she said, adding, "All of those relationships were necessary for me… Those relationships provided me with lessons that got me to where I am right now. For that, I'm grateful. But it has been hard. It's been a difficult part of my life."
The attractive actress then entered a relationship with British music producer Alexander Grant, better known as Alex da Kid. In September 2017, The Sun magazine reported that she went public with their romance after sharing their photo on her official Instagram account with the caption, "My balance." A source then told E! News magazine, "They have been seeing each other for about two months, and met through friends in the industry."
The couple broke up in December of the same year, following which Halle posted a photo of a rope in the shape of a heart to her Instagram story and wrote, "Done with love," with three flexed arm emojis.
Most recently, in September 2020, Halle Berry announced that she is dating singer-songwriter Van Hunt by posting an Instagram photo of herself wearing a Van Hunt T-shirt and writing in the caption, "Now ya now." A source told US Weekly magazine, "She's had some negative experiences with men, but Van has taught her to love again — and love herself," and added, "He's a wonderful, caring man. Their chemistry is through the roof," while another source revealed to People magazine that "Van has met her kids, so it seems pretty serious."
We can only wish them enjoyment in their love! Whether he is the right one or not, it remains to be seen! Given her dating history, we wouldn't like to bet on it!