Who has Halsey dated? Boyfriends List, Dating History
Ashley Nicolette Frangipane is an American singer and songwriter, who has become famous performing under the stage name Halsey, initially on various social media platforms. In 2014, after gaining greater exposure on Spotify, Halsey received offers from various record labels, and decided to accept a deal with Astralwerks.
Shortly afterwards, Halsey released an extended play mini-album, 'Room 93', which achieved remarkable success, and her debut studio album 'Badlands', released in 2015, followed in its wake.
Born on 29 September 1994 in Edison, New Jersey, of mixed Hungarian, Italian, African-American and Irish ancestry, Ashley's early life was shadowed with difficulties, many of which stemmed from the financial struggles her family endured.
Forced by the circumstances of an unplanned pregnancy, both of Halsey's parents, Nicole and Chris, dropped out of college seeking to provide for their child. Nicole began working as an emergency medical technician, while Chris accepted a job as manager of a car dealership.
During the early years of Ashley's life, her family relocated on many occasions, and as a result, Ashley attended more than six schools during her educational career. Ashley shared later youthful years with two younger brothers, Sevian and Dante.
Ashley expressed an interest in the musical arts from a young age, learning to play various stroke instruments such as the violin, cello, and viola. At the age of fourteen, she took up the acoustic guitar, influenced by numerous modern artists, including Alanis Morrisette, Justin Bieber, and the rock band Brand New.
When Ashley enrolled into high school, she suffered the humiliation of being bullied by other students, because of which Ashley attempted to take her own life, and spent seventeen days in the hospital. Doctors discovered that she also suffered from bipolar disorder, a mental ailment that her mother also contracted.
At the same age of seventeen, Ashley became romantically involved with a 24-year-old man who resided in Brooklyn, New York, and at this time initially expressed an interest in writing music. As such, she assumed the stage name Halsey, which is an anagram of her name. In 2012, Ashley matriculated from Warren Hills High School in Washington, New Jersey, and then attended the Rhode Island School of Design, but dropped out because of financial difficulties.
Ashley then enrolled into a community college, but again dropped her studies, and as a result her parents kicked her out of the house.
ahead of its time…. I remember years ago y'all were like "uhhhh wtf?" when this came out. https://t.co/xrv5QrgDfY

— h (@halsey) December 25, 2020
Forced to live with degenerates in a Manhattan basement, or in some of the many homeless shelters of New York, Halsey considered prostitution as a way to survive, however, she began publishing her music on social media platforms, and before things could really take a turn for the worse, her considerable talent rescued her from the desolation of the streets.
The rest became history, and today many consider Halsey as one of the most influential artists of modern music. She has won numerous accolades and sold more than a million albums, with each of her three releases achieving high rankings on the US Billboard chart.
Halsey's history also means that her romantic life has caught the attention of both gossip writers and fans alike, mostly due to the fact that she's dated several high profile celebrities, and because she openly identifies as bisexual.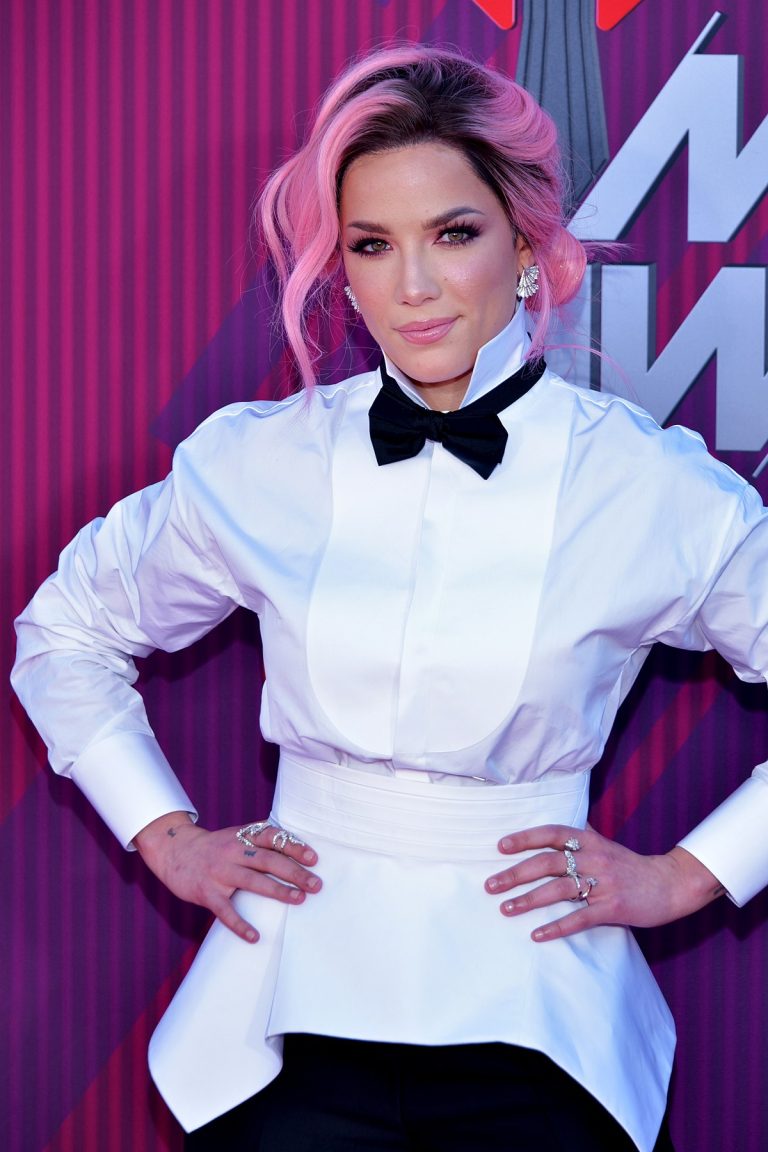 Details of her earliest romances remain a mystery, as Halsey seems reluctant to speak about that part in public, although dedicating several of her chart-topping songs to past romances. Regardless, her most recent romances would still capture the intrigue and fancy of her followers and dedicated fans.
Paying For A Kick-Starter
Although Halsey's high-profile relationships have all beenwith popular male musicians, she's openly admitted that she proudly supports the LBTQ movement, despite claims that this is only to increase her album sales.
Halsey says that she expressed an interest in bi-sexual relationships as far back as high school, and admitted to performing the duet 'Strangers' with Fifth Harmony member Lauren Jauregui to advocate her sexuality. However, it's not the only controversial claim by the singer – in the years she spent on the streets of New York, Halsey confessed to giving in to relationships for the wrong reasons, often with men with whom she had no interest.
According to Halsey, she would become involved in physical relationships for the sole purpose of having a place to crash. One relationship she had at the time, however, landed her the opportunity to record the single 'Ghost', which ultimately gained her the remarkable breakthrough that made her popular. Evidently, the song in question was inspired by the boyfriend who provided her with this opportunity.
Following her initial breakthrough, Halsey began dating Norwegian producer Lido, who helped produce her first studio album, 'Badlands'. However, according to her hit song 'Bad At Love', Ashley proved the lyrics as their relationship quickly came to an end weeks before the album's scheduled release.
Of course, their soured relationship caused tension in the studio, especially since Lido helped with the production of her follow up album, 'Hopeless Fountain Kingdom'. However, they kept their professional balance, and somehow produced one of the best albums in modern music history.
More Admiration Than Love
The earliest rumours concerning Halsey's love life involved British rocker Matty Healy. The frontman of 1975 and the American songstress sparked dating rumours between 2014 and 2015. They enjoyed an open and public friendship, often appearing together in public, but despite the many rumours and gossip going around, they never confirmed anything.
Speaking in a candid interview with Rolling Stone magazine in 2015, Halsey admitted that she had a certain admiration for the British pretty boy rocker. According to her, she spent a lot of time watching him, and in return, he enjoyed the attention she gave him. She added that he was not the first and only rocker boy she associated with, and that alone spoke volumes about the possible nature of their friendship.
Despite her candid approach to the interview, the publication and interviewer noted that she seemed reluctant at progressing the subject from the moment Matty was mentioned, suggesting that she still endured some sorrow concerning their relationship.
However, it may also indicate her desire to keep things private, especially considering how troubled the rock star seemed at the time. Nonetheless, fans and followers of both musicians expressed a solemn belief that the two were involved romantically, and some even sought evidence of such a relationship in their music.
The most noteworthy evidence presented draws on the lyrics of Halsey's song 'Colours', in which many believed a certain segment specifically referred to Matty – 'Your mother only smiled on her TV show' some thought referenced Matty's mother, who appeared in the British soap opera 'Coronation Street'.
Other evidence suggests that her extended play 'Room 93' referenced a hotel room in which they spent some time together, but it's unlikely that the true nature of their relationship will be revealed.
Rubies and Roses
Following Halsey's possible involvement, or rather, as she would claim, association with Matty, the American singer once again sparked romantic rumours. This time it concerned Australian actress Ruby Rose, shortly after her engagement to Phoebe Dahl was called off, yet, once more, the relationship seemed like an unsolvable mystery draped in riddles.
Only weeks after Rose's news about her broken engagement reached gossip outlets, Halsey and Ruby spent a fun day date, as later described by them, on the streets of Hollywood. The two had lunch together, and spent some time at a local cinema, but while things seemed innocent between them, gossip outlets suggested that it might be more than a casual friendship.
Among the slim evidence presented, the outlets claimed that they dressed alike during their date, suggesting intentional matching rather than coincidental choices. The outlets buzzing with the story also brought up immortalised social media posts from months before, suggesting that the emojis Halsey commented on in one of Ruby's posts indicated open flirtation.
However, neither confirmed anything at the time, but a few years later in 2018, some truths came to light, in the form of romantic prose that Halsey wrote and recited for Ruby, even confessing that she considered Rose to be poetry.
Although things between them may not have lasted long, fans now know that she did have a romantic liaison with the Australian actress.
Miss Fire
One thing about Halsey's romantic life is certain – that she prefers to keep things quiet and private. Unfortunately, that may not be the case with every partner she chose, as became apparent after Machine Gun Kelly intentionally let it slip about their hook-up.
Fans and followers of both musicians would know that the two enjoy a long-standing friendship, and in recent years performed together in a duet, but the news about Halsey and Kelly's hook-up came as a surprise. Sadly, the only reason Kelly betrayed their confidentiality was because of his ongoing feud with Eminem and G-Eazy at the time.
It started with Eminem's song 'Killshot', in which he considered the Cleveland rapper salty about G-Eazy and Halsey's blossoming relationship. MGK retaliated to this on 'The Breakfast Club' television show, criticising G-Eazy as a poor rapper, and claiming that he was bad at maths.
Machine Gun Kelly even went so far as to brag about enjoying physical relationships with several of G-Eazy's ex-girlfriends, making no secret about including Halsey. Later that same day, Halsey tweeted a suggestive insult calling no one in particular absolutely pathetic, which most fans and followers believe was in retaliation to MGK's comments.
Nonetheless, Kelly's stint on the show caused rampant rumours and speculation to fly around, but the most accurate possibility of when Kelly and Halsey hooked-up date back to 2017, though again, everything remains speculation.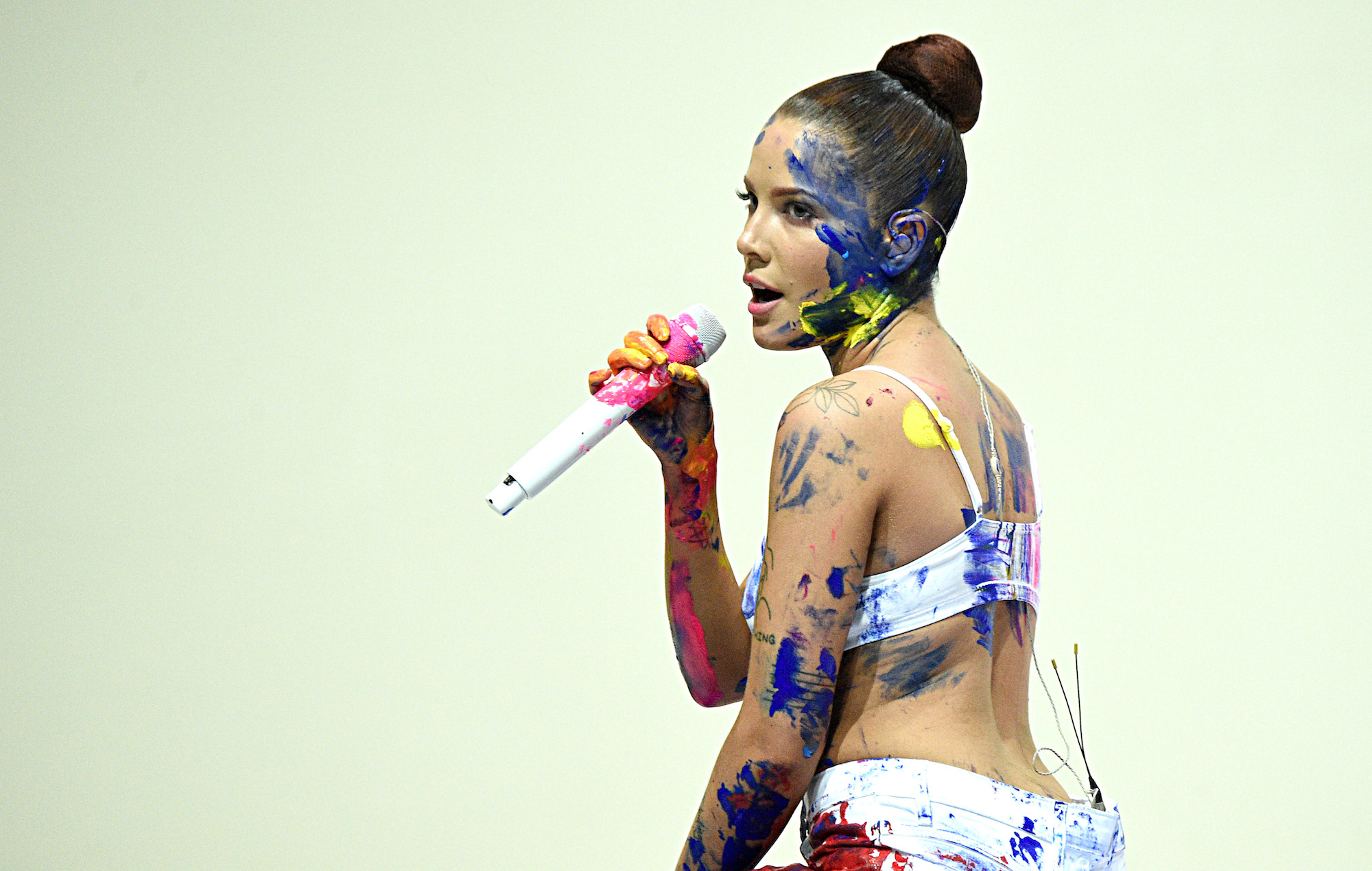 Taking It Eazy
Halsey and G-Eazy first sparked rumours in 2017, after recording the duet 'Him and I', performing it together during the rapper's Bud Light Dive Bar Tour. Not wasting time, the pair went official with their romance on Instag.
Their romance enjoyed a few good times, which included the most adorable social media collaborations as well as joint performances, until things began to fall apart in May 2018. Following G-Eazy's public arrest on charges of possessing cocaine in Sweden, barely a month later Halsey announced their break-up on social media.
However, the pair became entangled in an on-off association, as they reconciled a short time later, but again ended their relationship in October of 2018. This time it seemed for good, especially after Halsey made allusive claims during a 'Saturday Night Live' performance, suggesting that G-Eazy cheated on her.
Adding to the case against the G-Eazy, an inside source took to social media to further shame the rapper, claiming that he behaved abusively during his relationship with Halsey, adding a screen capture of an Instagram post from G-Eazy as proof of the claims.
One thing about their relationship stands out, and that is that they definitely never took things easy, especially considering how Halsey took revenge on G-Eazy. Their break-up provided Halsey with the inspiration to write one of the most successful songs of the twenty-first century, 'Without Me', which played on media outlets everywhere.
Forced to hear the song dedicated to him for the duration of 2019, G-Eazy eventually lost it, and on occasion loudly booed the song in a club the moment it came on. Rubbing salt into his wounds, Halsey even hooked-up with the rapper's ex-girlfriend, Cara Delavingne, but according to them, they simply enjoy laughing about G-Eazy, and wanted to rub it in his face by making out.
Cara and Halsey's beneficial friendship became one of many romances to grab attention during the global lockdown, but they kept to their claims that it was never anything serious.
A Soft Rebound Romance
Three months after ending all ties with G-Eazy, Halsey and Brit rocker Dominic Harrison, known professionally as YungBlood, became Instagram official. Unfortunately, their brief romance ended only eight months later in October 2019. Halsey later explained on Twitter that nothing bad led to their break-up, and they mutually parted ways, but like adults, will remain friends.
Sadly, this didn't seem to be the case for Dominic, who broke his silence during an interview with 'RockSound' magazine, in which he revealed that one of his latest songs featured on his upcoming album is about his first experience of truly loving someone, but that person ripped his heart out.
His heartache was exposed on the Internet for all to witness. Most speculators suggest that the person in question could only refer to Halsey, who seems to be the most likely candidate. Then in March of 2020, while spending time together, Halsey and YungBlood sparked rumours about a possible rekindling, which turned out to be false.
A Petition For Love
Fans and followers of Halsey would be aware of her long-term infatuation actor Evan Peters, even going so far as to draw up a social media petition asking him to date her. This followed his appearance in 'American Horror Story' in 2012, which according to some media outlets, caused a viral attraction among potential sociopaths.
In 2013, Halsey expressed her infatuation with his character in the series, and eventually drew up the previously mentioned petition. In 2014, she Tweeted that her infatuation became worse, stating that she is head over heels in love with Evan Peters.
#EvanPeters will play infamous serial killer #JeffreyDahmer in #Monster, upcoming @netflix series from @AHSFX co-creator @MrRPMurphy https://t.co/3b3sHgusPZ

— ET Canada (@ETCanada) March 24, 2021
Unfortunately, Halsey's dream relationship would take several years before it was realised, since the actor dated Emma Roberts to whom he later became engaged. In early 2020, following Halsey's break-up with YungBlood and after Evan called off his engagement to Emma, the pair got together. A few months later, they went Instagram official, with Halsey posting a picture of them kissing in a photo booth.
They spent Valentine's Day together that year, but shortly afterwards, rumours concerning their break-up surfaced. Although Halsey never confirmed it, she later deleted all the photos of Evan on her social media. Surprisingly, around the same time, rumours concerning her and YungBlood's possible reconciliation surfaced.
Becoming A Mother
It seems after so many heartaches and romantic difficulties, Halsey finally found love, and surprisingly amid a worldwide pandemic.
To top off that great news with an even bigger surprise, Halsey announced that she expects her first child.
During a candid interview in 2020, the 'You Should Be Sad' singer told Zane Louw that she has always dreamed of having children, but due to medical struggles, had suffered numerous miscarriages. She also stated that she continuously froze her eggs since the age of 23, hoping to one day enjoy the privilege of motherhood.
The father of her child is no other than Alev Aydin, a screenwriter with whom Halsey has been linked since January 2019, however, no one could have guessed they were this serious. When Halsey revealed the news about her pregnancy, it came to light that the two dated for several months, and even got matching tattoos.
Fans now only await to find out if it's a boy or girl and when to expect the due date. And… the big question, is this really 'it' for Halsey? Hold your breath!