Who has Harry Styles dated? Harry Styles' Dating History
Harry Edward Styles was born in Redditch, Worcestershire, England, on 1 February 1994 under the zodiac sign of Aquarius, and became best recognized as a part of the famous boy band One Direction, which is rated as one the best-selling boy bands in history. His good-looking appearance brought him immense popularity among the younger female audience, and as his popularity grew, so did the number of stolen female hearts! The handsome heartthrob was romantically linked to many women over the years, and we've made a complete list of these ladies, so stay tuned and check it out!
According to Mirror magazine, Harry's first real love was a girl named Felicity Skinner – they were introduced by a mutual friend in the summer of 2009. She recalled in her interview for People magazine, "It was a long-distance relationship but it was a lot of fun. We just clicked straight away and got on really well. He has a really cute smile.
We started seeing each other when we were both about 15. He was really sweet," but adding, "It was puppy love and we were definitely each other's first loves."
After dating for less than a year, they broke up, and she explained, there was no real reason – they just drifted apart. Felicity also said, "When Harry became famous I thought it was weird because I knew him before all this happened and we had been boyfriend and girlfriend." While they were together, Harry even wrote a poem dedicated to her, which he would later talk about in a 2017 interview for The Rolling Stone magazine, saying "There was also a little bit of mystery with her because she didn't go to our school. I just worshipped the ground she walked on. And she knew, probably to a fault, a little. That was a tough one. I was 15."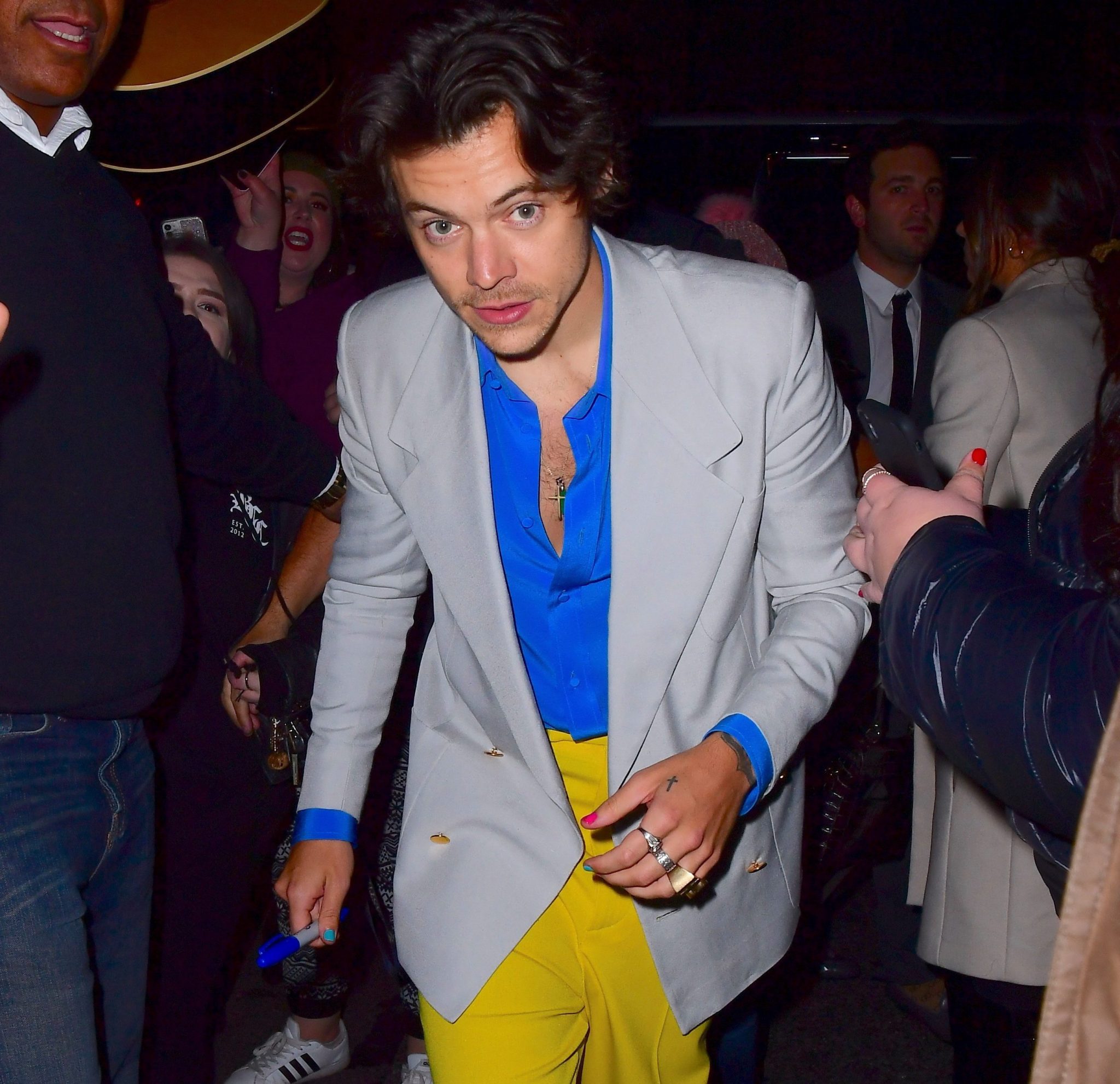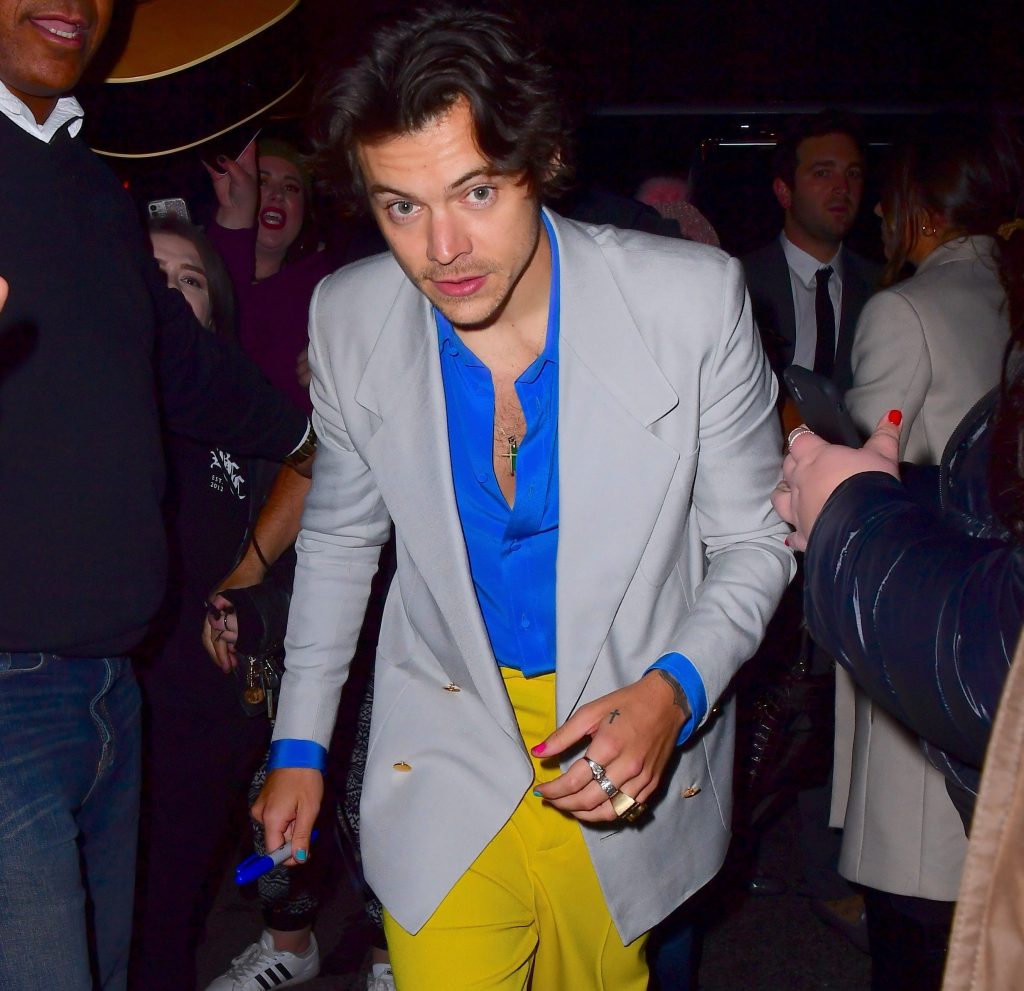 He also revealed, "She used to live an hour and a half away on the train – I worked in a bakery for three years. I'd finish on Saturdays at 4:30 and it was a 4:42 train, and if I missed it there wasn't one for another hour or two. So I'd finish and sprint to the train station. Spent 70 percent of my wages on train tickets." Now isn't that romantic?
Harry's first publicly known relationship was with attractive television presenter Caroline Flack. They met each other in 2010, when Harry was one of the contestants on "The X Factor", while she was hosting its spin-off, "The Xtra Factor". The pair sparked dating rumors after being spotted kissing at a 2011 X Factor after party, however, the rumors weren't confirmed until he was photographed leaving her house early in a morning of December 2011. It immediately hit the headlines and caused a huge controversy and criticism, since there was a large gap in age between two of them.
At the time, Harry was just17 years old, while Caroline was 32. Anyway, a 15-year age gap didn't stop them enjoying each other's company. Their relationship lasted for the next three months, before the couple broke up in January 2012. Harry confirmed their split via Twitter, writing "This was a mutual decision. She is one of the kindest, sweetest people I know."
According to The Sun, Caroline opened up about her brief romance with the young singer, in her autobiography entitled "Storm in a C Cup", writing, "I already knew that he had a crush on me, he'd made it pretty obvious. He'd said it in magazines and he'd said it to friends." She also wrote, "It began to go wrong when Harry was pictured coming out of my house one morning. And once that was out, it was open season. After that anyone could say anything. In the street people started shouting at me 'pedophile' and 'pervert.'
A One Direction fanzine had me as a voodoo doll, with arrows (pins) pointing to bits of my anatomy," but adding, "Although it was just a bit of fun, we decided it was best to keep it to ourselves as we were both working for Simon Cowell."
Following their breakup, Harry and Caroline remained on good terms. The attractive TV host committed suicide on 15 February 2020 at the age of 40, apparently suffering mental stress. According to Harper's Bazaar magazine, Harry paid her tribute by wearing a single black ribbon during his appearance at the 2020 Brit Awards.
Following his split from Caroline Flack, Harry Styles was rumored to have a fling with another 32-year-old woman. According to Daily Mail magazine, in 2011he was linked to DJ and radio presenter Lucy Horobin. Since she was married at the time, their one-night-stand caused a scandal, and subsequently divorce from her husband Oliver Pope. ,
Please know I didn't 'dump' caroline. This was a mutual decision. She is one of the kindest, sweetest people I know. Please respect that.

— Harry Styles. (@Harry_Styles) January 27, 2012
This was followed by his brief romance with American model Emma Ostilly. They met each other while filming the music video for the band's song "Gotta Be You" and fell in love. In April 2012, Harry and Emma were pictured kissing in Auckland, New Zealand, where she lived. However, their romance was short-lived, since they broke up by the end of that month.
Thereafter, in 2012the handsome singer was rumored to be romantically involved in a relationship with British actress Emily Atack. Even though their romance hit the tabloids, she didn't confirm it until interviewed for Reveal magazine in 2014. According to Hello magazine, she said, "We had a nice little fling. We were never boyfriend and girlfriend. I think that's the first time I've ever admitted to what it was, because I've always just shrugged it off before," but adding, "I think it's best to clear it up. So, yeah, we had a short-lived thing that was just a bit of fun. Then we went off in our different directions."
Harry Styles met attractive singer-songwriter Taylor Swift at the Kids Choice Awards in March 2012. They started texting each other, but nothing happened until September 2012, when they were spotted hanging out together after the Video Music Awards. Harry named her as his celebrity crush in the November issue of Seventeen magazine, and she was soon noticed in London wearing a paper airplane necklace, which is identical to the one he owned at the time. In December, their romance was confirmed when they were pictured walking through New York's Central Park and holding hands. The couple also shared a kiss on New Year's Eve, but then parted ways five days later. The main reason for their breakup remains unknown, but an insider revealed to US Weekly magazine that the couple had a fight and that Harry "said something he shouldn't have." Taylor once described their relationship as "very fragile" and "full of anxiety and roadblocks".
In late 2014, the famous singer released her album entitled "1989", and many believed that the songs "Out of the Woods" and "Style" were about Harry. She even filmed the music video for the latter, in which she appeared several times holding his paper airplane necklace.
Harry opened up about their romance in his 2017 interview for Rolling Stone magazine, saying "When I see photos from that day, I think: Relationships are hard, at any age, in that you don't really understand exactly how it works when you're 18, trying to navigate all that stuff didn't make it easier. I mean, you're a little bit awkward to begin with. You're on a date with someone you really like. It should be that simple, right? It was a learning experience for sure. But at the heart of it – I just wanted it to be a normal date." He also said, "She doesn't need me to tell her they're great. They're great songs … It's the most amazing unspoken dialogue ever," but adding, "In writing songs about stuff like that, I like tipping a hat to the time together.
You're celebrating the fact it was powerful and made you feel something, rather than 'this didn't work out, and that's bad.' And if you run into that person, maybe it's awkward, maybe you have to get drunk … but you shared something. Meeting someone new, sharing those experiences, it's the best shit ever."
In 2015, The Sun magazine reported that Harry Styles briefly dated Nicole Scherzinger, known for being the lead singer of the Pussycat Dolls. She is 16 years his senior – at the time Harry was 19 years old, while she was 35. They met in 2010, when Harry auditioned as a solo artist for "The X Factor", on which she served as a judge. She was the one who formed One Direction, putting them together. Three years later they allegedly had a brief affair, and once again in 2014. A source told the magazine, "They had a dalliance at the end of the X Factor in 2013 and met up again early last year."
The source also said, "Harry was obviously very taken by Scherzinger who is stunning, and he had always looked up to her," but adding, "Harry was 19 at the time but had an old head on his shoulders, because he'd already been in a relationship with Caroline Flack who was 14 years older than him." What a womanizer, but shouldn't those ladies have known better?
In 2013, the One Direction star was also involved in a relationship with Kimberly Stewart, the daughter of famous singer Rod Stewart. Harry obviously has "a thing" for older women, since she is 14 years his senior. The rumors surfaced when he was pictured having dinner with her, Rod and his wife Penny Lancaster in Los Angeles. According to The Huffington Post magazine, Kimberly's father eventually confirmed their relationship, saying "His [Harry's] car was here in the morning. Let's put it that way. But he may just have come round to pick something up…." but adding, "Bollocks – I've let the cat out of the bag. Harry couldn't be kinder. He is very funny guy."
Harry Styles soon stole the heart of the "Keeping Up With the Kardashians", star Kendall Jenner. In November 2013, they sparked the dating rumors after being spotted for the first time together on a dinner date in Los Angeles. He denied it during an interview with CNN's host Piers Morgan – when he was asked if they were dating, Harry responded, "I mean, we went out for dinner, but no, I guess." A source told the magazine, "They aren't 'dating.' They are just friends. That was like the first real time they hung out. We will see what happens." They continued to spend time together over the next month, but reportedly broke up in February 2014, when he went on tour.
In October 2015, the One Directioner briefly dated New Zealand model Georgia Fowler. She would share a short video of her and Harry playing Scrabble on a Snapchat story, which set off the dating rumors.
Many fans also speculated that his hit song entitled "Kiwi", was dedicated to the renowned model, since Kiwi is actually a nickname for people from New Zealand. According to Daily Mail magazine, during her appearance on Australian "The Morning Show", Georgia said that she didn't know anything about the song and added, "Definitely didn't have a baby. That's what the song's all about so I think it's highly unlikely." She also called him a "friend". Following their breakup, she was seen attending a One Direction concert, so they apparently remain on good terms.
It wasn't long before Harry and Kendall were seen together again – on New Year's Eve 2015, they were photographed getting cozy on a yacht, during a vacation in the Caribbean. Kendall's sister Khloé Kardashian confirmed for Entertainment Tonight that the two were dating, saying "Do I think they're dating? Yes," but adding, "I don't know if they're like boyfriend-girlfriend. Nowadays I don't know. People are weird with stuff. So, I don't know their title. But I mean, they were in St. Barts together hanging out, so to me that's dating."
— Harry Styles. (@Harry_Styles) October 11, 2019
As much as people thought there was something between them, neither of them confirmed it in public. Maybe they were just friends with benefits? No matter what, the two of them are still close friends. They reunited at the 2019 Met Gala, and appeared next to each other on "The Late Late Show With James Corden". A source told US Weekly magazine, "Harry and Kendall are great friends and always have been. They don't get to spend a lot of time together, but when they do, they always have a blast. It's an easy, super chill friendship."
In May 2017, it was reported that Harry Styles had a brief affair with the London-based food blogger and chef Tess Ward. After they were introduced by mutual friends, a source revealed to US Weekly magazine that they "have been casually seeing each other and have been out on several dates. They met through mutual friends and are really into each other." However, the couple ended their relationship just weeks later, and she reconciled with her ex-boyfriend.
Following his breakup with Tess Ward, Harry Styles put a spell on Camille Rowe, having met the Victoria's Secret Angel through a mutual friend in July 2017. During the same month, during his interview for BBC Radio 1 he said that he didn't know her when Nick Grimshaw showed him a photo of her. According to The Sun magazine, he said, "I don't know her. I'm sure she's a wonderful person. I hate you all so much." Shortly afterwards, Harry and Camille were spotted together at a Fleetwood Mac concert in New York City. An eyewitness told US Weekly, "They looked really cozy. They seemed like they were having a good time and were enjoying each other's company."
She then accompanied him on "Harry Styles: Live on Tour", and were photographed a number of times by paparazzi at various occasions and events. Harry even introduced her to his family in December 2017, but after dating for a year, the couple split in July 2018; their relationship is his longest one to date, and they apparently remain close friends.
Harry eventually admitted that his song, entitled "Cherry", was addressed to their split, as it also featured her voice at the end. According to Metro magazine, he said, "When we listened back to the album, I asked her to add it in. I think she liked [the song.]," but adding, "Cherry's about… I wanted it to reflect how I felt then. I was feeling not great. It's all about being not great. Because you get petty when things don't go the way you want it. There's parts that's so pathetic."
One of his best friends, Tom Hull, revealed more details about their breakup in his 2019 interview for The Rolling Stone magazine, saying "He went through this breakup that had a big impact on him." adding, "He had a whole emotional journey about her, this whole relationship. But I kept saying, 'The best way of dealing with it is to put it in these songs you're writing.'" Harry confirmed that, saying "It's not like I've ever sat and done an interview and said, 'So I was in a relationship, and this is what happened. Because, for me, music is where I let that cross over. It's the only place, strangely, where it feels right to let that cross over."
Most recently, the handsome heartthrob was rumored to be in a relationship with Japanese model Kiko Mizuhara. The two of them reportedly started their romance in January 2019 – they followed each other on Instagram, although according to Cosmopolitan magazine, the attractive model denied those rumors via Twitter, writing, "It's been reported that Harry Styles and I have been in a relationship, but I have no relationship with him, and I have never met him. The world is full of fake news. People believe what they want to believe rather than questioning reality." Her tweet was written in Japanese and roughly translated to English. Shortly afterwards, everything has changed! Kiko was spotted attending Harry's 25th birthday party in Tokyo, documented in a video posted on Instagram, so they obviously know each other. Moreover, he has made several trips to Japan to spend time with her. Since then, nothing about them has appeared in public. So, there is no information if they were/are really together keeping their relationship under wraps, or not!
As to Harry's current situation, well apparently he's single as of mid-2020, but given his track record, how long will that last?