Who has Heidi Klum dated? Boyfriends List, Dating History
One of the highest-earning models in the world according to Forbes, the first German model to join the team of Victoria's Secret Angels, the long-term host of super-successful projects as Germany's "Next Top Models" and "Project Runway", a happy mother of four – it's all about Heidi Klum. One of the most famous models and businesswomen of our time, she has managed to keep her personal life almost completely clean of controversies, rumors and speculation, as she has always been quite honest about her marriages and relationships.
Born on 1 June 1973, in Bergisch Gladbach, then West Germany, Heidi Klum is the younger child of Erna and Günther Klum – her older brother is Michael. Her mother worked as a hairdresser, while her father was a cosmetics company executive. When Heidi was 19 years old, one of her friends convinced her to participate in the local pageant "Model 92".
First voted as the winner of the week and then the winner of the month, Heidi was eventually crowned as the winner of the whole contest, leaving around 25,000 other contestants behind, and receiving a $30,000 contract with the Metropolitan Models New York agency as her first-place prize.
In the middle of 1992 Heidi matriculated from her high school and could accept the contract she won earlier. She changed her mind on her decision to become a fashion designer's apprentice in her fashion design school, and pursued her modeling career.
Heidi's first publicly known relationship began in 1996 when she met Ric Pipino, who worked as a Manhattan celebrity hairstylist. They started dating a couple of weeks after their first meeting, and Ric soon proposed to Heidi, on top of the Empire State Building. The couple married on 6 September 1997, after just a year of dating.
Their wedding ceremony included elements of a traditional German wedding: the newlyweds sawed a log, holding a two-handled blade together. 'It's to be the first task you do together as a married couple', Heidi shared with People Magazine, 'It's not easy at first, but after a while you get the groove. Just like marriage'. Another Southern German tradition made Ric climb the stairs to get to the wooden stork on the tree, as in its nest there was a doll Pipino retrieved and presented to his bride as a symbol of their future kids. However, despite the marriage between Heidi and Ric lasting for more than five years, she didn't give birth to any children, and the couple divorced on 1 November 2002, stating they separated amicably, but had irreconcilable differences.
Shortly after her split from Ric Pipino, Heidi had a short fling with the frontman of the Red Hot Chili Peppers band, Anthony Kiedis. The couple were seen multiple times walking together and holding hands in 2002.
Klum and Kiedis showed some PDA in Sydney, Australia, but their affair didn't develop into a serious romance, and they separated as surprisingly as they started, without fuss. Anthony then switched to the Hollywood actress Demi Moore, who was single after separating from Oliver Whitcomb, while Heidi comforted herself in the arms of her new beau, Jay Kay.
At the end of 2002 Heidi was rumored to have a flirtation with the frontman of British group Jamiroquai, Jay Kay. After Klum appeared in the band's music video "Love Foolosophy", which was released earlier that year, the two were rumored to have chemistry for each other. They were seen several times flirting and chatting at various events, including the Brit Awards 2002. They were also spotted kissing at the GQ Magazine of The year Awards 2003, but Heidi later called that kiss a 'friendly one'. Neither Heidi nor Jay ever confirmed that they actually dated, and whatever relationship they had, soon ended.
In March 2003, Heidi started dating Italian businessman and Renault's Formula One team's managing director Flavio Briatore. Despite the significant age gap – Heidi was 23 years younger than her new boyfriend – the couple looked happy together. Klum wasn't even dissuaded by the criminal past of her new boyfriend. Born on 12 April 1950, Flavio Briatore was prisoned twice after being accused of several frauds. A friend of Luciano Benetton, Flavio developed several Benetton franchises in the US, later becoming the manager of the Benetton Formula One racing team. Heidi was not the first model to have an affair with Briatore; in 1998 Flavio dated Naomi Campbell, who also took his mind on and off again even when Flavio was already dating Heidi. Naomi, who was dragged into multiple controversies and scandals around her sponsors, later called Briatore her 'mentor'.
In December 2003 Heidi announced she was expecting a baby from Flavio, but the future father was too busy with his side love affairs to share the joy of Klum's pregnancy.
Caught with another woman, Flavio was banned from seeing Heidi and their daughter who Klum gave birth to in May 2004. By the time Helene "Leni" Boshoven Klum arrived, Heidi was already dating the singer Seal, who supported Heidi while she was giving birth to her first child. 'Seal is Leni's father', Heidi stated after she was asked if Leni's biological father is allowed to see his daughter.
By the time Heidi Klum met Seal, her modeling career was really blossoming. She was featured on the covers of many respected magazines, such as Vogue, Glamour, Elle and Marie Claire, and also graced the covers of local Vogue editions in Portugal, Spain, Germany and France. Further highlights in her career were her appearance on the cover of the prestigious Sports Illustrated Swimsuit Issue, and her joining the team of Victoria's Secret Angels, appearing on catwalks for the lingerie brand several times, the first German model to become an Angel. From 2002 Heidi became a "Head Angel", also hosting the shows, but chose to skip some shows due to her growing baby bump.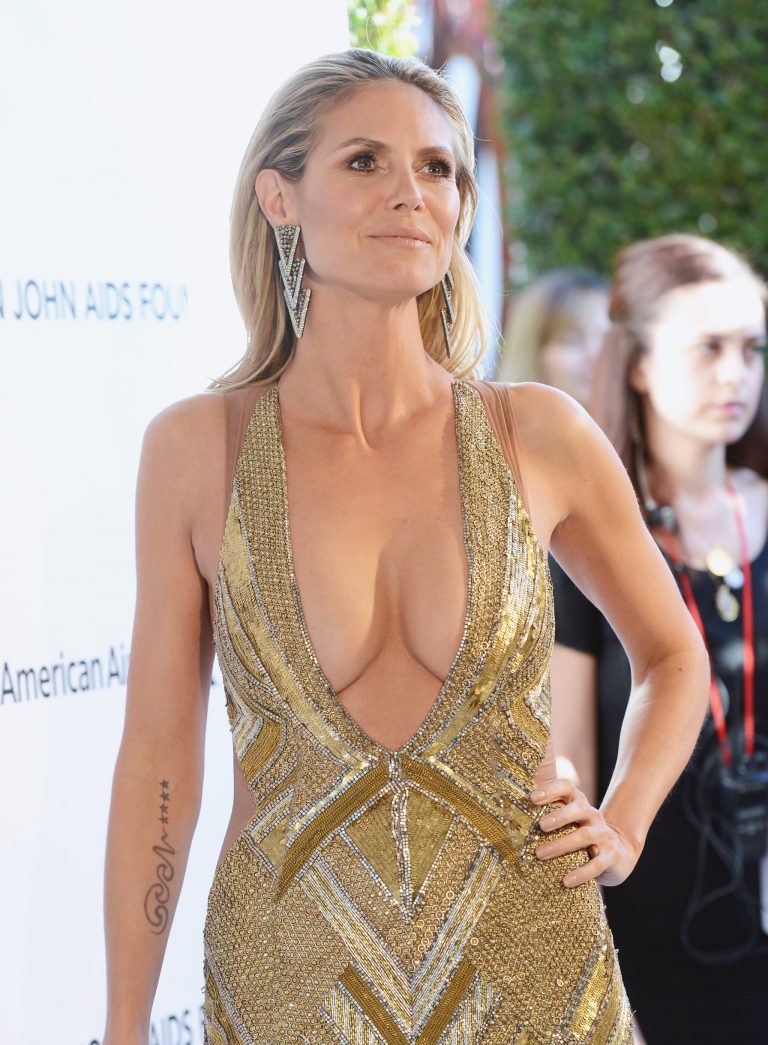 Born on 19 February 1963, Henry Olusegun Adeola Samuel, who is mostly known under his stage name Seal, comes from Paddington, London. His music career started in 1987, when he joined the funk band Push. By the time he started his relationship with Hiedi Klum, he had successfully released his studio albums "Seal" in 1991), "Seal II" the following year, "Human Being" in 1998, and "Togetherland" in 2001. Klum and Seal began dating in February 200, with the "Killer" singer sharing with Heidi the last months of her pregnancy, welcoming her daughter. Since Flavio Briatore, Helene's biological father, wasn't allowed to visit his daughter, and apparently wasn't desperate to do so, Seal was there for Heidi in the first months of Helene's life, also experiencing at least quasi-parenthood for the first time.
On 23 December 2004, while on their Canadian trip, Seal proposed in a quinzee on a glacier in Whistler, the Canadian province of British Columbia – the impressed German model called the 14,000-feet-high proposal 'a once-in-a-lifetime event'.
The two changed the location from snowy Whistler to hot Mexico to celebrate their engagement in Seal's house. Speculation on the upcoming marriage of the model and the singer was rife, so in March 2005 Heidi appeared on the popular German TV show "Wetten Das?" to state that she was still engaged to Seal, andt the wedding hadn't happened yet: 'Look .I still have one ring. There are not two rings on my hand yet', Heidi laughed, showing her engagement ring alone gracing her finger. However, the wedding was inevitable, as in February 2005 Heidi and Seal announced that they were expecting their baby.
On 10 May 2005 Seal and Heidi married, and in September 2005 Klum gave birth to their first mutual son she named after her husband and her father – Henry Günther Ademola Dashtu Samuel. Their second mutual son and Heidi's third child was born in November 2006, named Johan Riley Fyodor Taiwo Samuel, however, Heidi wasn't in a hurry to change her last name, officially becoming Heidi Samuel only in November 2009, a month after their third mutual child and Klum's fourth was born, a daughter they named Lou Sulola Samuel.
By the end of 2009, Flavio Briatore had legally allowed Seal to adopt his biological daughter, Leni; her name was also changed to Helene Samuel. 'It doesn't make Leni any more or less my daughter. She always has been', Seal shared with U.K.'s Mirror, 'All it means is that both Heidi and I wanted her to have the same last name as the rest of us … It was about Leni. I don't want her to feel different because I know what that's like, being a kind of stepson', Seal reasoned.
In January 2012, after seven years of marriage which looked ideal from an ordinary person's perspective, Seal and Heidi announced that they were separating. Despite their annual re-marrying on the date of their wedding ceremony, and other romantic moments they consciously included in their family life, Klum and Samuel had problems they ad thoroughly hid from the public. Heidi's fans blamed Seal for convincing Heidi to quit Victoria's Secret shows after 13 years of working as a "Head Angel", and they had multiple arguments due to Seal's 'volcanic temper', a source close to the couple reported to TMZ.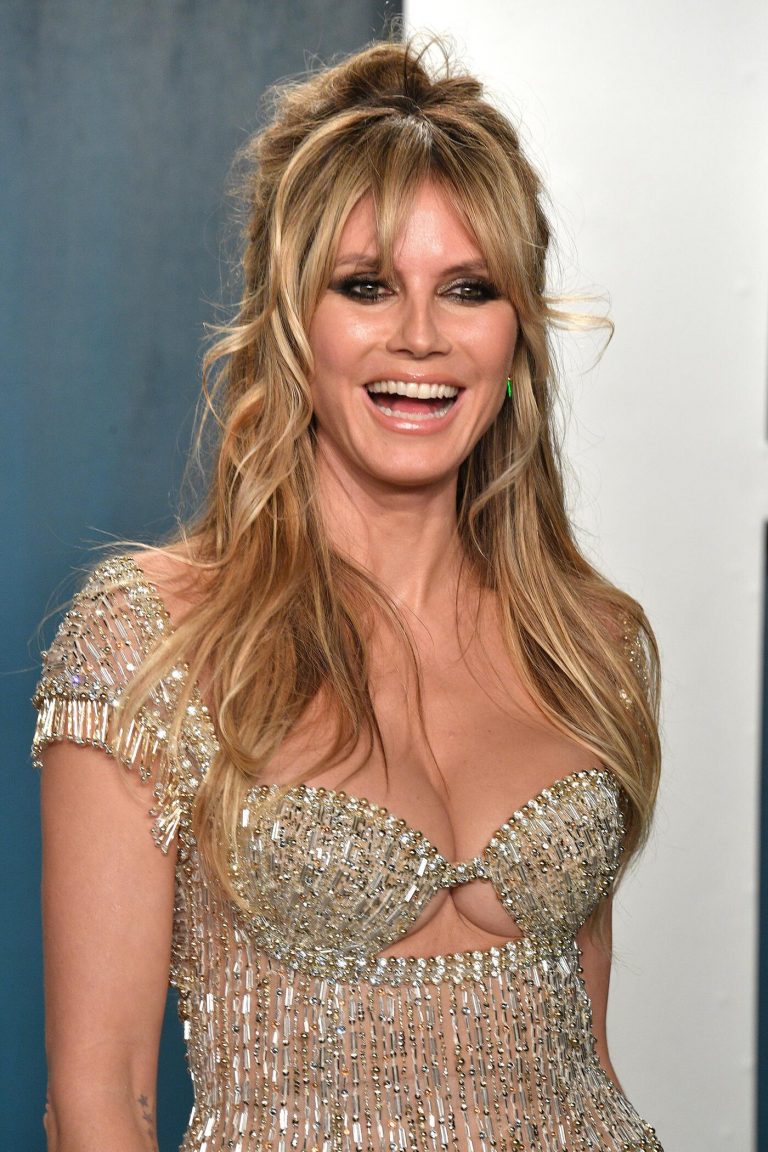 On 6 April 2012 Heidi filed for divorce from Seal, and the legal process was finalized on 14 October 2014. As of 2020, Heidi filed for an emergency hearing as Seal didn't allow her to take their kids with her to Germany, where Klum is about to film the next season of the show she is hosting, "Germany's Next Top Model". According to the supermodel, the father of her kids is concerned about the pandemic situation in Europe, and doesn't want to put his kids at risk of being infected with COVID-19, even though Klum claims she is 'aware of all of the necessary precautions associated with the virus'. A few days later the couple was reported to have reached an agreement, so Heidi was permitted to travel with the kids.
After separating from Heidi, Seal dated Erica Bexter Packer from 2015 to 2016.
As soon as she broke up with the father of her kids, Seal, German model started dating her bodyguard, Martin Kirsten. Ethnically Australian, Martin comes from South Africa. Before he started dating Heidi, he had a very successful career in security, but it came up to an end when he had to look after Heidi's four kids while the model was out of town working.
Being a house-husband drove Martin mad, as he did everything he could to organize the kids' life – he took them to school and back home, walked with them and cooked all the meals at home. Even though Seal was sharing custody of the children and spending time with them, it was too much for Kirsten, so he gave up and called it quits in January 2014 after 18 months of relationship with Klum. Some sources later stated that Heidi bought a house and gave Martin money to 'keep his mouth shut' about the relationship they had.
It's also worth saying that while with Martin, Heidi decided to remove her Seal tattoo she had had on her right inner arm since 2008.
In 2017, Martin's name hit the headlines of the newspapers as he was the person who gave Chris Cornell two Ativan pills after the musician finished the show in Detroit. Martin later found Chris dead in his hotel room when he came up to fix his computer.
According to the police reports, Cornell had a prescription for the pills, but his wife Vicky called Martin and asked him to check Chris as he 'didn't sound okay' when she talked to him on the 'phone. Kisten rushed to Cornell's room only to find him dead lying on the bathroom floor.
In February 2014 Heidi moved on with her life, and startedg dating an art dealer from New York, Vito Schnabel. 13 years younger than the German supermodel, Vito is the son of Julian Schnabel, a famed artist-filmmaker. The two were spotted kissing on St. Valentine's Day in Hollywood. Vito earlier dated Demi Moore and Elle Macpherson, who were also much older than him – 51 and 50 respectively, at the moment of their relationships – so the reputation of a chaser of older rich and famous females stuck to the young fellow. However, it looked like this didn't bother Klum too much. The two dated for three years, but in June 2017 Vito was spotted kissing a mystery brunette he spent time with, on the backseat of a cab in London. In September 2017 Klum confirmed that she was no longer dating Vito, not commenting on the case of his alleged cheating on her.
"The day inhales in a contagious yawn
And there you smile…"

❤️♾ pic.twitter.com/Uait4MPPVH

— Stella Maris (@setastellam) November 14, 2020
Concurrently during her romance with Vito, Heidi was rumored to have had a fling with Nick Cannon, her co-star on "America's Got Talent". When Nick left the show, passing his hosting duties to Tyra Banks, Heidi shared that she was 'feeling bittersweet' about his departure.
On 22 February 2018 Heidi began dating Tokio Hotel guitarist Tom Kaulitz. Tom is 16 years younger than Klum, but the two looked happy together. The relationship between the supermodel and the worldwide popular musician developed quickly, as Tom proposed to Heidi precisely a year after they started dating, on 22 February 2019, although Klum stated that she waited for too long to say 'Yes': 'We met February 22, 2018… I would have married him that day!' she said to the reporter from Extra TV. Heidi and Tom were rumored to elope, marry privately, but the German beauty denied the rumors: she wanted a big classic marriage: 'Not super big, but yeah', she shared her plans.
The wedding ceremony was held on 3 August 2019, although some sources consider that Heidi and Tom married privately on 22 February 2019, only having a big ceremony later in August. Heidi denied the rumors, but no one still knows the exact date Klum became Mrs. Kaulitz.
As of late 2020, Tom and Heidi are still together, making mutual appearances at various red carpet events among others. Little is known about the relationship Tom has with all of Heidi's kids, but her eldest daughter Leni has sure made friends with her new dad, as she posted a photo of them hugging on her official Instagram account.
Hopefully the relationship will prevail, but with her history of romantic associations and the apparent pressures of being involved in the entertainment industry, one can never be sure.