Who has Jace Norman dated? Girlfriend List, Dating History
• Jace Norman is an actor best known for his role in the comedy television series "Henry Danger"
• He has been romantically linked to several girls, including Riele West Downs, Jordyn Jones, Isabela Moner, Sydney Park, Daniella Perkins, Cree Cicchino, and Shelby Simmons
• He and Isabela Moner were a couple for seven months before parting ways
• He was accused of stealing Daniella Perkins from her then-boyfriend Zach Clayton, though both sides denied it
• Jace is currently thought to be single and focused on his career
Teen heart-throb Jace Lee Norman was born in Corrales, New Mexico USA, on 21 March 2000 under the zodiac sign of Aries. The young handsome guy came to prominence for being a professional actor, probably best recognized for starring in the title role of Kid Danger/Henry Hart in the comedy television series "Henry Danger", aired on Nickelodeon. His acting performances and good-looking appearance brought him immense popularity among the younger female audience. The teen actor has been romantically linked to several beautiful women, so we've compiled a list of his real-life leading ladies. Just keep listening, and check it out!
The young Canadian actress Riele West Downs is said to be the first girl Jace Norman was romantically linked to in public – she's known for being involved in the film industry since the age of four.
They met each other when both were aged 13 or 14 in 2014 on the set of "Henry Danger", in which she landed the role of Charlotte Bolton, who is the best friend of his character. They even earned the ship nickname 'Chenry'. Jace and Riele became pretty close during the filming of the series – it was obvious that there was chemistry between the two of them which led to the dating rumors. Many believed that Riele was Jace's first love. They were supposedly in a relationship for five months back in 2015, from February to June. Nonetheless, Jace and Riele eventually shut down those rumors and stated that they had always been just friends and nothing more than that.
After killing those rumors, Jace was soon linked to Jordyn Jones. She achieved enormous popularity as a professional dancer, and a competitor in the Lifetime dance reality show "Abby's Ultimate Dance Competition".
She also performed at the 2015 Nickelodeon Kids' Choice Awards event, attended by Jace Norman, so it is very likely that they met there for the first time. Afterwards, the two were spotted hanging out together multiple times in various occasions. The young teens also shared their cute photos across their official social media accounts, which immediately sparked rumors of romance, leading their fans to think that they were actually an item. It was speculated that the young couple started dating in November of the same year, while they reportedly ended their romance in January of the following year. However, neither of them has either confirmed or denied it, so the truth about Jace and Jordyn remains a mystery!
Jace Norman's most noted and publicized relationship to date was with actress Isabela Moner, known for starring as CJ Martin in the Nickelodeon series "100 Things to Do Before High School".
The "Henry Danger" star met the beautiful teen actress when they started working on the set of the film "Splitting Adam" in 2015. They appeared in the lead roles, their characters romantically linked, and it didn't take long for them to make their onscreen romance a real-life reality, much to the delight of their many fans. The young actors were pretty close before they developed feelings for each other, and decided to take a step further. In April 2016, they went public with their relationship, after sharing their photo kissing each other. Although Jace decided to delete it immediately in order to keep their romance away from the eye of the public, he failed to do so since their fans had already seen the picture and copied it. Later that month, Isabela shared their selfie on Instagram with the caption, "it's not about the things you do, it's who you're doing them with…"
According to J-14 magazine, Jace would later reveal why he decided to be open regarding their romance, saying "Honestly, I was a little bit worried about how they would react. They're my fans and obviously I want them to be happy, but it's my life and if they don't like it, there's nothing I can do." Then added, "It's not like there was this strategic decision we made, or a major discussion, it's just a normal thing. I think everyone who follows me wants to know more about my life, and so it's not something I am going to hide just because some people may get upset."
So, the duo continued to share their cute photos across social media platforms, and soon became identified as one of the cutest teen couple ever. They were spotted together at various public events, and filmed a number of video blogs, earning the nickname 'Jacebela'. In an interview with Celeb Secret TV at the 2016 Kids' Choice Sports Awards, she revealed what she loved most about him – "I like that he's just like a really funny guy.
https://www.facebook.com/j14magazine/photos/a.10150282774407613/10153866180307613/
And he's just… We are friends for anything. We are best friends." She continued, "So, that's great, to be able to, you know, be in a relationship with my best friend. Amazing!"
In August of the same year, Jace surprised Isabela on her 15th birthday. According to J-14 magazine, she recalled, "I was surprised by Jace. He got me a bouquet of flowers, on a boat ride, he rented out the boat. We got to go on the ocean, along the shore of Vancouver, and it was beautiful. He surprised me and it was super fun. I didn't know he was capable of that much romance! And I had posted on Instagram that I had never gotten flowers from a boy, that was the first time. I didn't know how to react! I was like, 'Thanks, you're my favorite person ever.'"
Unfortunately, their relationship didn't last longer than seven months, since they parted ways in November 2016.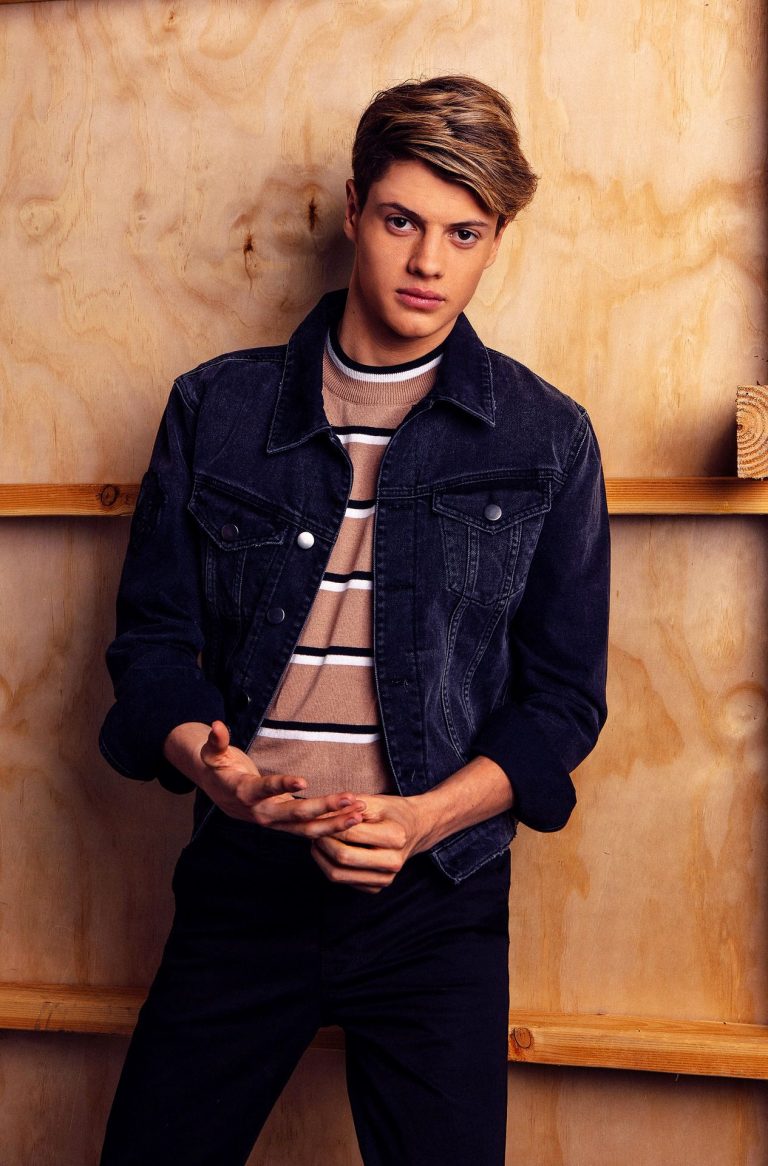 The handsome actor confirmed the news in a phone call with Just Jared Jr. magazine, saying, "We're just friends," but adding, "I don't know if I'm careful so much as I don't like to let people dictate what happens. I'm down to let them know what's going on in my life and stuff, but…if you listen to all the comments you don't really have control. I'm not really careful. I just do whatever." Jace and Isabela ended their romance on a mutual understanding due to their young age and busy schedules. They remain on good terms.
Following his split from Isabela Moner, Charlie was rumored to have a brief fling with famous actress Sydney Park. Although they had known each other for a long time, rumors started after they were spotted flirting on Instagram. The "Instant Mom" star reportedly posted a sexy selfie on her official Instagram account in March 2017, while Jace wrote in the comment section, "I mean", and she replied with a heart emoji.
Their fans immediately thought there was something more between them, however, their hopes and the rumors were never confirmed.
In September 2017, Jace Norman was accused of stealing Daniella Perkins from her then-boyfriend Zach Clayton. According to Teen Vogue magazine, Zach and Daniella announced their split through Twitter, writing that they had both decided "it would be best for us to just be friends. We both have so much going on and it's best for both of us." Shortly afterwards, Zach tweeted, "how does it feel coming in between people's relationships", and tagged Jace. He also wrote, "What's up Henry Danger? Think twice before coming in between other people's relationships."
It sparked the rumors that Daniella cheated on him with the "Henry Danger" star, but she immediately denied it in her Instagram Live.
Jace would later open up about the supposed scandal in an exclusive interview with J-14 magazine, saying, "I'm usually a pretty low-key guy and I've never been hit with that much attention. I didn't know who he was…but his fans are very passionate. That was an interesting night for me. I definitely saw the power of social media in a negative way. …I tried to just let it blow over. …I was more concerned about Daniella 'cause she was the one who was getting accused of a lot of things….for me, Zach was just going after and trying to get some attention for me. I was just trying to stay low-key and protect Dani." If there was a relationship, it certainly didn't last long, because …
…in February 2018, Jace Norman was rumored to be in a relationship with Cree Cicchino, after their characters spent Valentine's Day together on screen.
It led to their fans thinking that the two of them were in an off-screen relationship. Nonetheless, Cree attempted to shut down those rumors during her interview for Celeb Secrets magazine, saying, "It was great! Jace is super talented and we had a lot of fun. It's always nice to work with a good friend."
After something of a break, at least publicly, in March 2019 Jace sparked rumors of a romantic relationship with attractive actress Shelby Simmons, after they made a red carpet appearance together at the Nickelodeon Kids' Choice Awards event, at the Galen Center in Los Angeles, California. Thereafter, both of them shared cute snaps taken during the ceremony, while she wrote in the caption "Had an awesome time at the kids choice awards! The slime was legit. Thank you jacenorman for inviting me and thank you saniyyasidney amconstance for being there with me! I love you guys."
— Jace Norman (@Jacenorman) June 6, 2020
So, hJace apparently invited her to the event, and afterwards the couple continued to share a number of photos on their social media accounts. Although they never publicly admitted that they were in a relationship, many believed that there was probably something more than friendship between them. However, it seemed that the duo parted ways withing a few months, since she deleted their pictures. We hope that at least they remain good friends.
Jace Norman stands for one of the most desirable teen actors out there. It's believed that he has effectively been single since he split from Isabela Moner. The handsome Nickelodeon star is currently focused more on his professional career than on his private life including romantic relationships. However, as we all know, that can change overnight, especially in the world of entertainment. We have no doubt that some beautiful girl will at least try to steal his heart. It remains to be seen who that will be!