Who has Jennifer Lawrence dated? Dating History Since Youth
• Jennifer Lawrence is a successful American actress who is best known for her role in the Hunger Games trilogy
• She has won various awards, including an Academy Award, and has been voted one of the world's sexiest women
• Despite her fame, Jennifer has had a low-key dating history, though she has had relationships with Nicholas Hoult, Chris Martin, and Darren Aronofsky
• Jennifer has denied sexual encounters with Harvey Weinstein and claims of an affair with Chris Pratt
• She married Cooke Maroney in October 2019
American actress, Jennifer Shrader Lawrence, who first stole the hearts of her audience in 2012's 'Hunger Games' with her impressively accurate portrayal of Katniss, and later as the depressed widow in 'Silver Linings Playbook', is now one of Hollywood's most successful female action stars and actresses.
Not only is she celebrated for being very attractive, but Jennifer was raised to be much tougher than most other women, under the influence of two older brothers and her basketball coach father, making her a natural choice for action films. Born 15 August 1990, in Indian Hills, Kentucky USA, as a young girl, Jennifer's mother was even reluctant to let her play with other girls, afraid that she might be too rough for them, which may have been the reason why she seemed so natural in the role as the die-hard and super tough protagonist of the 'Hunger Games Trilogy'.
However, as Jennifer admitted, although it may have given her an edge as an action star, due to anxiety and hyperactivity, her social life as a young girl and later a teenager was marred with difficulties.
She considered herself unpopular with her peers, but all that changed when she took up acting, saying that it has somehow cured her anxiety, and given her the freedom to live life the way it is meant to be. She certainly has come a long way from the teenager she used to be, becoming the second-youngest actress to win an Academy Award for Best Actress among many other accolades, as well as being voted among the world's sexiest women by both 'FHM' and 'People Magazine'.
Despite being both beautiful and talented, the 'X-Men' actress hasn't had a very promiscuous dating history, although leaked nude pictures in circulation on the internet may suggest otherwise.
Those pictures were never meant to go public, and Jennifer has still maintained a subtle image when it comes to her romantic and personal life, even describing her love life as non-existent. In an interview with 'Extra', after being questioned about her romantic interests, she responded by asking, what love life? However, despite admitting that her romances have been low-key, Jennifer has had some success when it comes to finding love, and the most recent development seems to be even more so, since the actress married before she turned 30.
In 2010, Jennifer met Nicholas Hoult on the set of 'X-Men: First Class', with whom she had her first public relationship. Nicholas portrayed the character Beast while Jennifer starred as Raven, later identified as Mystique, and while the two characters would share some spark between them, they didn't start dating until the following year.
Jennifer Lawrence has officially split from Nicholas Hoult. Who should she date next? http://bit.ly/1pvWY32

Posted by MyFvs on Friday, August 1, 2014
Their relationship was kept explicitly private, and they seldom shared any details about their romance, but following leaked nude photos that were intended for Hoult's eyes only, the truth about their romance came to light.
The couple dated for two years until they split up in January 2013. Hoult only had praise for the actress, at one point even calling her incredibly special. Despite speculation that their careers and Jennifer's growing fame may have been the reason the two grew apart, Nicholas claimed that it did not change anything about the relationship. In an interview with V-Man Magazine, Hoult revealed some of the details that had been kept secret. He did say that the privacy of their relationship may have changed as they grew more popular, but it did not alter anything on how they approached their association.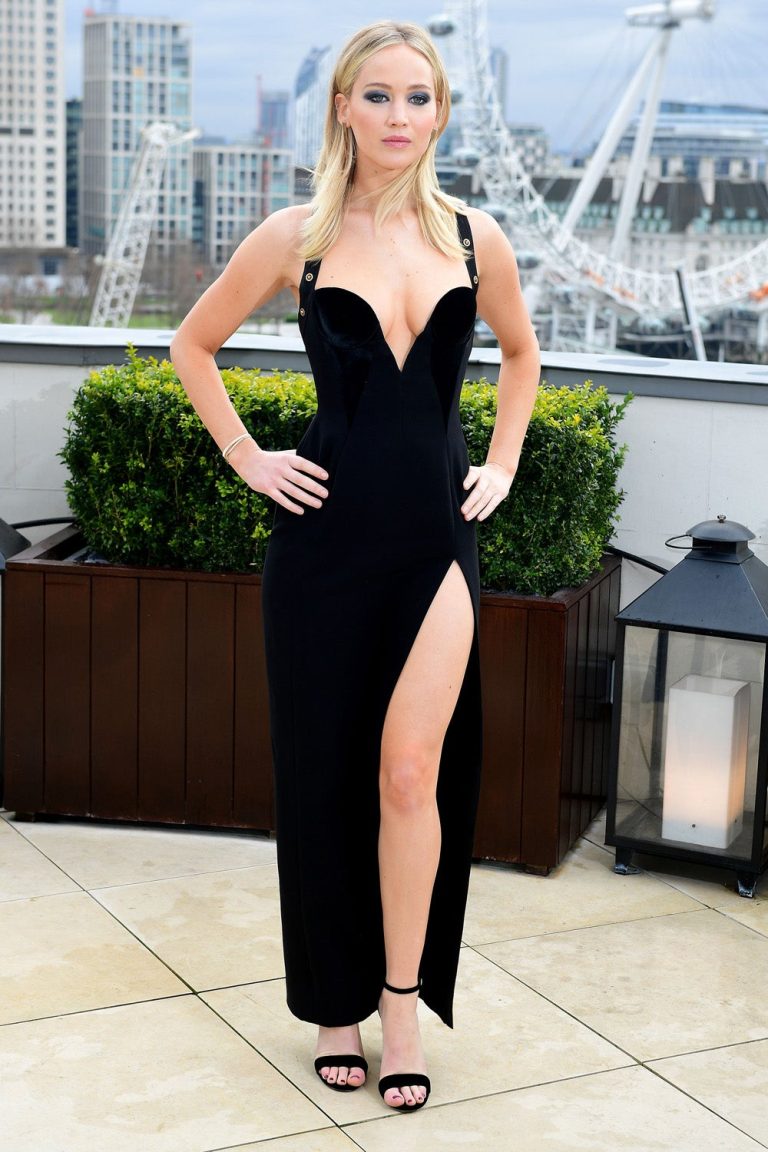 He added that acting alongside his girlfriend had been amongst the best experiences of his career, and that they did their best not to allow personal feelings to affect their performance. His praise for the actress also implied that she is incredibly down-to-earth, and doesn't let her fame dictate her personality, which he regarded as one of the things that makes her so special.
Jennifer has previously stated that, when comparing acting as a career to a career in medicine, she finds it stupid and far less important, which is one of the reasons she remains level headed about her fame.
Despite their breakup in early 2013, the two remained friends and continued to work together on 'The X-Men' films. In July the pair even attempted to rekindle the passion, but ultimately failed and finally called it quits in 2014, but were still able to film together, and make the 'X-Men' film series a success.
Both have moved on from the relationship, with Hoult recently welcoming his first child into the world, but it took a period of recovery before Jennifer had the courage again start dating. Jennifer had been shaken by the break-up, confessing to 'ABC News' that she was uncertain of who she was without him. At one point she jokingly complained about how men don't want to ask her out, feeling that her fame might intimidate them, saying that she should probably wait for someone who has been living in Baghdad, and doesn't know who she is.
However, she also mentioned that she can't wait to get married, and when she meets the one, she will do her best not to mess things up.
Still, late in 2014 Jennifer entered into a whirlwind relationship with the lead singer of Coldplay, Chris Martin. The nature of their relationship had people constantly questioning, are they together, or not?
This began four months after Chris' wife, actress Gwyneth Paltrow filed for divorce, but it seemed as if the couple had been uncertain of whether they wanted to date. Most of the details about their relationship have remained a closely kept secret, but everyone knew they were in a somewhat on-off relationship, which may well have suffered serious strain because both singer and actress had an incredibly tight schedule at the time.
Jennifer was filming several projects, but still had time to attend Coldplay concerts, as well as to introduce him to her family. Martin, on the other hand, had a much more complicated time. While spreading time between performances, recording in the studio, and spending time with his family, he would also have to make time to be with his girlfriend, Jennifer.
During the two years that they were sometimes together, Jennifer was very understanding of his situation, but in August of 2016, they concluded that it wasn't going to work out, and ended the relationship for good.
However, as with all her exes, Lawrence remains good friends with Chris. During a podcast interview, she revealed the true reason why she could no longer date Chris, and it was for the simple fact that she wanted more commitment from his side. She wasn't getting what she wanted from him, but added that she remains friends with her previous romances, simply by being blunt and honest.
She also confessed that she has a habit of dating good people, which might make it easier in the end, and although she suffers heartache with each break-up, it is never quite as devastating as many other tragic relationships.
In 2016, while working on the film 'Mother!', Jennifer was rumoured to have been involved with the resident director and writer, Darren Aronofsky. The pair were spotted a couple of times hanging out and having lunch together, making it seem as if they were dating casually. Aronofsky had previously been married to actress Rachel Weiz, with whom he has a ten-year-old son, but it appeared that he was ready to move on and begin a new chapter of his life.
Jennifer, who had earlier stated that she does not have a specific type of man that she is interested in, saying that patterns are the work of the devil, admitted that she fell for Darren on first sight. The couple confirmed the dating rumours following the completion of the film, and in a revealing interview years later, Jennifer admitted that she had been in love with Darren longer than they had been dating.
She also stated that Darren had played hard-to-get for about nine months, and that it was frustrating to her, but he eventually gave in to her quirky charms. In an interview with Vogue magazine, mainly focused on discussing the film, Jennifer revealed that they started seeing each other after the film was produced, also saying that it was among the most difficult roles of her career to play, which once even resulted in a panic attack.
Although she kept most of the details about their relationship quiet, she did have a few things to say about the director. She commented that in general she doesn't like people from Harvard, mostly because of their eagerness to tell people about their educational attainments, but that Darren was different.
She also complimented his fathering skills, saying that he is a good father and wonderful family man.
Conversely, she mentioned that he finds her interests in reality television vastly disappointing, but that the relationship was far easier than any other she had in the past, all thanks due to his directness of purpose. Still, in November 2017 after dating for nearly a year, they ended their relationship despite looking like one of the few Hollywood couples who could make things work, despite the age gap of 22 years. They have remained friends though, and Lawrence has been seen supporting her ex-lover and good friend at a couple of events. Jennifer admitted she still loves him, and will continue to love him for a long time to come.
When it comes to false claims and untrue rumours, J-Law has been in the firing line a couple of times. Not only were false claims of a sexual encounter spread by Harvey Weinstein, but the actress also suffered scrutiny from fans after rumours were spread that she was the cause of Chris Pratt's failed marriage with Anna Faris.
Harvey, who has been accused of multiple sexual assaults, claimed that he had a sexual relationship with Jennifer Lawrence, saying that she had sex with him, and that she is an award-winning actress all because of him. Allegedly, Harvey uses promises of stardom to lure young women hoping to make it in the industry to have sex with him, and would even threaten to damage their career if they didn't comply with his requests.
The Miramax founder was found guilty on recent assault charges, but Lawrence denies that they had a sexual relationship, in a statement she released saying that their relationship was purely professional.
As for the controversial claims that she had an affair with her 'Passengers' co-star, Chris Pratt, Jennifer also denied this claim and even made a public apology to Anna Faris. J-Law said that the rumours are as ridiculous as the previous claims that she had a secret relationship with Brad Pitt. Although flattered by these rumours, Jennifer says that they aren't true.
Jennifer and Cooke Maroney, an art dealer from New-York, began dating in 2018, but kept their romance strictly private, revealing little to nothing about their relationship. However, breaking the silence on a rare occasion, Jennifer did say that he is the most amazing person she has ever met, and after less than a year of dating, it was no surprise that she accepted his proposal in February 2019.
The couple tied the knot in October of 2019, at a private ceremony in front of 150 guests, which included close friends such as Amy Schumer, Emma Stone and Adele. The ceremony was held in Rhode Island at the Belcourt of Newport mansion, where J-Law appeared in a Dior wedding dress. The couple seems truly happy together, and is simply celebrating married life, but the question on many people's lips is when to expect news of them becoming a fuller family, if that is their plan…. or perhaps careers will remain more important.