Who has Jimi Hendrix dated? Girlfriends List, Dating History
Jimi Hendrix was an American singer-songwriter and musician, who showed immense talent in playing the electric guitar, inspiring even other known musicians. He was recognized by the Rock 'n' Roll Hall of Fame for being 'arguably the greatest instrumentalist in the history of rock music.' While Jimi's recording career only lasted for about four years, his innovation in creating unique sounds out of his electric guitar had put him above all other guitarists to this day. During his heyday, he was said to be the highest-paid act according to the documents found during the Woodstock era, with an asking fee of $18,000 for headlining an event. He released three studio albums, three live albums, and numerous singles.
Jimi was born John Allen Hendrix on 27 November 1942, in Seattle, Washington, to parents Lucille Jeter Hendrix and Al Hendrix. His name was later changed to James Marshall Hendrix to honor both his father and his uncle, Leon Marshall. After his father was honorably discharged from the military, he couldn't find a steady job, and that put his family in dire straits.
On this day in 1999, LIVE IN WOODSTOCK made its debut on CD (https://t.co/5ACTsJUujV) and LP (https://t.co/m8BCCXtp9A). The album documents Hendrix's performance with his band Gypsy Sun and Rainbows at the Woodstock Art & Music Fair on August 18, 1969. #JimiHendrix #Woodstock pic.twitter.com/lB7y3XGl7E

— Jimi Hendrix (@JimiHendrix) July 6, 2021
Jimi's parents turned to alcohol, and when intoxicated, violence permeated their home. Jimi had four siblings but three of them were given up for adoption or foster care. When his parents divorced, custody of him and his brother Leon was granted to his father.
His first musical instrument was a ukulele he found in the garbage, and he later bought a guitar for five dollars. Jimi was self-taught, played by the ear, and learned by watching other musicians. After his stint in the military, he played with a band in small venues, then later pursued a solo career. He became a backing musician for legendary rhythm and blues artists such as Sam Cooke, Ike and Tina Turner, Wilson Pickett, and Jackie Wilson. He also worked as a guitarist for the Isley Brothers. Jimi formed the band called The Jimi Hendrix Experience and gained enormous popularity, not only in the US but also in other parts of the world, particularly in the UK.
One of his memorable performances was his unique rendition of "The Star Spangled Banner" at the 1969 Woodstock held in New York State – traditional music fans and ultra-patriotic Americans found it disrespectful, but music critics on the other hand, called it one of the greatest moments of the 1960's, and anti-war advocates described it as Jimi's way of denouncing the Vietnam War, as he incorporated sounds of bombs, gunfire, rockets, and mayhem. It was dramatic and full of emotion with the guitarist not uttering a single word during the performance. It was that memory of him that his fans loved to talk about years after his death. Jimi died at the age of 27 in September 1970, due to asphyxiation as he aspirated on his own vomit compounded by excessive intake of barbiturates.
Jimi's Relationships and Hook-ups
The left-hand guitarist went through a long line of women – some were serious and others were flings or friends with benefits. Jimi was known for his legendary love for music and women.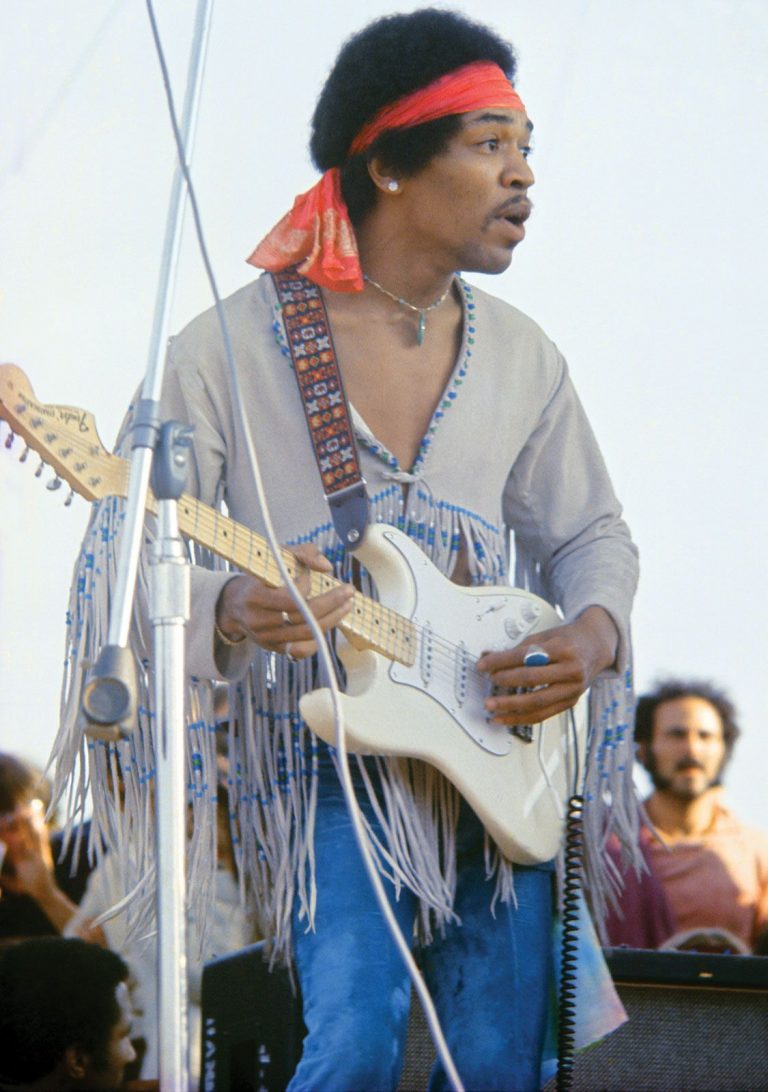 It is interesting to note that he dated many white women, as Jimi's race was invisible to many of his fans, young and old. While most black men during that era were killed just for dating a white woman, he freely dated anyone, regardless of color, religion, socio-economic status, and educational background. Some people said it was because his incredible musicality transcended the color of his skin, while others said that the myth that black men are immensely endowed as compared to other men added to his charm. Here are some of the incredible dating stories, as he was loved by many women, but he never got around to marrying anyone.
Betty Jean Morgan #1 – The name on his guitar (High School)
When Jimi enlisted in the military he had a difficult time, and wrote to his father begging him to send him his guitar, a Danelectro Shorthorn – there was a name, Betty Jean, hand-painted on his instrument in honor of his girlfriend when he was in high school. Before he left for his military duty, he gave her an engagement ring and made a promise to return to her.
One of Jimi's bandmates in the Jimi Hendrix Experience, Noel Redding, shared that Jimi told him once that the song, "Red House," was about Betty Jean. Jimi's brother Leon concurred, and her name was forever attached to Jimi, even if their relationship didn't last that long. Each time people talked about his legendary guitar, her name would be mentioned. On a side note, many tried to hunt down the famous Betty Jean guitar, as it would fetch millions of dollars, but unfortunately, when one of Jimi's bandmates traced its whereabouts, it was inside a house that had burnt down.
Lithofayne "Faye" Pridgeon – The Original Foxy Lady (1963)
Before he started his journey to become one of the most admired musicians, he fell in love with a woman named Lithofayne "Faye" Pridgeon. Some music historians acknowledged that she's Jimi's muse for the song, "Foxy Lady," although one of Jimi's biographers credited it to someone else. Whichever the case may be, it couldn't be denied that sources close to the couple witnessed how Jimi was quite smitten with Faye, but she didn't like to commit to an exclusive relationship.
She was already in an open relationship with other great musicians at that time, including Little Willie, Sam Cooke, and Sly Stone. Faye would refer to herself as a loose woman, who loved three men at the same time.
Jimi and Faye met at the stage door of the Apollo theatre during one of Sam Cooke's shows. He was there to pitch his guitar skills to the singer, while she was there to visit Sam. Something clicked between them – even a security guard at the Apollo told Faye that a guitarist was waiting for Sam, and he was her type. From that day on they were inseparable, but Faye was a free spirit and Jimi couldn't take sharing her with other men – from the many letters he wrote to her, it was evident that he wanted her to be with him exclusively. The whole of Harlem knew that after a tour, he would go around her usual haunts, and people would notify her that Jimi was looking for her. A close friend of Jimi would remember that the gifted musician loved Faye to the point of distraction. Faye shared that Jimi once told her, 'I'd like to freeze you in a cake of ice, thaw you out when I want to, if that was possible, huh?'
Faye never shared her knowledge about Jimi's mind and music, as she found it cocky if she told anyone that she was the inspiration behind "Foxy Lady." Sources close to both of them suggested that if she only agreed on what he wanted, things would have turned out differently. The last time she saw him was in August 1970, a few weeks before he died, but said that she didn't want to play the 'coulda-shoulda-woulda' game, since it wouldn't do her any good. She preferred to remember the crazy love they shared, which was even more evident in a recording dubbed as the "Faye Tape". It was a recording of almost half an hour of flawless performance by Jimi, expressing all his love for a woman including explicit details. Apparently, one morning he called her to come over to his house, and while waiting for her he started recording, and ended it with 'I can hear her footsteps coming down the hall.' She never heard of it until it was auctioned at Sotheby's in London.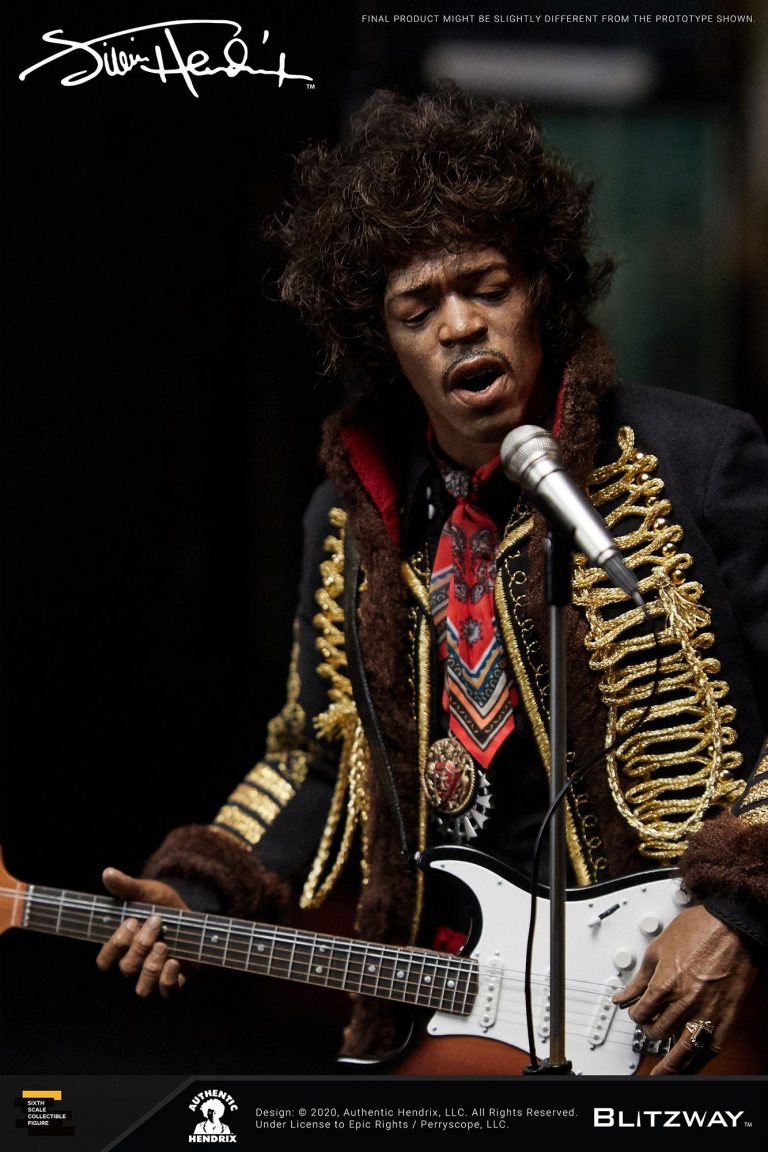 Devon Wilson – Super-Groupie (1965)
As Jimi started to become successful, his access to lots of women also increased. In 1965 he met Devon Wilson, who earned the title of "Super Groupie" as she was linked to several popular musicians, including Mick Jagger, Eric Clapton, and Miles Davis. They dated for a couple of years, and was a complicated relationship since it wasn't fully based on having romantic feelings towards each other. They supported each other's excessive habits, and she would willingly get drugs and women for him to enjoy. She didn't get any support from his entourage, but his song "Dolly Dagger" was believed to be inspired by her. There was a line in the song, 'she drinks her blood from a jagged edge,' which was believed to be a description of what Jimi witnessed when Mick Jagger had a bloodied finger due to a cut, and Devon sucked the blood from it.
It wasn't a surprise that Devon would do all those things for Jimi, as she came from a poor, broken, and violent home in Milwaukee. She escaped from hell and lived a nomadic lifestyle that many men found attractive.
She wanted to keep him happy and become his number one girl, but unfortunately for her, Jimi became distant when his career was taking off, although probably because he wasn't really into her. Her continued association with other men, particularly with Mick Jagger, also contributed to his attitude of not being emotionally invested in their relationship.
Jimi and Mick's rivalry went well beyond the stage, mostly due to their women. The more Jimi became successful, the more he became aloof, and naturally, the more Devon became jealous and possessive. Eventually, their tumultuous relationship ended. On the day he died, Jimi and Devon saw each other accidentally in London, but nothing came of it. Unfortunately for Devon, she never fully recovered from his death, and when she went back to the US, she became more addicted to drugs. Sadly, in February the following year, she jumped from the balcony of the 8th floor of the Chelsea Hotel.
Kathy Etchingham – The Muse of His Many Songs (1966 – 1969)
During the peak of his career, Jimi was in a relationship with Kathy Etchingham.
She served as the inspiration for some of his successful songs, the first being the "1983…(A Merman I Should Turn To Be), which was written in 1968, with the Katerina mentioned in the lyrics being a reference to her. The second song, "Send My Love to Linda," supposedly had Kathy's name in it, but she told Jimi she didn't want to be named in the song. The third, "Wind Cries Mary," was created by Jimi after arguing about mashed potatoes with her; Mary was her middle name, however, Jimi later said that it didn't represent just one woman. The fourth song was "Foxy Lady," which one biographer credited to her because Jimi pointed in her direction when he sang the song in a concert. The fifth and final song attributed to her was "Gypsy Eyes."
Back in the 1960's, Kathy worked as a DJ at the Cromwellian Club and Scotch of St. James, and she also as a hairdresser. Due to the nature of her work, she met several artists, both rookies and superstars. In September 1966, Jimi saw Kathy on the day he first arrived in London, and quickly zeroed in on her.
Jimi played at one of the bars she worked in, and she distinctly remembered that people were so enthralled by his performance. He dished out a cheesy pickup line, 'I think you're beautiful,' and since it was Jimi who uttered the words, it worked on her. They became friends, and then dated for three years.
Kathy said in an interview that she had so many memories with him. There was a time when she pulled him out of the busy street when he made the mistake of walking into oncoming traffic and was almost hit by a car. A woman once barged into their hotel room crying and screaming at him; when she grabbed his guitar and was about to smash it onto their heads, Jimi had to placate her as it was his only instrument at that time. The woman left the hotel in a Jaguar with his guitar, but he was able to get it back.
Jimi lived with Kathy as he didn't have much money with him. She said that one of his habits was to cut his girlfriend's hair and place it in his boots so that he could be with her all the time.
'good photo' http://t.co/b48XlRQdaf … #jimihendrix #kathyetchingham #photography pic.twitter.com/kjBDAagjEg

— creative expression (@wornlimtv) July 25, 2014
Their relationship had ups and downs, but Kathy said that the majority of their time together was spent happily, until his career took off to greater heights.
The songs he recorded during that time made him a global superstar. While it made the two quite happy, his success also took a toll on their relationship, as he would be gone for quite some time on concert tours he had in the US. It also didn't help that he continued to live a certain lifestyle with hangers-on that created tension between. Jimi had access to excessive booze and drugs, which changed his personality; he didn't look healthy, got rough, and started destroying hotel rooms. Kathy decided that it was time for her to move away from the toxic environment, and so they called it quits in 1969.
Even after their parted ways, there was a time when his entourage called her to help calm him down – apparently, he was in one of those weird moods, and they panicked. She went to his hotel room and found Jimi with the heater on full blast even though it was quite a warm day.
He was complaining that he was so cold, but he was nice to her so she just took care of him that day and left. The last time she saw him was around the week that he died, when they met at an antique store in Kensington, and Jimi invited her to his hotel. She didn't go there, and the next thing she knew, he was dead.
In 2014, when a biopic was being produced in Hollywood, she wrote a letter to the producers offering her knowledge about Jimi, without pay, but she never heard from them. Later on, they depicted him in a bad light, and aired untrue stories about their relationship – she even tried blocking its release, but wasn't successful. Kathy then decided to make sure people would remember Jimi not only as a genius musician, but also as a lovely human being. She was chosen as a consultant to a museum dedicated to Jimi in London. It was just right as Jimi declared in an interview back then, 'Kathy is my past girlfriend, my present girlfriend and probably my future girlfriend; my mother, my sister and all that bit. My Yoko Ono.'
Monika Danneman – The Last Girlfriend (1969 – 1970)
During a concert in Dusseldorf, Germany, in January 1969, Jimi met German champion skater, Monika Dannemann. She easily fell for his charms and spent the following couple of nights with him. At that time, Jimi was a ladies' man and the women he hooked up with were aware of it. On the last night of the tour, he was with German model Uschi Obermaier, and was spotted making out near his hotel. However, it seemed that it was Monika who left a mark on the legendary guitarist as she received a letter dated 25 March 1969 from Jimi, inviting her to visit him in New York City.
She shared in an interview that she only saw him again when she flew to London in April of that year, hoping she would bump into him; she did, but was only able to spend a night with him even if they were together for a week or so. Apparently, Jimi was also dating the Danish model named Kirsten Nefer, and according to the Danish press, the two were engaged. However, when Kirsten left London because of her work, Jimi reconnected with Monika, and spent the next four days with her before he was found dead in her apartment.
The details of his death were hotly disputed.
Monika's story was that she left him lying on the bed on the morning of 18 September 1969, and when she returned, she found Jimi unresponsive but still breathing. She called 999 – the UK's version of 911 in the US – to get help, and he was taken to the nearest hospital, but they failed to resuscitate him. Jimi Hendrix was pronounced dead at 12:45 p.m. Monika said that he took nine of her prescribed sleeping pills, which was around 18 times the suggested dosage.
Jimi's previous girlfriend, Kathy Etchingman, was curious as to the details of his final hours, and spent about three years investigating what happened. Something didn't add up after her research concluded. Monika was telling everyone that she was engaged to Jimi when they'd only just met. The German also blamed the emergency doctors and ambulance team of St. Mary Abbots Hospital in Kensington for negligence, since she claimed that Jimi was still alive when he arrived at the hospital at 11:18 am.
On June 19, 1970 The Jimi Hendrix Experience performed two shows (7pm and 10pm) at the Civic Auditorium in Albuquerque, New Mexico. #JimiHendrix #ConcertsWest #Albuquerque #NewMexico pic.twitter.com/UvW3TauRW2

— Jimi Hendrix (@JimiHendrix) June 20, 2021
Kathy found out that Monika called Jimi's friend, musician Eric Burdon first, to inform him of Jimi's death, before calling for help. The pathologist revealed that Jimi was already dead at around 5:30 that morning, but his final hours will remain a mystery.
Monika took advantage that the world knew her as the last girlfriend of Jimi – interviews, documentaries, and writing books about him became her world. She went around creating stories about them as a couple. It would have been okay until she made up so many lies that directly affected Kathy Etchingman's credibility. Kathy then filed a case against her, and won, since Monika didn't have any evidence to back up her stories. A couple of days after losing her legal battle, she committed suicide by carbon monoxide poisoning inside her car. Many assumed that she couldn't face anyone after being exposed for being a delusional woman.
Despite Jimi's supposed 'nice guy' image, he clearly had a lasting negative effect on many of the women with whom he was associated.