Who has Keke Palmer dated? Boyfriends List, Dating History
-Keke Palmer is an actress, singer and talk show host
-She is known for her roles in Akeelah and the Bee and True Jackson, VP
-She is extremely private about her personal life
-She has been romantically linked to rapper Earl Benjamin, manager Rodney King, actor and singer Quincy Brown, rapper YG and Dutch rapper Styn
-Most recently, she faced criticism for her inter-racial relationship with Styn
Born Lauren Keyana 'Keke' Palmer in Harvey, Illinois USA, on 26 August 1993 and under the zodiac sign of Virgo, she came to prominence after starring in the title roles of the 2006 drama film "Akeelah and the Bee", which earned her a Chicago Film Critics Association Award and a Young Artist Award, and Nickelodeon's teen sitcom "True Jackson, VP" from 2008 to 2011. She is also known to be a successful singer, and co-host of the talk show "Strahan, Sara and Keke", for which she received a Daytime Emmy Award nomination.
Keke Palmer has also been under the spotlight since she made her film debut in 2004  due to her attractive appearance and charming personality. However, she is extremely private about her personal life.
In her March 2020 interview with Harper's Bazaar magazine, Keke opened-up as to  why she doesn't like to talk about her love life, and also why she isn't interested in dating famous guys, explaining, "I've always had the same philosophy when it comes to dating. Not that I wouldn't give someone a try. But trying to keep my private life outside of my work life, to me, it's easiest when you don't date someone with the same career."
Such an attitude invariably encourages rumors, rife in the entertainment industry anyway, so even though Keke prefers to keep things under wraps, we've managed to uncover some items of interest, so we encourage you to stay with us to hear all about her!
In 2009, Keke Palmer was reportedly romantically involved in a relationship with rapper Earl Benjamin, better known by his stage name Ben J. In his 2018 YouTube interview with Vlad TV magazine, he said, "That was my girl", but then admitted  that they were "not that serious" and added, "I could have made it serious if I was serious about it, but I just felt, like, she was too young." At the time, Keke was about 16/17 years old, while he was 19. However, Keke has never commented on the matter.
Following her romance with Ben J, the attractive actress fell in love with Guatemalan Rodney King, who is a manager by his profession. The two were introduced by a mutual friend on the set of "True Jackson, VP". In her October 2012 interview with former MTV VJ Sway on his radio show, Keke gushed over their romance and revealed that they lived in California at the time.
She would later reveal more details in her October 2013 interview with Fuzion magazine, saying "We have been dating for three years now, he's a great guy, but I'm definitely in that part of my life where I'm really focusing on doing what I need to do and getting what I need to do get done and same as him," and added, "So it's more us focusing on ourselves and then getting back to each other." Reportedly, the two parted their ways by the end of the year, perhaps unsurprisingly.
After she ended things with Rodney, Keke Palmer was rumored to be in an on-again, off-again relationship with famous actor and singer Quincy Brown, from October 2013 to January 2017. Rumors heated-up after the two co-starred in the 2015 drama "Brotherly Love". However, Brown denied it during his appearance on "The Wendy Williams Show" in October 2017. When he was asked by the host if he was dating Keke, he answered, "No," that they were just close friends.
Concurrently, in late 2014, the "Akeelah and the Bee" star started dating rapper YG, whose real name is Keenon Daequan Ray Jackson. Little is known about their romance, except that it didn't last long since they ended things between them after she found out that he was expecting a baby with his ex-girlfriend Caatelyn in early 2015.
In December 2016, Keke opened up about their break-up in her YouTube video, entitled "Keke's Journal Part 1: Adulting & Heartbreak".
She told her fans, "Seen Keenon tonight… Learned he has a baby on the way," and added, "So deeply heartbroken, but I guess I can now start the process of letting this man go in that way… He and I are clearly just meant to work. The respect is there, but our personal lives are just not lined up. I hate that I care and I'm into him still. I truly just wish I wasn't. I've been crying about this baby all morning. My heart is so broken right no."
However, maybe not so broken, as in November 2016, Bossip magazine reported that Keke had become romantically involved with rapper and producer Ty Dolla $ign. An insider told the magazine that they were locking their lips at a party held in the nightclub LeJardin in Los Angeles, although his rep said that Ty and Keke have been good friends for years. She has never confirmed those rumors, so  just supposedly, they were nothing more than friends.
Next, in January 2018, the famous actress put a spell on actor Elvin Jackson, and the two started their romance. In March of the following year, he shared a risqué photo of them on his since-deleted Instagram account – in the photo, he was holding her breast while they were hanging out by the pool. He captioned it with a joke saying that Keke was the very handful. At the time, the rumors started flying around that their relationship was relatively serious, and that they'd decided to move in together. However, they called it quits later that year, with the reason for their split remaining a mystery.
In October 2019, Keke was asked out by "The Bachelorette" star Mike Johnson, during his appearance on her show, "Strahan, Sara & Keke". He told her, "I don't like dating in public, but if I were to ask you if we could go on a date in public…", and couldn't finished the statement since the audience erupted in cheers and applause. She didn't want to answer immediately, saying "I am at work."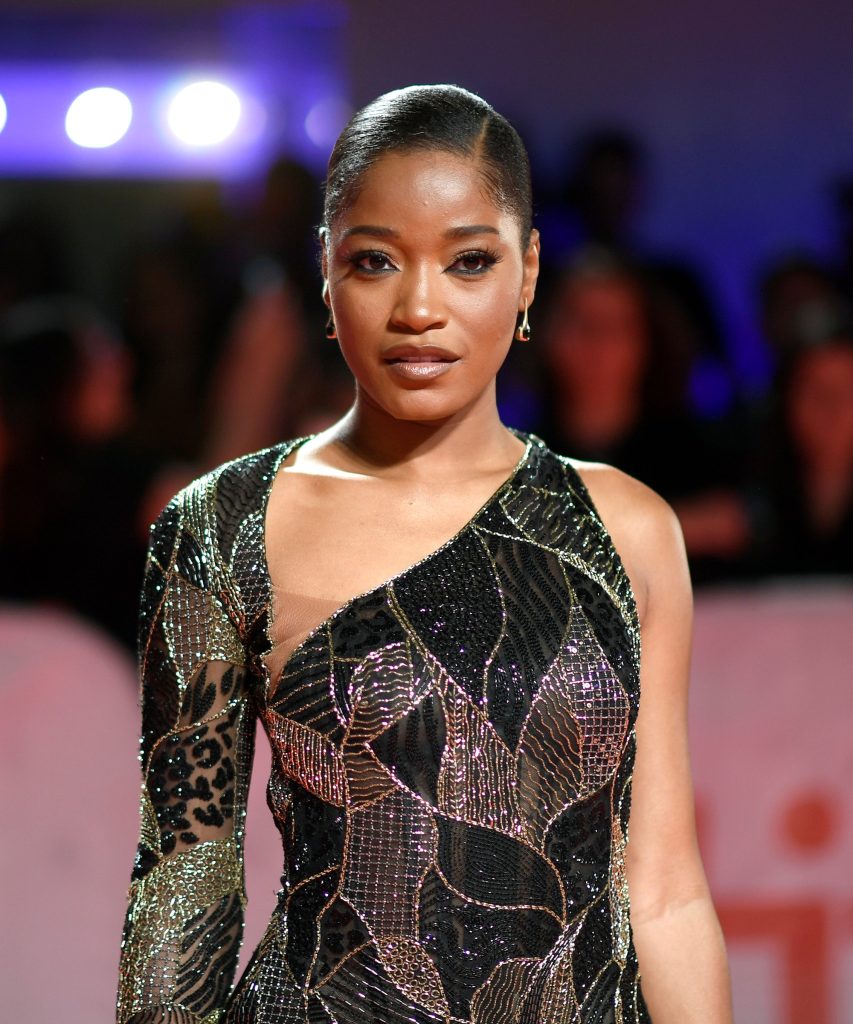 A few days later, when she was asked on the same show whether she was going out with him, Keke replied, "No," and then explained why – "Well, first of all, I get real spooked about entertainers or reality [stars]…I don't know, it really scares me to date people in the industry. That's number 1. Number 2: He asked me in front of everybody. I felt totally like, ambushed. I felt ambushed. I felt like it was a big ol' gag. I've been doped." Enough said about that one, maybe!?
In March 2020, Keke Palmer set off rumors of having hooked up with Dutch rapper Styn, known for being a member of the music duo Mae Seven. It couldn't go unnoticed that she left flirty messages on his Instagram account, and referred to him as her "baby". Shortly afterwards, she was spotted in his Instagram photo, and they obviously became pretty close to each other.
Furthermore, they flirted in the comment section – Keke wrote, "You have to make a decision. Either your jacket is on or it's off, sir" alongside a laughing emoji. He then replied, "What can I say? Indecisiveness is a real thing, honey," to which she responded, "Not with matters of the heart, clearly."
Most recently, Keke uploaded to her Twitter account a video of them locking their lips, and wrote in the caption, "Rare footage of me in the process of becoming randomly suspicious of someone I trust, because I struggle with distinguishing reality from my crippling anxiety and emotional trauma."
Her fans didn't know that she was dating a white guy, which caused a heated debate about inter-racial relationships. We believe that she's strong enough not to let the trolls ruin her relationship with Styn, and we wish them nothing but the best!