Who has Kendall Jenner dated? Boyfriends List, Dating History
Kendall Jenner topped Forbes' list of highest-paid models in the world for two consecutive years in 2017 and 2018, pulling in an estimated annual $22 and $22.5 million, respectively. Every time she would appear on the catwalk for fashion shows, it would become much talked about. She has done covers and editorials for top fashion magazines, as well as landing campaigns for luxury fashion brands. With more than 170 million followers, she became one of the highest-paid Instagram influencers too, allegedly earning over $600,000 per sponsored post.
Kendall Nicole Jenner was born on 3 November 1995, to the American socialite Kris Jenner and Olympic gold medalist Bruce Jenner. She and her younger sister Kylie were raised in Calabasas, California, and lived together with their half-siblings, Kourtney, Kim, Khloe, and Rob, from their mother's first marriage to the late Robert Kardashian, who's widely known for representing the former footballer, O.J. Simpson, on the 1995 murder trial. She also has four older half-siblings from her father's two previous marriages.
Her parents' divorce was ebentually finalized in December 2014, after 23 years of marriage.
Her father, once dubbed as the world's greatest athlete, came out as a transwoman in April 2015, and had his gender and name legally changed to Caitlyn Marie Jenner in 2016, and then completed sex reassignment in 2017. Kendall's a daddy's girl, and when he finally came out, she mourned the loss of the father who'd raised her, but felt grateful once she realized that s/he's still part of her life.
She was 11 when "Keeping Up With The Kardashians" premiered on E! in October 2007. The reality show featured her blended family with much focused on her half-sisters. The family dynamics and privileged lifestyle that they enjoyed provided much entertainment to viewers, resulting in high ratings. Unlike her older sisters, Kendall was more of a tomboy than a girly girl for a time, which she chalked up to being more of a Jenner than a Kardashian. She did, however, dream of becoming a 'big-time model and travel to really amazing places,' when she was 14.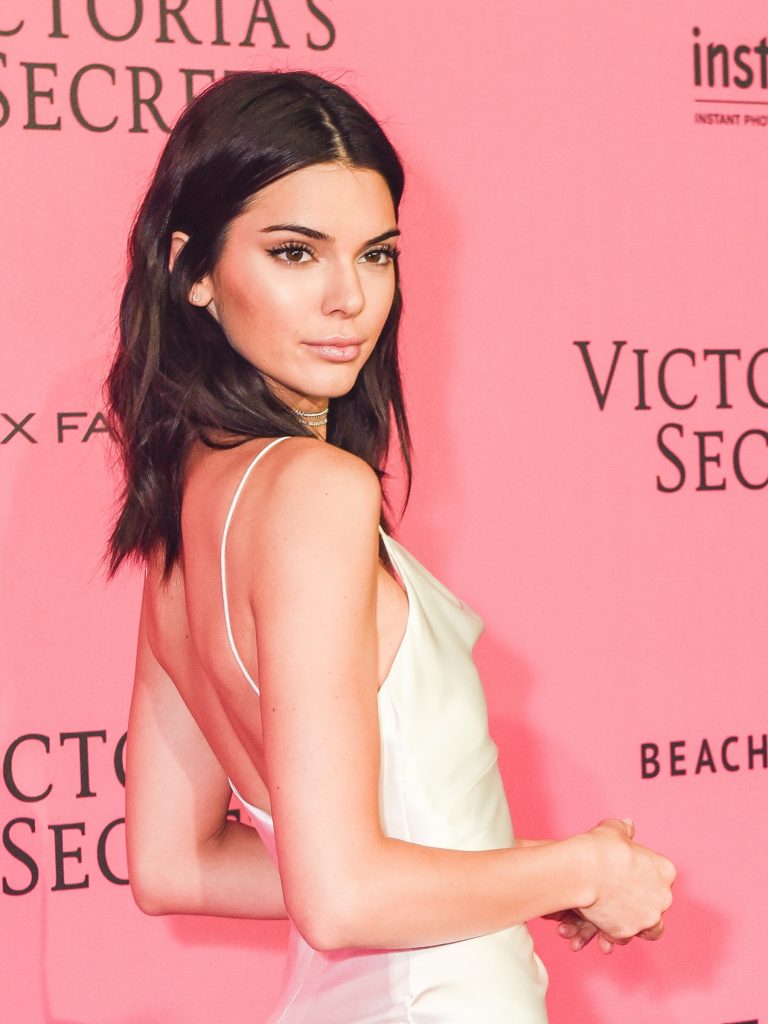 As the show became a hit, she became famous along with her siblings, and it opened doors for all of them, but her accomplishment as a high fashion model was something she worked hard for. Her father told her early on, 'the way you're going to be successful in this life is to work hard. No one is going to hand you anything.' She said, 'I went to every single casting… not only in New York City, but all over Europe, trying to get a job and make my way.' She signed with Wilhelmina Models in 2009 when she was 13, and the Forever 21 campaign was her first modeling job. Kendall moved up in the fashion world when she signed with The Society Management in 2013 – her first major catwalk show was for Marc Jacobs in 2014, and then she walked for high fashion brands such as Chanel, Dior, and Versace.
Dating history
Most people might be surprised to learn that Kendall wanted her personal life out of the spotlight. She was aware of how publicity could impact a relationship, as people are always going to put in their two cents as if they know everything about them. 'People want to start drama…people are going to say all this stuff that's probably going to cause us to break up.'
She's reluctant to share something she's still unsure of. 'If I'm not fully, fully in it with someone, why would I make it public to everyone else?'
Here are some of the guys that she was involved with, whether it was just rumor or it became Instagram-official:
Julian Brooks (2012-2013)
Back during her high school days at Sierra Canyon School in Chatsworth, Kendall was a cheerleader, while Julian was a footballer for the Nevada Wolf Pack at the University of Nevada. According to a source, she would visit him on campus and he would stay at their Calabasas home or beach house in Malibu. She confessed that she would pretend to have worked, so that she could be excused from her classes and hang out with her boyfriend.
The young couple was photographed having fun and getting all cuddly on their dates. It was also believed that they celebrated their anniversary based on her tweet, 'Can't believe it's been a whole year,' complete with an emoji of a face with heart-shaped eyes. Their puppy love was cut short in August 2013 after dating for over a year, when rumors of him cheating on her reached her. Apparently, there were times Julian could not be reached for days, and he also ignored her texts, so she ended things with him.
Harry Styles (2013-2016)
Things went a bit crazy when Kendall hooked up with One Direction's Harry Styles, in what became an on-again, off-again relationship. It started in late 2013 when they were spotted on a dinner date at Craig's Restaurant in West Hollywood, and they went on several dates after that, including snowboarding and skiing in Mammoth Mountain in January 2014, but then called it quits the following month. However, the two were seen in December 2015 on a vacation together in Anguilla in the Eastern Caribbean, and were caught kissing aboard a luxury yacht. They later boarded what was said to be Ellen DeGeneres' yacht in St. Barts, where they were photographed packing on some public displays of affection (PDAs). Ellen and her partner Portia de Rossi joined them later for lunch.
There were rumors of them hanging out until September 2016, but they never really put a label on their relationship. When Kris Jenner appeared on "The Ellen DeGeneres Show" in 2021, she played the game "Never Have My Kids Ever." The host got the real score from the "momager" herself, when Kris admitted that her daughter dated someone from a boyband, and she meant Kendall and Harry.
Kendall Jenner and Harry Styles spotted on a Yacht together while in the Caribbean. Now that's how you ring in the New Year! http://eonli.ne/1MK0krl

Posted by E! Online on Friday, January 1, 2016
The "Sign of the Times" singer revealed that some of the songs in his debut solo album in 2017 were inspired by his ex-girlfriend, and while he didn't give a name, most fans believed he was referring to Kendall.
Whatever the cause of their break-up might have been, it didn't deter them from being friends afterwards. She was at his concert at The Forum in Inglewood, California in July 2018, and they met and shared a conversation at the 2019 Met Gala, joined an after-party, and were reportedly seen leaving together at 6 am. They were both game in doing the "Spill Your Guts or Fill Your Guts" challenge segment of the "The Late Late Show with James Corden" in December 2019 – the chemistry was apparently still there, so it wouldn't surprise if they get back together again someday.
Justin Bieber (2014-2015)
Some people weren't aware that Kendall and the Prince of Pop, Justin Bieber, were an item until the latter posted a Polaroid photo of them on his Instagram account in April 2015. It got tongues wagging, considering he's shirtless and leaning closely over the bikini-clad Kendall from behind, who's holding a puppy on her lap.
Rumor has it that it had been going on for quite some time, since 2014 when Justin was still with the "Lose You To Love Me" singer, Selena Gomez. It was said that he would text and meet with Kendall behind his then-girlfriend's back, and when she found out, she broke-up from him. Being secretive about spending time with the model made it anything other than innocent.
Kendall denied that there was anything going on between her and Justin, saying they were 'longtime family friends.' They also worked together in a photoshoot for Vogue, however, the "Love Yourself" singer somewhat confirmed that they dated when he said that what they had was 'never serious.' She attended Justin and Hailey Baldwin's wedding in 2018, and joined them on their Instagram live chat in 2020, in which she shared her activities while quarantining during the covid-19 pandemic. Kendall and Hailey have been friends since the latter lived in New York City, back when the former was starting her modeling career.
Nick Jonas (2015)
Nick Jonas, one of the Jonas Brothers, was linked with Kendall after his break-up from Miss Universe 2012, Olivia Culpo, as they were seen hanging out, but he was quick in making it  clear that they weren't dating. If ever they were seen together, it was only because his brother Joe was dating the international model Gigi Hadid, who happened to be good friends with Kendall, and there would be times they were all together in one place. Gigi did try to play matchmaker to him and Kendall, but it didn't take. The two went on a few dates, but he then stopped calling her. Apparently she was quite interested in him, but she's not just his type, and even found her annoying.
Jordan Clarkson (2016)
Kendall and Jordan Clarkson, the point guard for the Los Angeles Lakers basketball team at that time, started dating in March 2016. They went to Coachella, and celebrated the Fourth of July in Malibu with friends. At the rapper Drake's American Music Awards after-party in 2016, Kendall was seen having a great time with Jordan, and it was apparent that they were into each other.
They were touchy-feely, sitting close, and if they weren't holding hands, her hand would be on his leg and his would be on her inner thigh. Although there were times their faces were so close that it looked like they were about to lock lips, it didn't happen; all their kisses were limited to the cheeks. Nothing further happened between them, as they kept things casual.
ASAP Rocky (2016-2017)
By the time Kendall attended Jeremy Scott's Coachella party in 2017, she was with the Harlem rapper ASAP Rocky, who performed at the event. She was seen dancing and rapping to his breakthrough single, "Fuckin' Problems", and they were said to be all over each other.
When in June 2016 they were seen together at one of her favorite restaurants in Paris, called L'Avenue, her fans didn't think much of it at first, as they were known to have been friends for years. It became obvious that they were an item when they became inseparable, going on a string of dates such as shopping at a flea market in Paris, enjoying the Art Basel festivities in Miami, and watching the English rock band The Who at the Royal Albert Hall in London.
At the Met Gala in May 2017, ASAP Rocky was caught with his hands on her butt, which was not at all surprising to some, as they understood that he just couldn't help himself with her wearing a La Perla dress that was so sheer it left nothing to the imagination, and she had on a thong underneath that clearly showed off her bare butt. She said, 'it's pretty sexual, but yeah, it's cool…I always like something a little controversial, so that's kind of that.'
Interestingly, sources close to them said that they weren't officially a couple, even if they were dating.
Blake Griffin (2017-2018)
Kendall sat courtside watching an NBA game to cheer on Blake Griffin, who was then playing for the L.A. Clippers. Things were good between them until his former fiancée, Brynn Cameron, whom he broke-up from in July 2017 filed a palimony suit in February 2018 against Blake. He didn't provide financial support as promised when he asked Brynn to give up her career to support him in his career and raise their kids. There were reports that she and their two kids were left homeless, when he booted them out of the mansion where they lived.
The model was even dragged into the suit, as according to court documents, Brynn stated that 'Griffin cared more about the glamour of dating a Hollywood celebrity than the day-to-day responsibilities of being a father and family man.'
Her family was humiliated when in August 2017 he spent a weekend with Kendall in the Hamptons, and lied to her about it.
Kendall couldn't understand why she was named in the suit and depicted as a homewrecker when she had nothing to do with them, saying that she came into the picture only after the two separated. It seemed that the couple was having problems, and a month before the wedding was supposed to take place on 28 July 2017, Blake insisted on a prenuptial agreement that didn't honor the promise that he'd made to her. As she stood her ground and didn't sign it, the wedding was postponed. They attended therapy for couples, but it was of no use, as he started an affair with Kendall.
Reports said that all this took a toll on Blake's relationship with Kendall, and they soon ended things after seven months of dating, in April 2018.
Anwar Hadid (2018)
In June 2018, Kendall was caught making out with Anwar Hadid at the Council of Fashion Designers of America, Inc. (CFDA) Fashion Awards after-party, held at Socialista New York. It started at 2 am and they didn't let up on the cuddling and kissing as she was straddling him for two hours.
However, it was reported that Kendall went back to her hotel alone after that.  Some people weren't surprised that she was hooking up with the 18-year-old model, since he's the brother of the supermodel Gigi Hadid, who has been her best friend for quite some time. They had the chance to mingle when she was hanging out with Gigi.
In October 2016, she posted a photo on her Instagram of her leaning in on Anwar for a kiss, and was captioned with 'Dibs?' Anwar shared the photo on his account as well. Perhaps she was just teasing him then, but fast forward to 2018 and they were packing on some major PDAs during the New York Fashion Week, as they went partying with the Hadid sisters at Cipriano Downtown in SoHo. They were also inseparable during Paris Fashion Week, and reportedly sneaked out to have fun at an amusement park in the Netherlands. They later attended the Chrome Hearts after-party together. It was believed that the two gave each other matching hickeys, and they later went on a double date with Kourtney Kardashian and Luke Sabbat at Nobu Malibu in October.
However, by November, Anwar shared his heartbreak on his Instagram Story as he posted, 'I wonder if I could be loved as deeply as I love,' with a photo of the words, 'why are you still in my mind,' written above his hand; fans assumed he was referring to Kendall. According to sources, Anwar knew the score as he had been warned by his sisters that Kendall's not into anything serious, as work was her priority.
Ben Simmons (2018-2019)
People were confused on the dating timelines with Ben Simmons and Anwar Hadid, as it seemed lthat she's taking her sweet time deciding who's the better guy.
The Philadelphia 76ers rising star basketball player and Kendall started meeting up in May 2018 but it was cut short when she became involved with Anwar in June. When news of her intense make-out session with the young model reached Ben, he said he felt used, but he was still interested in her as it was said 'he was more turned on because she was different from other girls who just fall at his feet.' The two continued where they left off ,and had a "no strings attached" relationship. They celebrated not just the Fourth of July at the pool party hosted by Khloe Kardashian, but also his 22nd birthday in 2018, and even went on a vacation to Puerto Vallarta in Mexico in August.
Ben Simmons' value still pretty high around the league, per NBA insider #BenSimmons #NBARumors #Philadelphia76ers https://t.co/SewUEbNdi2

— TalkBasket (@TalkBasket) July 5, 2021
However, Kendall was back in Anwar's arms by September, but by November, she was with Ben again. Things cooled off a bit around April or May 2019, but she watched his game in Philadelphia in December.
Kendall said 'I'm very young, and right now I feel like relationships aren't always super certain,' adding, 'I don't want to bring too much attention to something if you don't really know long term.'
Devin Booker (2020-present)
It seemed that Kendall was really into basketball, as she was next romantically linked to Phoenix Suns guard Devin Booker. Someone posted a TikTok video online of three guys tossing a toddler around with the words, 'NBA players passing around Kendall Jenner,' and another one commented, 'Maybe she passing them around.' She clapped back at her bashers as she tweeted, 'They act like I'm not in full control of where I throw this cooch.'
Witnesses saw Devin and Kendall on a road trip from L.A. to Arizona in April 2020, when the two stepped out of a Mercedes-Benz at a rest stop, but they were with a group of friends at that time.
It was said that they only began dating in June, and the public saw some online interaction starting in August, as he would post photos of her and leave sweet comments on her posts. He was also invited to Kim Kardashian's 40th birthday celebration on a private island in October.
Their relationship became Instagram official on Valentine's Day in 2021, as they posted photos of him 'cuddling up on her', and Kendall hugging him from behind. As they celebrated their anniversary, the 6-foot-5 player again shared photos of Kendall with arms spread out, and then the two of them floating on the water with the captions, '365' and '52,' respectively, as well as a sunset captioned with '1.' She posted a photo onboard a private jet, of her sitting on his lap, snuggled against him with his arms around her while.
According to a source, she is crazy about him and has never been this happy. It was said that they were living together at Kendall's place and that he's ready to pop the question. Maybe, but don't hold your breath for too long!