Who has Kim Kardashian dated? Boyfriends List, Dating History
The social media queen, Kim Kardashian, closed two chapters in her life as her marriage to the popular rapper Kanye West ended in February 2021, and the reality television show, "Keeping Up With The Kardashians" (KUWTK), aired its last episode on 20 June 2021. For 20 seasons starting in 2007, the public was kept abreast of what had been happening in her personal life and the family through the show. Despite it being criticized for having the "famous for being famous" concept, it had become one of the most highly-rated series on TV and it led her to become a successful businesswoman with a net worth of over $1 billion as it essentially established the "Kardashian brand."
Kimberly Noel Kardashian, second to the oldest daughter of the late Robert George Kardashian and Kristen Houghton, was born on 21 October 1980, in Los Angeles, California USA = she has three siblings, Kourtney, Khloe, and Rob.
Her father gained recognition as he represented her godfather and former National Football League (NFL) player, O.J. Simpson, during the "most publicized criminal trial in history" for the alleged murder of his ex-wife in 1994. Her parents divorced in 1991, and Kris remarried that same year to Bruce Jenner, who was once acknowledged as "the world's greatest athlete" for winning the gold medal in the decathlon event at the 1986 Summer Olympics. He had four children from his first two marriages, and Kris and Bruce subsequently had two children together, Kylie and Kendall Jenner. The couple separated in 2013 with the divorce finalized the following year, then the "all-American hero" came out as a transgender woman, and legally changed gender and name to Caitlyn Marie Jenner in 2016 – by January 2017, the sex re-assignment surgery had been completed.
Socialite Kim first made her TV appearance as the stylist and friend of the Hilton Hotel heiress, Paris Hilton, in "The Simple Life" (2003-2006) on Fox; people started to notice Kim through her association with Paris, who had achieved a certain notoriety at that time, due to the scandal of having her 2001 sex tape, "1 Night in Paris," leaked in 2003.
"Keeping Up With The Kardashians"
Ryan Seacrest was the executive producer and creator of the reality show that catapulted Kim along with her blended family to stardom – The Los Angeles Times described it as Hollywood's version of "The Brady Bunch." According to Kim, filming actually helped the family deal with what they were going through instead of just 'sweeping them under the rug.'
The public watched in fascination as Kim and her family enjoyed a privileged lifestyle. The show spawned more than a dozen spin-offs that were also about them. She capitalized on her fame, and launched businesses including KKW Beauty, KKW Fragrance, and the shapewear line Skims, and eventually landed on the official list of Forbes' World's Billionaires in 2021.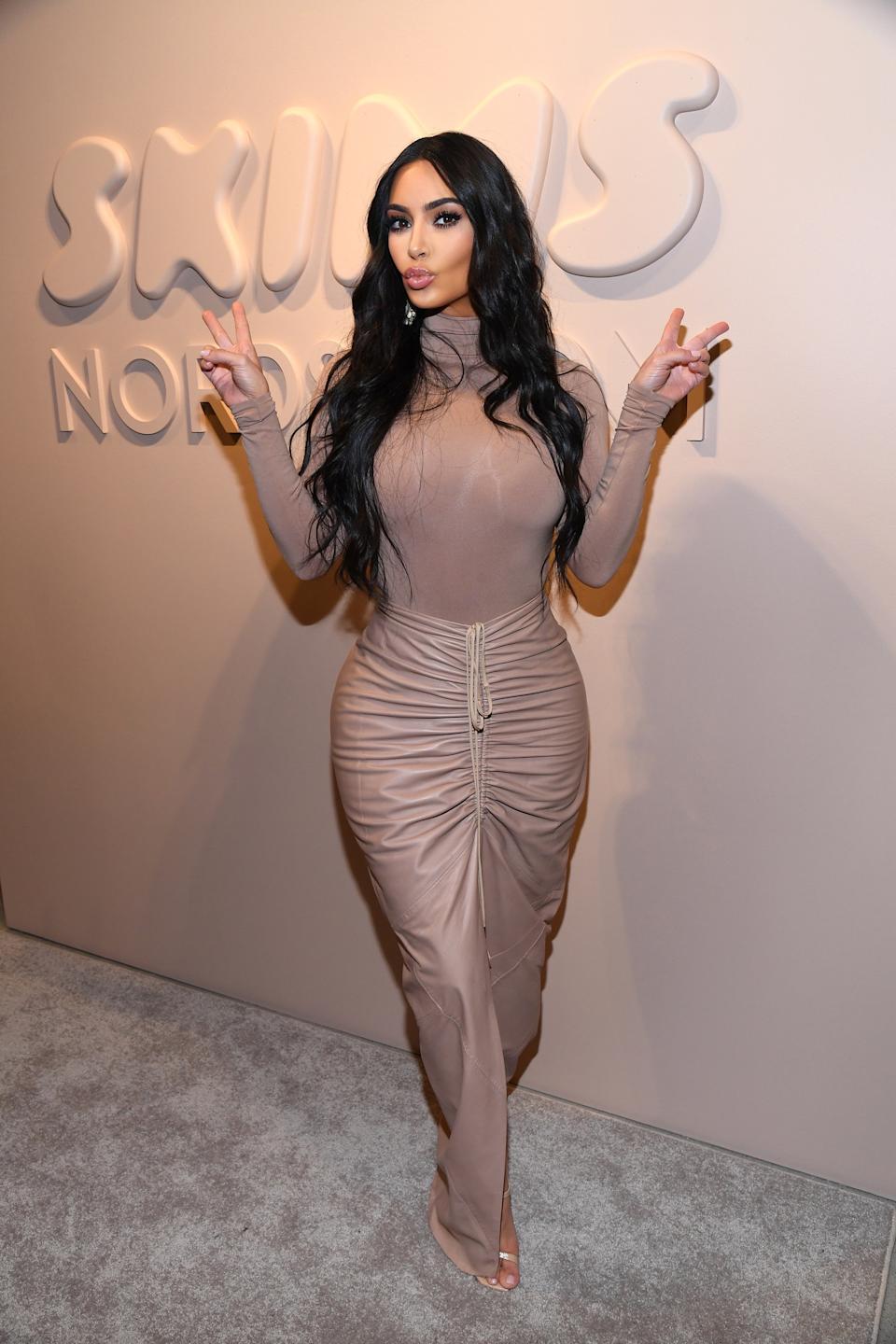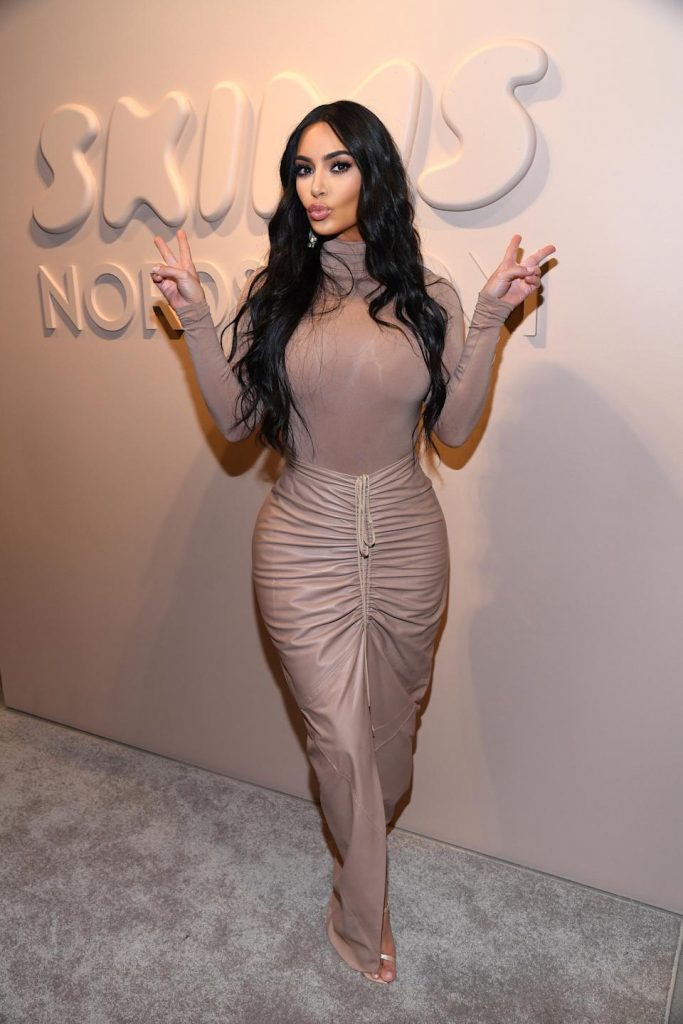 Marriages and hook-ups
Naturally, what made her life most interesting to her fans aside from the family dynamics has been her relationships with athletes and rappers through the years.
TJ Jackson (1995-1999)
Kim's first boyfriend was said to be TJ Jackson, the nephew of the King of Pop Michael Jackson. They started dating in 1995, and she allegedly lost her virginity to TJ when she was 14, after openly discussing it first with her mom who said, 'OK, so this is what we're gonna do, we're gonna put you on birth control.' It reportedly happened while the young lovers were at MJ's Neverland Ranch for her birthday. The teen couple reportedly broke up in 1999, but remained friends afterwards.
TJ and his two brothers formed the American R&B/pop music trio called 3T and released their debut studio album "Brotherhood" in 1995, which sold around three million copies. They were a hit in Europe and said to be the second biggest-selling group at that time after the British pop girl group The Spice Girls. He was awarded co-guardianship of MJ's children in 2012.
Damon Thomas (2000-2004)
When Kim was 19, she eloped with Damon Thomas who was 10 years her senior, and they were married secretly in Las Vegas in 2000 – she claimed to have been high on the illegal drug, Ecstasy, at that time. Their marriage didn't end well; she accused Damon of being a jealous and controlling husband who emotionally and physically abused her, as she cited an instance in which he hit her in the face and she fell, banging her knee on the bed frame. She also said he forced her to get liposuction and other procedures to look perfect. Damon denied all this and said he was the one who filed for a divorce in 2003, as he accused her of cheating on him with multiple guys. With regards to the abuse, he said that she never filed for a restraining order against him throughout their marriage and she only made that accusation to get more money from him. He also called her a fame whore. The divorce was finalized in 2004.
Damon Thomas and Harvey Mason Jr. are the American music production duo called The Underdogs, who worked with R&B singers including Justin Timberlake, R. Kelly, and Chris Brown, as well as popular Korean Pop artists from SM Entertainment.
Ray J (2002, 2004-2006)
Kim attracted tabloid attention when her sex tape with then-boyfriend Ray J in 2002 was made public in March 2007. William Ray Norwood Jr. is an American rapper and singer-songwriter, who met Kim as she started working as the stylist of his sister and Grammy award-winner, Brandy.
They went on a trip to Cabo, Mexico to celebrate her 23rd birthday and filmed themselves having sex using a handheld camcorder. She filed a lawsuit against the pornographic film production company, Vivid Entertainment, for releasing the 41-minute video, "Kim Kardashian, Superstar," which they claimed was bought for a million dollars from a third party. The suit was dropped as a settlement was reached with Kim reportedly being paid $5 million. It became one of the most-watched X-rated videos at that time. She wasn't famous, but her father and stepfather were, so there was much hype about it.
It turned out to be great publicity for "KUWTK" that was scheduled to air on E! in October of that year.
A Canadian investigative journalist, Ian Halperin, alleged that Kim and Kris were the ones who "leaked" that tape to the porn company, as a way for Kim to make it in Hollywood, but her camp denied this.
During the first season of "KUWTK," she opened up about the infamous sex tape as she knew it was something people were most curious about and she wanted to get it over and done with. Kourtney asked her why she did it and she replied, 'Because I was horny, and I felt like it.'
In the book, "Death of the Cheating Man: What Every Woman Must Know About Men Who Stray," by Maxwell Billeon, Ray J talked about his relationship with a certain "KK", presumably referring to Kim Kardashian. According to Ray J, he had known Kim for a while and they succumbed to the mutual attraction between them, as she pursued him, despite her being technically married to Damon at that time. They had 'extreme sexual chemistry' as he said, 'We were like animals; sexually free to do anything, and we did.'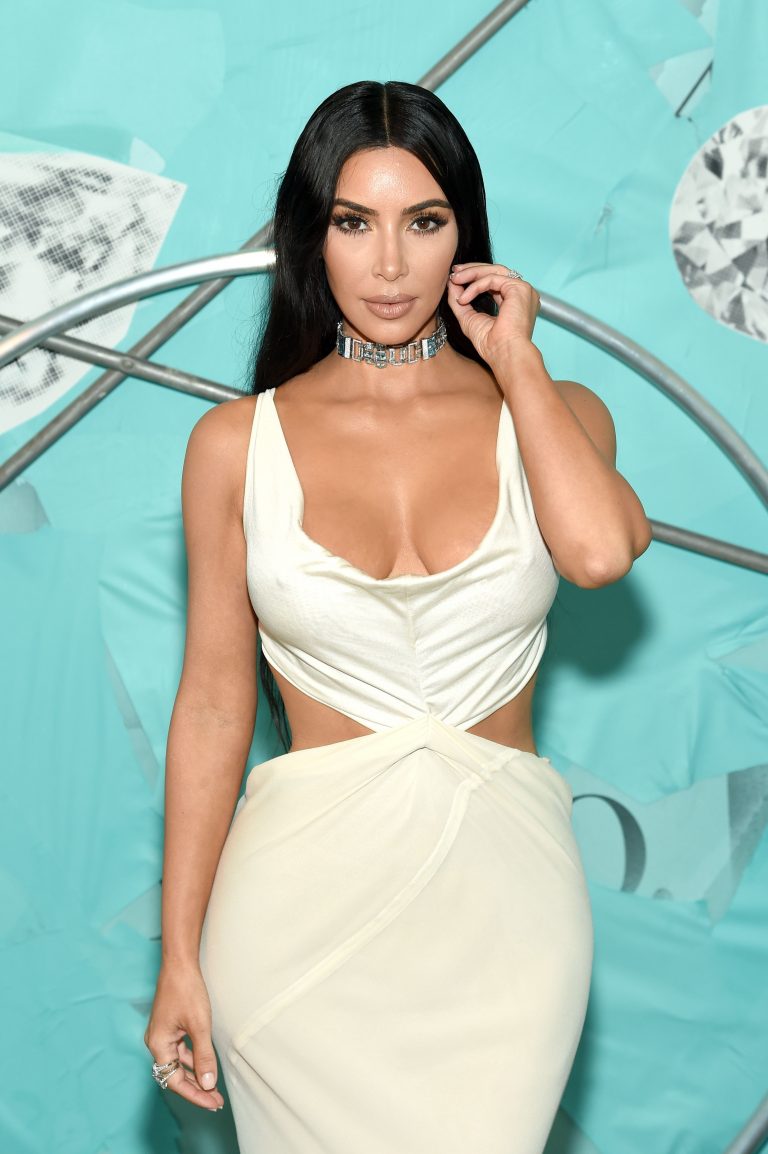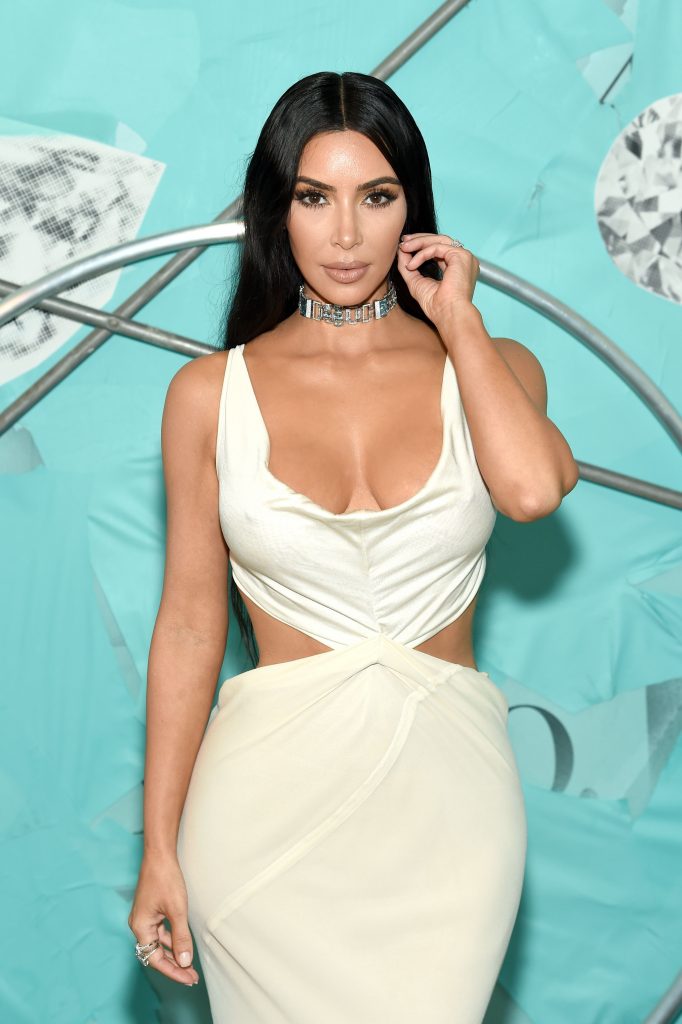 He felt obligated to be with her after she allegedly left her husband for him. Ray J further revealed that they cheated on each other, and the relationship turned sour due to her extreme jealousy – she even went as far as tapping his phone. A source said that Kim reportedly called her ex-boyfriend a pathological liar, and she's mad that he's cashing in on her. It was said that the two officially dated from 2004 to 2006.
Nick Lachey (2006)
Nick Lachey went out on a date with Kim to watch Ron Howard's "The Da Vinci Code" in 2006; much to his surprise, there were around 25 to 30 paparazzi waiting for them to take pictures as they exited the cinema. He said, 'I think there were other things in play on our little rendezvous,' short of outright accusing Kim of using him to get famous. In her defense, there was much interest in his dating life, as it was shortly after his split from his first wife, the American singer-actress Jessica Simpson.
He said that calling Kim as his ex-girlfriend was a bit of a stretch, as they didn't go any further than that date.
They didn't keep in touch, and even when he and the American actress Kelly Ripa dressed up as Kris Humphries and Kim on their wedding day for the Halloween episode of "Live" in 2011, Kim didn't call him to complain about it, despite it being aired on the day she announced her divorce from Kris.
Nicholas Scott Lachey is an American singer and television personality, who rose to fame as a member of the boyband 98 Degrees, with hits including "Because of You," "The Hardest Thing," and "I Do (Cherish You)." In 2021, he won in the reality TV singing competition series, "The Masked Singer," as he competed disguised as "Piglet" during its fifth season.
Nick Cannon (2006-2007)
Nick ran into Kim on the set of the sitcom, "Moesha" (1996-2001), starring the R&B singer Brandy, as he was an extra. She caught his eye as he thought, 'Who's the stylist with all the ass?' They started dating in late 2006 but it didn't last long as they broke up in early 2007, when she lied about the existence of her sex tape – reportedly, Ray J even warned him about it before its release.
Nick said that things would have been different between them had she been honest with him, and he would just have thought 'That was before me.' In his 2016 mixtape, "The Gospel of Ike Turn Up: My Side of the Story," he was candid about his past relationships including with Kim, with the lines, 'The most photographed woman since Mona Lisa. But that pornographic feature had my ego depleted.'
Nicholas Scott Cannon is an American actor, comedian, rapper, and television presenter. Most notable among his work as a host included "Nick Cannon Presents: Wild 'N Out," "America's Got Talent" (2009-2016), and "The Masked Singer" (2019-present). He married the singer-songwriter and record producer Mariah Carey in 2008 – they divorced after six years.
Reggie Bush (2007-2010)
Kim met Reggie Bush at the 2007 ESPY Awards as his USC teammate and National Football League (NFL) quarterback Matt Leinart introduced them and they started dating soon afterwards.
The relationship lasted until July 2009 when they first broke-up, only to reconcile in September, but finally ending things in March 2010. As much as they tried to work things out, they couldn't as they both had busy schedules, but he did have nice things to say about her, and there was no bad blood between them. According to sources, the athlete struggled being in the spotlight, particularly the ugly side of it, but he said, 'I wouldn't change anything because it helped mold and shape who I am today, and I'm a better man for it.'
Reginald Alfred Bush Jr. is a former NFL running back, who was the second overall pick in the 2006 NFL Draft, selected by the New Orleans Saints. He retired from the league in 2017.
Kris Humphries (2010-2011)
Kim started dating Kris Humphries in October 2010 and he proposed to her on bended knee with a 2.5-carat ring in May 2011, at her home where it was quiet and perfect as he said, 'our love is simple and I don't want, like, all the distractions and everything crazy going around.'
The two tied the knot in August at the Montecito enclave in California, aired that October in the four-hour special, "Kim's Fairytale Wedding". After 72 days of marriage, Kim filed for divorce citing irreconcilable differences as she said, 'I had hoped this marriage was forever but sometimes things don't work out as planned.'
At first, Humphries tried to hold on to the marriage saying, 'I love my wife and am devastated to learn she filed for divorce,' but when he realized it was futile, he wanted the marriage annulled instead, as he believed fraud was committed. The two reached a settlement and the divorce was finalized in June 2013. He said that what happened was difficult, not to mention embarrassing for him. 'When it plays out so publicly, in front of the world, it's a whole other level. It was brutal.' The 6-foot-9 forward received a lot of hate, and was the most disliked player in 2011 in the NBA according to the survey conducted by Nielsen and E-Poll Market Research as he had become tabloid fodder after his divorce with the public speculating that his marriage was nothing but a sham.
The reality star had actually got cold feet the night before the wedding rehearsal dinner, and her mother told her, 'Go. I'm gonna put you in a car. No one will find you. Just leave, and I'll handle it!' However, not wanting to be known as the "runaway bride", and feeling pressured because the ceremony was being filmed for the show and she didn't want to let everyone down, she went ahead with her marriage vows. A few days after the wedding, she called Ryan Seacrest and confessed that she didn't feel like it was right. Although someone advised her to stay married for a year she couldn't do it, disclosing that she felt claustrophobic during their short-lived marriage. 'He had a size like, 17 shoes lined up around my whole room, and I just freaked the f- out.'
In an interview with Andy Cohen in June 2021, she owned up to handling the break-up in the worst possible way and said that she owed her ex-husband an apology. Kristopher Nathan Humphries is a former basketball player in the National Basketball Association (NBA) for several teams, including the Utah Jazz (2004-2006), New Jersey Nets (2010-2013), and Boston Celtics (2013-2014). He signed with the Philadelphia 76ers in 2017 but was 'waived as one of the final roster cuts.'
Kanye West (2012-2021)
Kim and Kanye West met in 2002 or 2003 while she was working as Brandy's stylist, and he was recording a song with the R&B singer. He was drawn to her but she was still married to Damon Thomas and/or seeing Ray J at that time. In 2008, he insisted that his team cast Kim for the Princess Leia part in his hip-hop puppet show that never took-off called "Alligator Boots." It was believed that in his song "Knock You Down," he was referring to Kim being the cheerleader of his dreams who only seemed to date the head of football teams – by that time she was dating the NFL star Reggie Bush, who in 2010 appeared in the "KUWTK"'s spin-off "Kourtney and Kim Take New York" as he visited their boutique, Dash, but by then she was already with NBA player Kris Humphries. Kanye went as far as dissuading Kim from marrying him.
As the divorce proceedings went underway in 2012, he took it as a chance to be with Kim, and penned a rap verse about falling in love with her. The two were first spotted together in public in New York City in April 2012 and after that he began attending Kardashian family events. Kim gave birth to their daughter North in June 2013, which was two weeks after her divorce from Humphries was finalized.
Kid Cudi talks 'Kids See Ghosts' and HBO series 'We Are Who We Are' in new interview: https://t.co/PsAsO03Ia6 pic.twitter.com/QpwcJ44Dt2

— Complex Music (@ComplexMusic) October 9, 2020
Kanye proposed to her on her 33rd birthday, at San Francisco's AT&T baseball stadium that he rented for the occasion. In May 2014, the couple held a lavish wedding ceremony in Italy. They had three more kids named Saint, Chicago and Psalm with the last two by a surrogate mother as Kim couldn't have kids anymore the result of extensive damage caused by a serious condition called placenta accreta after Saint's delivery.
They renewed their wedding vows when they celebrated their fifth anniversary, with Kim's vows' opening lines, 'You are my husband. You are my best friend. My biggest believer and my one true love.' In January 2020, Kanye gifted her with a personalized vintage Cartier necklace, with his personal message engraved.
Nothing seemed to shake their relationship through the years they had been together as they supported one another. However, he did something that didn't sit well with Kim, talking about him wanting to abort their first child during his 2020 presidential campaign rally.
In June 2020, Kim revealed that Kanye has bipolar disorder and explained that so much had happened that affected his mental health.
She also said it was difficult getting him the help he needed as he's an adult. Kanye apologized to his wife using Twitter, saying 'To Kim I want to say I know I hurt you. Please forgive me. Thank you for always being there for me.' He's aware of his shortcomings as he said, 'I did not cover her like she has covered me.' They spent a lot of time apart with Kim staying at their California home, and Kanye at their Wyoming Ranch.
After six years of marriage, Kim filed for divorce in February 2021, and requested joint physical and legal custody of their four children. She didn't pinpoint a specific reason for it and just said it was 'a general difference of opinions on a few things.' She did say that it was hard for her with Kanye moving from state to state, but she wanted to be together so she could raise the kids. She said he deserves someone who could be with him and support his every move because she couldn't do that.
When it comes to dating after splitting from Kanye, she said she would be looking for 'something that's really real.' HMM – explain, please?