Who has LeBron James dated? Girlfriend List, Dating History
• Lebron James is an NBA all-star, winning championships with three different national clubs
• He has earned numerous accolades for his exceptional talent and skill on the basketball court, including four MVP awards
• James grew up in poverty and instability, and was introduced to basketball by a local football youth club coach
• He is married to high school sweetheart Savannah Brinson and they have three children together
• Throughout his career, James has been the subject of several cheating rumours, though none of them have been conclusively proven
LeBron Raymone James is an American basketball all-star who is often considered one of the greatest National Basketball Association players to step onto the courts of America, earning him regular comparison with the likes of Michael Jordan. Nicknamed 'King James', LeBron is the only NBA star to have won championships playing for three different national clubs, which include the Cleveland Cavaliers, Miami Heat, and his current team, the Los Angeles Lakers.
To date, LeBron has played in no less than ten NBA finals, eight consecutively for the Miami Heat, and rightfully earned the honour of being crowned the Most Valuable Player in a final on four occasions. With his career stretching now into its nineteenth year, James has earned numerous accolades for his exceptional talent and skill on the basketball court, highlighted even for him by claiming Gold medals at two Olympic Games.
Standing tall at 6ft 9ins – 2.05 meters – LeBron has established himself as one of the greatest players to contend with in basketball, building a reputation as a formidable all-round talent. As such, LeBron has not only become one of the most famous NBA players, but also the richest, with a net worth reaching more than $500 million.
James is one of only three athletes in the world to accumulate this kind of riches, and is likely the first NBA star to join the billion dollar club, along with Floyd Mayweather Jr, and association football legend, Cristiano Ronaldo.
As can be expected, LeBron's exceptional talent went through a long period of development, having earned the attention of scouts and coaches from a young age. Born on 30 December 1984 in Akron, Ohio, James' early life was plagued by poverty and instability, though despite the difficulties, LeBron dedicated himself to the game to become the beloved NBA player he is known as today. His mother, Gloria Marie James, gave birth to LeBron when she was 16, and as a teenage single mother, struggled to find sustainable income to support herself and her child.
As a result, LeBron lived most of his childhood in the rural neighborhoods of Akron, moving from one apartment to another as the family had to contend with having little. LeBron's father, Anthony McClelland, a known criminal with an extensive record, never became involved in James' life, and to this day, LeBron hardly knows the man.
Fortunately, when Gloria realised that LeBron could have a bright future ahead of him, she allowed James to live with Frank Walker and his family; Walker was a local football youth club coach, and became the man who introduced LeBron to basketball. James began playing organised basketball in fifth grade, and caught the attention of the Northeast Ohio Shooting Stars club, playing for them in the Amateur Athletic Union league. Even back then, LeBron's team enjoyed a lot of success, both in local games and on the national circuit.
He later enrolled at St Vincent-St Mary Catholic High School, causing a little local controversy by enrolling in a predominantly white institution.
During his high school career, LeBron earned recognition as a future NBA star, performing excellently and eventually catching the eye of Cleveland Cavaliers scouts. In 2003, LeBron earned selection with the Cavaliers as a prep-to-pro prodigy during the first overall draft. That same season, James earned a nomination for and won the Rookie of the Year award, and by 2009 won his first NBA MVP award.
In 2010, motivated by his desire to win a national championship, LeBron signed with the Miami Heat as a free agent, going on to lead the team to win the 2012 and 2013 championships. In 2014, LeBron returned to the Cavaliers, leading them to win the championship for the first time in 52 years during the 2016 season. Following this, in 2018, James signed with the Los Angeles Lakers, and in 2020 became part of the team to once again claim the championship.
As impressive a player as LeBron is, with his fans and followers celebrating every touch of the ball, many are as interested in 'King James' personal life. More specifically, people have always wanted to know the intimate details of his love life.
As many might know, LeBron is a married man, having married his high school sweetheart in 2013, and become the proud father of three children, but this is not the only relationship discussed in the tabloids. As it appears, the NBA all-star and MVP has made several ladies happy over the years, however, some of the women mentioned may have only been associated with LeBron through speculation and rumour.
👏🏾👏🏾👏🏾👏🏾👏🏾👏🏾👏🏾👏🏾👏🏾❤️ https://t.co/IuBHXZouDC

— LeBron James (@KingJames) September 18, 2021
Fake Encounters
According to some sources, the earliest romance, or rather encounter that LeBron enjoyed was with Haitian television personality, Hencha Voigt. Allegedly the two spent some time together and might have even dated for a short while, though sources couldn't place a date on their encounter.
With hazy details, it's impossible to determine where and how they met, and many still dispute the truth behind this alleged encounter. With neither Hencha nor LeBron publicly confirming their dalliance, it might be better to write off this so-called romance as speculation and rumour.
On the other hand, if something did happen between them, the most likely scenario would see them trying their best to keep it a secret. Not only for the sake of privacy but also because of the repercussions Voigt and James' affair could have on the athlete's personal life.
However, further speculation about LeBron's love life has also suggested that he fathered a child with television personality, Sharon Reed.
Unfortunately, Reed lost her job with 19 Action News WOIO when news of her expectancy reached the public, and for some time there was no doubt about who the father is. Reed's behaviour on social media didn't improve things for LeBron, who became the subject of hot gossip at the time, though Sharon never openly claimed that James was indeed the father.
Then, after one publication directly insinuated that LeBron was the baby's daddy, Reed's lawyer proceeded with cease-and-desist actions, claiming that the publication's accusations were false and published without consent.
To date, though, the identity of Sharon's baby's daddy hasn't been made public, and if it is LeBron, no one can know for a certainty, at least, as people would insist, until the child reaches six feet in height while still in high school, or is maybe confirmed through DNA testing. While some have simply accepted that LeBron is the father, others have challenged Reed's credibility, accusing her of seeking attention, and ruining their favourite ball player's personal life.
The King and His Queen
With so many failed relationships and marriages of celebrities around the world, it's always a refreshing experience to learn about the sweet romances of certain stars who remained with their partner for a long time. One such relationship is that of LeBron and his wife Savannah Brinson, who met in their joint hometown of Akron, Ohio.
The couple started dating at the age of sixteen in 2000, and as they remember, their first date was a casual dinner at an Outback restaurant. That night, Savannah forgot her leftovers in LeBron's car, and James took the time to return it to her. His actions convinced Savannah that LeBron was a keeper, and for many years to come, the couple's beautiful romance enchanted the sporting world and their adoring fans.
However, their relationship would survive plenty of turmoil too, the first of which might have become devastating circumstances for any other couple. While still in her senior year at high school, and LeBron just starting his early basketball career, Savannah learned that she was expecting their first child, LeBron 'Bronny' Jr.
Instead of causing unwanted difficulties for the high school sweethearts, Bronny's birth actually strengthened their relationship.
Although they didn't immediately marry, as expecting couples often do, the pair nonetheless remained together, and became the loving parents of two more children, son Bryce Maximus, and their daughter, Zhuri.
In 2011, at a New Year's Eve celebration, LeBron popped the big question after the couple had been in a relationship for more than 11 years. Two years later, on 14 September 2013, the two tied the knot, with Beyonce and Jay-Z performing 'Crazy In Love' at their wedding ceremony. In the years that followed, Savannah grew her reputation as a loving mother, with LeBron stating that she is a wonderful wife and mother for their children.
According to LeBron, he might be the King of the court, but at home, Savannah is and always will be the queen. Together they're raising three ambitious children, with LeBron's two sons following their father's footsteps onto the basketball court, and Zhuri already becoming a social media sensation.
However, the James' family would unfortunately see trying times for the household, most of which became more difficulties the high school sweetheart's relationship would overcome.
Most of these trying problems stemmed from rumours and allegations suggesting that James was unfaithful to his wife and family, though through the many trying times, the couple and family has stood rock fast, with LeBron calling Savannah his foundation and the reason for his exceptional success.
The First Allegations
Despite reports that LeBron and his wife Savannah have been dating as of 2000, rumours on Twitter began circulating some time ago that LeBron was previously engaged to television personality, Adrienne Houghton.
According to these claims, the couple dated for seven months in 2003, apparently becoming engaged that December, only to separate two months later in 2004. Although this is not common knowledge, or even accepted entirely as the truth, Houghton claimed that she called off the engagement after LeBron confessed to cheating on her.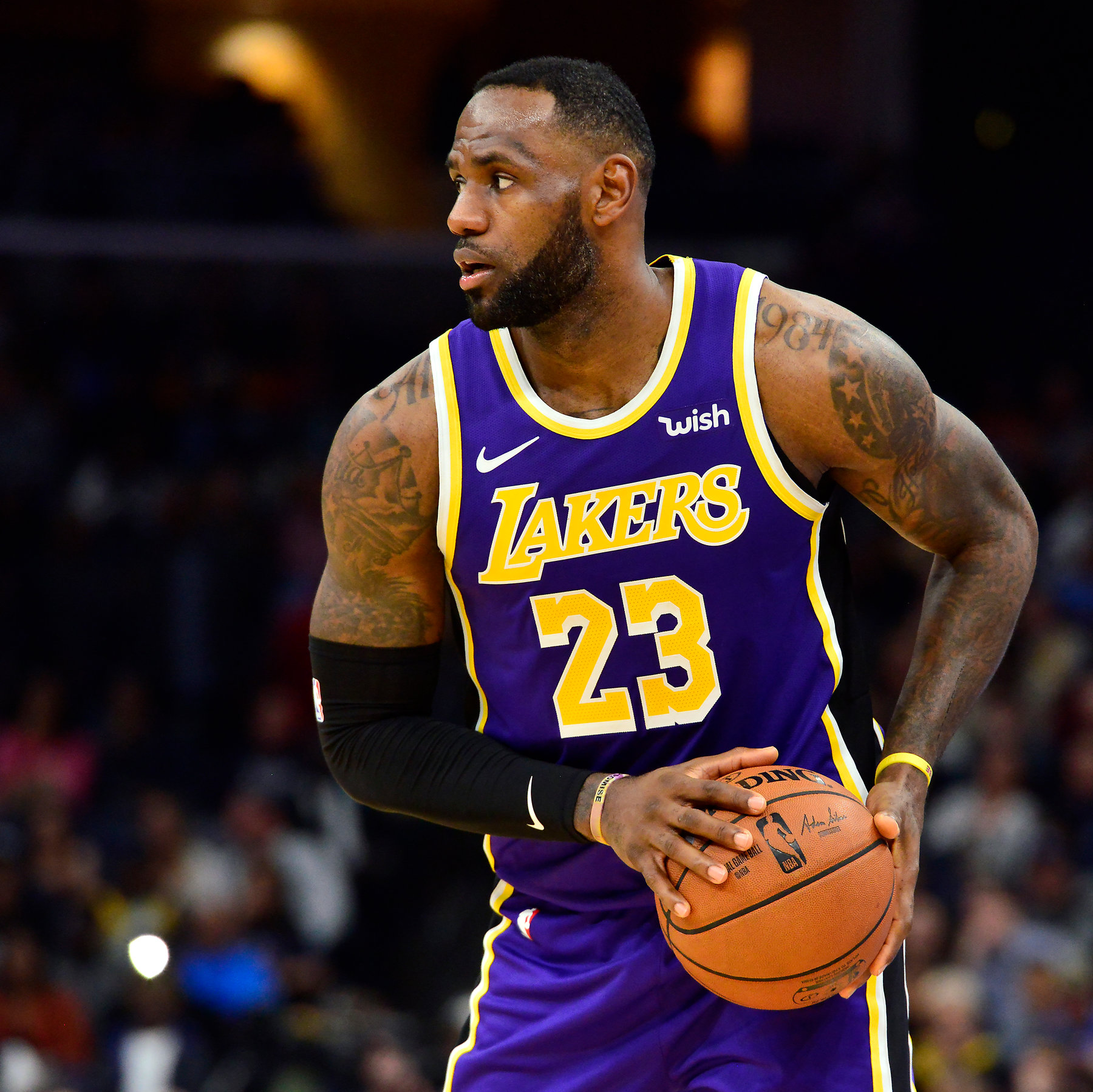 By all accounts about the alleged engagement, LeBron was involved with no less than fifteen unknown women, and according to Adrienne as reported, James also cheated on her with a celebrity actress. According to Houghton, the celeb in question, whom LeBron apparently said seduced him into it, was actress Meagen Good.
However, none of these allegations was ever confirmed by LeBron, who was only known to be dating his wife at the time. After doing some impressive digging, certain gossip websites even claimed that Adrienne's statements may have been fabricated, with the only sources for her citations coming from message boards. Neither LeBron nor Good ever confirmed that they had any form of an encounter, and denied all allegations.
As such, this story can be written off as nothing more than sensational speculation, and attention seeking on Houghton's behalf.
Then, in 2010, yet another rumour threatened to destroy Savannah and LeBron's relationship.
This time around, the allegations suggested that James might have had a secret encounter with American model and socialite, Amber Rose.
However, this too might only be speculation and sensational gossip. At the time, Amber was in a relationship with Kanye West, though this couldn't keep the tabloids from publishing rumours, but again, none of the allegations ever gained any confirmation.
As such, LeBron at least earns the benefit of calling doubt on this accusation. Regardless of what people believed, Savannah sided with her husband, accepting his proposal a year following the publication of the last rumoured affair.
Another Allegation
In 2013, the NBA MVP had yet again to defend himself after social media influencer, Carmen Ortega, alleged that she had an affair with him. The Influencer went so far as to provide text messages shared between her and LeBron as evidence, though despite her augment, James explicitly denied Carmen's allegations.
According to Carmen, the truth of their affair was never supposed to come out, and the text messages were leaked after someone took her phone while she partied in Ibiza.
She also claimed that she had no reason for fabricating her alleged encounter with the most famous NBA player since Jordan, though fans of LeBron claim that the influencer is only looking to expand her influencer career by riding on the fame of an unfortunate victim.
However, Ortega also admitted that she found out about LeBron's engagement to Savannah and decided not to engage in a relationship with the NBA all-star, saying that things between them never became physical – so what did happen!?
Carmen also added that something similar happened when she dated Kim Kardashian's former boyfriend, NFL star Reggie Bush. According to her, she ended the relationship with Bush after learning that he dated Kardashian. LeBron later commented on the allegations, stating that nothing about them was true, and by all means were ludicrous attempts by Carmen at gaining attention.
With inconclusive evidence, this rumour soon died down, and LeBron was excused from allegations of cheating on his wife with Ortega.
Since then, no allegations have reached the public, and it seems as if LeBron is dedicated to remaining true to his wife, intent on raising his family without any further disruptions from other women, or sensational gossip for that matter.